So, the Punisher has deduced that Peter must be a member of the gang he was trying to break up since he was there to take pictures of it. Honestly, he could've jumped to a crazier conclusion.
That was easy! Pete swings on over to The Daily Globe, bemoaning his lack of a love life recently, and walks into an argument between Barney Bushkin and April Maye, still understandably mad at him. She refuses to work with Peter on their Punisher story, then runs off to talk to a woman who's been working with Jacobi, the mob boss Punisher was after. This leads her to pose as a friend of the woman's and try to get the drugs she was supposed to sell from her plug. Whoa, April, getting right in there, huh? Meanwhile, Peter's swung by the Bugle for all the latest gossip on JJJ.
JJJ runs into an elevator, runs out on the street, smashes his head into a wall, and is knocked out, only to be loomed over by a mysterious silhouette. JJJ's having a rough go of it. Spidey swings out looking for him, but instead finds a small time hood he knows who says the Punisher just beat him up. Spidey figures that's a lead on Jacobi, and swings away to find Punisher's battle van… stuck in traffic. The glamorous life of a murder machine. Peter makes his 2nd wildly dated Mork from Ork joke in as many issues as he swings right into the van. Spidey asks why Punisher is so intent on getting Jacobi, and is treated to a weird story about Punisher chasing Jacobi's drug supplier in Turkey years ago and almost getting killed, only to be rescued by a boy named Mehemet.
April Maye just HANGING OUT WITH SOME DUDES AS THEY SELL DRUGS TO ELEMENTARY SCHOOL-AGED CHILDREN ON A PLAYGROUND!  WHAAAAT? She's staying deep undercover to try to get to their boss, but SHEESH, lady! Meanwhile, in some typically slick action pages from Pollard, Spidey & Punisher assault a mob warehouse, Punisher still using his "mercy bullets" that don't kill people. 
Turns out leaving one guy conscious doesn't automatically provide Jacobi's location, good planning!, Spidey is trying to cut Punisher out of the deal so no one gets killed. He gets to Jacobi's place just in time for April to be meeting her "boss," only he recognizes her as a reporter and she's revealed as a spy. Spidey breaks in and does his thing…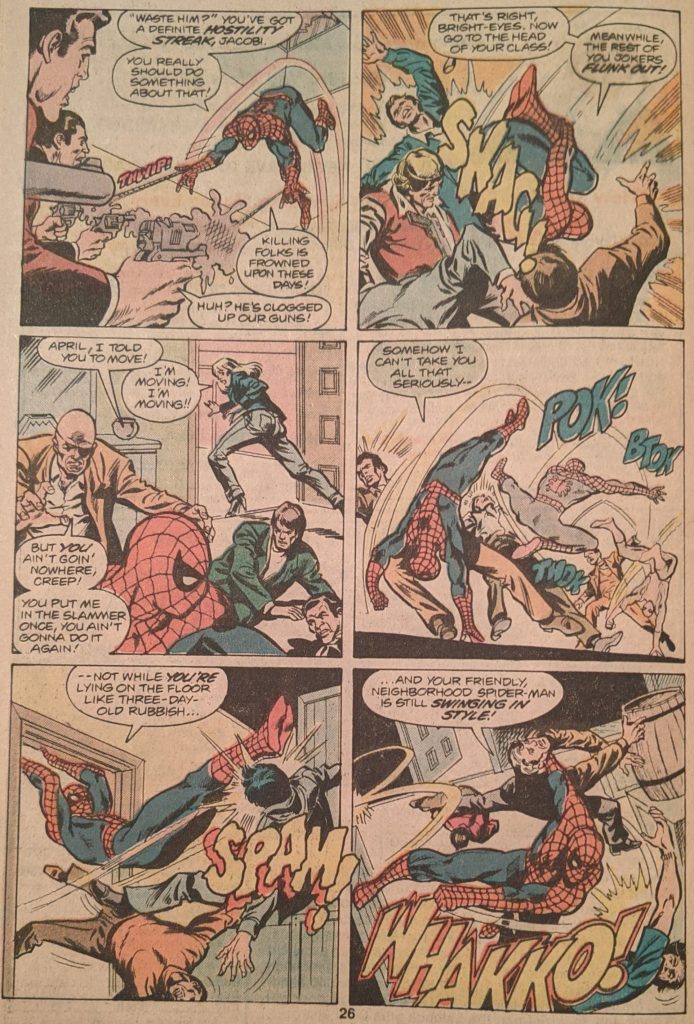 …but the goons inevitably take April as a hostage. Lucky for her, I guess, Punisher shows up and "mercy bullets" her captors. He's apparently going to regular bullet Jacobi, but Spidey webs his gun and Jacobi makes a break for it.
Weird one, eh? With this story, Punisher was really complicated all of a sudden. A gritty anti-hero who isn't afraid to kill!… uh, except when he's totally cool not killing people.