They guarantee it! Let's see how that goes. After a brief return to reprints for Annual 12, the book is back with all-new material this year. We got Marv Wolfman with the classic X-Men art team of John Byrne and Terry Austin on deck. This is happening near the end of their time on X-Men, I think near the beginning of The Dark Phoenix Saga, tho I'm not sure exactly when this was published. I think I'm placing this way out of sequence, actually, but the long stretch of uninterrupted ASMs last Marv block really threw things off. Anyway, this one's got a prologue and chapters and everything. PROLOGUE: A mysterious guy who apparently works for "the Feds" get ambushed and killed by another guy! Who are they? No idea.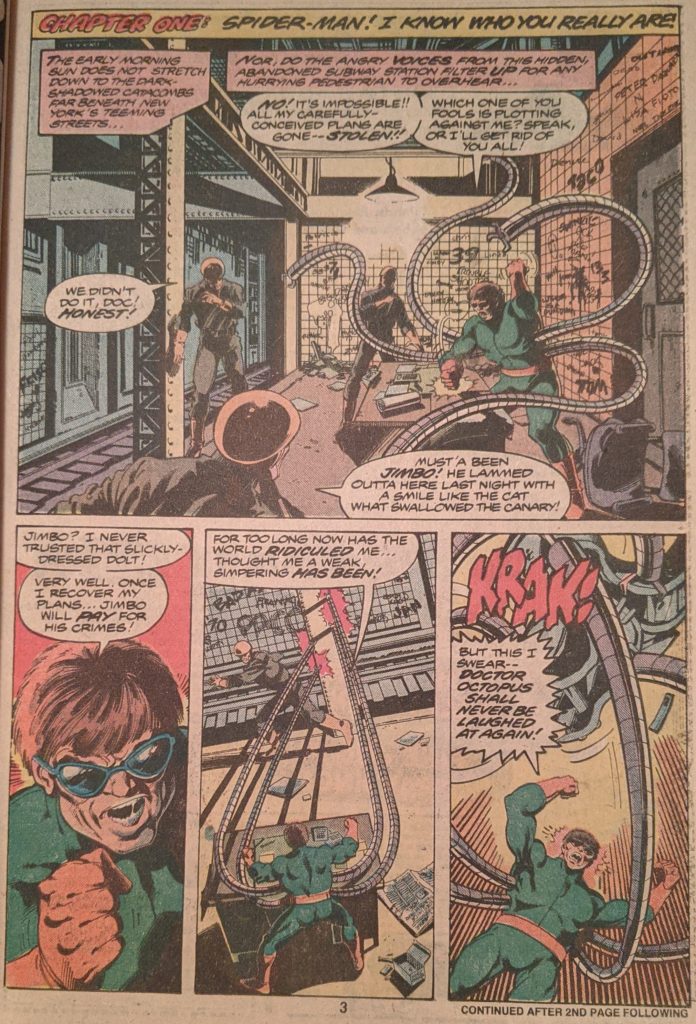 Aw, no, not Jimbo! How could you, Jimbo? So Jimbo must be the guy who got killed in the prologue, or the other guy. We switch our scene to… well, to Marv Wolfman dissing sitcoms… 
Jimbo! He must be the one who killed the other one, then. He orders the goons to fight Spider-Man, which goes about as well as you'd expect, and Jimbo escapes. Then a mystery man appears and tells Spidey that Jimbo killed a government agent named Kent Blake last night, but the Feds believe it was a suicide, and he wants Spider-Man's help proving otherwise. He tells him to attend Blake's funeral and he'll understand why. So he does.
Rude! Why is Peter going along with this? For whatever reason, he decides to help in the weirdest way he can: by magically growing a day's worth of stubble between panels and showing up to Jimbo's place as Kid Parker, wannabe goon. He demonstrates his skills by beating up all the other goons.
WHAT? So they go steal something or other off a ship. Peter manages to keep Jimbo from killing a guard without blowing his cover, and away they go. CHAPTER 2: Doc Ock harasses people all throughout the underworld trying to find out where Jimbo is. And when he finds Jimbo's hideout, which Jimbo is not in, he recognizes Peter Parker and outs him as a newspaper man. He says he's only returning the favor for Peter blowing his cover when he was "trying to con your old biddy of an aunt with my phony marriage proposals!" So, Lee, Romita & Conway presented Ock as purely using May, Wein decided he really loved her, and Marv says, "Not so fast." Poor Doc Ock must be really confused. Anyway, he bats "Kid Parker" across the room while insulting his aunt.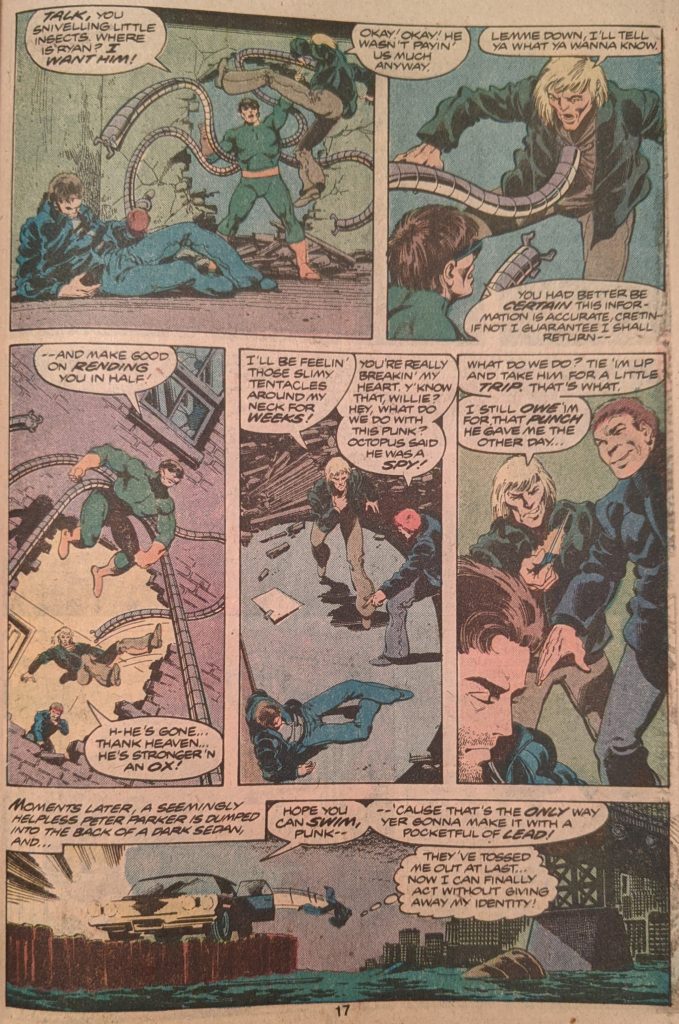 But before he can switch to Spider-Man, Peter is pulled out of the river by the mystery agent, who tells him where to find Doc Ock. Ock is at Jimbo's house, beating him up. Naturally, it's fightin' time, but in the space of a page, Ock has already thrown Spider-Man off a roof.
This mystery man is getting annoying. CHAPTER 3: The mystery man has sent Spidey to a construction site where Jimbo hid the plans. Spider-Man and Ock have a big fight, as they do.
"I'll crush you then find my own physician!" may be the funniest thing Doctor Octopus has ever said. But ya know, if he really is mentally bonded to the arms, ripping one off is really brutal. Spider-Man would never pull someone's actual arm off. Kind of a moral gray area, there. Anyway, the mystery man is here to settle with Jimbo. He scares him so much he accidentally backs off a ledge on the construction site, letting Byrne do a fun little sequence of Spidey rescuing him. 
He drags Jimbo back to the agent, Doc Ock having run off, and then we see Spidey drop Jimbo off with the cops, to whom he's all-too happy to confess after the night he's had.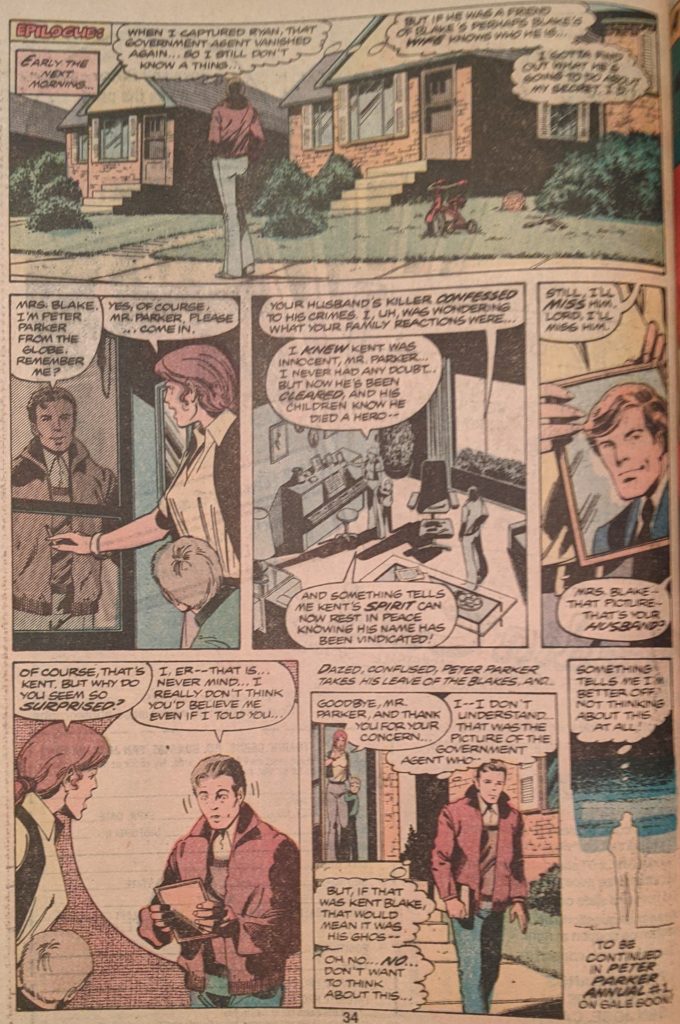 Sure, sure, I'd just assume it was a ghost, too. That's way more reasonable than a spy faking his own death. But I guess we'll see one way or the other in the next annual. This was, in no way, the strangest Spidey story of all. Like, not even close. This is weirder than Mindworm? No, sir. Aside from the mystery agent, this was meat'n'potatoes superheroin'. The next feature in the issue is "a gallery of Spider-Man's most famous foes!" that's mostly jobbers like Silvermane and the Kangaroo and doesn't feature, you know, Doc Ock or Green Goblin. Weird choices. Then there's some layouts and floor plans of famous Spidey locations, like Peter's apartment (which is completely incorrect, and actually inspires a new version of the feature showing Peter's real apartment in ASM Annual 15), the offices of the Daily Bugle & Daily Globe, and the campus of Empire State University, which are kinda cool. None of the villain pin-ups are credited. The layouts imply Keith Pollard drew them in a caption credited to "Marv & Keith," but don't confirm it. Odd. And that's it for this one.