Here's Spidey teaming up with the still very new "All-New, All-Different" X-Men. This one says it was written by Bill Mantlo from a plot by Mantlo, Chris Claremont & Bonnie Wilford. Bonnie Wilford did a little coloring work for Marvel in this period (Though not this), but this is her only writing credit, as far as I can tell. Interesting. Sal Buscema & Mike Esposito on the linework. The splash is a picture of Spidey & The X-Men comin' at ya in front of a mushroom cloud, with a really tiny newspaper clipping about a nuclear test. Then we follow a Stephen Marchesi, Special Projects Investigator for the US Senate, as he narrates his helicopter touching down at The Nest, a secretive research facility with robot guards. The facility is staffed by seven scientists of various backgrounds Let's meet the contestants!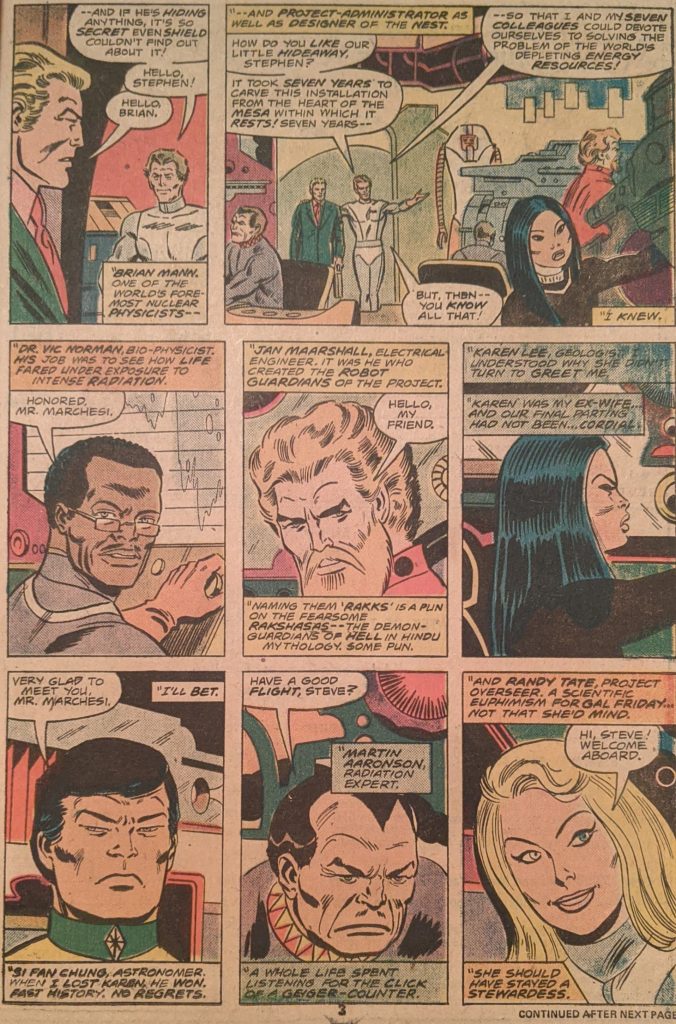 With this cast of characters introduced, you might think we're settling in to hang out with them for awhile. But you would be mistaken, because an earthquake starts up beneath the facility on the very next page, and the various people rush to try to stop it from exploding.

A dead narrator is unusual. Right-o. Next page, we're shown a 747 and told a conference on manmade genetic mutation is happening aboard, with tons of scientists from around the world living and debating on the plane as it circles the Arizona desert. That seems weird. Weirder than that, one of its passengers is none other than:

This has to be the most prominent Peter's ever been in the scientific community up 'til this point, and it feels out of nowhere, but ok. Also: Sir Lionel there looks like a Scooby Doo character. Senator Turner is under investigation for improper use of military funds to investigate his son's disappearance in the Bermuda Triangle, and also apparently a character in the comic Skull The Slayer, and man, I do not know what that is. Hey, guess who else is on the plane?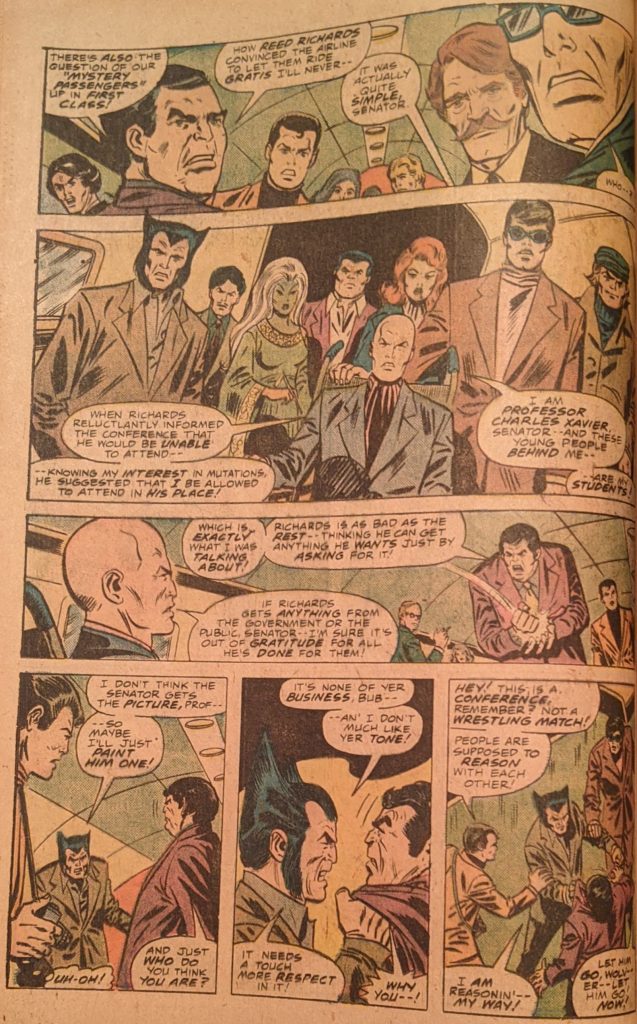 Storm straight up looks like an alien. At that moment, a strange black cloud appears in front of the plane, the engines cut out and the instruments go dead. If that wasn't bad enough, the plane is then attacked by the robots from earlier.
As The X-Men try to help the passengers, Peter slips into the bathroom to become Spider-Man. How on Earth is he going to explain Spider-Man showing up on a crashing plane full of scientists in the middle of nowhere? Ah, well. He sez "hi" to Professor X, who orders Storm & Banshee to fly out and do some fighting, while Spider-Man seals the hole in the plane with his web. I guess. Doesn't seem like the most complete seal. Soon another of the robots has smashed up through the floor, giving the other X-Men a chance to show you their powers…
(Cyclops did some eye zapping earlier) As Banshee & Storm keep fighting outside, Cyclops is trying to land the plane, but it's just falling too fast. So Spidey heads outside and makes a web parachute to slow it's descent (A trick we're told he learned from Reed Richards in FF #166, specifically). They get the plane down mostly in one piece, and it's not long before the Senator is blaming the X-Men and the Russian Dr. Mishkin for this, of course. Wolverine's about to carve the Senator up when Mishkin unveils his new model radiation detector. Colossus notes it seems to have a lot in common with Cerebro as Mishkin's device points them toward what was once the site of The Nest.

Radiation Spray! Just like suntan lotion. Haha, ok. Thus, our heroes approach a crack in the ground with a big shimmering cloud of radiation pouring out.
Was starting to wonder if Spidey & Nightcrawler knowing each other was gonna come up. They've got to stop running into each other like this. The fight will have to wait, though, because an earthquake hits, just like it did when The Nest was destroyed. As the heroes try to maintain their footing, inside, Storm is zapped by an unseen foe, and as Banshee swoops to try to save her, things don't go too well for him.

The figure that emerges from the radiation calls himself Yama Dharma and looking like the dude who invented the robots. He starts zapping everyone, and takes note of Jean. The assembled heroes put up a fight, but can't press the attack.

Wolverine sure folded up quickly on this guy. Everyone is soon taken out by the sonic attack that felled Banshee, though, and the other villain is revealed to be another of the scientists from The Nest, this one claiming to be Kali. As they take the gang down into the hole, they say Jean is "The One." That will wind up being a pretty familiar spot for her. This is a Claremont plot, so soon we find all the heroes have been captured, and the weirdos have put Jean in her Phoenix costume. Turns out, all the dead scientists are apparently superbeings now, all claiming to be Hindu gods. Jean tries to free the heroes, but can't get them out of the weird force field they're trapped in. Their leader helpfully explains that the explosion in The Nest hit Araman Nila, a Hindu himself, first because he was closest, and so his memories shaped their new identities. The only one who actually died was our narrator from earlier. As the gods exposit, Nightcrawler has an idea.

How much would it suck to be on a team with Banshee? "What's your power?" "I make a really loud, really annoying sound!"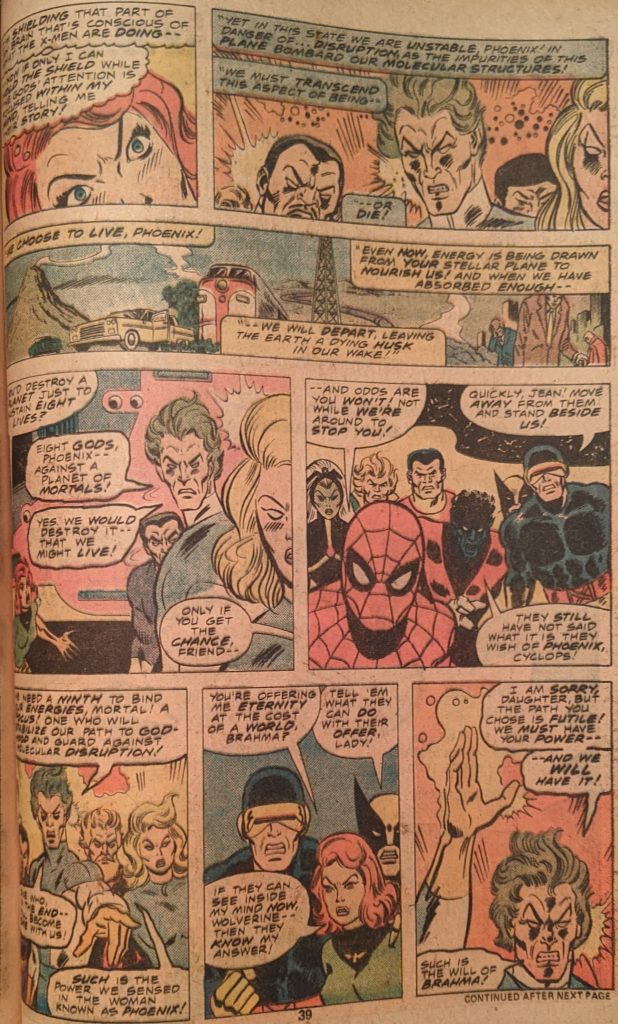 With that, Wolverine leaps into battle, and all the heroes and villains follow suit. The heroes are doing pretty well until Storm whips up, er, a big storm, and the gods start to come apart.

Cyclops comes up with a plan to beam the gods' "mindforce" into space using a complicated and kinda unconvincing mix of everyone's powers except Wolverine (He really doesn't like that) and the strength of Colossus and Spider-Man as a ground of some sort. Spidey and Piotr are about to collapse under the strain when…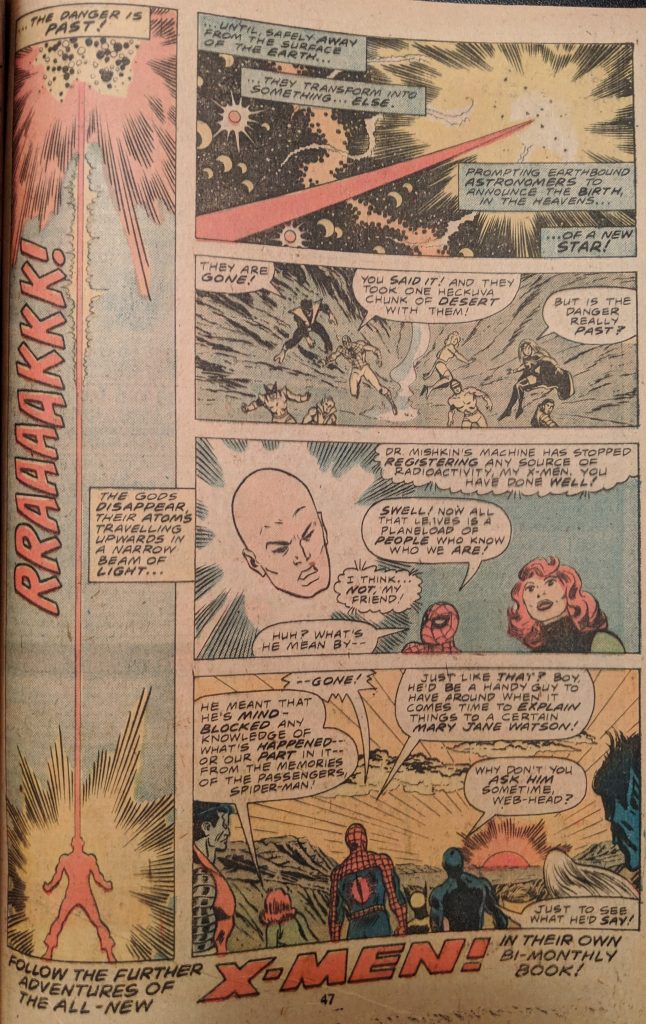 And that's that. I kinda figured we'd get around to Xavier mindwiping everyone eventually. Kind of a hurried ending. Interesting to me that the new X-Men are getting the full court press. The property spent so long in limbo, but now they're popping up all over the place, and in just a few years, they'll become Marvel's biggest thing going. One of the biggest comeback stories in comics history.