Ok, so, spidey is strapped to a table about to have his life force sucked into somebody or something, and page one reveals that somebody is Richard Fisk. No real surprise there. Why's he dead, tho?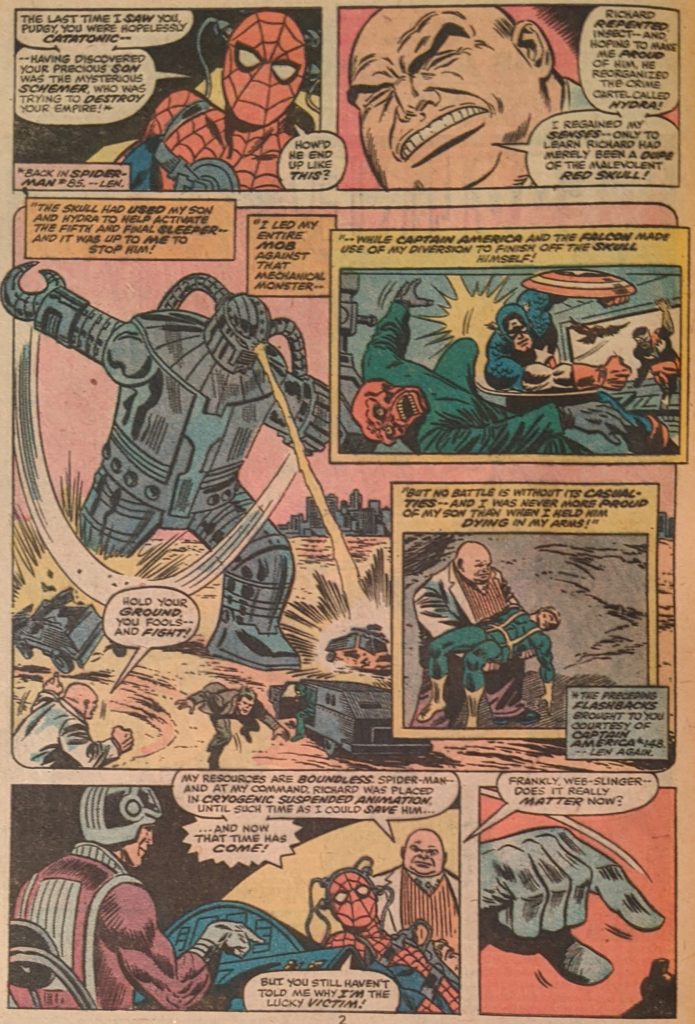 Wow, that Cap story covered a lot of ground! Kirby & Lee introduced the idea that The Red Skull had several "Sleepers," giant robots ready to activate at certain times and cause chaos well into the future, hidden around the world during WWII. So many of them have been The Final Sleeper! They kept finding more Sleepers into the 80s! And I guess Fisk hasn't appeared in ASM since all the way back in 85, wow. It can be hard to tell there's big gaps like that reading them out of order. 
It's super weird Kingpin doesn't have a name yet when his wife & son have been introduced. Somehow, this ridiculous process works, and Richard wakes up, powered by Spider-Man's "very life force." Super science at its best. Vanessa hurries him out of the room, leaving Kingpin and a groggy, waking Spider-Man. Kingpin helpfully explains Spider-Man is now "like a dying battery," and that his son only had 6 hours to live before the transfer, so that's about what Spidey should have now. He has his goons drag the weakened webslinger out of the room, and soon some wacky cartoon old ladies see them dump him onto the street out of a moving car. He staggers around, only to seemingly get hit by a truck. But we soon learn he grabbed the bumper by reflex and got closer to home. He climbs up and falls into his living room window.
Guess which doctor? Did you guess Curt Connors? I mean, who else? Why does Spider-Man never go to Reed Richards in the old days? Anyway, soon Spider-Man literally falls into Curt's office. Lucky for our man, Curt has a special "enervator" he developed for his own cellular regeneration experiments. Spidey climbs in and they try to juice him up. In the process, Curt's control panel explodes.
Time for a Lizard story soon, I suppose. Time passes, and Spider-Man is looking rough again. The effects of the enervator are wearing off. But, because Richard is running around with Spider-Man's own life force, his Spider Sense is tracking him. That makes a weird kind of sense. Super science! He finds Kingpin, Richard & Vanessa at the docks for some reason, with Richard arguing with his dad. He says being brought back like this means he has to live with a death on his conscience, and he's not too into it, and Kingpin is mad he's not grateful. Very healthy family dynamic. Then Spider-Man's absurd suction cup plops onto Richard's forehead.
As Spider-Man tries to avoid Kinpgin's rage, he thinks Doc's gadget only knocked Richard out, rather than killing him, but Kingpin doesn't know that. But, like, how? If only one of them can have the "life force," and Spider-Man just stole it back, why isn't Richard dead? No time to wonder about that, because Kingpin is climbing an oil derrick to get up to Spider-Man, and the battle begins. Vanessa orders the goons to start shooting at Spider-Man, which seems a bad choice since he's wrestling her husband, but they do it. So now the conflict is taking place amid a hail of bullets as the 2 beat the crap out of each other. But eventually, Spider-Man webs Kingpin's fee tot the ground and hits him with a big hook.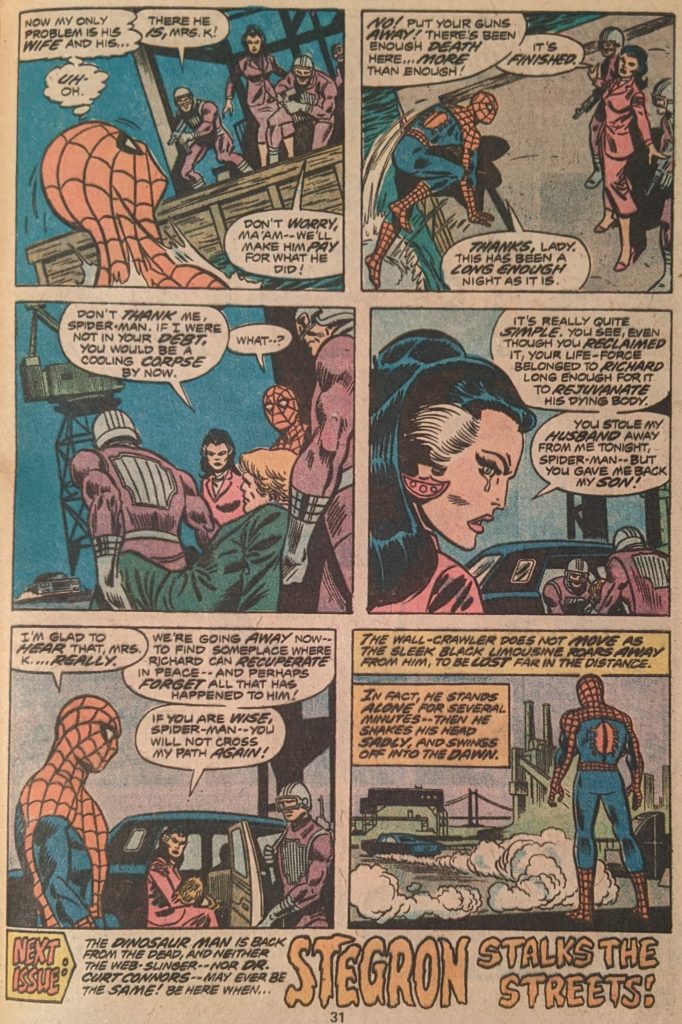 How.. has he won? In his way or otherwise? He believes his son is dead and he's falling down to join him. That is nonsense. But, now Richard is alive to appear again in the future, Kingpin will of course return in ASM 197, and Spidey has a date with Stegron, The Dinosaur Man. So silly but first, we have a few other things to look at, starting with the debut of Spectacular Spider-Man that took place during ASM 163. The letter page lets us know that fight was at the Brooklyn Navy Yard, normally off limits to the public, which Ross Andru was given special permission to photograph. Andru was famous for his photo reference from all around New York on this series. Had to get it right.