So, last time The Punisher was about to shoot Spider-Man and Nightcrawler. As he brings us up to speed in his War Journal, he mentions his contact said the killer would strike here next, so he's assumed it's one of these guys. Spidey and Nightcrawler remember they're superheroes and The Punisher is just an old man with a gun and proceed to beating him up, as sure he's the killer as he is it's one of them.
So… sure is a cool coincidence that Spider-Man chose this spot to take a break last issue… Anyway, Nightcrawler ducks into the car to make sure Spidey & Frank are ok, then bamfs out, worried about being captured. He's had to teleport a long way, which leaves him tired as he sees the assassin running off in the distance. He hopes the other 2 are able to catch him. Spidey and The Punisher call a truce and team up promptly. They head to Punisher's trust battle van, and he proceeds to smash through a police roadblock to escape. His War Journal says they come up with a plan for tomorrow and then part.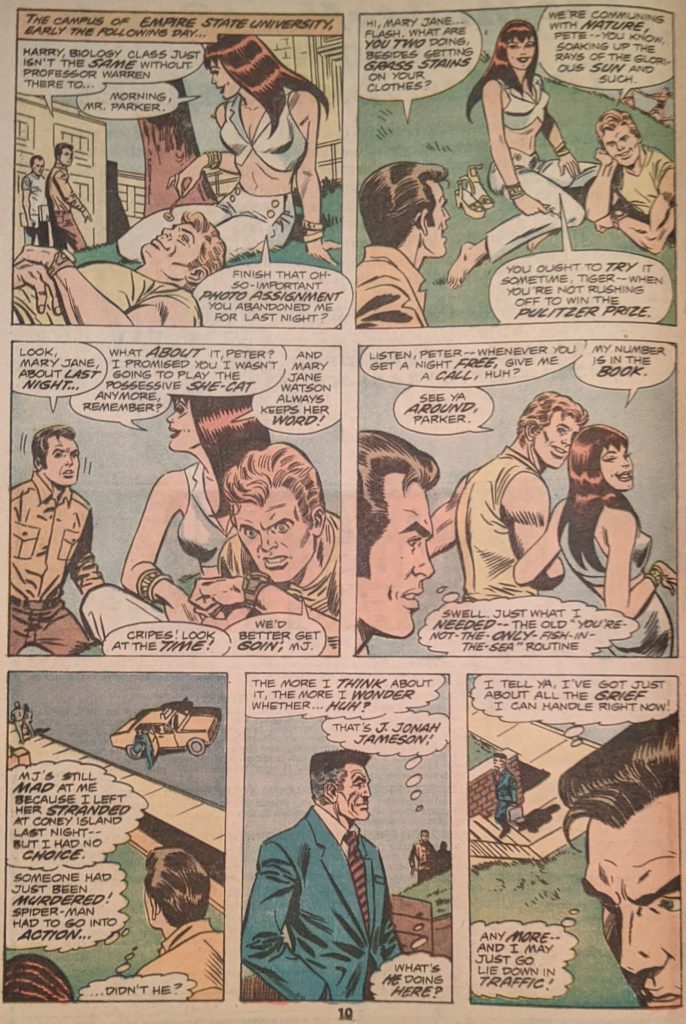 Peter casually missing the guy who cloned him and his dead girlfriend and repeatedly tried to kill him sure is a weird choice. Will MJ really be playing hard to get from now on? We'll have to see. Meanwhile, JJJ is here for an important meeting.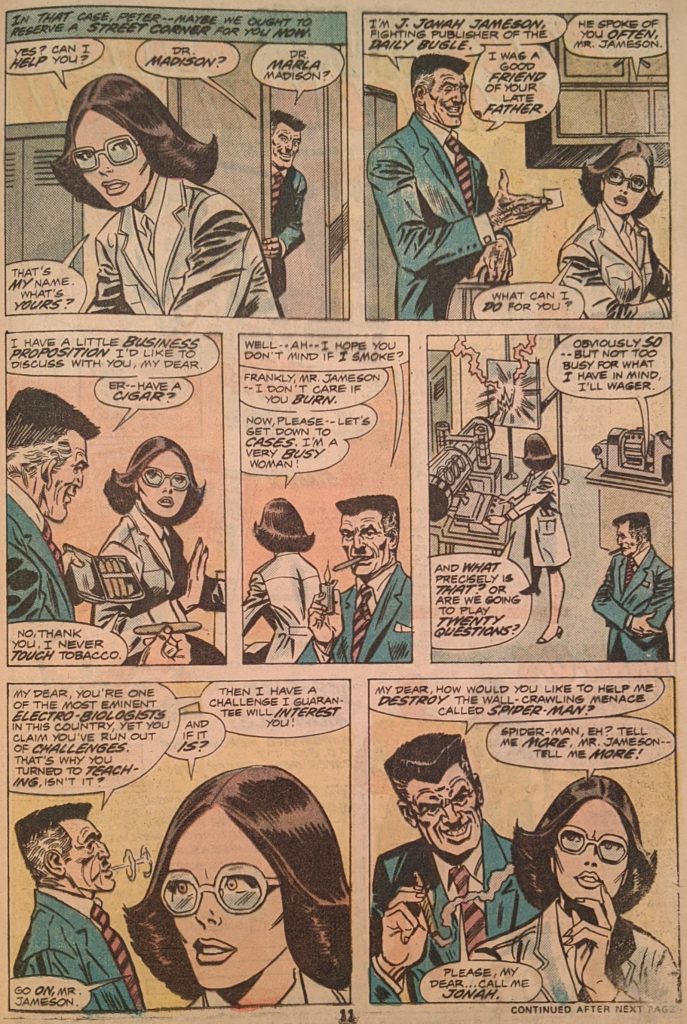 Yes, JJJ was a good friend of his future wife's dad. Not creepy at all, no sir! And they met in that most-Jonah of pursuits, trying to kill Spider-Man. What a weird start to a relationship that would last into the 2000s. Later that night, Spider-Man meets up with Punisher, who's learned the next target is a block party to save a local fire house. They split up to cover the scene, and we see a goon-type guy reporting about Spider-Man on a walkie talkie before seeming being attacked.
Yes it's debut of one of Punisher's few recurring villains. How did those lames beat up Spider-Man so bad? Real off night for him. Jiggy threatens to have his guys shoot up the crowd AND to shoot Spider-Man if Punisher doesn't present himself for execution, but there's another player in the game:
Thought he was gone, huh? Punisher start shooting and gassing goons as Jigsaw gets a lucky shot in on Nightcrawler and sends him flying. Then Spider-Man finally remembers this is his comic, wakes up and bursts out of those chains like Superman. The 3 good guys start easily taking out all of Jigsaw's men, leading him to rethink the whole thing and flee. He and some of his goons steal the fire engine that was the reason for the block party. Not a great getaway vehicle! Spidey is on top of it instantly, and begins beating up Jigsaw until he hits Spidey with the hose.
That's that. As always, the way Spider-Man just accepts Punisher's murder spree feels so wrong. It'll take Marv Wolfman to even try to do something about that.