The Human Fly! I knew this guy was called that. Later appearances have strictly called him The Fly, and I began to wonder why I wanted to put "human" in there. Had I to guess, I bet it's because Marvel would soon launch a comic called the Human Fly, featuring the superhero adventures of a real life novelty stuntman, and didn't want to confuse things. At any rate, let's see how yet another villain ends up with a mad on for JJJ. Oh wow, this one's got art by Gil Kane, Frank Giacoa & Mike Esposito! Old school. Also a plot by Len Wein and script by Bill Mantlo (Who is credited as "writer," very Stan Lee, very old school). As we begin, JJJ is ranting about his favorite least-favorite subject.
I guess JJJ is meant to have thrown the paper at Robbie, who deflected it into the trash? Bit confusing. Robbie is being written especially cavalier here. And still more talk of the mysterious KJ Clayton.
Oh boy. Is this gonna be another Scorpion situation? Is JJJ that dumb? I bet he is. We jump ahead several hours to Spider-Man arriving at the scene of a police standoff with some goons who've kidnapped a girl and an old man and are holding them in an abandoned building. Spidey doesn't even bother to set up his camera, so JJJ won't want any of this, and heads on in. We look in on the kidnappers, learning the girl is the daughter of some rich guy and the bad guys are, like, super mean, and then…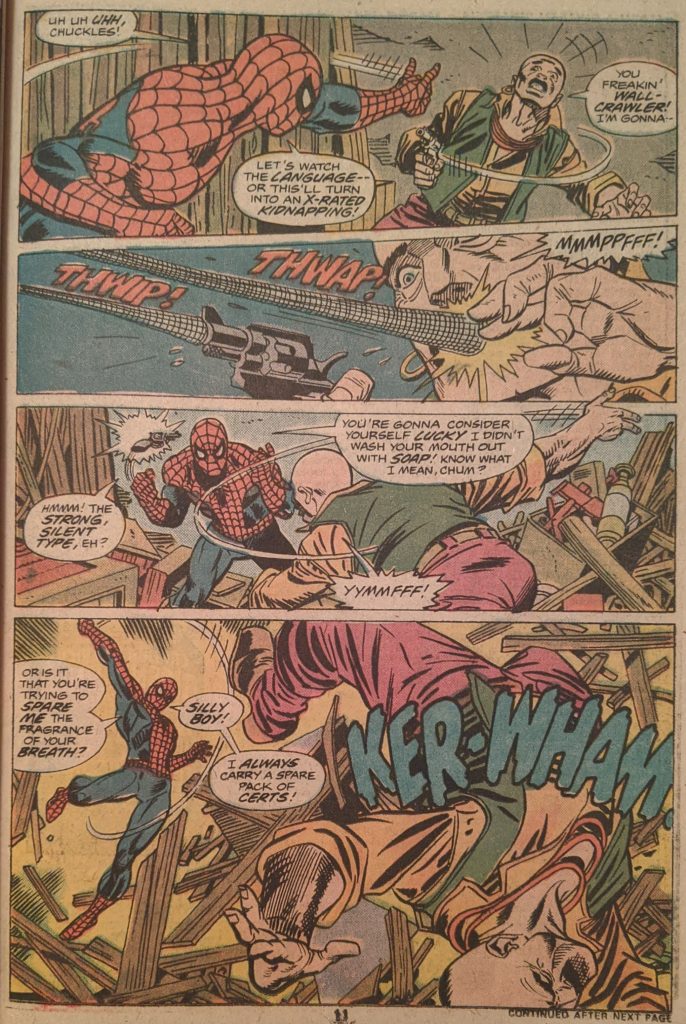 With that guy down, Spidey creeps down into the building and begins mopping the floor with the various goons. Inevitably, the leader grabs the girl and begins trying to make an escape. Pretty rote stuff.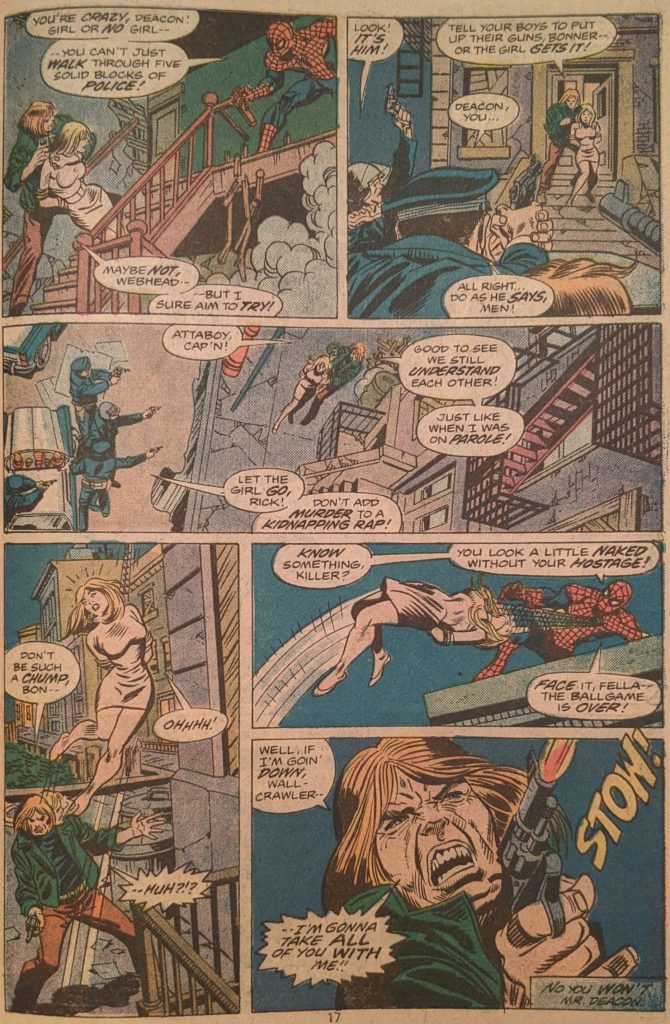 Once the girl's out of the way, the cops unload on Deacon there, who falls into the river, with his former parole officer the only one against the idea. Spidey lowers the hostage to the cops and takes off, with one cop musing aloud that maybe he should switch from The Bugle to The Globe. Meanwhile, JJJ's off being dumb…
It's literally the brother of the guy who made The Scorpion??? Seriously???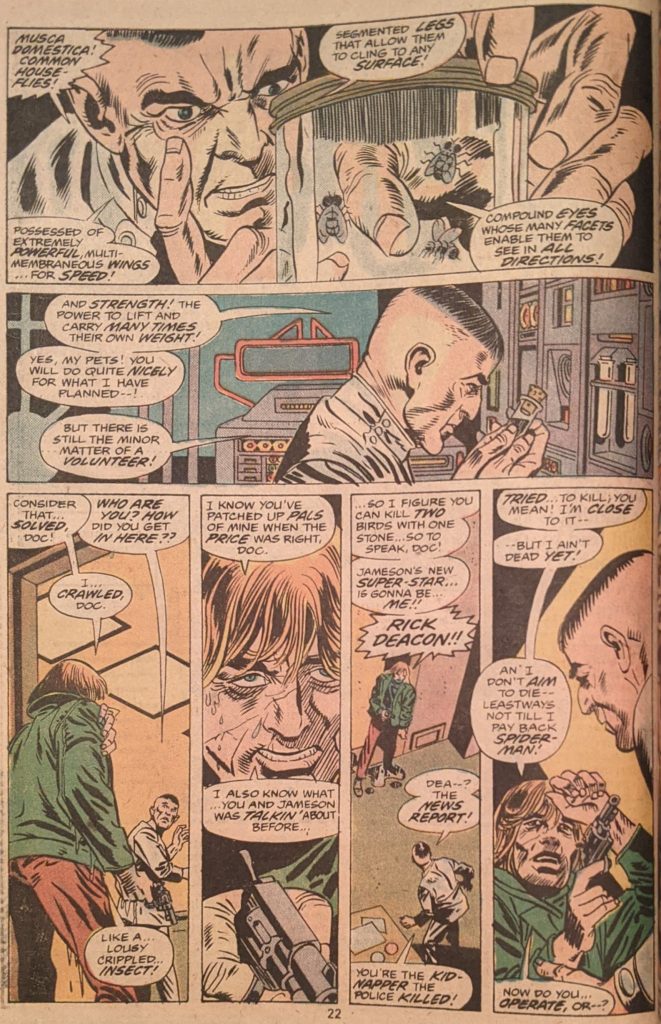 This is incredibly lazy. Scorpion part II.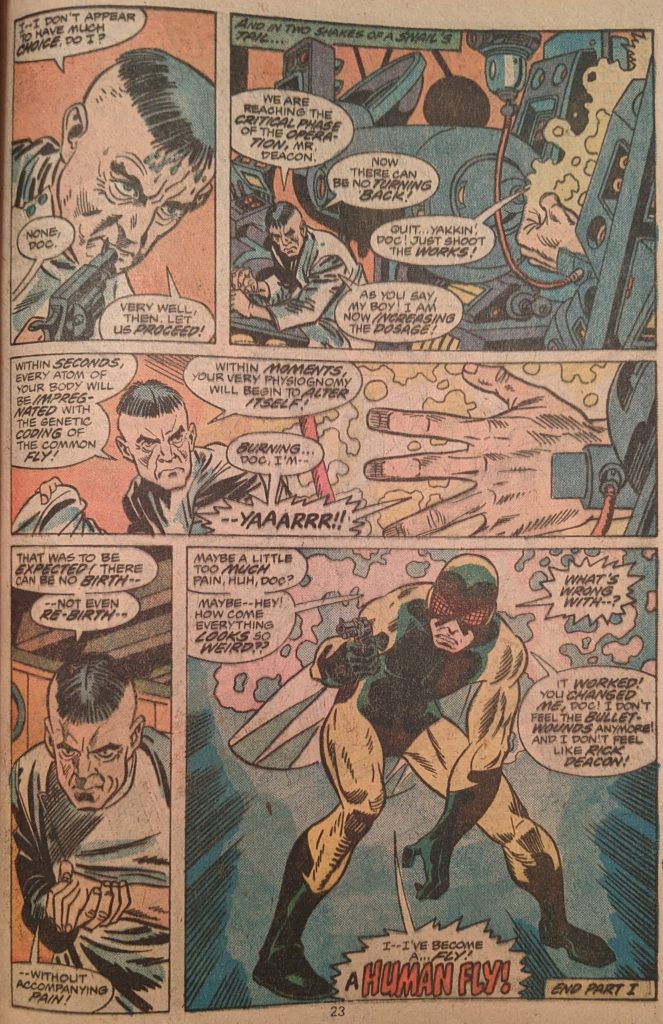 How… did he get… the outfit…? This is funny because there's a lot of evidence to suggest Jack Kirby suggested a "Spiderman" to Stan Lee, but it was to be a rework of an old character he had never published, The Silver Spider, a burly Captain America-type with a web gun instead of a shield. And one reason that idea was shelved and Steve Ditko was brought in to create Spider-Man was it was too close to Archie's hero, The Fly. And now we have an evil fly man. With a gun, even. Anyway, while Rick Deacon is becoming a fly-man, Peter Parker is making new prints of old photos for a Sunday feature for The Bugle, and JJJ is gloating around the office wen he gets a phone call. Stillwell calls to tell him things have gone wrong, but is forced to hang up by Deacon. Peter Parker arrives at The Bugle jut in time for JJJ to storm out to go see what happened, leaving Peter & Robbie totally confused.
JJJ does what anyone would do and flees, saying no one can know he was connected to Stillwell and telling himself he can't be involved in a scandal or all his employees would starve, but then The Human Fly is upon him. He knocks Jonah out and tells himself he plans to use him as bait to lure out Spider-Man, and soon he's crashing through the window of JJJ's office, to the surprise of Robbie & Peter, still in there discussing JJJ's weird behavior.
Fly says to have Spider-Man, "the press AND the TV guys" (Um?) come to The Colosseum a midnight so he can defeat Spidey with an audience. Peter recognizes his voice from the kidnapping, and has decided that makes this personal. Does it? I'm not sure. At any rate, Spider-Man shows up, and so do the cops, the news, and various onlookers hoping for a show.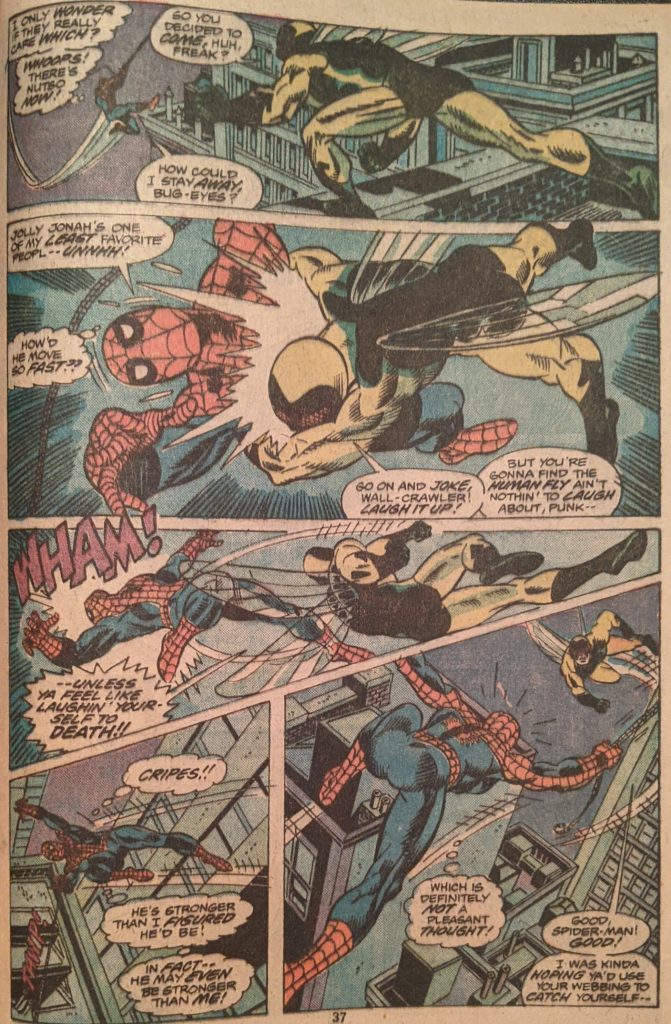 They keep at it, The Fly keeping Spidey on the defensive since he's still learning the guy's powers. Shouldn't the guy still be learning his own powers? He's been a supervillain for just a few hours. As they smash into a nearby building, the cops use the chance to tr to rescue JJJ while Spidey has The Fly distracted.
The bug guys go for round 2, which eventually involves The Fly throwing JJJ off a ledge and Spidey catching him in a spider web. Spider-Man evens the odds by covering The Fly's wings in webbing, ground him before going in for the big finale.
And that's that. Yet another villain obsessed with JJJ is born. Not great. Bit of a random place to announce Spectacular. I like them invoking the old House of Ideas moniker for that. "Our latest idea is making more Spider-Man comics will make us more money!"