So, a year and a half ago, when we left off with ASM 156 (Not too big a gap, right?), Dock Ock revealed himself to be alive to Aunt May in spite of his prrrretty spectacular death during Conway's run. And now we've actually seen that, so we can continue. Weird way to do things, I admit, but here we are. It's Len Wein, Ross Andru & Mike Esposito on the beat in this era. They're not playing it coy with that cover. I am very interested to see how they explain this one. Our story begins with Spidey diving into the Hudson River to look for The Spider-Mobile. Corona Motors put an ad in the paper saying they'd sue him if he didn't bring them the car. Not sure how they can sue a guy who doesn't technically exist, but he seems worried about it. Spidey doesn't find anything but a side mirror, though, and when he surfaces, there's cops on the dock pointing guns at him. But he's Spider-Man, so soon, they're in the river and he's swinging off on his way. Meanwhile…

Harry standing up for Liz last issue is going to have a far-reaching impact. And the fact that Liz was Flash's highschool girlfriend may make this roommate situation weird, and fast. But if that sounds weird, it's got nothing on what's going on on the very next page…

This is ludicrous. Ock is looking really fit these days. Once again, we have someone yelling the end of a sentence. Love Doc Ock showering with his glasses on. Gerry Conway played it like Ock was just using Aunt May to get to the nuclear facility, but Wein seems to be taking a different approach. The fact that Conway never bothered to address Aunt May's feelings about, or even recollection of, being in the middle of a mob shoot out that ended in Spider-Man flying her away from a nuclear blast in a helicopter was so weird, and I guess we're just doubling down on that.
This is so weird. So, chicken in hand, Ock begins recounting how he escaped nuclear fire. Turns out, when Hammerhead rammed into the reactor, he started a chain reaction, but the place didn't go up immediately. So Ock made a run for it, and found one of his goons escaping down a safety shaft leading under the facility. He mentions how he grabbed that guy and yanked him out of the tunnel and left him to die, which seems like… something you wouldn't tell Peter right now… and then wrapped himself in his arms and prayed.
WHAT. Aunt May passes out immediately and Hammy threatens to kill her, and Ock, to his credit, is furious. He grabs her up and smashes through the wall, saying he'll never let Hammerhead harm that gentle, innocent woman. This leaves Peter, less willing to believe Hammy is a ghost, to suit up as Spidey and try to figure this out.

That coloring error is incredible. This happened so often in the 70s!! The mix of cyan and magenta to make Spider-Man Blue missing a piece and… no pants! Just smashing into people's homes with no pants on, JJJ is right about Spider-Man! Spidey catches up to Ock and tries to grab Aunt May again. He does the age-old "web on the glasses trick" (Ock found a solution to this like 40 issues ago, did he forget?) and manages to get her away from him, but only for a moment.

The way New Yorkers just walked up and started a fight with Spider-Man in the 70s is bonkers. Ock retrieved Aunt May while Spidey was dealing with that nonsense, and soon enough he's trying to steal that helicopter. Spidey quickly gets a new cartridge in one of his webshooters and manages to snag the bottom of the helicopter, but…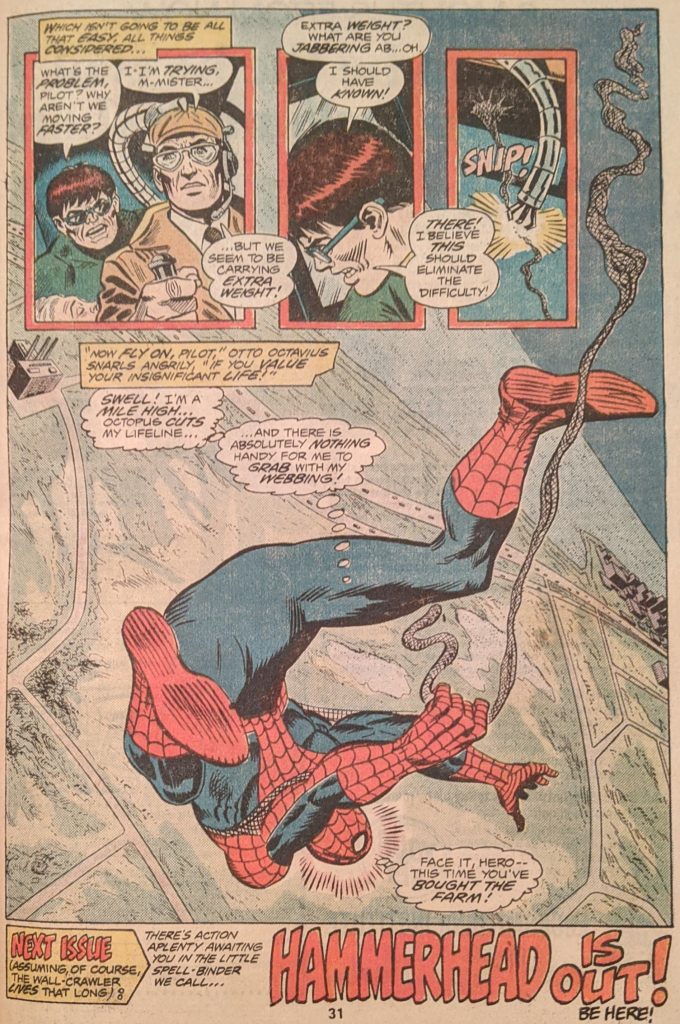 Spidey's certainly gonna die this time. Sorry, guys. It's been a good run. Also: Marvel Value Stamp intact! How long did they do this gimmick, anyway?