151 begins Len Wein's run as writer on Spidey. Marvel clearly liked what he did on Team-Up enough to give him the keys to the car. Ross Andru stays on as regular penciler, inked in this issue by Jazzy John Romita. Always nice to see his name pop back up. It's funny, back when I did the first round of blocks, I didn't want to spoil the original clone saga. I didn't want these issues in the first Wein block because of that. But, of course, the 90s made that totally impossible, and holding 151 & 152 'til now was for nothing. Ah, well. This issue begins with Spidey tying up a pretty significant loose end from the clone business: He's got a clone Peter Parker corpse in his possession, and he's got to do something with it. So he's brought it to an incinerator plant. For no reason other than to show you, he puts the bag down, opens it, and whips the Spider-Man mask off the body to reveal his own face while talking about all that's happened recently, and while he does so, his Spider Sense goes off. He thinks someone's watching him, but sees no one around.

Hours later, we find Peter Parker in a weird mood at school, understandably, hanging out with MJ and Flash when they run into someone they haven't seen in awhile…

We jump ahead to that party.

MJ effortlessly disarming JJJ is nice. Then there's some business where JJJ is terrified Flash will mess up his record collection, so they turn on the radio. Pete & MJ discover Harry is there, but he's sitting alone looking kinda sad, so MJ does her thing. She's really matured over the last couple years. Meanwhile, Peter has found Betty & Ned, and remarks on how he can't believe they're getting married.

Robbie is a class act. He doesn't even know Harry all that well, but look at him. As comedy business with JJJ defending his home and wallet continues, the news reports a series of freak blackouts sweeping across the city, and Peter notes they seem to be headed this way. And, as Jonah is giving a speech about Betty & Ned, the lights go out. Peter runs out on the balcony in time to see a police helicopter flying overhead. He's pretty sure these blackouts are something nefarious, and not sure how to sneak out of the party, he does something… pretty crazy…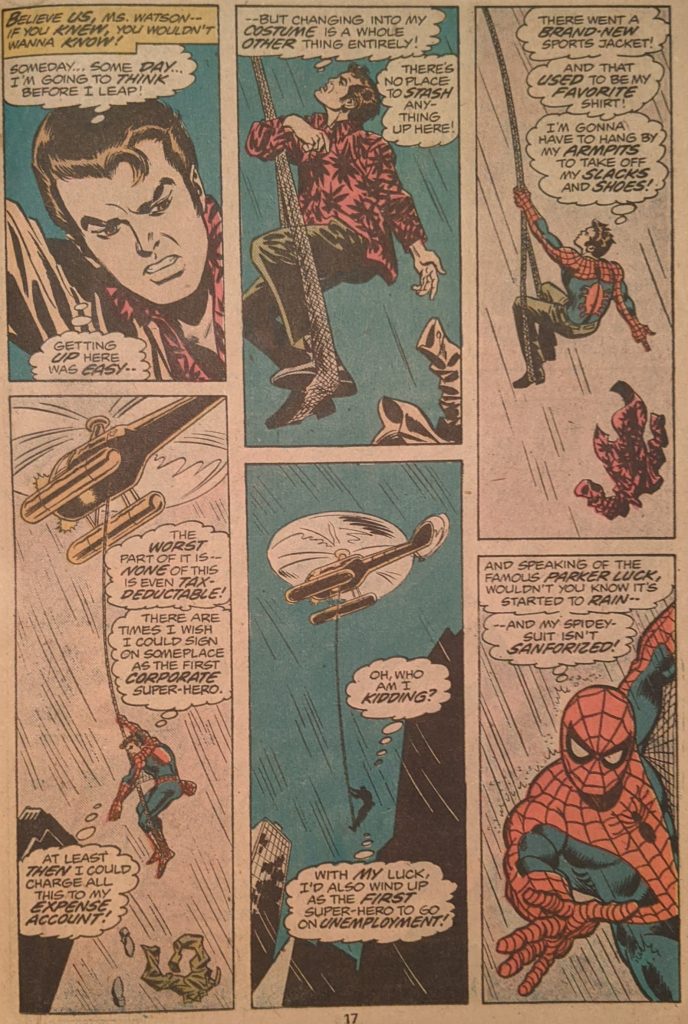 From up here, Spidey has the vantage point to see the ridiculous truth: The blackouts spell the word "SHOCKER" from above. Spidey's old foe has initiated one of the goofiest villain plots I've ever seen. It's been almost 100 issues since The Shocker was last seen in these pages, though not terribly long on the blog, and Spidey does remember him being the kind of guy who'd do something so big. And since the "R" isn't quite finished, Spidey has a pretty solid idea of where to go looking for him. This leads him into the sewer, where he soon discovers…

That reintroduction comes in the form of a kick, and it's fightin' time. Shocker is really laying into Spidey with his vibro-shockers (Look, I don't name these things), but as soon as he gets in close, Spidey webs his face and bats him across the room. But Shocker manages to vibrate the web off his face (er…) and then begin to escape up a manhole. This is a bad time for Spidey to run out of webfluid, but he does.

Maybe I'm underestimating it, but this situation doesn't seem terribly dire. Just, like… get up? I guess we'll see why it's not that simple next issue. Unless it is. This one's cover is pretty famous. It's certainly a striking image. But… kinda false advertising, huh? I've spent ages of my life having seen the cover and wondering what could drive Spider-Man to a murderous rage in this issue, and then answer is, well, nothing, now that you mention it. Bit odd.