Gerry Conway is out, and incoming writer/former editor Lein Wein doesn't get started until next issue, so where does that leave us for this anniversary issue? In the hands of the legendary writer/editor Archie Goodwin, one of the best to ever do it. To make it an even more momentous occasion, Gil Kane returns to pencils with Mike Esposito & Frank Giacoia on inks. These guys will tackle the linger question from last issue: After their battle with The Jackal, how can Peter be sure he's not the clone? Well, for one thing, he knows where his apartment is. I mean, he made it back here all by himself after the fight, even though the clone would be a Peter who never lived here. Oddly, this never comes up. MJ has gone home since the end of last issue, and our man is freaked out by the possibility of not being a real person.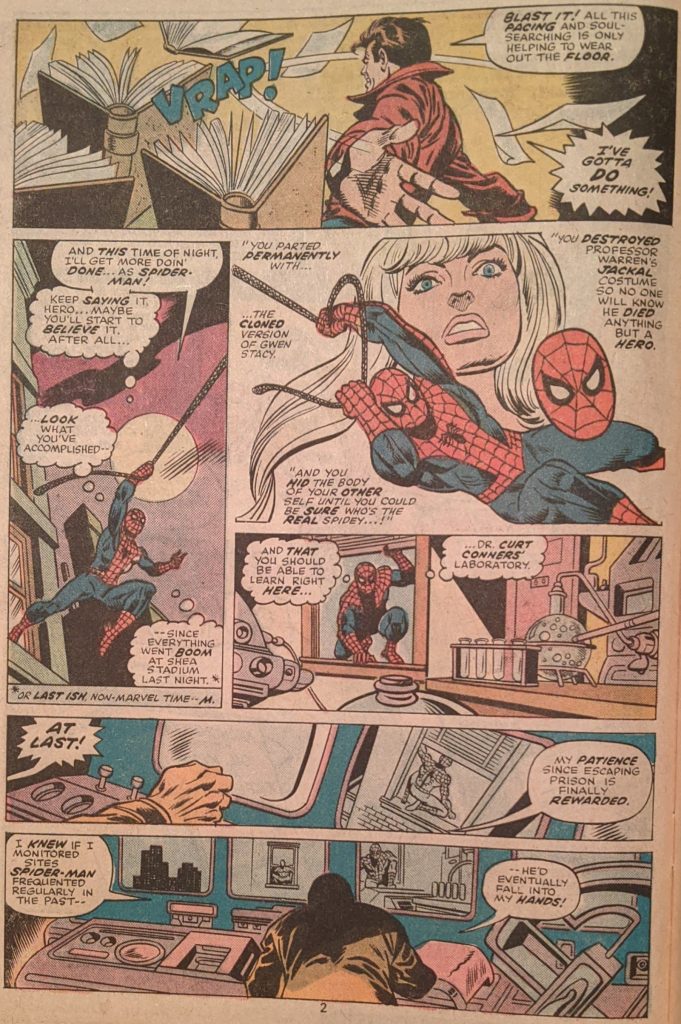 That seems like an awfully long con, mystery person, but I guess we all have our methods. Spider-Man ends up having to dispose of his enemies' costumes so no one will know they were a villain more often than I thin the average hero does. As Spidey (who, lucky for him, doesn't take his mask off under surveillance) gets ready for testing, who should walk in but Curt Connors himself, back from Florida to give a talk at a convention. He's more than happy to help once Spidey lays out the bizarre situation. The relationship between these two, always trying to help each other out of science-based jams, is a fun one. Doc runs some tests in a traditional Gil Kane montage panel…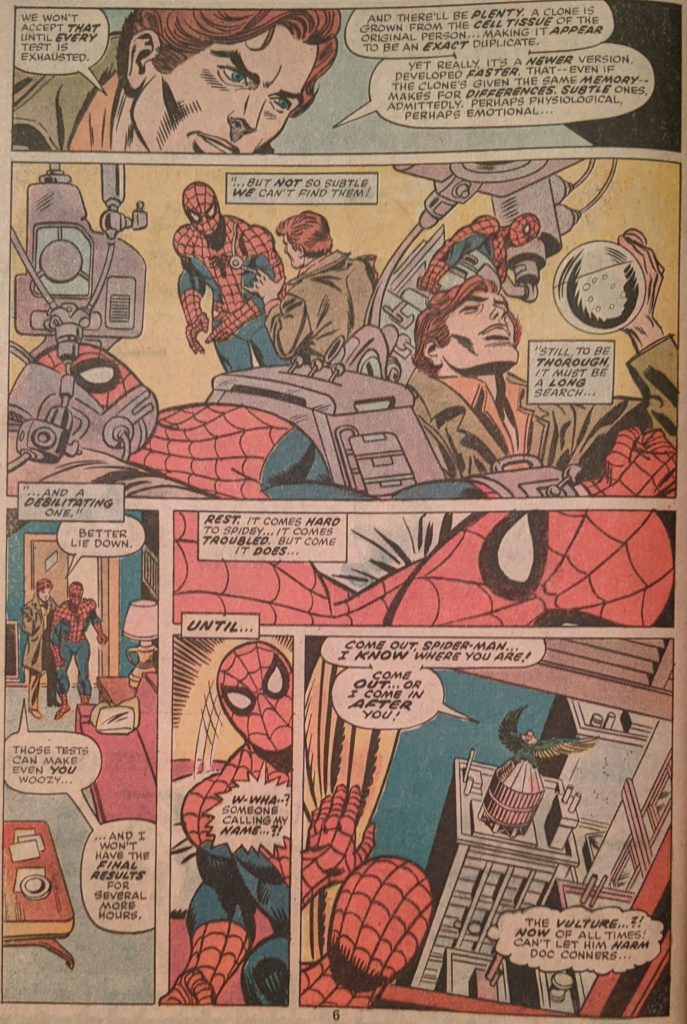 Curt sure knows a lot about this impossible pseudo-science that isn't his field!
It's been almost 100 issues since these two fought. That seems kinda crazy. But are they fighting now? They do some acrobatic fighting for awhile, but then Vulture crashes into a wall and seems to explode. That seems odd. Spidey is pondering the drifting smoke and feathers when The Sandman attacks.
Spidey managed to topple the water tower on Sandman, who also promptly disappears. He tries to swing back to Dr. Connors' lab, but is knocked out of the sky by the thrown cane of…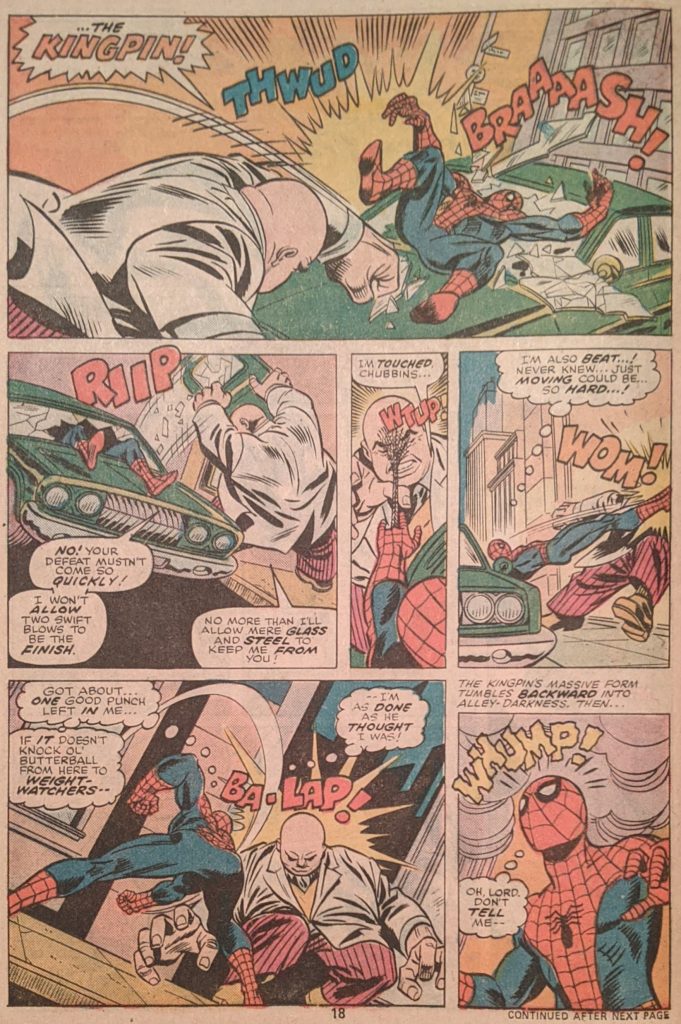 A short fight with Kingpin ends with him disappearing in a cloud of smoke, too. An ever-more-confused Spidey tries again to get back to Connors, and is naturally attacked by Spencer Smythe and a Spider Slayer robot. And this time, it's not a fake. Smythe smashes Spidey around a bit before finally explaining the preceding business.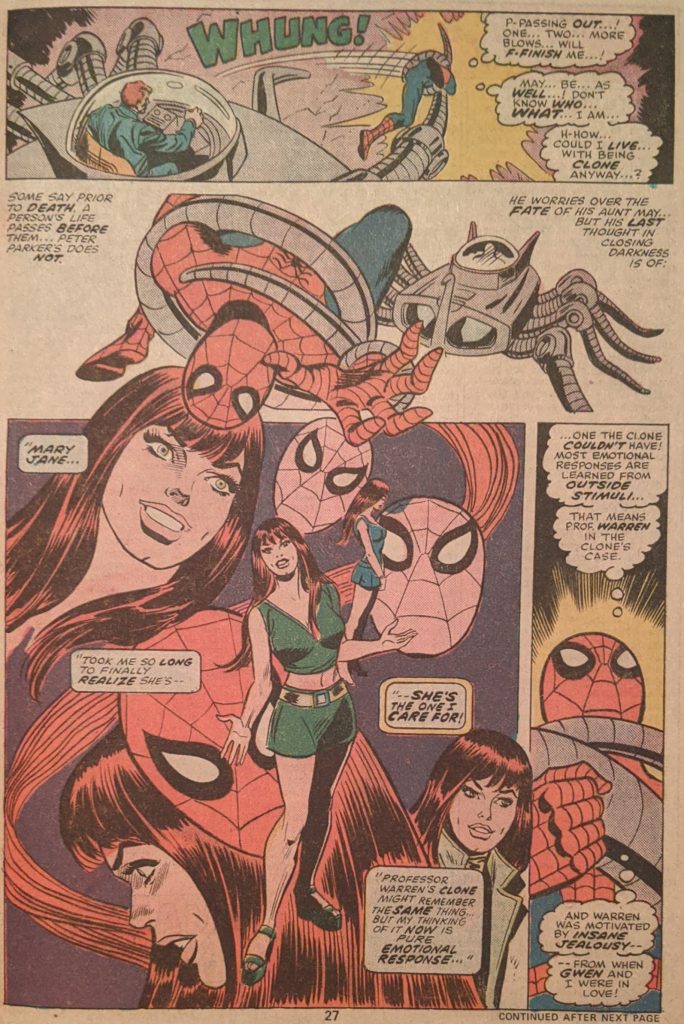 I mean, I still think knowing where his apartment was is more concrete, but sure, the power of love and whatnot. Fueled by same, Spidey is able to break free of the Spider Slayer's tentacles.
What an incredibly abrupt, weird ending! That leaves things way too open. And, unfortunately, people tugged that loose end. But, for now, Peter is sure of who he is again, and ready to charge into a future with new writer Len Wein. I wonder if Archie did the villain buffet to intentionally echo ASM 100. Or if he just thought people wanna see lots of villains in an anniversary issue. I shall never know. This one features a letter from future comic book writer John Ostrander, who suggests The Jackal is a clone of Peter Parker. That would've been an interesting twist. He was so close!