In the early 90s, they printed a "Marvel Milestone Edition" of this issue, so I finally got to read it. I later secured an original copy just out of some weird desire for completion. This will be my first time through the original. Let's get to it.
So. The Jackal has just revealed himself as Professor Miles Warren. Which immediately casts every appearance by The Jackal in a strange light. This criminal mastermind who manipulated a raft of Spidey's foes into help him, this weird prankster characters that often bounded around like a 4-legged animal… is an elderly professor? Still reeling from the drugs in Jackal's claws, Spidey does what he does best and relives last issue for us, then passes out. He wakes up in an abandoned building, strapped to a table next to Ned.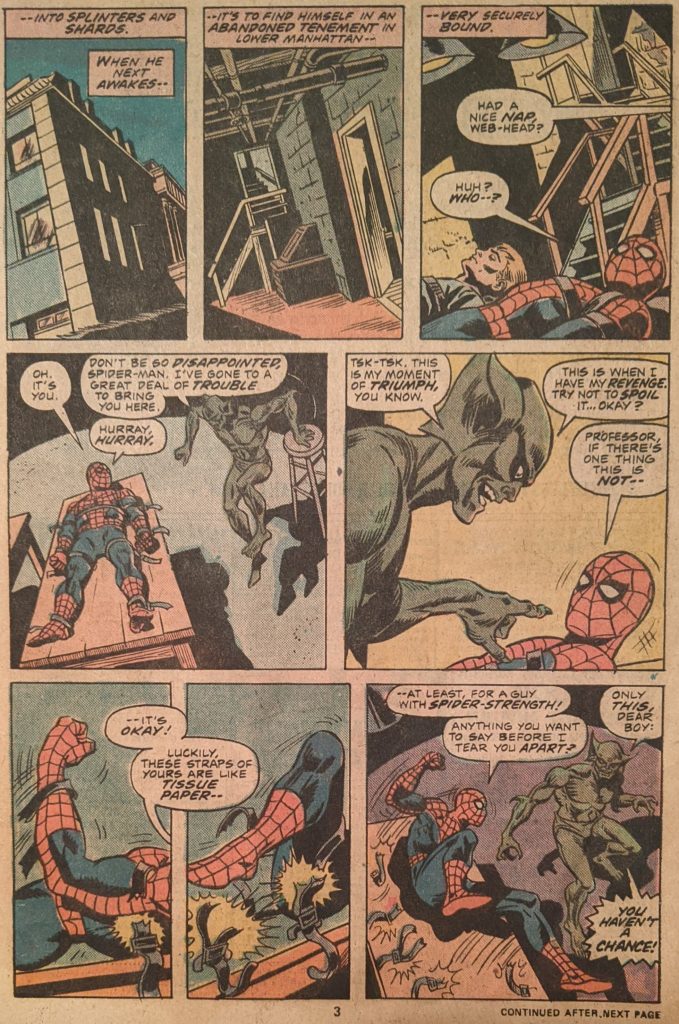 The Jackal calls Spidey murderer again, and that sets him off, and then… The Jackal proceeds to just wipe the floor with him.
After beating Spidey into submission, Warren helpfully recaps his whole deal for Spidey and us. How he was taken with Gwen from the moment he saw her. He says he felt a fatherly need to protect her, but we're not buying that, are we? Then she died, and he was shattered. So when his assistant, the aforementioned Anthony Serba, told him their cloning project had succeeded in creating a cloned frog, Warren remembered the tissue samples he'd taken from his students, and gave some to Serba to try next.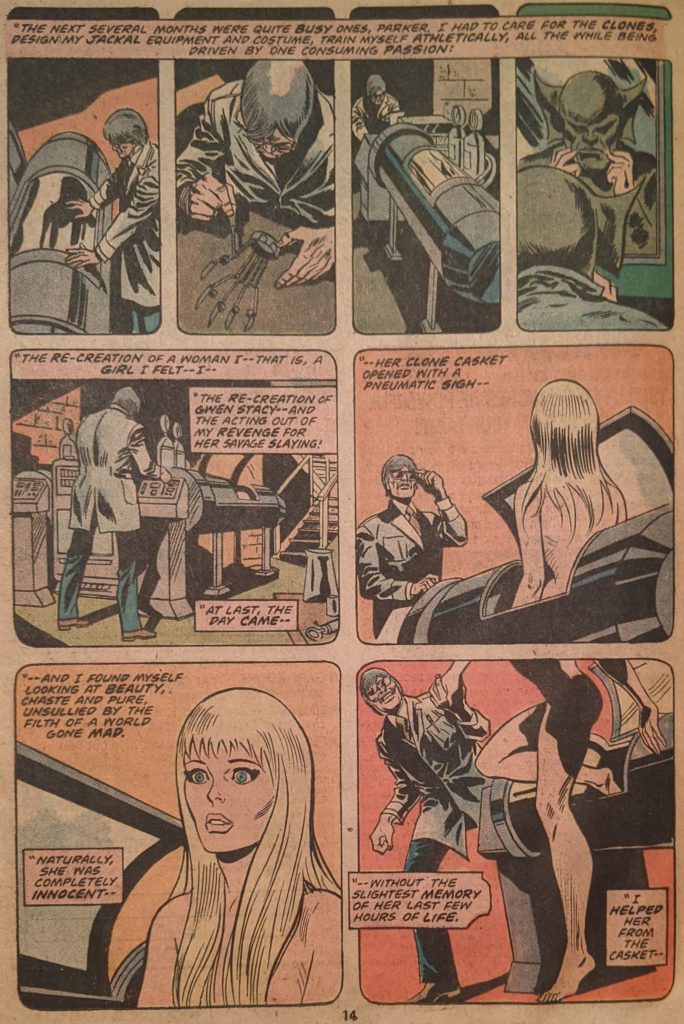 Guys, I don't think Professor Warren is a totally sane dude. He "trained himself athletically?" That's seriously the only explanation we're gonna get for this old man being able to take Spider-Man in a fight? He says he swore to the newly risen Gwen that he would punish the man who harmed her, and spent months training her to obey him with hypnosis, like ay good person would. Having finished his tale, The Jackal dives behind a steel door and tells Spider-Man to meet him at Shea Stadium at midnight for their final battle. That seems really weird. He's got him at his mercy, he just said he wanted to prove to both of them that he could beat Spider-Man, and then he just… leaves. With Ned!
JJJ's so mad he forgot Joe Robertson's name! Or that was a typo. Your choice. Why does it seem like everyone in Conway's run is one stubbed toe away from a frothing rage at all times? Everyone's so angry! So, then, at Shea Stadium at midnight, Spider-Man swings into the trap. And I mean immediately, as The Jackal pops up behind him and drugs him the second he sets foot in the stadium. So it's clearly been a thing that The Jackal can get by Peter's Spider Sense, but no one has bothered to offer a reason why behind "he's a friend." But he clearly is not a friend! This is dumb. Spidey has got to stop falling for this. Also: Sure is lucky for the Jackal he picked the hallway Spider-Man happened to land in front of to hide in. Out to pack this in and go gambling with that luck. Anyway, Spidey passes out yet again, and on his way out, he sees The Jackal stick a needle in him. When he wakes up, things only get weirder…
The Jackal then lays out his utterly absurd plan: He's removed some of Spider-Man's "memory cells," so both he and his clone believe themselves to be real (wut), and Ned is strapped to a bomb that can only be disarmed by the real Spider-Man (wut), so now the two Spider-Men have to duke it out to see who gets to save Ned. This… this is a lot. The first question is, why did he clone Peter Parker? In his little flashback, he specifically says he had Serba get to work on "clones," plural. Did he do the whole class? Did he have "fatherly" feelings for Peter, too? No one addresses it. But also, the science here is just off the charts silly. Every aspect of this is silly. But we gotta see it through, so anyway, the two Spideys are fighting and whatnot for a page or so, and then…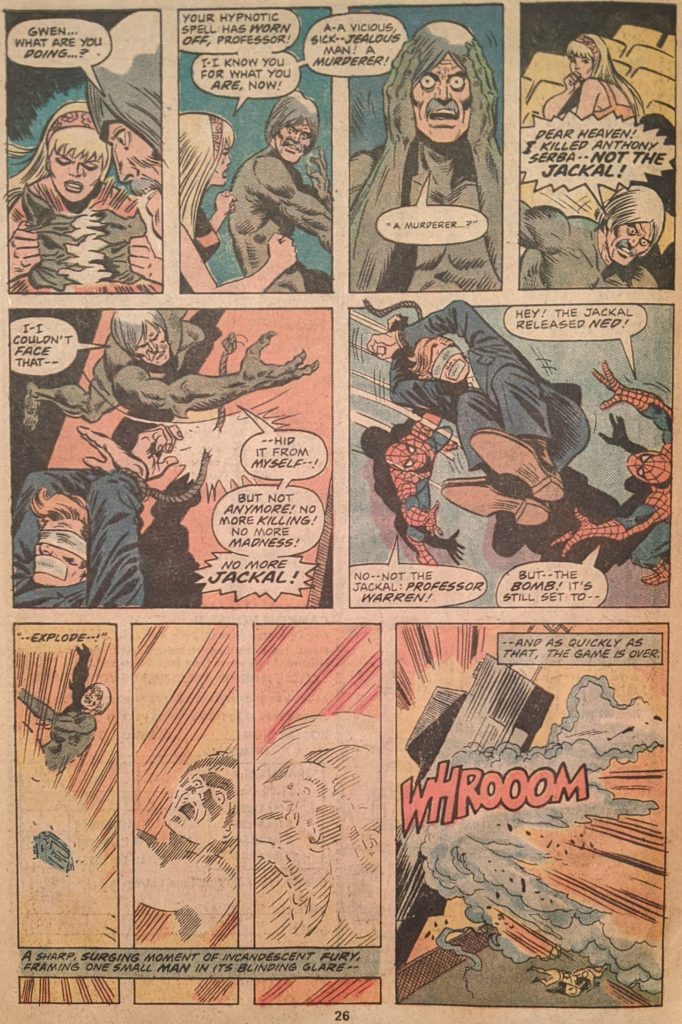 Yeah. In the end, Gwen's inherent goodness foiled The Jackal's insane plans, and also blew him up.
There you have it, the exact moment that enabled the 90s clone debacle. Really, really hard to imagine some one (Terry Kavanagh) thinking, "Remember that dreadful, nonsensical clone story from the 70s? What if we made it the cornerstone of our publishing plans 20 years later?" But he did! From there, Peter & Gwen go to the cemetery where Gwen is buried. Gwen decides there's no way for her to stay in this place where the real Gwen lived, and walks off into the night. As we know from WEB 125, she wound up living a totally bonkers life. Then Peter goes home…
So his Spider Sense isn't set off by his homicidal biology professor, but it is set off by his worried girlfriend? Aaaaaaalright. But, hey, as a staunch Peter & Mary Jane supporter, I do like the fact that this story gave Peter Gwen back, and he chose MJ, anyway. Her rare moment of vulnerability down there is nice, too.
And, abruptly, that's it for Gerry Conway on ASM. Pretty crazy run. He killed Gwen & Norman, he almost married Aunt May & Doc Ock, he did this crazy story. He brought back a bunch of obscure villains and a couple obscure friends for Spidey, as well as creating some new ones He brought Peter & MJ together. So much of his work has lasting ramifications. That's not too shabby. But he also made Peter a real jerk and wrote some stories that really didn't add up. Win some, lose some, I guess. I suppose we could say this whole arc has been "The Delusion Conspiracy." Remember that title from ASM 144, the first issue Gwen's clone was revealed in? It makes sense in that larger context. It made no sense as the title of ASM 144. Of course, this run would come to be called "The Clone Saga," instead. And inspire the 2nd Clone Sage. And a 3rd Clone mess only a couple of years ago. This strange little tale casts a long, long shadow. And, while it's finally over, there's one bit of business left to solve next issue.
Of interest to me, if not import for Spider-Man, is this month's Bullpen Bulletins, where it is officially announced that Jack Kirby has returned to Marvel after his time being treated just as badly by DC. Jack's story is so sad. This issue's letter column offers an apology for the way Mindworm's house was depicted in ASM 138. Apparently they based it on a real house and the owner was mad? They don't go into detail. That's kinda funny. It also has this great, short letter:
Totally warranted sarcasm. Next post: an epilogue to the clone mess, but one that doesn't involve Gerry Conway.