We're finally here! My first Spider-Man comic. Technically, one of two, but I got them at the same time, so I count the oldest one, and that's this. My Mom got ASM 148 & 180 and a bunch of Star Wars comics at a garage sale when I was too young to even know how to read them. At the time, Amazing would've been in the early 200s. Those comics led to a lifetime habit. You may note the above image isn't the cover. It was for me, though. My copy of ASM 148 had its cover removed. Back in the day, retailers could cut the logo or whole cover off a book they didn't sell to return it to the publisher for a refund. But the unsold book often wasn't destroyed like it was supposed to be. In spite of having read it a million times, it was decades before I found out what the cover of this comic even looked like. These days, I have 2 copies. My original, cherished childhood possession, and a complete one. It looks like this: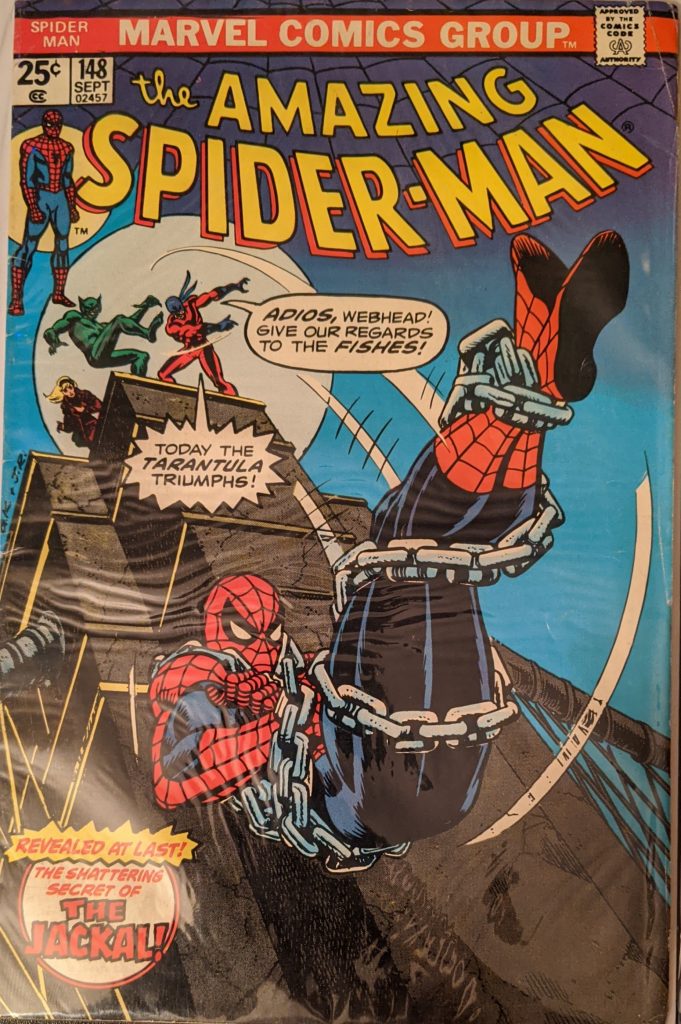 Imagine having this object that captivated you from an extremely young age and not finding out what it's supposed to look like until you're in your 20s. It almost felt wrong, seeing a cover on this one. But, hey, what about the comic itself? Let's do it. As mentioned last issue and seen above, Spidey has just been kicked to certain death by his fearsome foes and the clone of his dead girlfriend. Man, I think I could do this without even opening the book, but then there'd be no pictures (Pictures are coming from the newer copy, because the original is all-but shredded from being read to pieces). Spidey tries to get a web onto the bridge to save himself, but he can't hit it falling so fast and chained up. It takes 3 tries, but he finally manages to get a web to attach.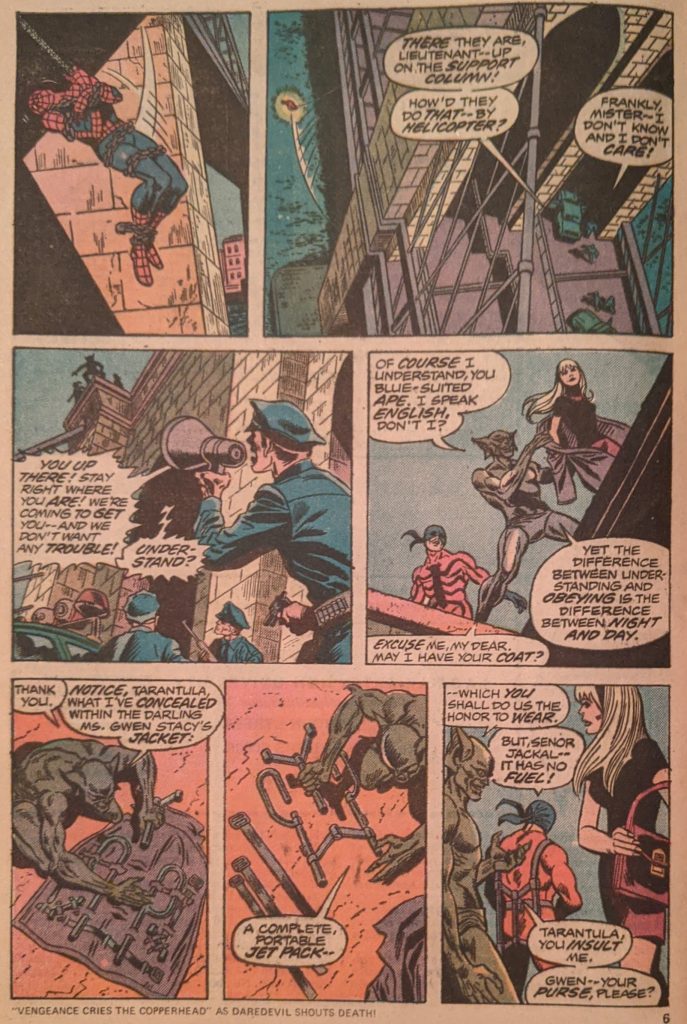 It's hard for me to articulate how iconic every single panel in this book is to me, having seen them so very many times. This jetpack scheme was so fascinating to me as a kid, they idea of just hiding the pieces in your clothes. Retrieving fuel canisters from Gwen's purse, The Jackal completes the jetpack, and the trio fly away from the bewildered cops. It's a nice touch that this jetpack has a similar look to the Grizzly's mechanical harness The Jackal built a while back. Like he has a style. With no one else to nab, the cops pull a police boat up under the still unmoving form of Spider-Man and cut him down. One of them wants to unmask him, but his lieutenant says no. He already has stars in his eyes, imagining how dramatic it will be to unmask Spider-Man on TV, and that's before they notice the police commissioner waiting for them on the dock. The Lt. tells them to unchain Spider-Man so it will look better on TV, and as he prepares to cuff Spidey…
Spidey hitting 4 cops at once and escaping in a hail of gunfire really informed a lot of how I think of the character. His fighting skills, his relationship with the cops, all cemented in these 4 panels. And speaking of things that made an impression…
As soon as the door shuts, Peter snaps out of it, but by the time he opens it to apologize, MJ is long gone. He berates himself for being stupid. He ain't wrong. As a kid, seeing Peter barely even conscious after getting whupped by villains was key. "Oh, wow, this guy doesn't just win all the time." His drama with MJ seemed very important, but was obviously not my focus as a child. As an adult, seeing it in context, it seems rather ludicrous. Peter decides to forget his troubles by taking a bubble bath. Really. But that only lasts a couple of minutes, as someone rings the doorbell. Peter excitedly rushes to the door, expecting MJ, but gets Ned Leeds instead. Ned has some ideas about Gwen's return, which he lays out as Peter makes them coffee.
Once Peter is panted, The Dynamic Duo rush off to the campus of ESU, where Professor Warren happens to teach a late class on Tuesdays, so they catch him as his lecture is ending. Once Peter tries to explain why he's there, Warren takes them to a refrigerator the samples were in, but they're gone. Uh-oh! Warren says he thinks he knows who took the samples: his former assistant, Anthony Serba, who disappeared months ago. Pete and Ned rush out and split up. Peter goes to get Serba's address from the school, while Ned returns to The Daily Bugle to see if anyone's located Gwen. Hours later, Spider-Man is swinging to an old factory, where Serba apparently lived in some room converted to an apartment.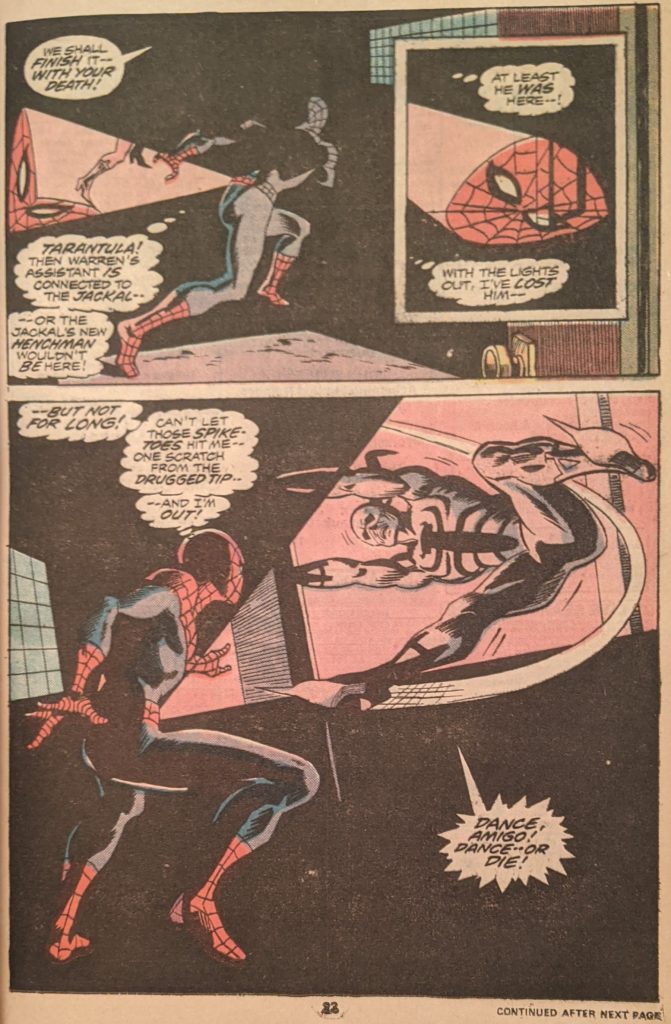 Tarantula has to be the most dramatic villain ever to just stand there like that, waiting to be seen. This running battle in the pitch black room really got me as a kid. It seemed so dangerous and intense. And still does, really. It's a great gimmick for a fight scene, and the darkness even helps Tarantula seem less stupid. After another page of fighting through the dark, the pair crash through a window. Tarantula panics as they tumble into space, which gives Spidey the chance to web his eyes as he guides them to a safe landing. That gets him good and enraged, and as he shouts "no one is greater than The Tarantula!" (haha) he charges at our hero full speed.
And so, young me learned quickly that Tarantula really sucks as a villain, defeated by sticking his dumb pointy feet in the wrong thing.
Boy oh boy. Peter's Spider Sense does and does not work for a variety of often contradictory reasons. Why on Earth would it not work in this case? This reveal is basically impossible to swallow. Dr. Warren has been hanging out in the margins of this title for well over 100 issues. He's an old man. He has no super powers. How can he possibly be The Jackal? Well, he is, so that's that. Things only get sillier next issue.
But think about this being one of only 2 Spider-Man stories you know for years. It's a weird, weird place to start (So is 180, but we'll get to that). And to not even know what happened next for over a decade, even! That's a crazy cliffhanger to live with your whole young life. This is the issue before the climax of a big story, while ASM 180 is the climax to a totally different big story. Those being my first comics acclimated me to the idea that these are massive storylines that readers just sort of drop into and try to catch up. Everything seemed so mysterious. I was left assuming Peter & Ned team up like this all the time. I wanted to know all the stuff being referenced. And yet, right here, on this blog, I've read most of this story for the first time, almost 40 years after first seeing this issue. Pretty crazy, man. And fun.