The Scorpion tends to sting a lot of times per appearance, in my experience. No mistaking that Gil Kane cover. After the wild end of last issue, things don't seem to have gone too well.
Gerry Conway's obsession with people going crazy really taking center stage. Peter continues talking to himself, out loud now, as he recaps last issue, an ever more confused Gwen Stacy just watching, and when he gets to the part where he came home and found his dead girlfriend hanging out, he is less than kind:
The slow reduction in Peter's hand bandages over the last few issues has been sort of funny to me. He punched a brick wall, why are those parts still hurt? Anyway, yeah, he just takes off, leaving this woman who could be Gwen Stacy confused in his own home. That's an odd move. But he's more concerned with Aunt May in the hospital, correctly inferring she had her latest in a long line of heart problems due to the shock of seeing Gwen. He changes to Spider-Man and rushes off to see her, thinking about what he'll do to "the man behind this" once he finds him. Like, he's completely dismissed Gwen or "Gwen" or whoever it might be in a way that really makes no sense at all. Meanwhile, Mac Gargan, The Scorpion, is being let out of jail. A guard tells him he was a model prisoner, even.
If my criminal career was nothing but a series of crushing defeats, I'm not sure I'd call it "what I do best," but hey, I don't think I'd enjoy putting on a green suit and hitting people with my butt, so what do I know?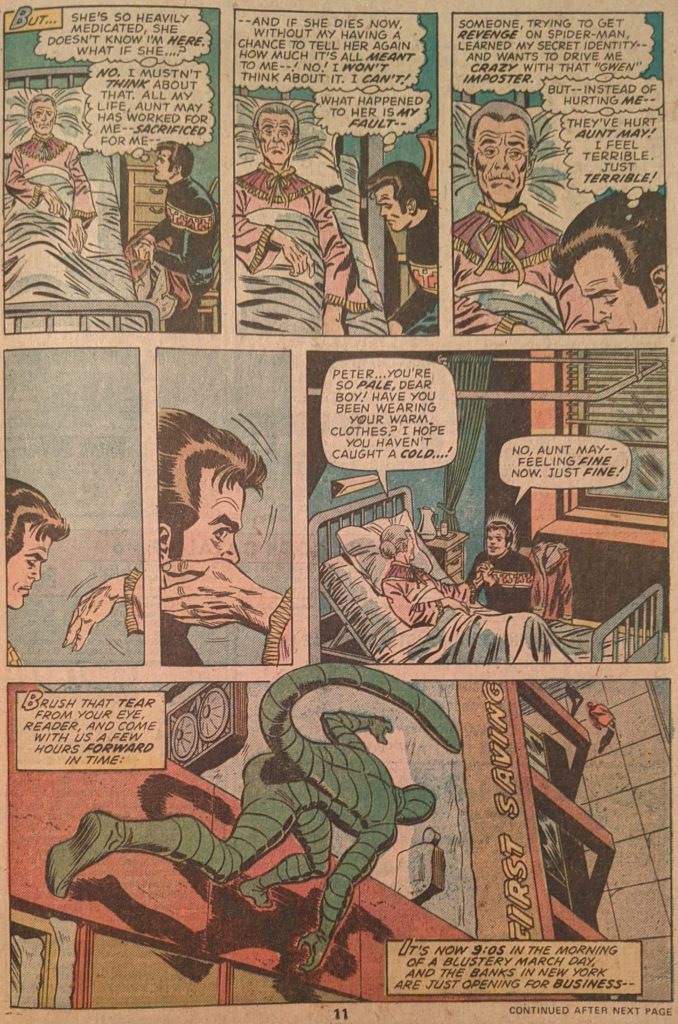 A nice little moment for Peter & May. Scorpion robs the bank, of course. He really didn't waste any time. Spider-Man doesn't show up, though. Peter's still at the hospital, having a nightmare about Gwen, Norman Osborn, and Aunt May dying. He wakes up freaked out and goes to a water fountain, where he hears a news report about The Scorpion from the front desk. He goes out looking for Scorpion, and then… Well, it says all of Marvel Team-Up 33 happens between panels on page 17. You know what? I have that one. I was gonna read it after this Scorpion story, but why not just check it out now? Stop the presses, it's the first-ever 2-issue post on this blog!
MTU 33
Two Kane covers in one post! This is one of the 75 I got for $48 during The Great eBay Hysteria of 2018. Nighthawk & The Meteor Man! Formerly The Looter, yet another obscure villain brought back by Gerry Conway. Sal Buscema & the notorious Vince Colletta are also on deck for this one, which begins with Nighthawk headed home after having nearly gotten blown up in Giant-Size Defenders 4. He's not in a great mood when he finds someone is in his house. Guess who?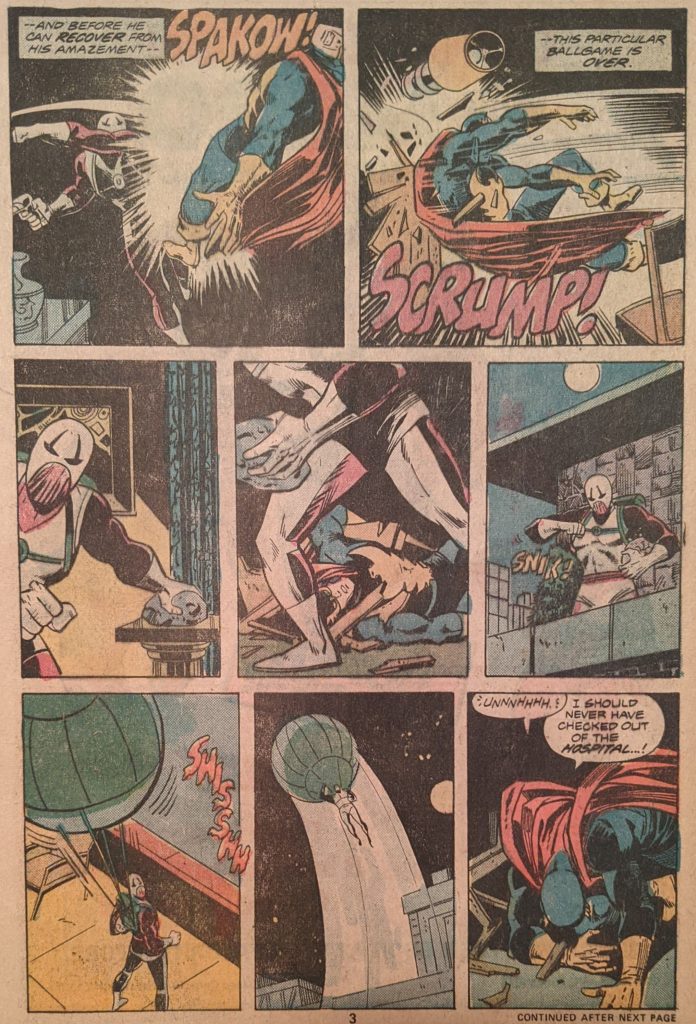 The Looter… I guess he hasn't switched names yet… steals a meteor sample from the home of Kyle Richmond, aka Nighthawk. He looks up some records and finds a new report on The Looter's first encounter with Spider-Man, way back in ASM 36 (We'll see it eventually). From there, we check in with Spidey, on edge, his whole world on fire, swinging around trying to find The Scorpion. Suddenly, his Spider Sense goes off.
Spidey is surprised when Nighthawk is knocked out and begins to fall to his death, so he swings down and saves him. The two heroes patch up their differences (sorta), Nighthawk explains his evening, and Spidey decides The Scorpion will have to wait. They split up, Nighthawk going to check out the prison The Looter was in, Spidey going to check his old laboratory. First we follow nighthawk to the prison, where he meets the warden, who is about to flashback to how Norton G. Fester, the hilarious real name of The Looter, escaped.
It's at this point in the comic that I find 2 pages stuck together, one of them folded up 3 times, with part of a Twix wrapper inside. This has nothing to to with the story, but it is by far the most shocking development that's gonna happen in this issue. Who knows how old the tiny bits of chocolate in the spine of this comic are? My goodness. Hey, the Marvel Value Stamp on the next page is intact, I guess I got that going for me. I guess there's no telling what'll be in some of these… Anyway, Fester was a model inmate. You know, like The Scorpion. So they put him in with this other guy hoping that attitude would rub off on him, but instead, the other guy was such a jerk that Fester got angry, realized he's so nice it never occurred to him to escape, and then does so. Simple as that. Nighthawk shames the warden for never getting Fester a psychiatrist and flies off. Meanwhile, Spider-Man discovers a religious cult has taken up residence in The Looter's old lab. There's something you don't see every day.
Oh, hey, a prior owner of this issue filled out the subscription form. Shout out to Tony Griffin of Rockingham, NC. Remember that Marvel Team-Up you had when you were 13? I got it now. Why did you only want a subscription to Giant-Size Triple Action? This issue is full of weird detours. Anyway, so he's The Meteor Man now. Is that better than The Looter? I guess. Spidey's so battered by the surprise attack he barely saves himself from the fall, and then he decides to get his act together. Then Nighthawk shows up, and keeps Spidey from pursuing the fleeing Meteor Man. He believes Fester needs mental help, not prison, but Spidey is prrrrretty riled up, and is not hearing it.
Well. That sure was a weird one. The Meteor Man and, presumably, the Death Cult will be back in MTU 34, but for now, we have to finish ASM 145.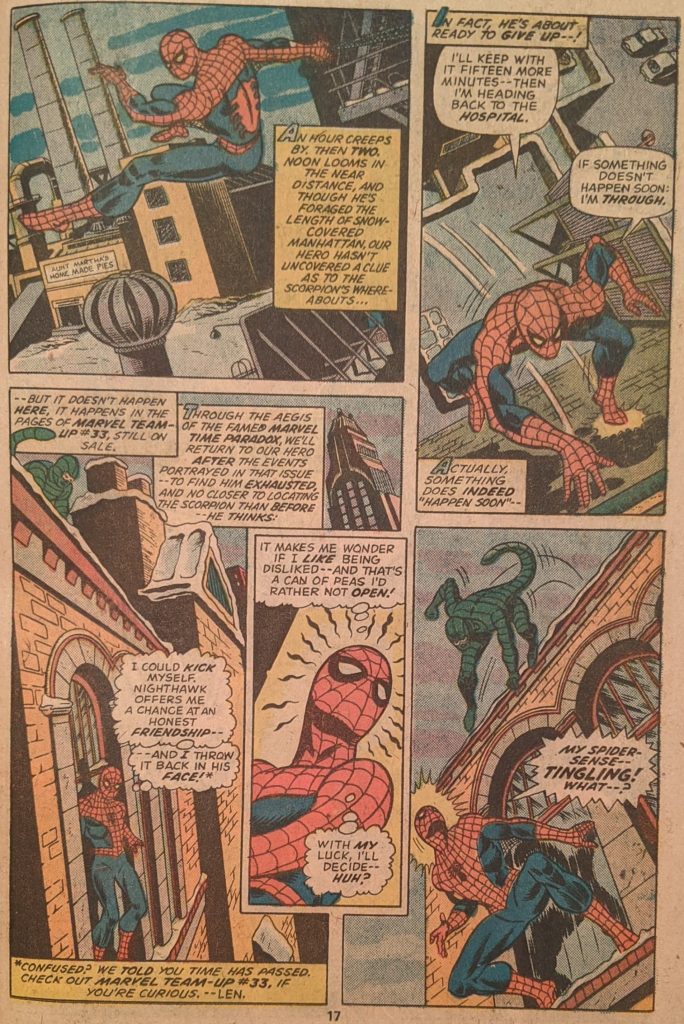 So, we're back on page 17. Spidey's hanging out on the side of a building, feeling even worse about what he said to Nighthawk, and then The Scorpion drops down on him from above. Then I see someone cut out this issue's Value Stamp, and then it's fightin' time.
Scorpion saying he doesn't need to see to fight is an awfully bold stance. Spidey drops Scorpy into a cement processing plant, hoping the sand will contain him, but the fight continues. Spidey's pretty wasted from the beating he got from Meteor Man, so things aren't going his way. Scorprion manages to knock him into a vat of wet cement, and conveniently leaves, thinking his work here is done. We're told Spidey waits 8 minutes and then surfaces. Fight over, he heads back to the hospital, where he finds, like, everybody. Joe Robertson, Mary Jane, Ned Leeds, Betty Brant…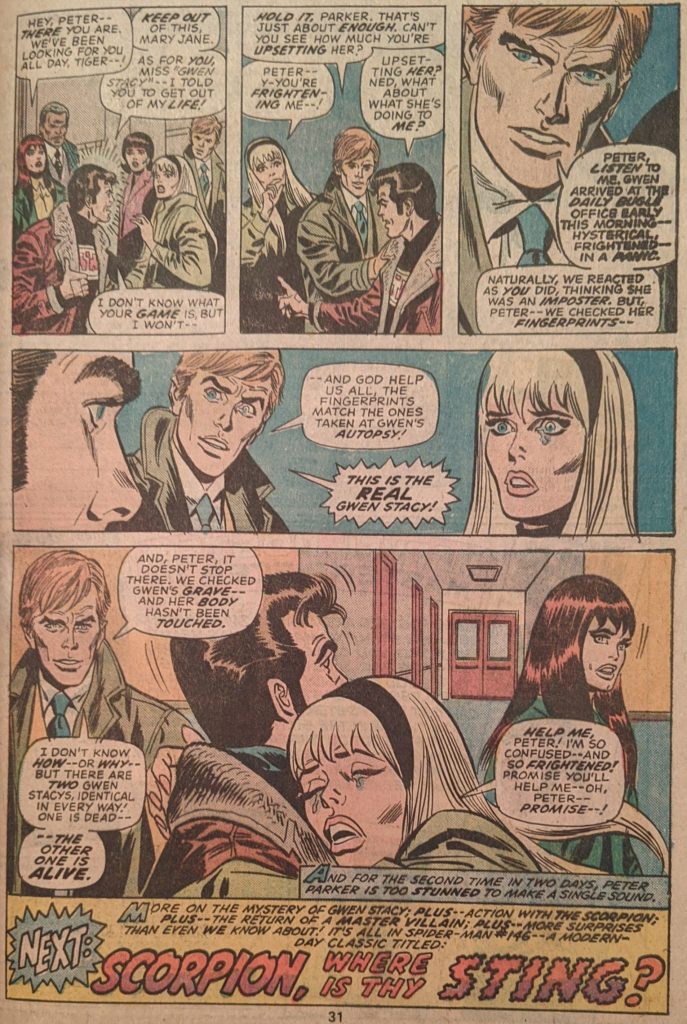 Whaaaat? How could that be? Shout out to Peter for that look at MJ. MJ has to be pretty freaked out in her own way right now, having only just gotten past Peter's trauma and defenses, and now this happens. Good of him not to forget her in this moment. More on all this next time.