I really did not think this one would continue from the last one based on the cover. Kinda stepping on your moment, here. Opening this shocking cover to find Spidey still in Paris dealing with the ransom of JJJ feels like burying the lede a bit. But that's what's happenin'. Spidey leaves the scene of his defeat at the hands of Cyclone and recaps the last few issues for us as he swings back to his hotel, no closer to saving JJJ and Robbie. A note was left for him at the front desk by the kidnappers, who tell him to wait for them at the hotel. So he does what anyone would do and calls his Mom: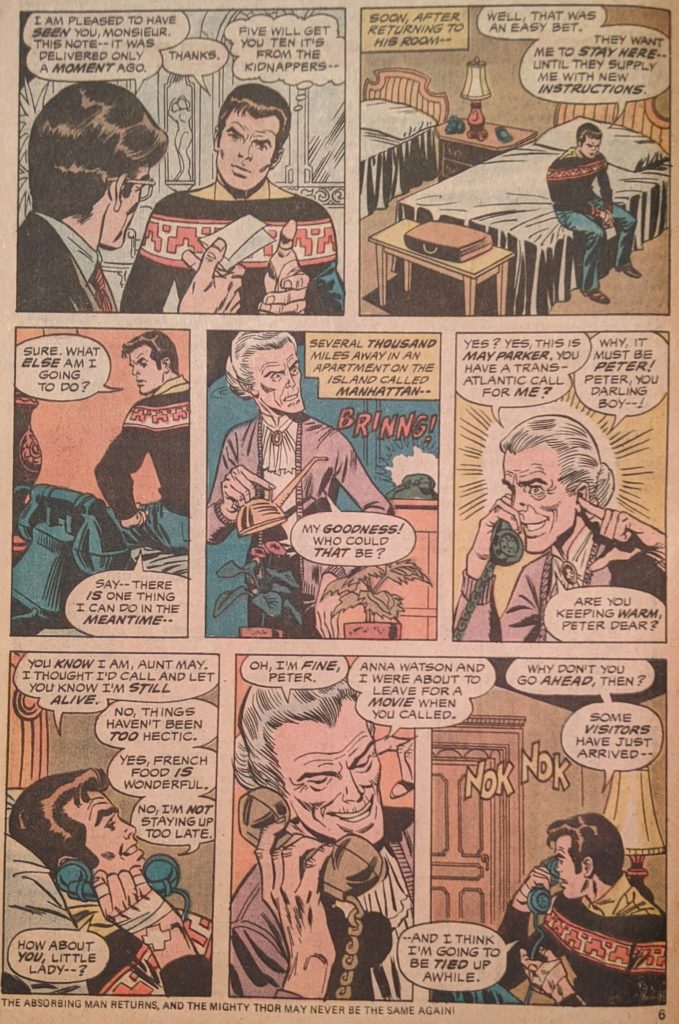 May & Anna gear up to head to the movies, talking about how Pete & MJ seem ready to get serious, which of course leads them to talk about the tragic death of Gwen Stacy. And then, when they get outside, Aunt May has a shock:
Why is everyone in a Gerry Conway comic from the 70s always 2 seconds from losing their mind? Everyone is so ready to go insane. Expecting it, even. Everything ok, Ger? At that moment, Peter opens the door to his hotel room and Cyclone's two goons come in and rough him up, demanding he bring the money to Notre Dame tomorrow. Why not just get it now? Ah, well. Peter gets the ransom money and heads out the next morning. Kinda early, eh? He sees a hardware store and suddenly thinks of a way to beat Cyclone. He buys some stuff we're not privy to and then heads to the Cathedral. Spidey apparently spent most of the day just swinging around Paris to kill time, and then finally, the show is about to start. Cyclone & Co. have dragged JJJ & Robbie to the Cathedral, where JJJ says they can't just kidnap him. JJJ really doesn't let reality get in the way, you know? Cyclone reveals he was a NATO engineer, and invented his goofy cyclone machine as a weapon for them, but they obviously rejected it. JJJ says Cyclone is blaming America for his own incompetence.
That suitecase gag is completely impossible. The goons are no match for Spidey, but Cyclone starts doing his thing and things start looking bad for our hero. Then he reveals his plan… such as it is…
Really, man? A big fan just knocked him over and that's it? How exciting. There's a pattern forming here where a new villain… your Tarantula or your Grizzly or your Cyclone… shows up and defeats Spider-Man way too easily, only for Spider-Man to defeat him way too easily next issue. And so he has. He frees Robbie and a typically ungrateful Jonah, and then has a tape recorder play Peter Parker calling down from the rafters to cover both of them being in Paris. Then we rush back to New York as soon as possible because we only have 2 pages left.
How does JJJ know Anna Watson?
And we're in it now. Due to all the jumping around, we already know The Jackal was up to some cloning in this era, and here it is. But if you're thinking this will launch right into the clone business proper, you may be surprised. Side note: So, JJJ fled the country to avoid being implicated in the Mysterio stuff, and you'd think this ransom caper would've been a part of that, but apparently… it wasn't? He's just that unlucky? Ok. Side note 2: What is The Delusion Conspiracy? Who is it effecting, and who is behind it? The title to this issue feels like gibberish. Or, I guess, spoilers visa vie Gwen's mysterious return, but either way… not so good. But guess what? Marvel Value Stamp intact! I don't know how long that promotion went on, but if I end up with only one cut out, I think that's pretty lucky.