Cyclone. Last seen in TAC 23, due to the way I do things, but this is his first appearance. As our story opens, Spider-Man is still in New York, and once again freaks out because he thinks he sees Gwen Stacy on the street:
Nothing? He swings over to The Daily Bugle to harass JJJ. He's got a suspicion his boss had something to do with his bout with Mysterio, but he finds the man's office empty. So he changes to Peter Parker and drops by like a normal person. He makes small talk with Betty about her impending wedding and finds out JJJ has gone to Europe and left Robbie in charge. He finds Robbie chewing out some reporters for bad writing. But Robbie says he'd like to offer Peter a free lunch, and Pete happily agrees.
Peter rushes off to sneak into one of Professor Warren's classes late. After that, he asks the Proff if he can go to Paris, and he's ok with it. So…
A cosmic moment in Peter & MJ's lives. Peter's been fighting it for 20 issues, but it looks like things are finally heating up with MJ. Or are they? We won't find out while Peter's in Paris. Or rather, Spider-Man is. After their plane takes off, we jump ahead, and Spidey is already swinging around following Joe, who has gone to meet the kidnappers who called him an hour ago. Robbie insisted on meeting them alone, as instructed, which begs the question why he brought Peter along, but whatever, he's got Spider-Man for backup and doesn't even know it. But…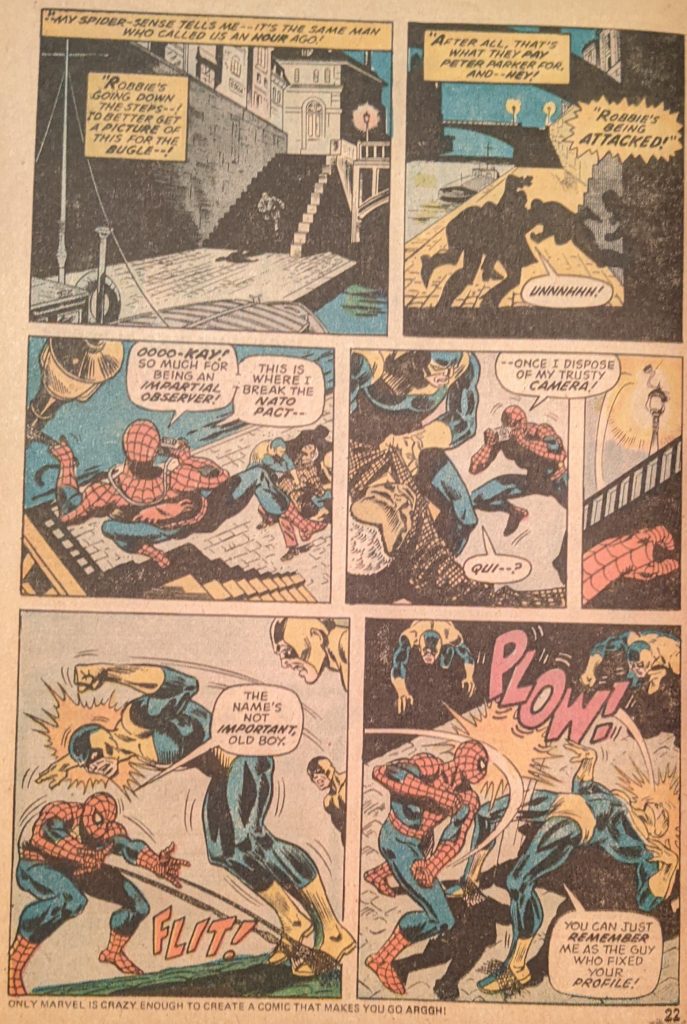 He easily takes out the goons, and then… flashes back to tell us what happened between his plane leaving and now? He already told us kidnappers called them. Now he tells us again, this time with flashback panels, and then a whole page of Spider-Man swinging around famous Paris landmarks following Robbie's cab. Did Ross just not pace this out right and need to fill time? That settled, we rejoin Spider-Man standing over the unconscious goons and Robbie, who he starts to carry away but he gets whacked by something hard enough to send him flying into a wall. It's Cyclone, finally.
He picks up his goons and Robbie in his vortex and flies away.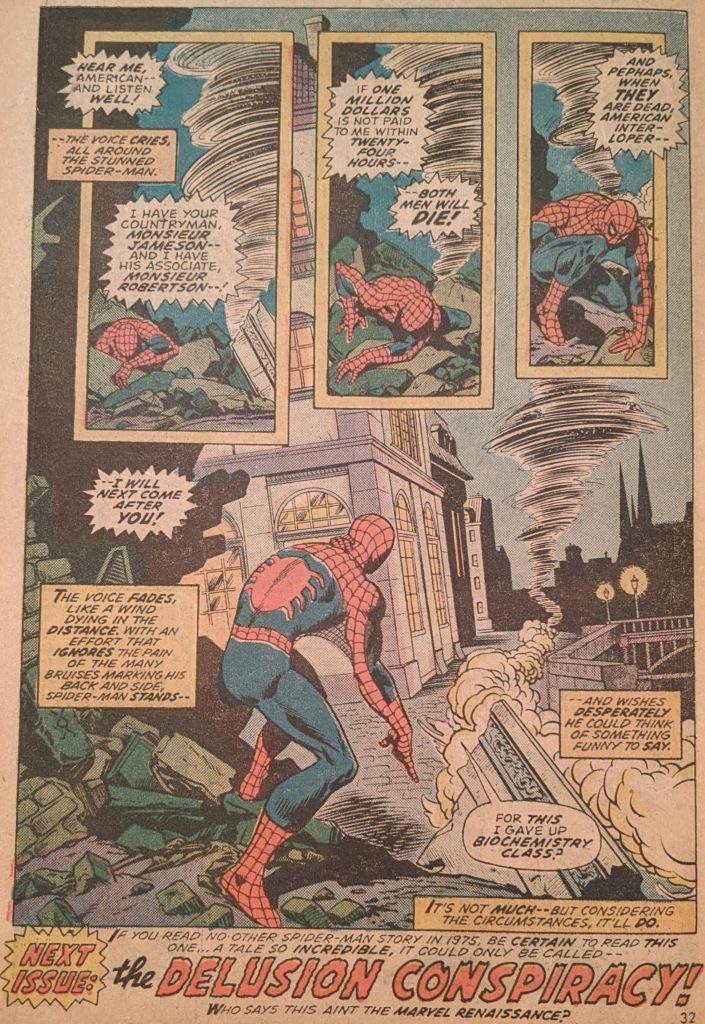 How's Spidey gonna get his bosses outta this one? "The Delusion Conspiracy," eh? What that means will become apparent with next issue's cover.