Old time enemy is a funny choice of words. He's here and he's schemin'! And Mike Esposito is back on inks, so a lot of the polish of recent issues is gone. This one starts with The Schemer telling his goons that, since Spider-Man drove Kingpin into hiding last year, no one's stepped up to fill his place, but that's about to change. "Kingpin got taken down and now there's a power vacuum" has become a really common cliche Marvel plot, we've already seen at least 3 versions of it, but I guess this is the very first time it was done.
In moments, Spider-Man is webbing up the goons and posing for his camera. One of the goons immediately mentions he works for "The Schemer," and Spidey recognizes one of Kingpin's goons on the other team, so he's already got a feel for what's going on, but not why, and it's only page 3. Now that's some lean storytelling. Maybe too lean! After taking a couple hits, Spidey tells the assembled goons he's just gonna let them get back to it since they weren't hurting anyone but each other and jumps up onto a building, which is kinda funny. The members of the two mobs run in different directions. Spidey collects his camera and his clothes and thinks he's got to learn more about this Schemer. He thinks back to the last time he saw Kingpin, wondering who the woman who spirited him away from their last battle is, and as luck would have it, we're about to meet her. I believe here we have the first appearance of Vanessa Fisk.
Peter heads out, worrying that Gwen's birthday is coming up and he can't afford to give her the world. Speaking of not affording things, he goes to apologize to Dr. Bromwell for not paying Aunt May's bill yet, but he says Medicaid took care of most of it. Peter is overjoyed, having forgotten all about Medicaid. Look how helpful social programs are to the people who need them. But he still thinks he should have more money saved up in case something happens to her. Meanwhile, turns out The Schemer's boys grabbed one of Kingpin's, who is all-too eager to rat out the boss who hasn't even been in touch with them for months.
Man, the 60s were weird. As Flash's plane takes off, Peter thinks, "Which is worse—? Staying behind while other guys are doing the fighting..? Or fighting in a war that nobody wants– against an enemy you don't even hate?" Squeezed a lil; commentary in there in spite of the brisk pace of the issue. Harry & MJ are off to see Easy Rider, but Gwen & Peter want to be alone. Peter wrestles with confessing his secret as they walk down the street, but then a car sideswipes a speeding truck right into them!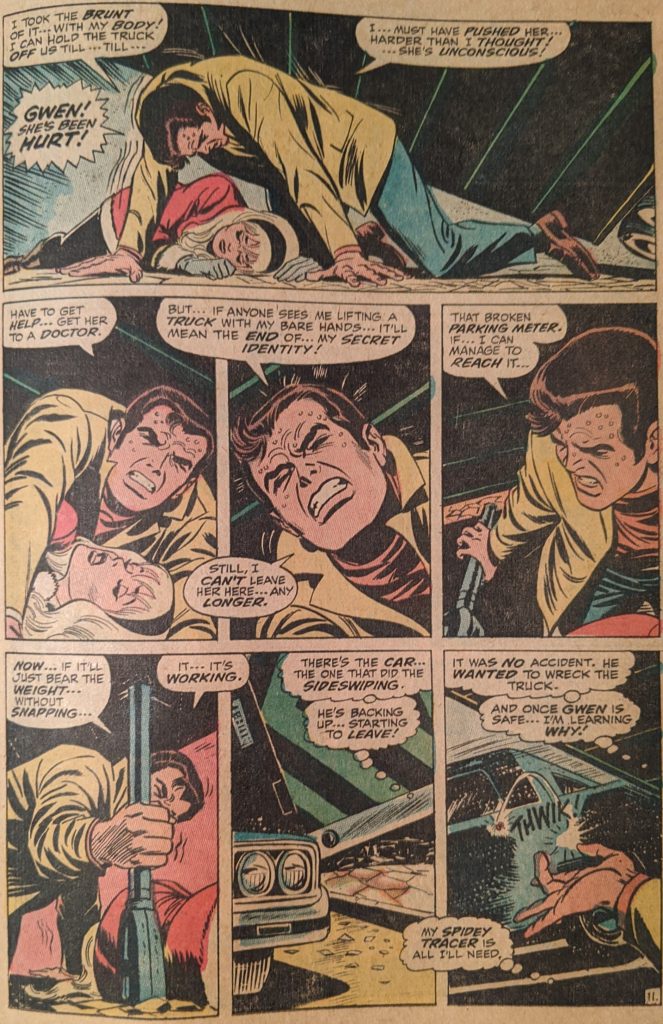 Yikes! The authorities arrive pretty soon. Gwen is loaded into an ambulance, with the EMT saying she only has some bruises and is in shock. Peter is relieved, but with her off to the hospital, he's ready to go get revenge on the perpetrators. Switching to Spidey, he begins combing the city for his tracer. He guesses that was probably more action between Schemer and Kingpin's mobs. Then he finally finds his tracer, and soon enough, it leads him to The Schemer's office. He smashes right through the window.
The Scheme takes a shot at Spidey himself, but our man dodges and then webs his gun out of his hand and whips a goon in the face with it in one motion. The Schemer responds by opening 2 panels in the front of his desk, which turn out to have machine guns in them. That is a crazy and impractical defense system!
"His desk… it's an evil hamburger bun!" But Spidey is able to exert enough pressure that the top bun begins to crack, and eventually shatters, and the machinery inside explodes as he leaps free.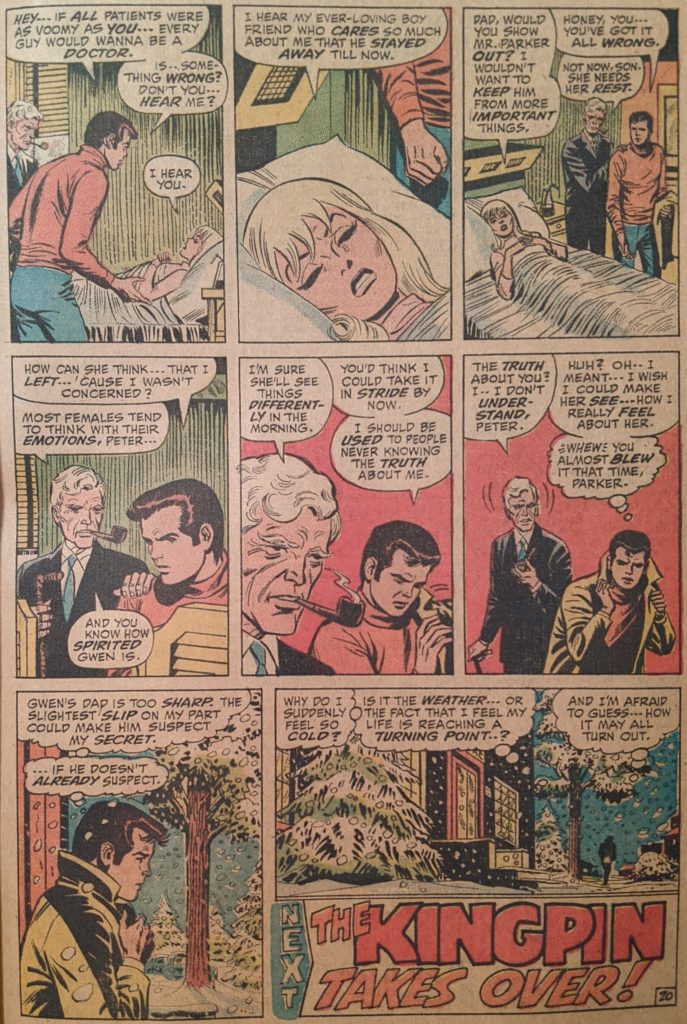 Careless! No wonder George had it all figured out by ASM 90. No letters this month, but there is a pretty good Soapbox from Stan.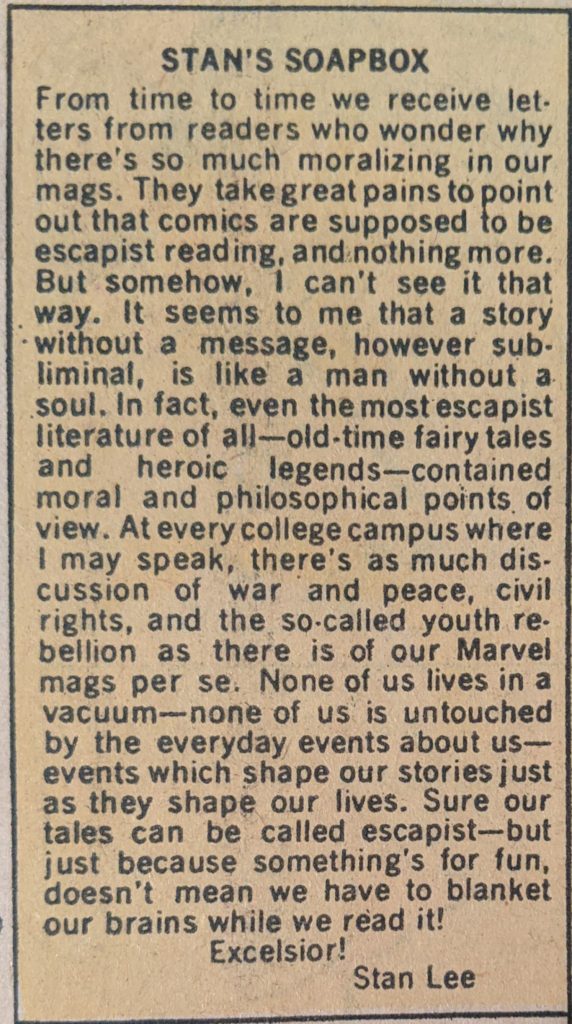 These days, certain elements love to whine about how comics should be like they used to, when they weren't "all political" or whatever. And yet…