The Silver Surfer! I'm not sure it HAD to happen, but it's happenin'. Odd case, The Silver Surfer. For all the sniping and stories and sides taken in the murky history of who did what creating the early Marvel Universe, the one character basically everyone can agree was created solely by Jack Kirby is The Silver Surfer. Even Stan's version of the story is telling Jack to draw Galactus and Jack adding a herald to come before him. And yet, despite or maybe because SS is the only character widely known to be 100% Kirby, Stan became weirdly attached to him, even allegedly decreeing no one else was allowed to write him for many years. After The Surfer's legendary introduction in the original Galactus story, a man from another planet who agreed to become Galactus' herald if his planet was spared destruction, Galactus confined him to Earth for betraying him, and now he wanders the planet trying to understand humanity and getting up to hijinks. This comic is by Lee, John Buscema & Dan Adkins. Spider-Man is perhaps an odd fit for Buscema, but he was right at home here, easily able to bring the power and the pathos Silver Surfer demands. The story opens with The Surfer flying in orbit when he sees 2 asteroids about to collide, close enough to the planet that it would be "like a hydrogen bomb exploding!" He flies between them and blows them to bits, but some of those bits still crash into him, sending him plunging down through the atmosphere and into the harbor in New York. As he comes to, we move to see a kid watching Captain America cartoons on TV (Which, at this point, was something you could actually do).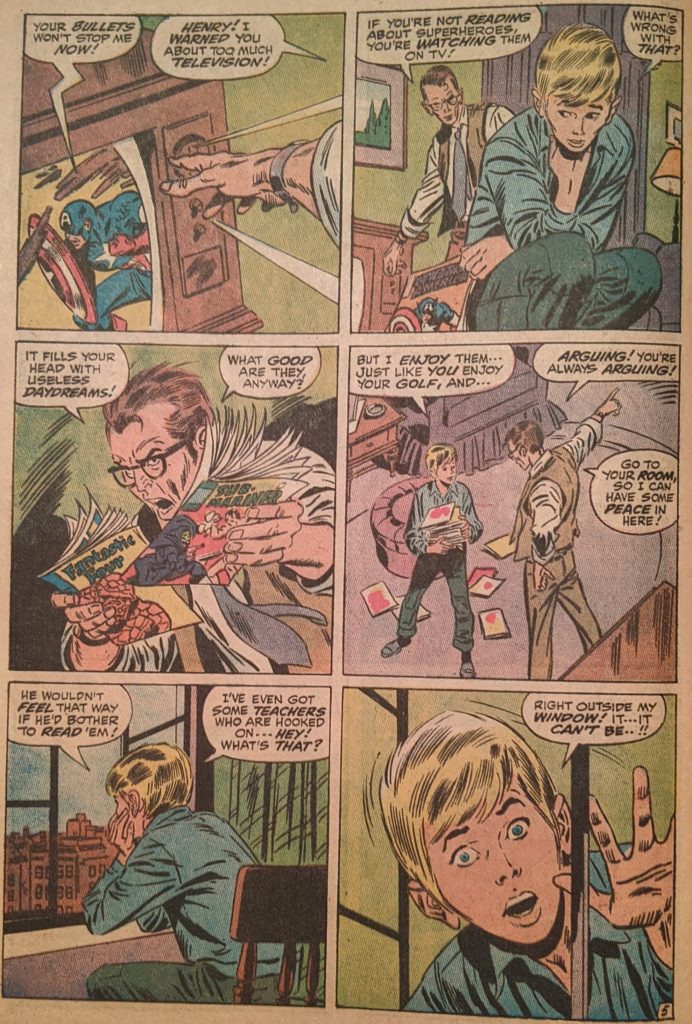 A bit aggressive in defending comics within a comic.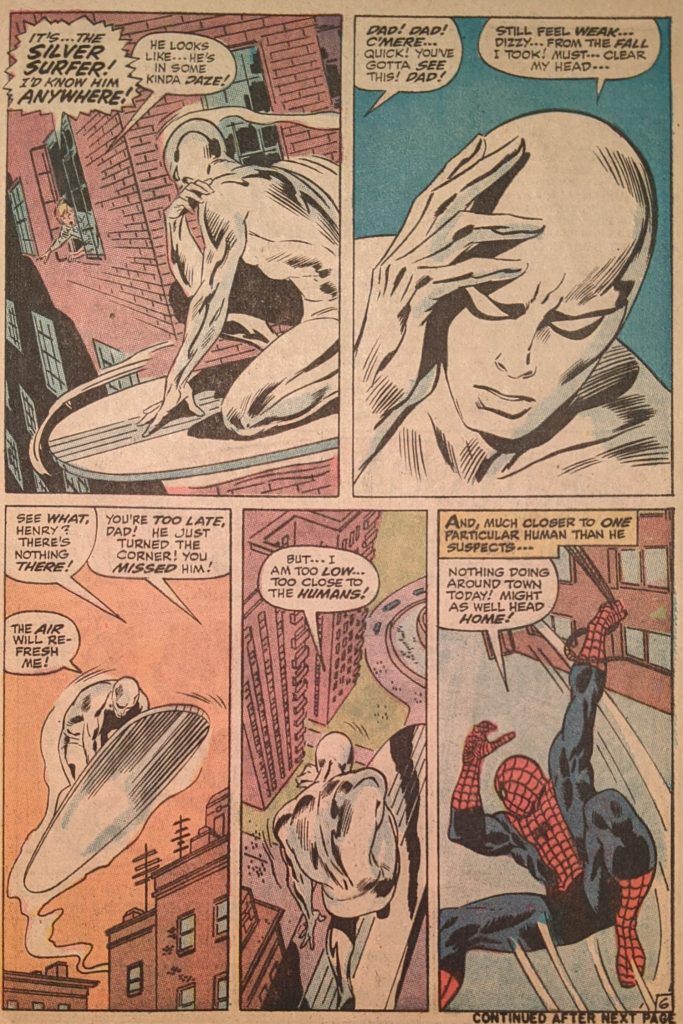 Oh, hey, look who it is. And look how different he looks without Romita and/or Mooney around.
This is among the flimsiest Two Superheroes Fight Over A Misunderstandings I've ever seen, but we're off. The Surfer calls his board to him before he can hit the ground, dragging Spidey along, still webbed to it. He zaps the web off the board, but then sees Spider-Man is now falling to his death, and shoots open a fire hydrant so the jet of water can "catch" him. Now Spidey thinks The Surfer is trying to make him look like a fool, so he's not backing down.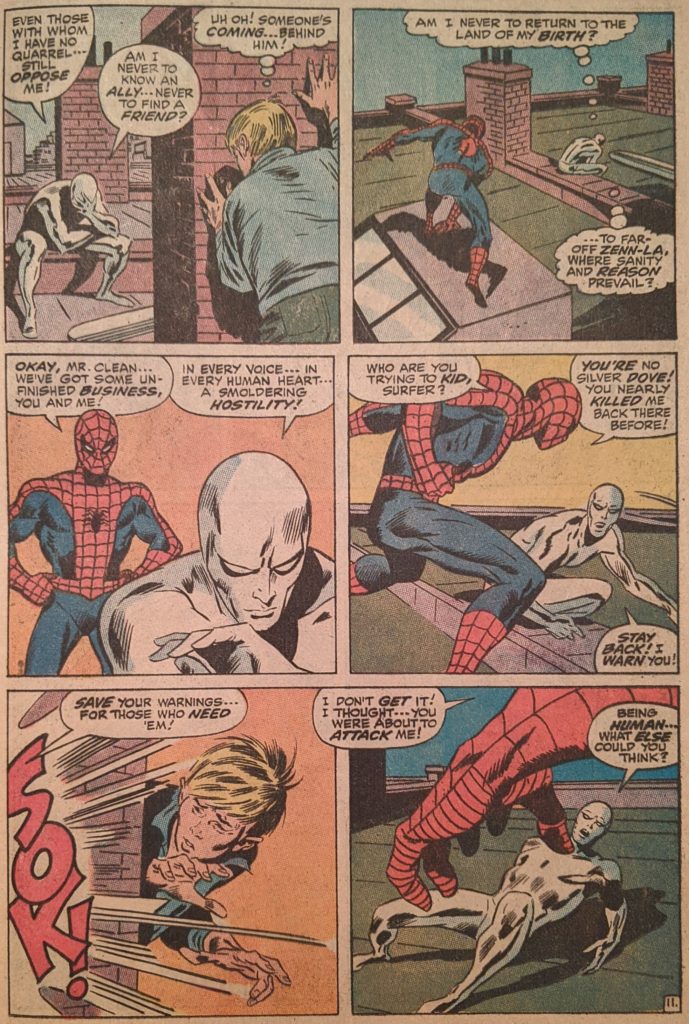 Silver Surfer is sort of like Hulk, only with much fancier dialogue, always attacked, always sad about it. As that little boy watches, Sufry's had enough and attacks, but Spider-Man webs him up in a cocoon, and he falls onto a fire escape. Spidey thinks he's won, but The Surfer super heats the metal of the fire escape, burning himself loose and causing Spidey to fall yet again.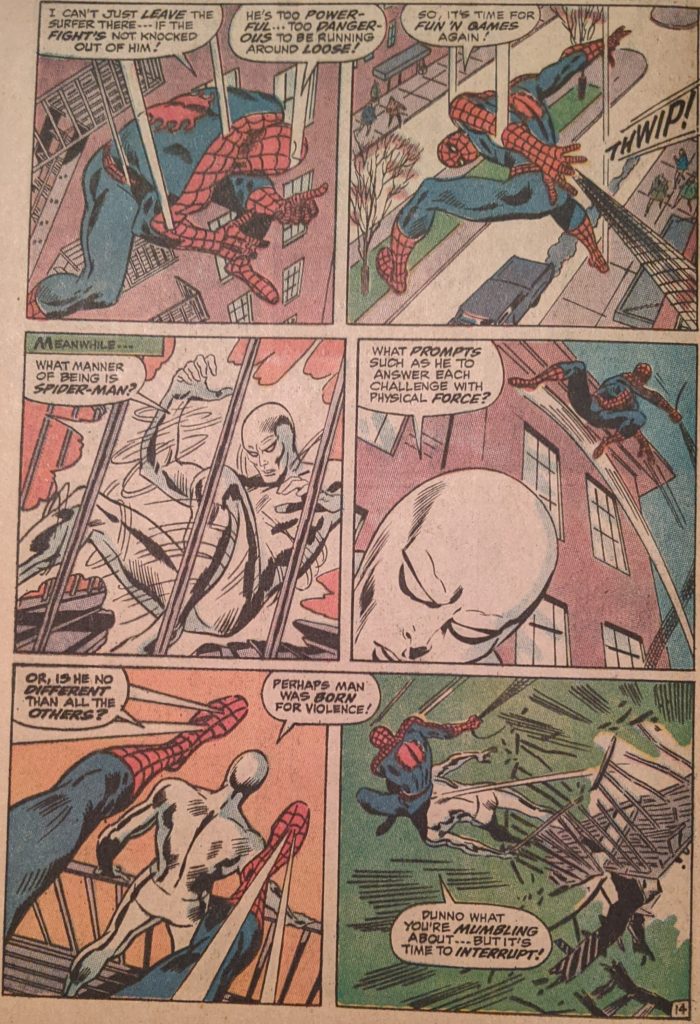 Buscema's Spidey action is so different with no input from Romita. More Kirby-inspired, rough & tumble. While they mix it up, the cops have called into a higher power, and The Army descends on the situation, as they've been chasing The Surfer like they do The Hulk, anyway. Tanks, helicopters, Manhattan is being invaded. Back at the fight, The Surfer is fed up, and uses his Power Cosmic to wrap a whole car around Spider-Man, hoping that will hold him. Spidey, tho, is only more convinced The Surfer can't be allowed to roam free if he's this powerful, and strengthens his resolve to take him down. Then The Army opens fire, as they tend to do.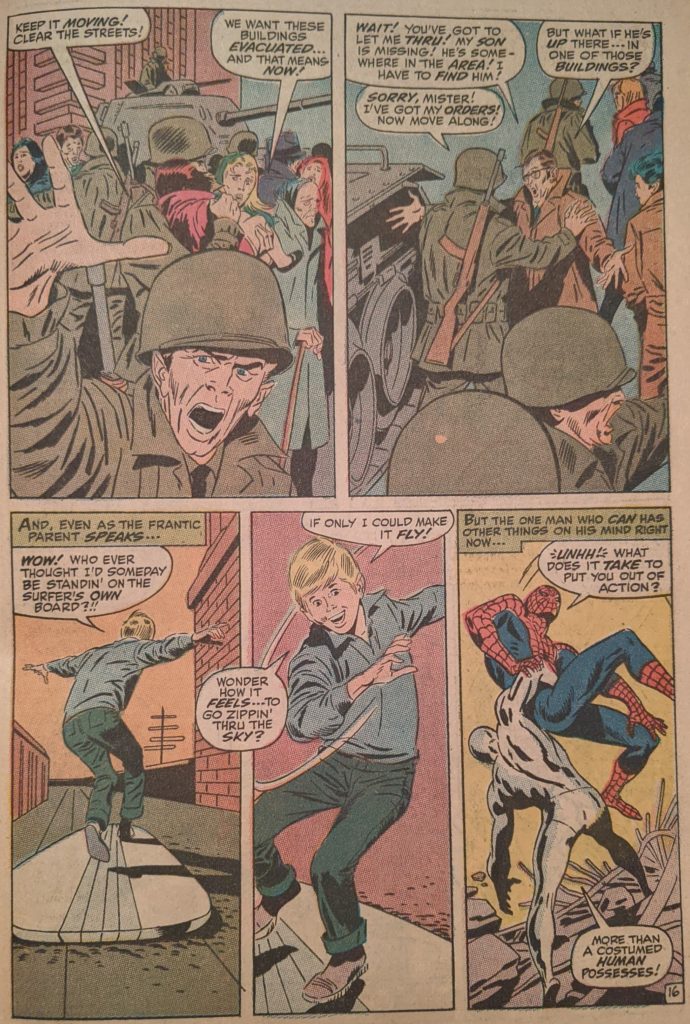 It became pretty obvious that Stan was constantly making The Surfer into a kind of Christ-like figure, and a sequence like that sure makes a fine example. Big John Buscema, man. Powerful pages. And he only gets better going into the 70s. The first I ever saw of his work was an issue of Silver Surfer, actually, in a trade that also included ASM 16 and MTU 79. Back in the letters, there's a missive from Doug Moench, who I think we've seen in the pages of Spider-Man, comparing comics storytelling to cinema. Moench is only 4 years from his debut as a Marvel writer here, which will lead to him co-creating Moon Knight and Deathlok and writing a beloved run of Master of Kung Fu, among other things. I first encountered him working on the Batman titles in the late 80s & early 90s. He's got quite a resume!