In spite of buying comics for 33 years or something, at this point, I'm still sort of a casual hobbyist compared to some people, in a lot of ways. For example, I am continually amazed by the weird contraptions some of these books showed up in rather than Ye Olde Mylar Comic Bag. This thing's like some kinda transparent plastic folder, with a little tab you tuck the flap into on the back. I've never seen this sort of bag/case/whatever in my life. I can't believe The Prowler is going to throw Peter Parker out a window to his death this month! But he really is, right on the first page, which comes with an unusual caption: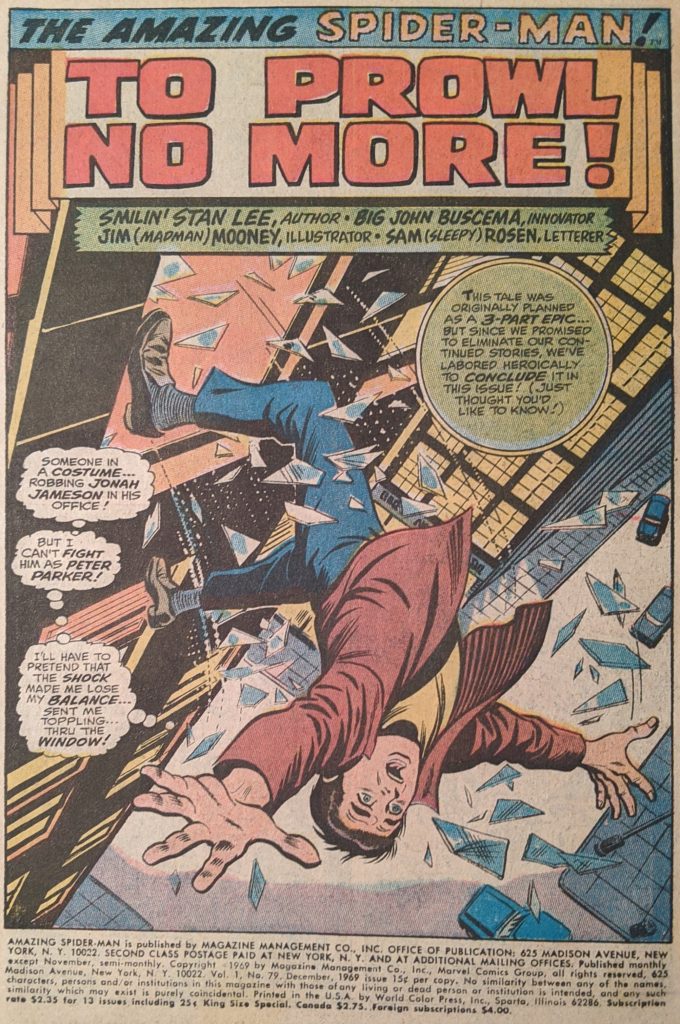 Interesting. So, Peter has actually thrown himself out the window rather than being pushed by Prowler. He saves himself and prepares to rush back up as Spider-Man, but back at the window, The Prowler is horrified. This was just supposed to be a stunt, and now that random kid has killed himself and it looks like murder. JJJ busts in with Robbie, and is enraged to see The Prowler has murdered Peter, but a freaking out Prowler repeatedly says he didn't as he flees. This is probably not gonna do much to change Jonah's opinion of costumed characters…
For his part, Spidey seems more interesting in talking, but Prowler doesn't catch that and kicks him in the face. As he tries to run for it, he's shocked when Spidey's already back up and after him, but he hits him with one of the blasts from his wrists and tries again to run. Spidey thinks he's definitely not dealing with a chump, but he seems young and new to this, so he hopes to use that to his advantage as he lands on top of his foe.
As we have seen, Spider-Man's true archenemy is gas, so this works perfectly, allowing Prowler to free his hand and run for it as Spider-Man is now too woozy to stop him. But, he's sure he'll run into him again, and he won't be caught offguard next time. He changes back to PEter and heads back upstairs to tell everyone Spider-Man caught him when he fell, and JJJ immediately demands photos of this. Very funny. He's still groggy and out of it, and Robbie suggests he go home. He does that and passes out on his bed, worried way more about Gwen & Flash than The Prowler. But Hobie is also coming home, still freaking out that what he thought would be a fun scam has turned into a potential murder rap.
Hobie resolves to go get Spider-Man's attention again and bring him to justice, and just like that our "great new villain" that wasn't terribly villainous is now not really a villain at all. The next day, Peter is walking to class and Gwen catches him, seeing he looks troubled. He tells her off for choosing Flash over him and keeps walking. Oh, the drama! Then we cut to the evening, where news reports of The Prowler send our lovelorn hero back out looking for him, now with a little gas filter in his mask ("Even though it makes my mask rough and uncomfortable"… gotta explain why gas will get him the next 50 times). But he realizes he's out of film and won't be able to get photos, so he does what anyone would: breaks into a store, takes some film, and webs some money down to the proprietor on the way out. Oooohkay! After a few hours of searching, he finds The Prowler in a jewelry store, thinking to himself how glad he was to read Peter was ok in the paper. They get into it, and Prowler tries the gas again. When that fails, he realizes he's out of his depth, panics, and tries to run for it.
Weird that Hobie's skin is a different color in each bottom panel. Well… they did say they shortened this from 3 to 2 issues. That hurried conclusion sure feels like it. The Prowler feels like a missed opportunity to me. With this incident behind him, they coulda changed his name to something a lil' less villainous and tried him as a hero. They gave him Peter Parker's "regular guy" quality, but a pretty different life. He coulda been a hit, and their first black hero to star in his own title, too. Instead, he'll just be a Spidey bit player for, well, his whole life. Too bad.