When I was hunting down all these back issues, I often got this one and Annual 4 confused. Torch in more or less the same pose on a black background. Look at them as thumbnails in an eBay search and hijinks ensue. This month on the Wheel O' Dubious Credits, John Buscema is still the "Innovator," but Jim Mooney is just the "Adaptor," and John Romita is suddenly "Consultant Emeritus In Residence," whatever that means. Anyway, Torch is trying to stop The Lizard and Spider-Man is desperate for him not to.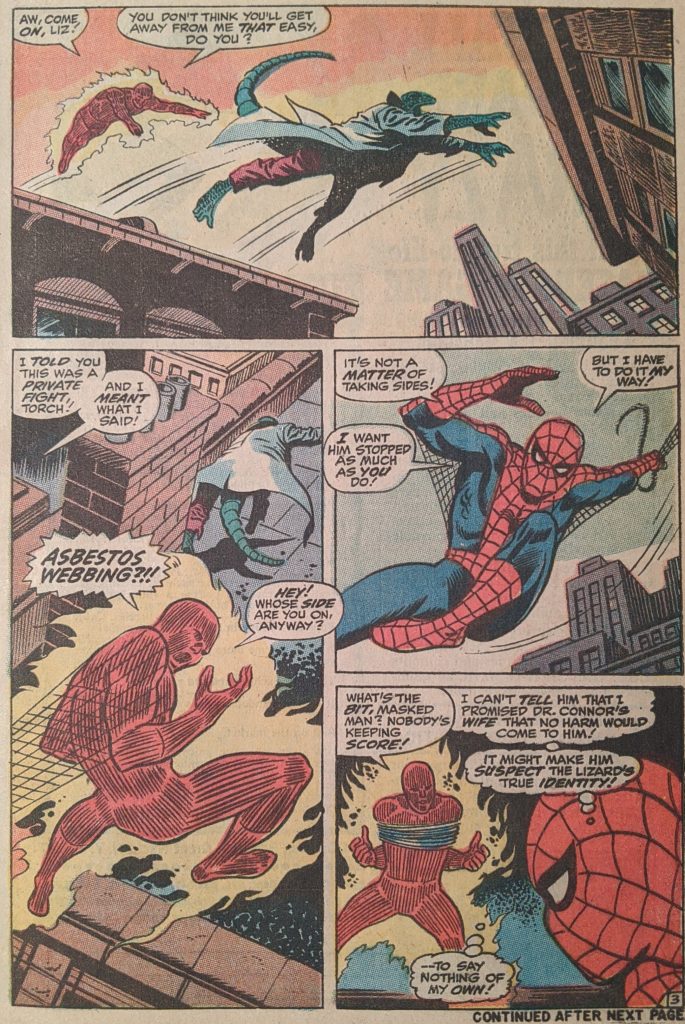 This is especially paranoid, even for Spidey. And would it hurt for Torch and the rest of the FF to know Curt's dilemma? Reed Richards might be able to help. Also: Asbestos webbing?? He sure got that ready in a hurry. Johnny FOR SURE has cancer now with all the asbestos he was exposed to from the 60s to the 80s. The Lizard sneaks back up on the heroes, but Johnny zaps him with a burst of fire. Spidey once again begs him to leave, and Johnny once again refuses as he breaks out of the webbing. While they argue, The Lizard tries to run for it, but Johnny takes off after him.
Feels like either Buscema or Mooney is having trouble with The Torch. His blasts look like lasers and Kirby's weird line-y details aren't coming out quite right. While the battle continues, Martha & Billy Connors hear a radio report that The Torch has joined the battle, and Billy worries The Torch will kill his dad. He's so worried he runs out of the hotel to go find the fight and try to help, leaving his poor Mom all alone. Bad choice, Billy. Back at the fight, Spidey's thanks for saving The Lizard is getting beat up in mid-air, and Torch zooms in to grab The Lizard by the tail and finish him off. But he gets a sock in the face, too, allowing Liz to get loose and grab onto the side of a building.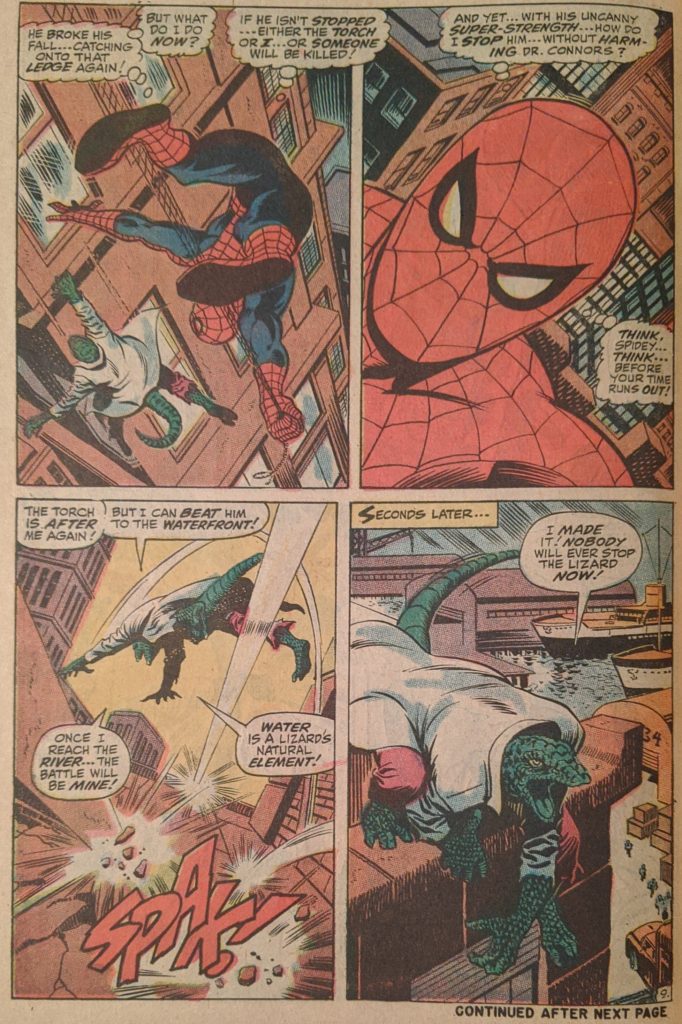 Awkward cut there. In the absence of The Lizard, the 2 heroes start fighting each other over who gets to go apprehend the scaly villain. Spidey webs Johnny to a wall and takes off, thinking The Lizard's mention of water being his natural element gave him an idea. But The Torch comes zooming in before he can get his plan together. He finds The Lizard having ripped up the mast of a ship and swinging it at the occupants (Why didn't he hide?), and goes after him.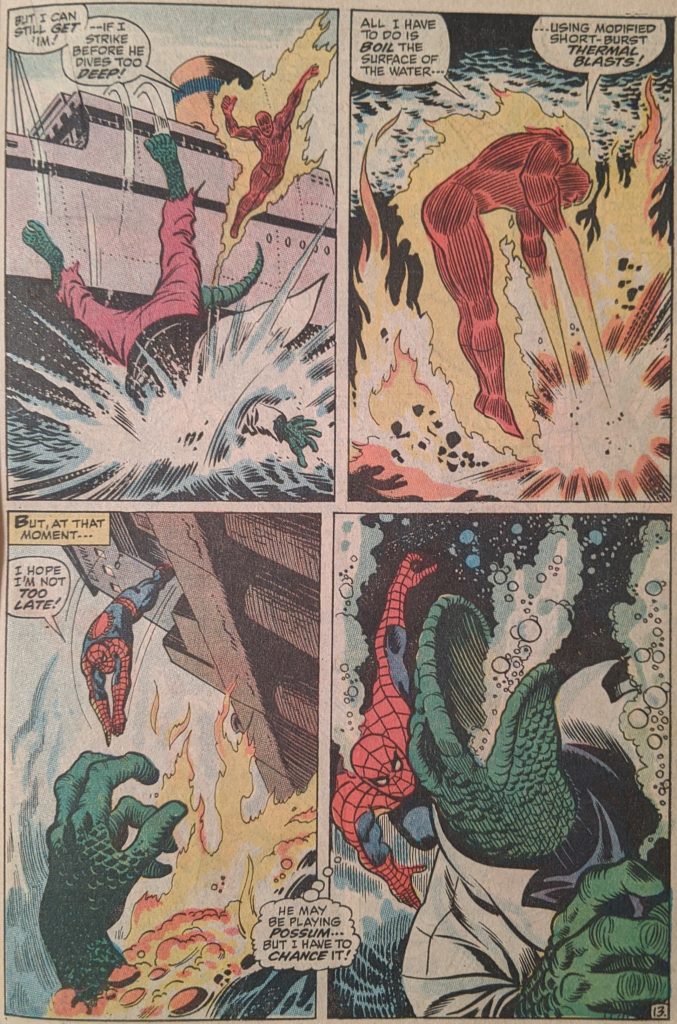 He is playing possum, of course, and starts trying to strangle Spider-Man as soon as he's in range. But, instead, Spidey chokes The Lizard out, since he's been weakened by the heat. And when they surface, Spidey tells Torch his "Spider-Sonic Hearing" picked up a distress call from the FF. Torch buys this and immediately leaves, saying he'll fight Spider-Man some other time. He must've felt silly about that later. Free to carry out his plan, Spidey picks up his unconscious foe and takes off.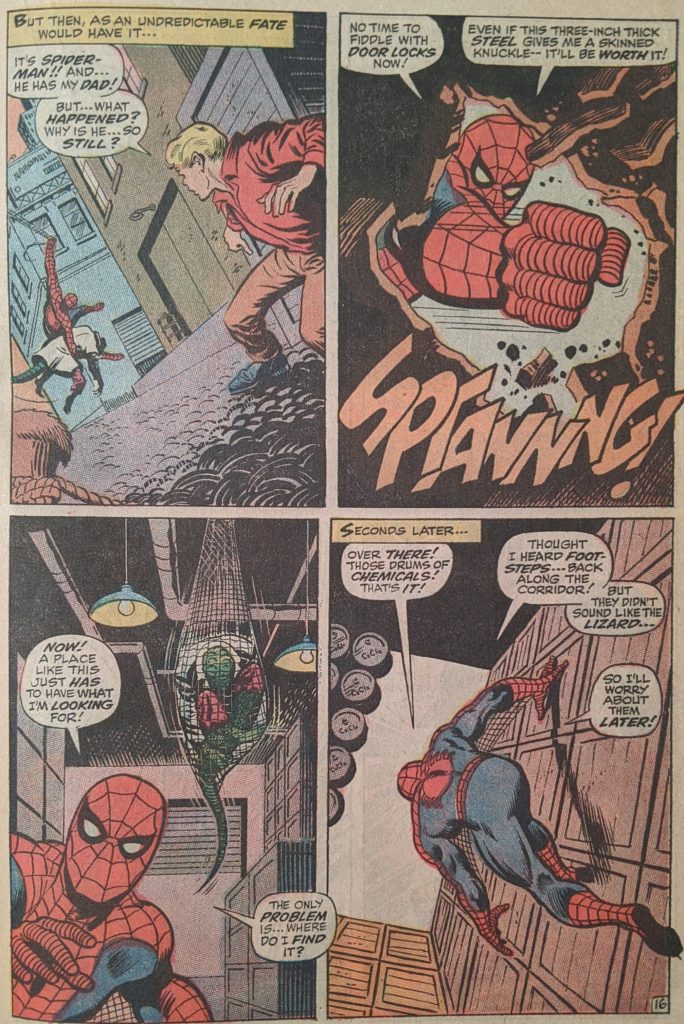 Uh-oh. Spider-Man is lugging a big barrel when he hears Billy's cries for help… and says that sounds like Bobby Connors! Whoops! He rushes over to find The Lizard crouches over "Bobby," who has passed out from fright, but The Lizard is hesitating, like some part of him remembers his son. When he sees Spider-Man, he gears up for another fight, but Spider-Man says his "dehydrating powder" will stop him.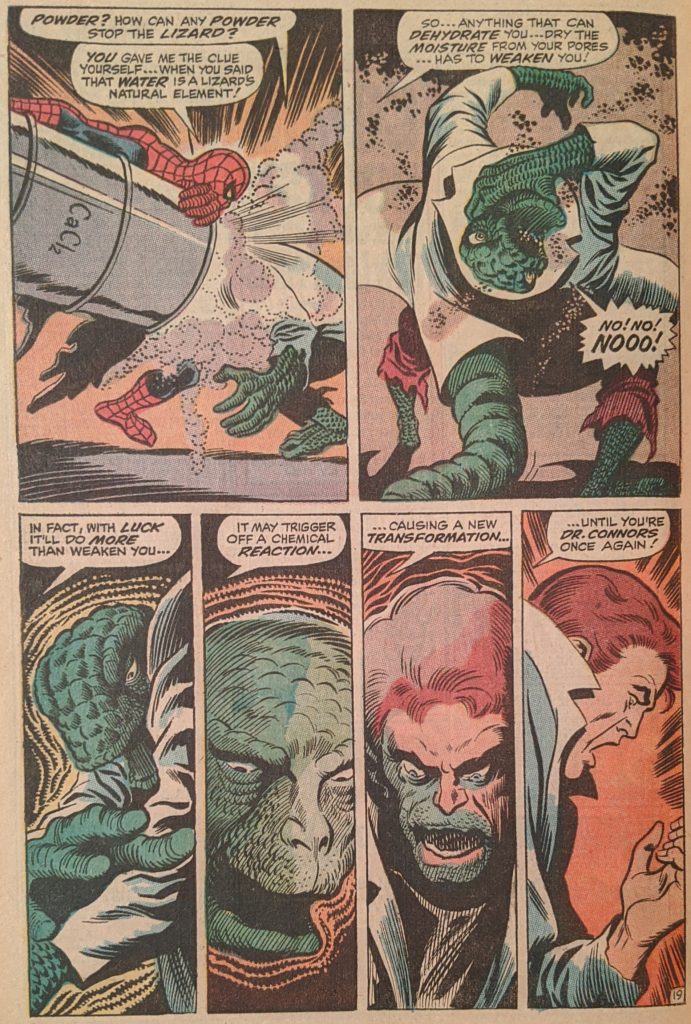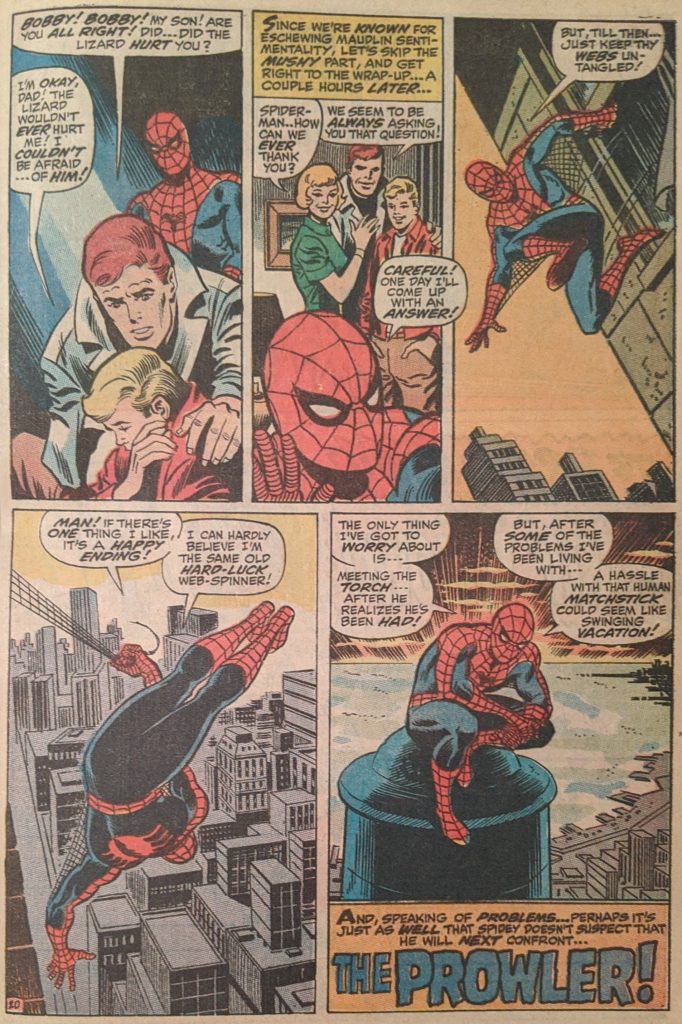 All's well that ends well, no matter how abruptly and rather goofily. And the book finally hits a stopping point for the first time in 9 months! That's crazy. Speaking of long-form serials, this month's letter page features another letter from future Marvel writer Don McGregor, who is very happy with how ASM is going. This month in Bullpen Bulletins, the official word comes down on long-running storylines:
This month's page also mentions that Gil Kane has just returned to Marvel, allowing his upcoming essential run on this title to happen. Fun little historical notes to have.