Welcome back to How Shady Will The Credits Be Today? Silvermane straight up drinking out of a beaker can't be good. After a surprisingly long time in suspense, the deal behind the tablet. As for the credits, unusually honest in one respect: Stan calls himself "Script Writer" instead of "Writer" or "Author." John Romita is "Innovating" once again and Jim Mooney is Illustrating. If Johnny got a "Plot/Layouts" credit, it'd be the most honest credits of any 60s Marvel comic. Anyway, it's seconds after last issue, and Man Mountain Marko is trying to scare Curt Connors into translating the tablet by saying they've taken his wife & child, and Curt is really terrified he'll become The Lizard any second.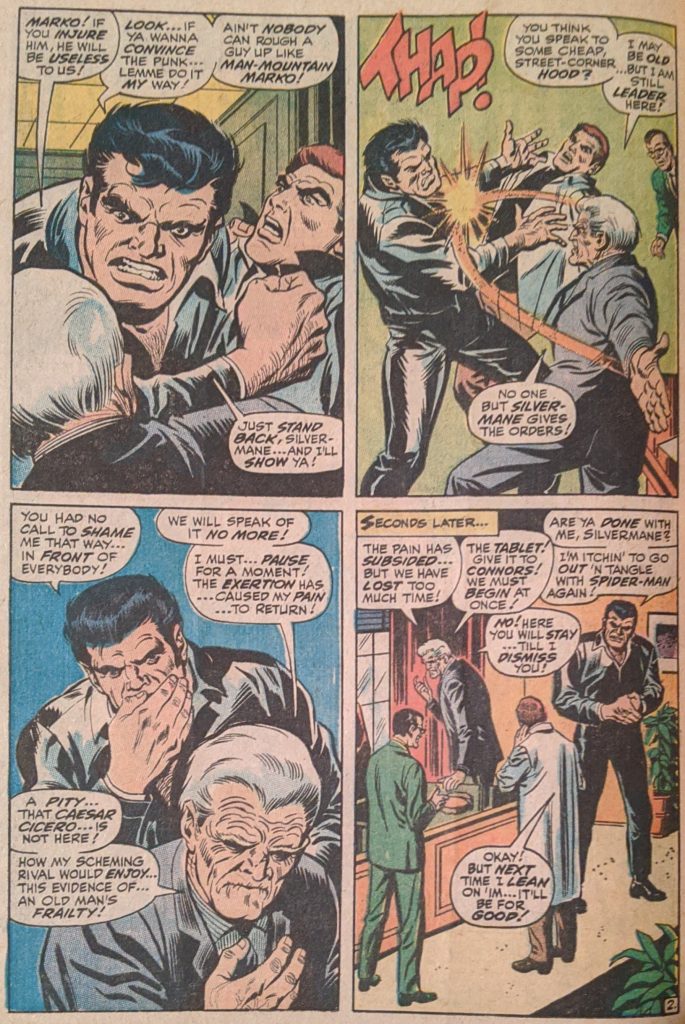 Curt explains that the only thing people know about this famous tablet is it's something to do with biology and "the mystery of life itself," which explains why they want him around, if not why they think he can translate it. Meanwhile, Spidey reads The Bugle and sees Caesar Cicero bailed out Wilson, thinking that's weird. He remembers Marko letting slip that The Maggia sent him after Shocker's girl, so he knows Cicero is his best bet to get some answers, and he knows where that guy's "legitimate" office is. Spidey is lucky enough to catch him leaving for the day.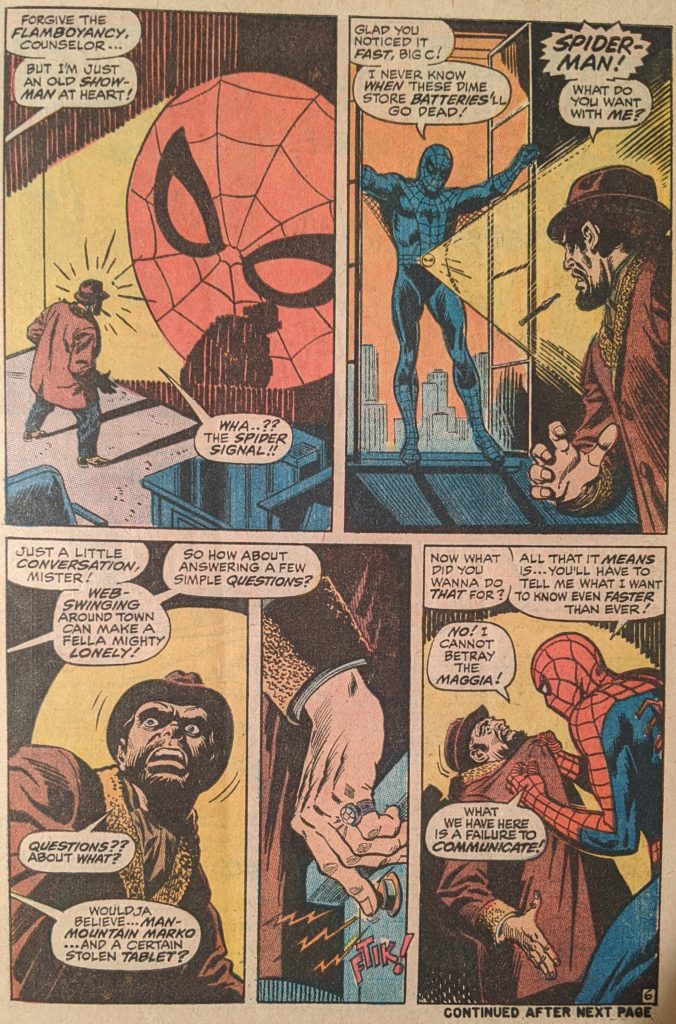 Even Stan wasn't above giving Spidey the occasional instantly-dated pop culture reference. It just feels like the kind of thing he'd have in his banter. Spidey doesn't get anything out of Caesar before the goons he summoned burst in guns blazing from a secret door behind a bookcase, and it's fightin' time. The muscle blabs that they think Spidey's here to free Curt & his family, and now Spidey knows they were kidnapped by The Maggia. Good job, fellas. Caesar flees as Spider-Man fights his goons, thinking he better move Martha & Billy Connors before Spider-Man can free them, and Spidey is attacked by a 2nd wave of goons. He bets Caesar's rushing to move the captives tho (Good guess!) and webs them all up before smashing through the bookcase to the secret hallway.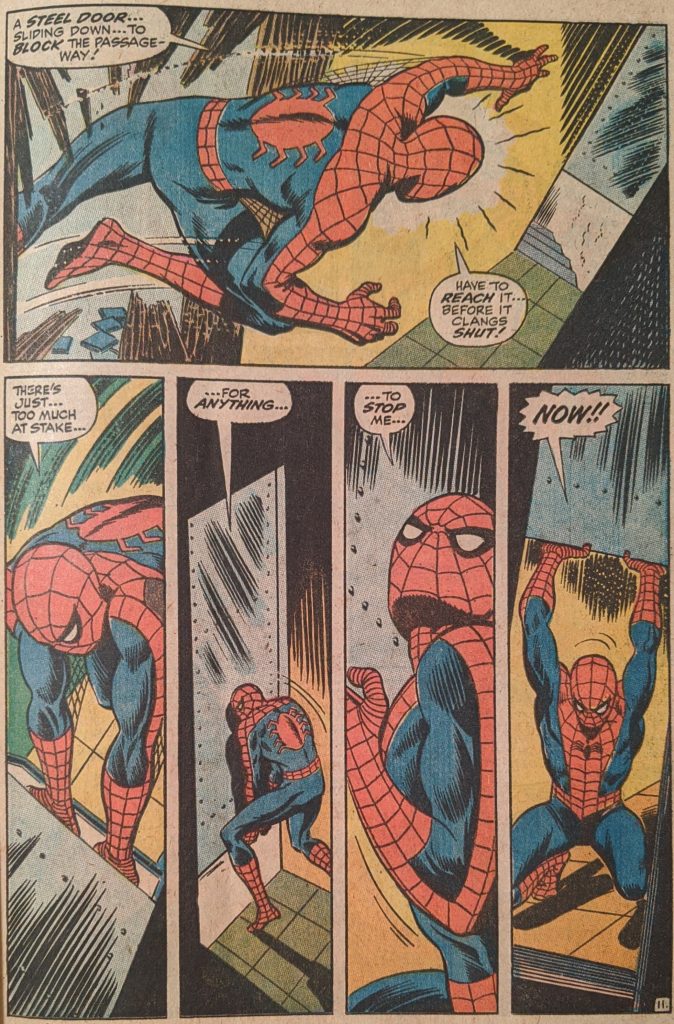 As he races down some stairs, our man hears the voices of Martha & Billy, stopping short of a door to the next room, when that door explodes. Caesar speeds off with Martha & Billy in a car, assuming Spider-Man is dead. Spidey just webbed the door to blow it and is fine, of course, and swings off, hoping to track down that car. Soon, Cicero delivers Martha & Billy to a furious Silvermane, who rightly predicts this will bring Spider-Man down on him. Marko likes the sound of that.
Not much longer if upcoming covers are any indication!
I believe this is only the 3rd story with The Connorses in it? I think that's true. And you can already see what a mess their life is. Billy suddenly looks a lot older than he used to (Or will in the future). Having no idea where to go and watching the sun come up, Spidey goes home to get some sleep, worrying all the while that he hasn't called Aunt May or Gwen in a long time. The next day, he goes to school even though he feels he should be out searching for Dr. Connors. And then… Harry Osborn walks up, and… uh…
Bad hair choices are becoming the norm around here! What's next, is Gwen gonna shave her head?? Wow! When is he gonna shave that mess off his face? I guess we'll see, but for now, Doc Connors has finished a serum for Silvermane, but he doesn't want him to drink it, worrying that it's untested formula based on guess work. Silvermane doesn't care, saying he's been studying the tablet for years, and that in "the old country," they knew what the serum could do. Then… why couldn't anyone translate it…? But anyway, he downs it.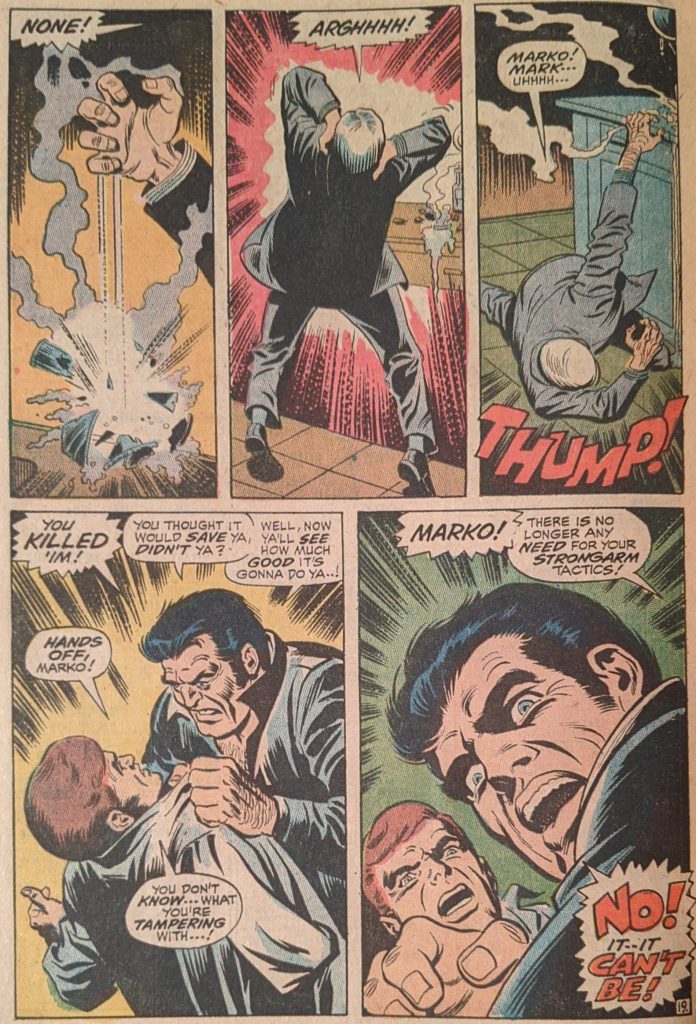 Who could die??? Especially since literally everyone in this comic appears in future issues? I really have no idea. We'll find out next time. In the letter page, Stan mentions people are already spending as much as FIFTEEN DOLLARS on "old, dogeared copies of ASM #1." Those busted copies are now worth thousands and thousands. Fifteen dollars is a good investment!