26 issues since his last appearance, it's shockin' time. Kingpin was introduced in #50 and has already come back twice, where's Shocker been all that time? Or Rhino, for that matter? This one has the weirdest credits yet, as Big John Buscema steps in on breakdowns, credited as "Innovator," with both Romita & Mooney credited as "Illustrators." Why have Romita do pencils but not layouts? Not the last we'll see of Buscema in the first artist position. But hey, he literally wrote the book on How To Draw Comics The Marvel Way, so we're in good hands. Lee, for his part, credits himself as "Author," in spite of the very real possibility that he didn't do much more than tell Buscema "Spider-Man should fight The Shocker this month." I'm not saying that's what happened, I'm just saying that his own description of his "Marvel Method" writing style often had him giving the artist almost nothing to go on (Or in the case of late period Ditko or Kirby, just letting them do all the work of coming up with the story, then writing the dialogue), and yet he'd still call himself "writer" or "author." It's pretty gross. Hey, let's talk about this comic, which starts with Shocker blowing a wall open and shooting George Stacy in the face with his shockwaves on page one!
Oh, this synthesis of Johns Buscema and Romita is very interesting. You can see it in the Buscema-style figures & layouts, with unmistakable Romita faces and details. Wow, this is really cool. Like, that Shocker in page 2, panel 2 is SO Buscema. Shocker immediately goes and blows the door off a pawnshop, telling the owner he knows he can get in touch with "the big boys," so Shocker can fence the tablet to the highest bidder. But the pawnbroker says that thing is so hot no one wants it right now, which sends Shocky into a rage that results in the guy and his shop getting zapped up. Soon, a handheld radio announces that The Shocker is on the loose, and that radio is on a bus Peter Parker is riding. He runs off to switch to Spidey, thinking Aunt May is going to be headed south for her health in 1 hour, so we got some classic Spidey stakes as he heads off to get shocked.
The authentic, accept-no-substitutes Romita Spider-Man in fight panels Romita would never draw. So weird, this is. They really go at it, Shocker getting in some blasts and then caving in a roof under Spidey.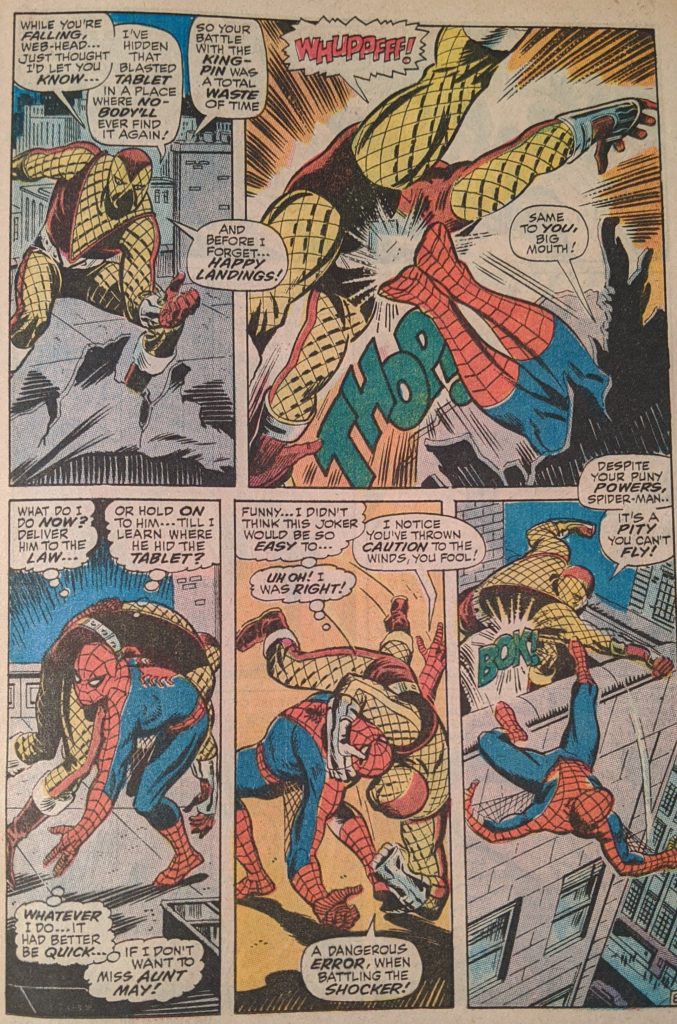 Obviously, Spidey's ready to just swing back up, but Shocker decides to flee before the cops can get setup down on the ground, which is secretly what Spidey wants so he can go see Aunt May's train off. He tags Shocky with a tracer and heads off to more important matters.
Peter recaps his last encounter with The Lizard, and then thinks it would be great to get a summer internship with Dr. Connors. I suppose so, if you didn't mind moving to Florida. But then he decides he better go find The Shocker. Meanwhile, JJJ sees a 2nd glowing write-up of Spider-Man in The Bugle and goes nuts in the hospital, eventually having to be dragged back to his bed by orderlies and given a sedative in a pretty slapsticky scene.
Flash comes home from Vietnam, like, every weekend. The handling of him being in the war is so silly, especially rendered by guys who were in WWII and know what it's like. Gwen breaks up a fight between Peter & Flash and then scolds Peter for her continued feeling that he runs from trouble, comparing him to "a man who's been in combat" like Flash. He wanders off feeling bad about the whole thing and decides to take out his frustration on The Shocker, who, soon enough, he finds robbing an armored car. That guy really doesn't take a break.
The wall Spider-Man's clinging to collapses on top of him, but he's able to save himself with his web, and then web the fleeing Shocker's legs for good measure. Shocker is able to vibration himself loose, though, and they really get into a more physical battle for awhile until both of them end up crashing to the ground.
A new foe! Who could it be? It's not a new classic, so don't get too excited.