Pretty unusual cover for this historic issue. For a 2nd year in a row, this annual is drawn by Stan's brother, Larry Leiber, and inked by Mike Esposito. John Romita is credited as a "consultant," and with the way credit's been working here lately, who knows what that means? I think it means he did some of the inks based on the pages. This one opens with Spider-Man in Algeria, being attacked by goons! What? Yeah, they're just dropping us into this…
Panel 2 up there, for example, feels like the hand of Romita was involved in some capacity. Spidey spends several pages in a running battle with these goons until those who are still conscious flee. He chases them to try to get one to tell him who sent them, but…
As the goons walk away, pleased to have killed Spider-Man, our man hauls himself up out of the water and collapses on the ground, passing out so he can flashback and tell us why he's there in the first place…
There's no way Romita didn't either draw or ink most of those faces.
The idea that Aunt May looked exactly the same almost 20 years prior is so funny. She was just born 90 years old.
Rough day for Peter Parker. He wanders back to his place in a daze, unable to get his parents off his mind. He gets in his Spidey suit to swing around looking for trouble, anything to distract himself. He's so crazed he almost attacks a guy leaving his job at a jewelry store, assuming he's robbed it because it's late at night. Narration tells us he moves through the next several days "like a sleepwalker," unable to think about anything but his parents and their traitorous deeds. Finally, he decides he has to go to Algeria for the truth, and Spider-Man swings to The Baxter Building to ask Reed Richards for a ride. As it happens, Reed is testing a "Two-Man gyro-cruiser" for Tony Stark, and says they can use that.
How's he gonna get home? So, it turns out he's at the right restaurant, and the terrified owner tells him he did, in fact, ID the Parkers after the crash, as they had been guests in his place many times. He says everyone knew they worked for some spymaster in town. HE says he can't give a name, but does give Spidey an address, so he's off. And as soon as he is, the guy says "the master" must be warned, and that leads to the battle that opened the issue. All caught up, Spidey wakes up from his shooting & fall. Once he's got his wits about him, he realizes he must be on the right track to get so much resistance, and continues on the address.
Too late now!
Egads! Spider-Man's parents: Nazis???
Spidey notes that Red Skull is as ruthless as he's heard, ready to kill him without even bothering to learn why he's here as Red Skulls snaps his fingers and a giant goon appears. Spidey's too fast for him, but the goon can withstand a punch from him, so he's got his work cut out for him. The big guy punches Spider-Man right through a wall, and he webs up the hole behind him, letting his foe try to tear through it.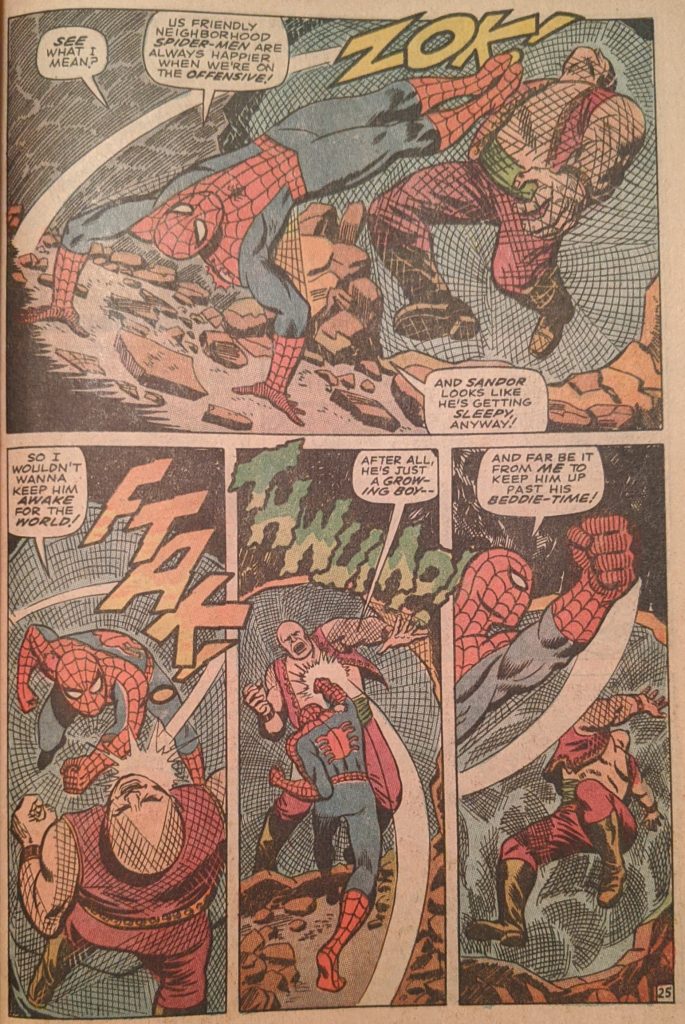 As Spider-Man dejectedly walks away, The Red Skull sends for The Finisher. Handed a piece of Spider-Man's torn costume, The Finisher says that's all he needs to find and kill his target. Red Skull says The Finisher has never failed him, and he's off.
Some gadget! Spidey webs the rocket and sends it down into the same water he fell in earlier, but The Finisher & Co. just fire another one. So, since it's following him, our man just goes and lands on the car it came out of until the last second, and the missile hits.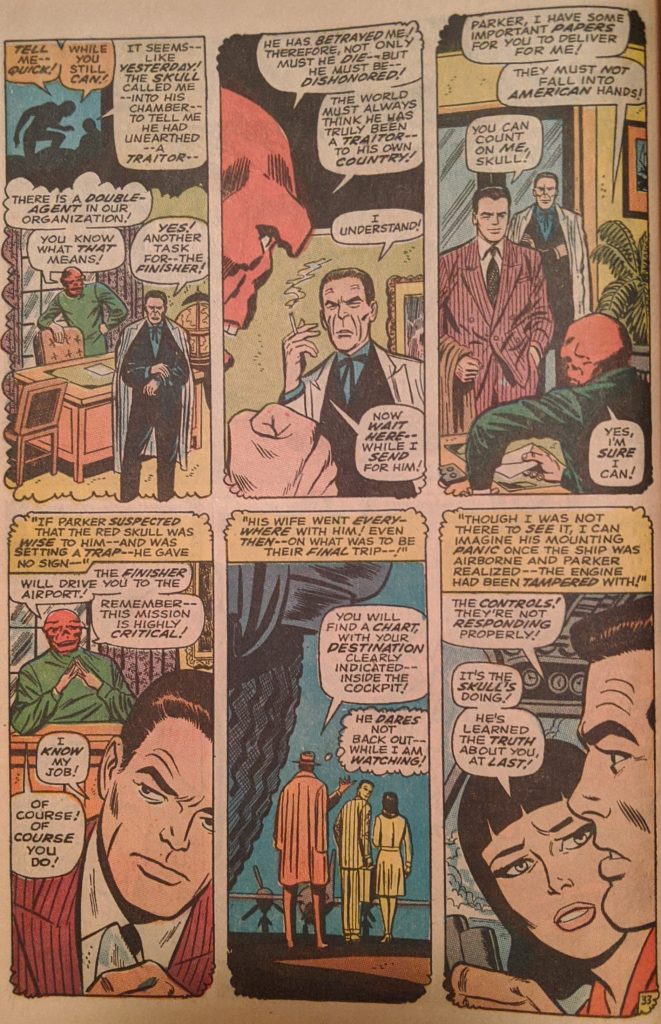 There ya go. Peter's parents were heroes. Some people seem to have a problem with this idea, that "ordinary guy Peter Parker's" parents were super spies, but… why not? They're far from the only people in his life who turn out to have some crazy thing going on. Anyway, Spidey makes it back to Red Skull's lair, and they get into it immediately. Spidey dodges his way through laser guns and goons until The Skull comes at him, pointing out he's fought Captain America to a standstill as he scores some quick hits.
If I had a dollar for every futile peccadillo…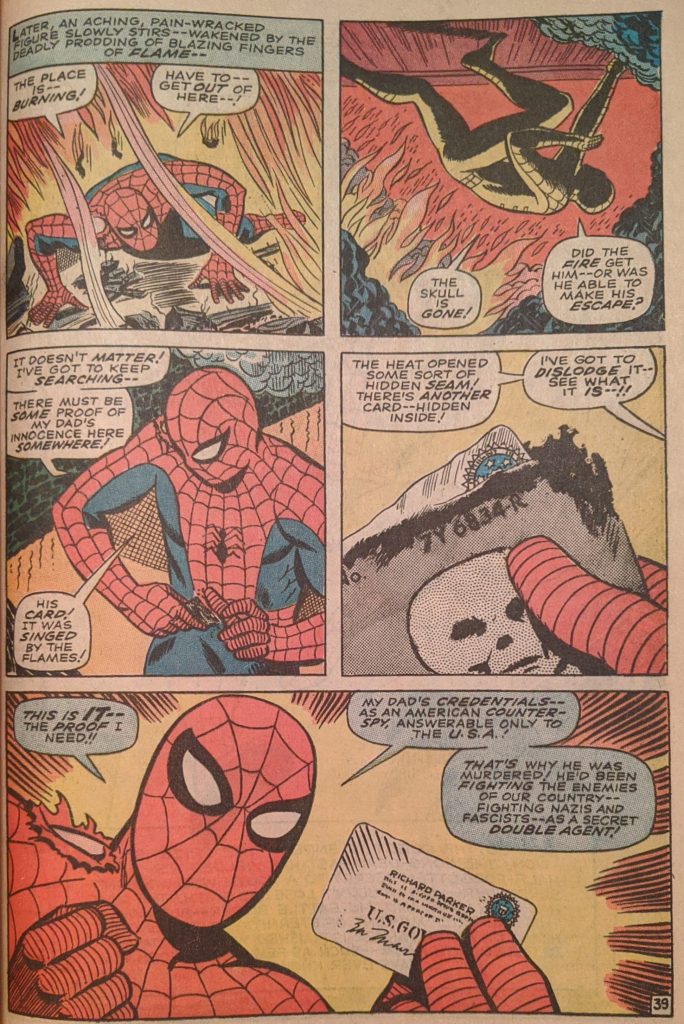 Well, ok. But, like, if the government knew his folks were counterspies, why'd they let everyone think they were traitors? And how does this card prove anything? And, again, how is Spider-Man gonna get home? All these questions and more will not be answered any time soon… but some of them might be eventually. I knew about this stuff since I was a kid, but never read the actual story before. Crucial Spidey lore. There's a few more pages to fill here. First, a pin-up showing the staff of The Daily Bugle, which is rather hilariously just JJJ, Robbie, Betty & Ned at this point. A whole newspaper! Then 2 pages of Peter Parker daydreaming about using his powers to be various kinds of star athlete. An extremely unhelpful map of NY allegedly showing you were various important locations are…
I mean, how does that help? Then there's these 2 weird pages, which I've seen pop up online a lot (Especially the mouse drawing)…
The final 3 pages are one of the somewhat common gag strips showing how Marvel comics are made. An earlier annual showed an absurd take on how Stan Lee & Steve Ditko did Spider-Man. There was also one about how Lee & Kirby did the FF (Which I believe is the only thing Stan ever allowed Jack to get credit for writing & drawing). This one's new to me, tho.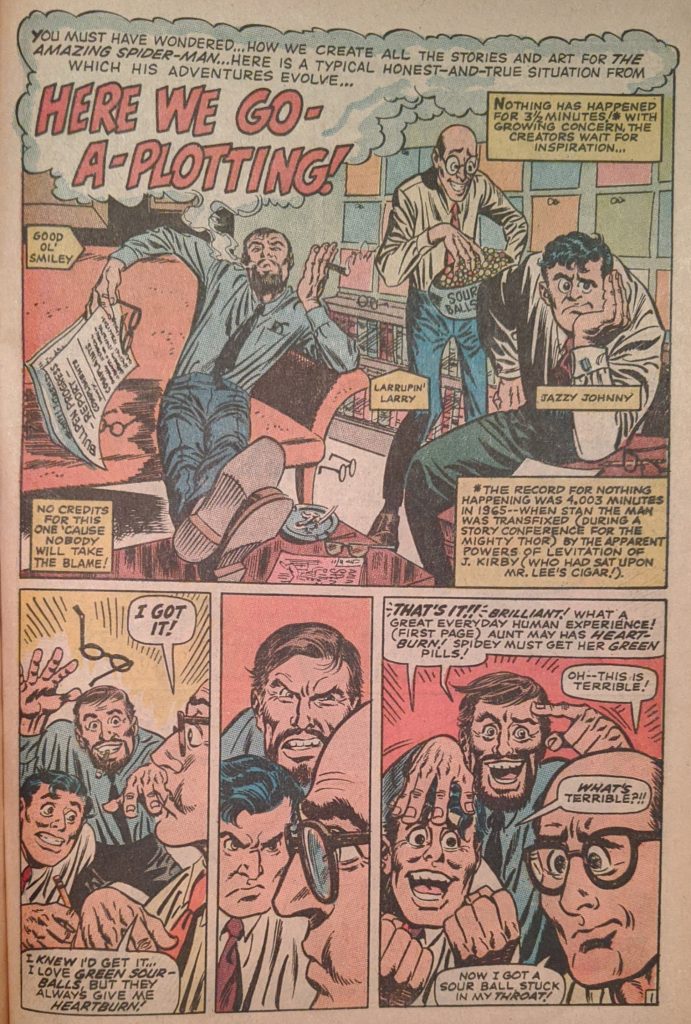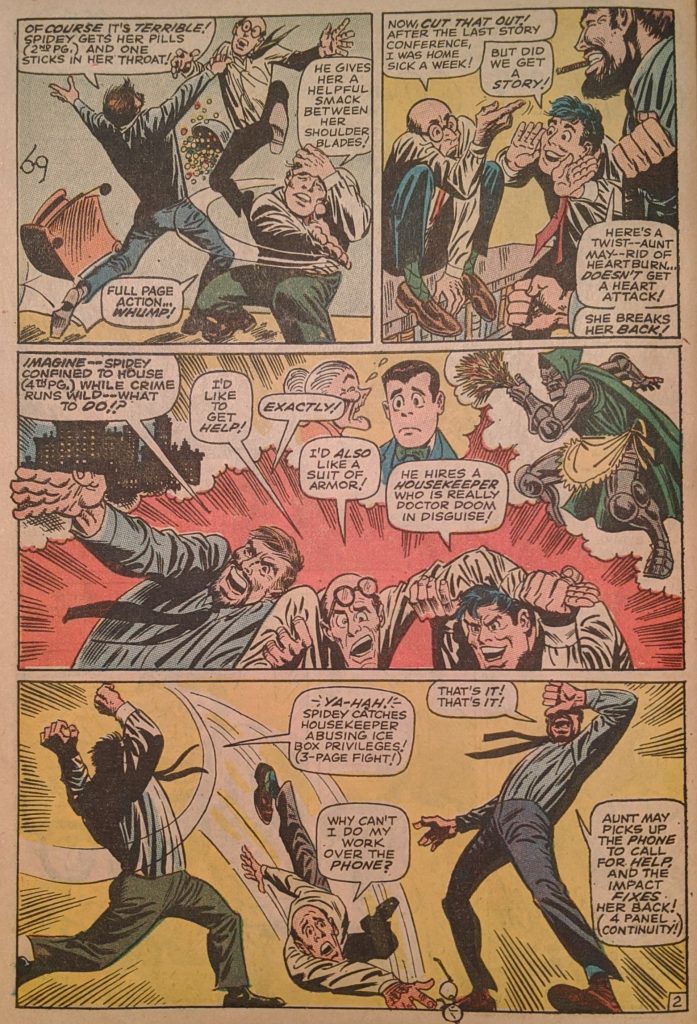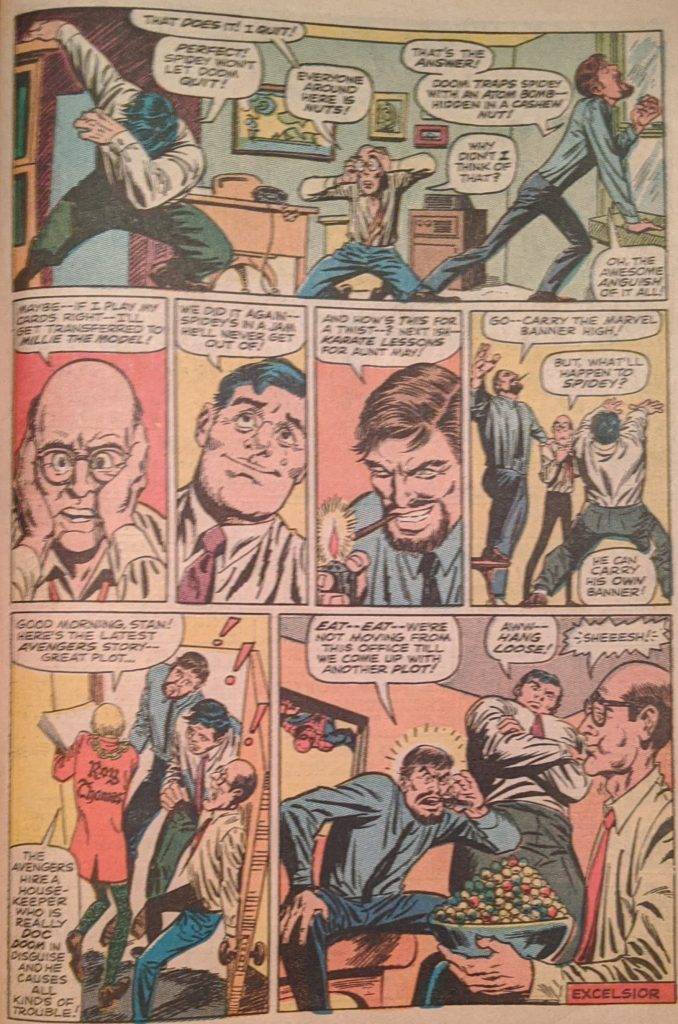 I'd bet a dollar this was by Marie Severin. Pretty wacky stuff. Part of Stan's genius was hyping up the Marvel personalities as well as the characters. When the Marvel age began, even running credits in comics was pretty unusual. Portraying the Bullpen as a bunch of goofy people having fun together helped readers want to be part of the family, and gave Marvel a different dynamic (Even if the vision put forth in stuff like this was always pretty far from the truth).