People don't think of Spider-Man's web as being an offensive weapon like this, but if you think about it, if it can cover the distance between 2 skyscrapers in a second, the impact would probably be really unpleasant. But why isn't it sticking? Marked down! Under that 90 cent McKay's sticker is a $1 McKay's sticker. Thanks, guys. In spite of having 176 since it came out, I never got 177 until 2019. Just how it went back then, I guess. That's a long wait to resolve a cliffhanger. Let's see how it went. Corona has tackled Spidey right out a window, blaming him for her new transformation.
Wut?
Peter is recapping last issue for MJ now. She's still sick in the hospital, and he's not looking too good himself.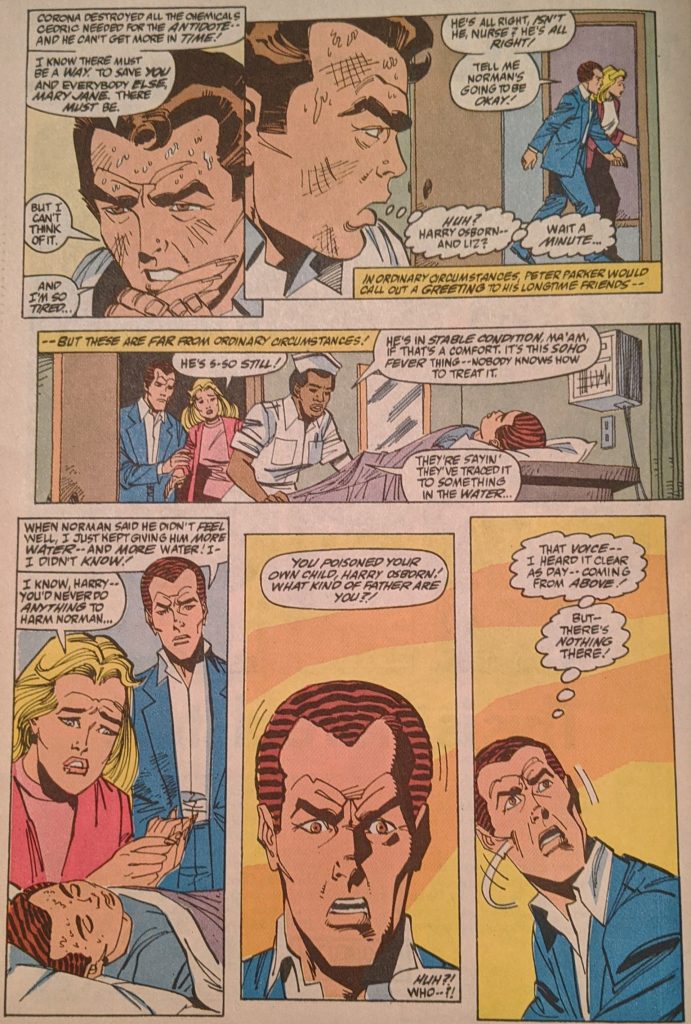 Uh-oh. The last thing we need around here is Harry hearing voices. As he wonders about it and keeps feeling bad for little Normie, Spider-Man appears, asking Harry to come with him to try to help Normie and everyone else. Harry's a chemist, after all. Back at the Forrester building, the lobby is swarming with reporters thanks to Joy's story, but the doc's on the phone with one of his frequently-referenced powerful friends, a senator.The senator has bought Cedric some time, but warns he better deliver a cure or they're both in trouble. Then Spider-Man shows up with Harry in tow. He says Harry's a chemist and should have access to anything Forrester needs to recreate the antidote. But we cut away before hearing Forrester's answer.
Roger Hochberg??? He's still there? I guess it probably hasn't been that long in-universe, but Peter quit college (The first time) almost 100 issues ago, you'd think Roger would've finished by now. Anyway, while Corona gets up to whatever she's getting up to, we head back to The Forrester Building, where Harry's had all the chemicals Cedric needs delivered except one, for which he has a synthetic substitute. Good job, Harry! While they discuss specifics, Spider-Man almost falls off the wall he's stuck to, because he's got the fever now, too. But then, one of Cedric's goons comes in and whispers something about Corona, and Spidey demands to know what.
Spidey heads out to distract Corona while the other two work on the cure, and they battle through the sky, Spider-Man trying to reason with her, Corona uninterested. A stray blast almost kills a window washer, but Spidey is there, of course. Saving the guy gives Corona a pretty big lead on him, though.
Spidey's mask eyes crying down there is a very odd choice from Sal.This is the rare instance where our hero fares pretty well against gas, and he's back to chasing Corona around town begging her to help. He finally tells her that, since she knows he believes his power gives him a responsibility to help people, she can trust him when he promises he only wants help curing people, not to imprison or hurt her, and she if she doesn't believe it, she can just kill him. He stands still to prove it.
"Red?" This Cedric guy sure is keen.
When our hero catches up to Corona, now back in monster form, she's so upset she's about to throw herself off a roof and die. He swings in to catch her, but he's so sick he messes up and they go crashing into a dumpster. And when they come up out of it, Cedric's goons are there en masse, zapping Corona and warning Spidey to get out of their way. But even though he's so wobbly he can barely focus on them, he refuses to back down.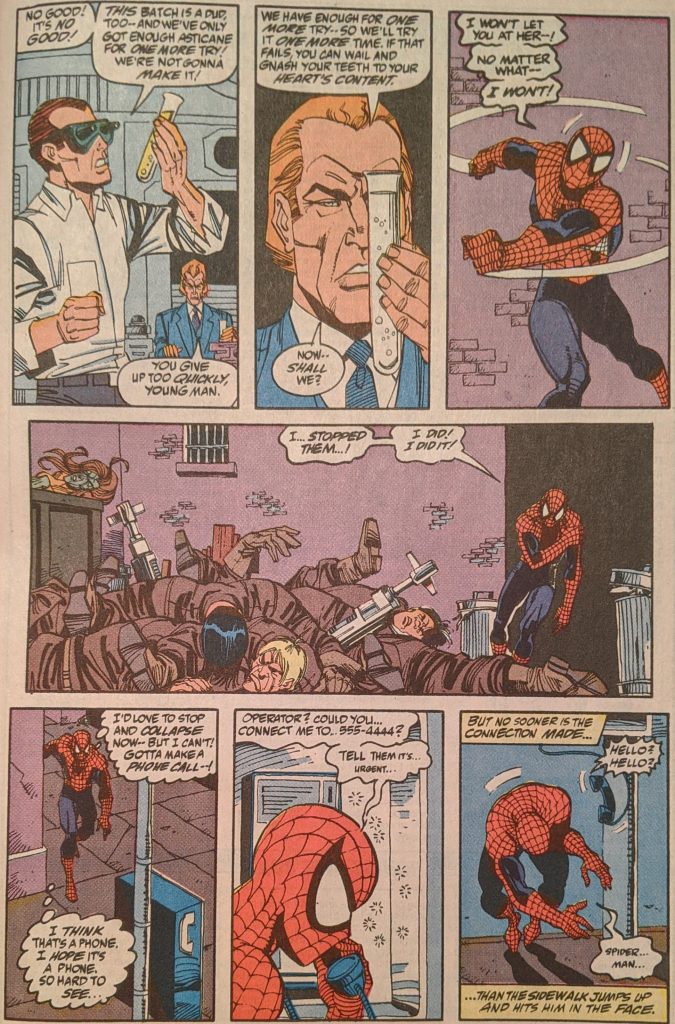 When Spider-Man wakes up, Harry is standing over him. He & Cedric were successful in creating an antidote. He says Cedric is off delivering it to the city, while Harry has brought a dose just for Spidey. And then we learn Spider-Man's call was to The FF as Reed & Johnny show up, having traced the call after he passed out. Spider-Man called them because he wants Reed to try to help Corona.
Bummer ending. The fate of Corona was up in the air for a few years, but it does eventually come back up. And, as the teaser said, next issue, JM DeMatteis takes over for a long first stint on Spectacular, digging right back into his Kraven's Last Hunt mode. Oh boy. Thankfully for me, that's not gonna be in this block.