I had this issue since I was a kid. But then, after a shipping mishap during The Great Ebay Hysteria of 2018, a seller randomly sent me this copy, signed by writer Kurt Busiek, as an apology. I mean, ok. Thanks! By 1995, Kurt will have his own, highly unusual Spider-Man title, which we've not covered here yet, but I believe this is his earliest Spidey work. His career was only really getting off the ground at this point, but he would go on to do big things in a lot of areas, from a long & beloved run on Avengers to the creator-owned Astro City, among other things. But this month, he drops by to join the regular art team for the beginning of a 2-parter introducing Corona. Rather more of a loaded word now than it was back then. And guess what: This story involves a virus. Mm hm. As it begins, Spidey sees a woman passing out in a crosswalk.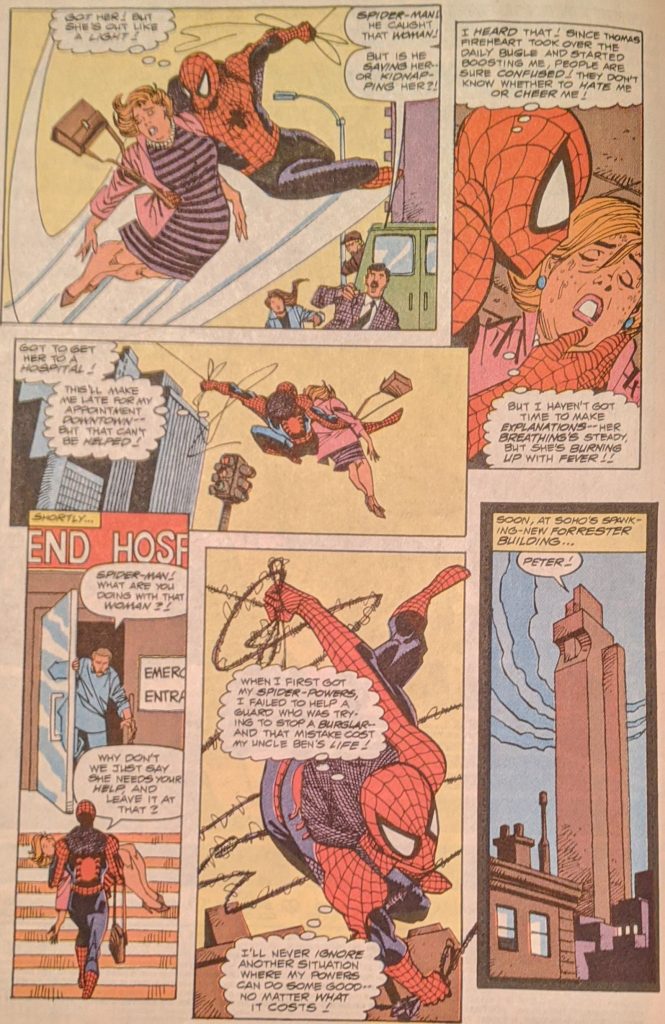 "Remember my origin?" Peter is late to join Joy Mercado, still being drawn with completely inexplicable hair by Sal, to do a piece on scientist Cedric Forrester. His sister Dagny is also a scientist, but she's not available right now. He leads them into his insanely huge lab, saying it's the little one they use when not in their main facility in the South of France. Peter is overwhelmed by it as Joy starts interviewing.
This situation is quite weird, and yet, nothing about it is weirder than Joy's hair Sal, what're you doing?
The goons hit her with an "energy-retardant foam" that smothers her aurora or whatever and allows them to capture her. Cedric is unsurprised to see her, and one of the guards says she's treated him badly as long as he's worked there, and is itching to return the favor. His intent to beat up a helpless target makes Spider-Man stop him, allowing Corona a chance to flare back up. She steals a laptop and takes off, making it clear she has a history with Cedric. Spider-Man chases after her. I mean, it's pretty obviously his sister.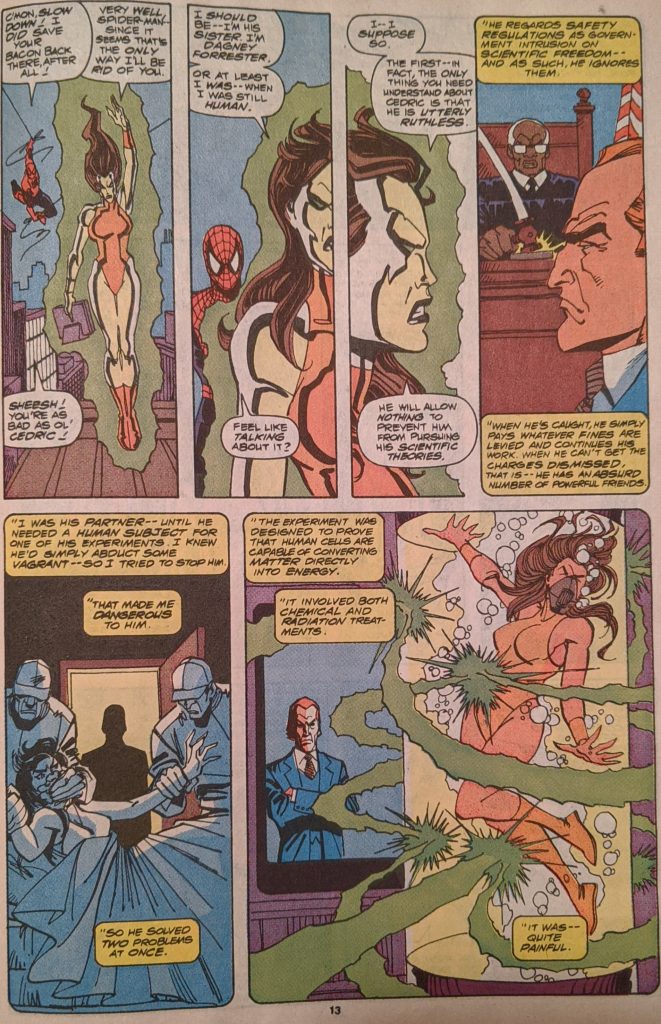 Diametrically opposed philosophies! She flies away without explaining anything else, too fast for Spider-Man to follow. He thinks to himself that he hopes she finds what she's looking for and that her brother goes to jail, and thinks he may be able to make that happen. He drops off his film at The Bugle, and then goes home in time to see MJ pass out like that lady in the street earlier.
Joy walks up and says she investigated Peter's hunch about Cedric, and found he's been in tons of trouble with the EPA, but his powerful friends have always covered it up. Without much to do at work, Pete calls MJ, who answers in the hospital despite her condition, saying hearing his voice is the best medicine. But then, everyone at The Bugle sees out the window that Forrester's fancy skyscraper is under attack by green light. Peter was about go go see MJ, but she tells him she has experts looking after her and the city needs him. So Spidey does his thing, finding Corona in a fight with Forrester's goons.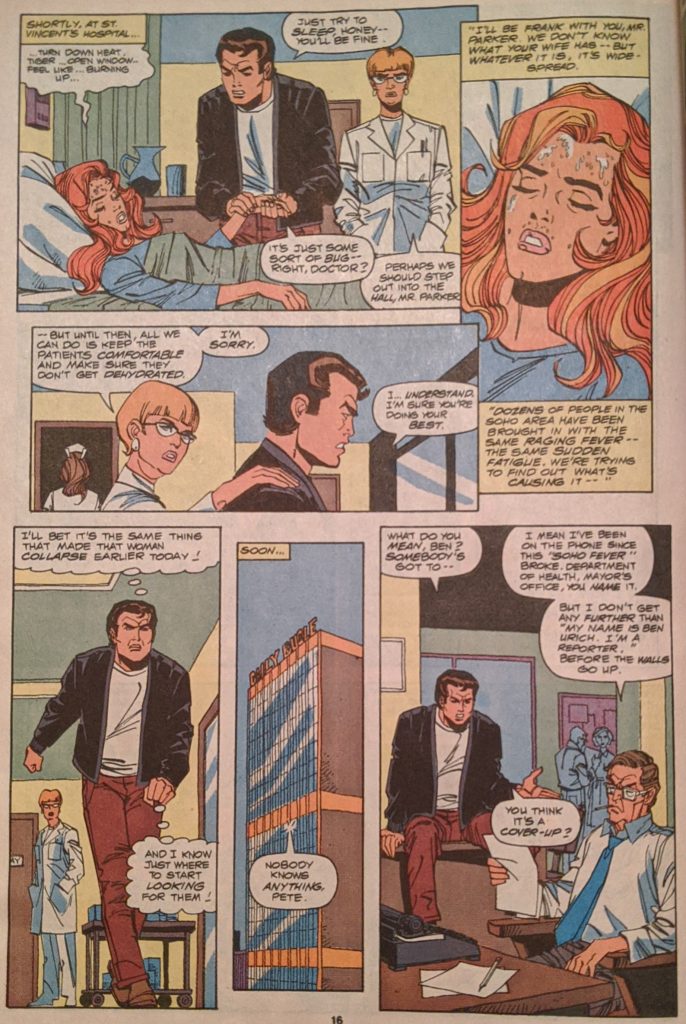 Spidey is furious, smashing right through all the guards, grabbing Forrester and slamming him into a wall in one fell swoop. He demands that Forrester release his antidote, and Forrester says he was just about to do that. Spider-Man is confused until Corona shoots at him, revealing that, guess what, she played him. She was a willing participant in the experiment, and her brother stopped it because he was afraid of what it was doing to her. But now she wants the antidote for herself to complete the transformation. He can't have that, but she says once she's at full power, she'll be able to cure everyone with a wave of her hand. Then she convulses again. Forrester says she's unstable, and could burn out or explode, irradiating the area, and plans to just leave her to die. Wonderful pair, these two.
Now here's a dilemma our man isn't in too often. But before he can make a decision, Corona lunges at him and then blast at him when he dodges, shattering the tank the antidote was stored in.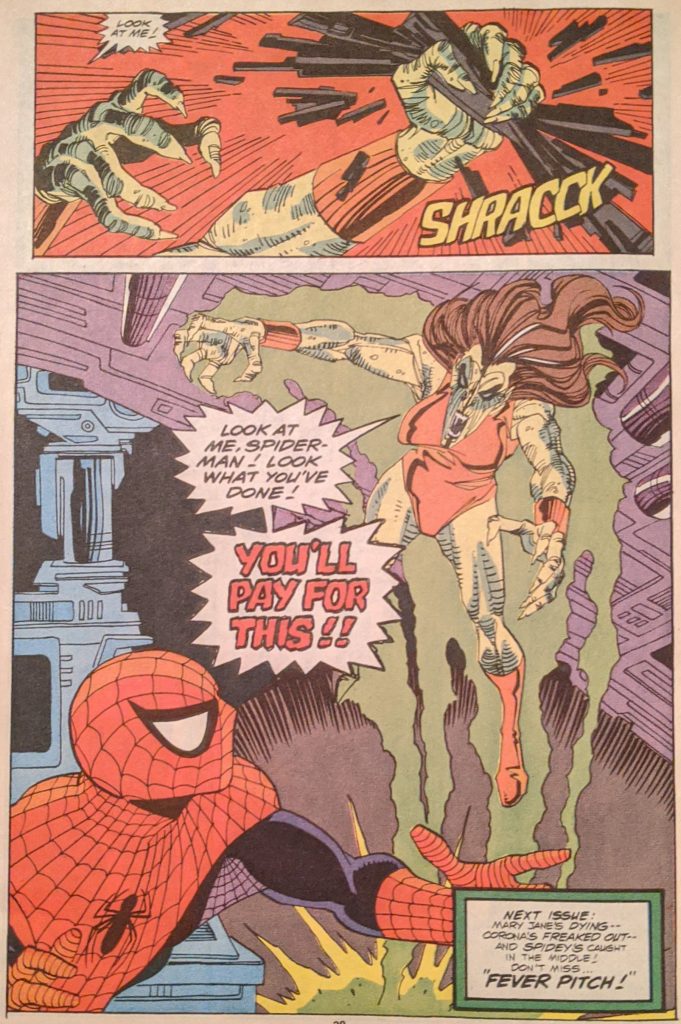 Uh-oh. How can our hero save the day, and Mary Jane if the antidote is gone? What's Corona gonna be like this new form? I have no idea, but we'll find out next time.