I think this one came off eBay. I got a lot of issues here and there pretty cheap as I was slowly filling in the collection. It's funny, this started out as "all the Spider-Mans I have" and wound up with me acquiring the whole runs of all the Vol. 1 titles except ASM, and nearly all of those, too. I may have gotten carried away. Anyway, Spark. If you weren't impressed by him last issue, well, there's 2 more of this. How are all those heroes across the top gonna fit in here? We gonna have The Avengers AND The New Warriors show up to fight 3 z-listers? I guess we'll see. As we get going, The Avant Garde has already completed their plan from the end of last issue to doom New York to a new ice age. Ok, well done, pack it up, everyone. Ice floes fill the street and people desperately try to seek shelter as they freeze in place, and Spider-Man swings above it all wondering how he could possibly help.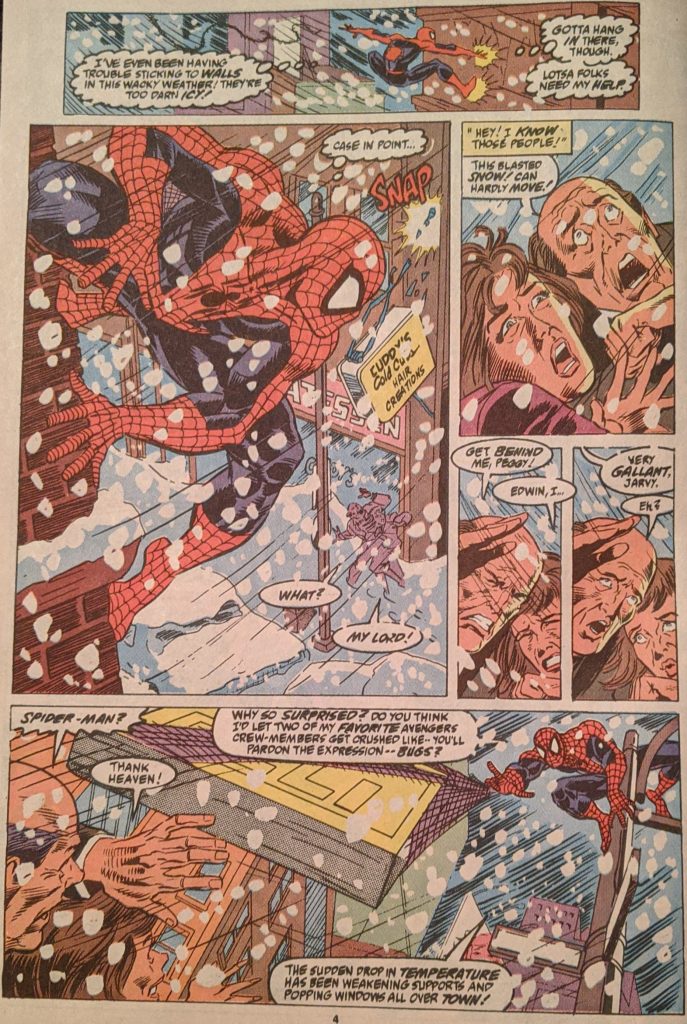 It's The Avengers' butler, Jarvis with, believe it or not, Peggy Carter, Captain America's WWII love, who in the late 80s became a member of his support staff at Avengers Mansion. At that point, she could be old, but still young enough to man the phones and stuff.
The Human Torch has some control over flame that isn't his, so if the city was on fire, Johnny could help. But what's Iceman gonna do here? Make things worse? VERY timeless Vanilla Ice reference. Iceman slides Peggy & Jarvis away to Avengers Mansion, just missing the arrival of Spider-Man & His Amazing Friends co-star Firestar. I don't think they 3 of them had shared a scene in an official comic yet, at this point, though why not is beyond me. Firestar is there as a member of The New Warriors, who do indeed all show up to help people around the city. Including the recently married Clark Kent & Lois Lane on their honeymoon, though they are, of course, not named. How random. Anyway, Firestar begins using her powers to melt as much snow as she can, and Spidey is impressed by how well the kids have things under control. Not everyone is so happy, though.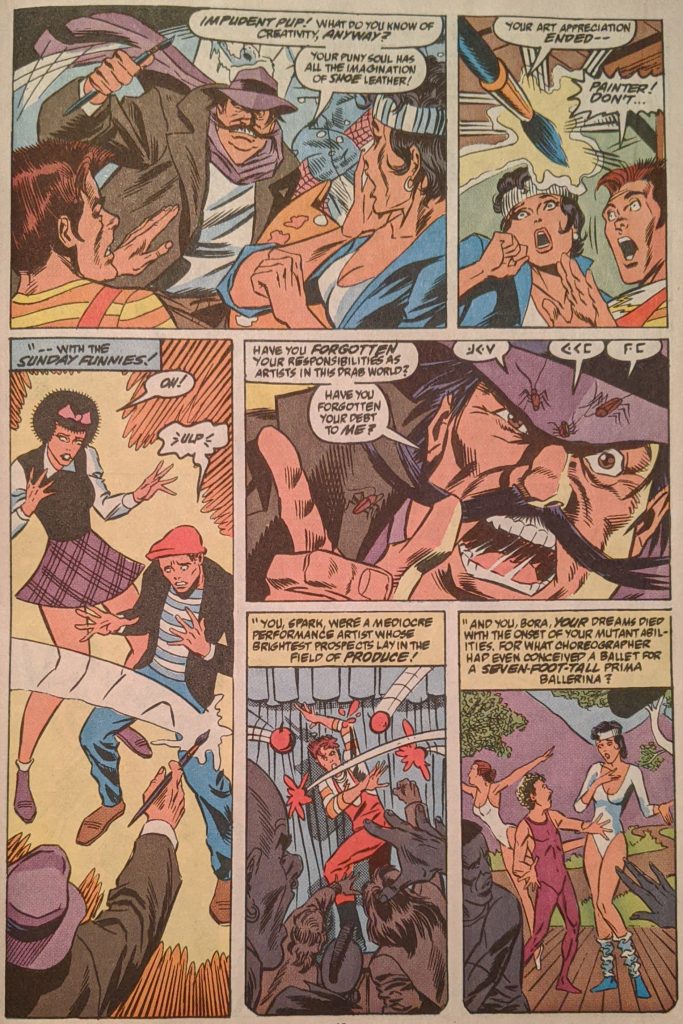 This really does play like something you'd expect from Doom Patrol. Morrison & Case's "Brotherhood of Dada" in "The Painting That Ate Paris" came out about a year before this. Hard not to think of it the whole time. Excellent stuff, that Doom Patrol run. Anyway, elsewhere, Spider-Man is trying to call Mary Jane, but the phone lines are swamped. He decides to just swing to the studio where she's filming Secret Hospital, but by now the wind is so bad he can't shoot webs very well. So, he decides to walk. As for MJ, she is handling this in true MJ fashion, grabbing some food for her terrified coworkers from the commissary and telling them "When the going gets tough, the tough get down and party!" Between a lifetime of acting unflappable and a recent history of having to deal with a lot of superhero antics, she is not letting this faze her at all. But look who is: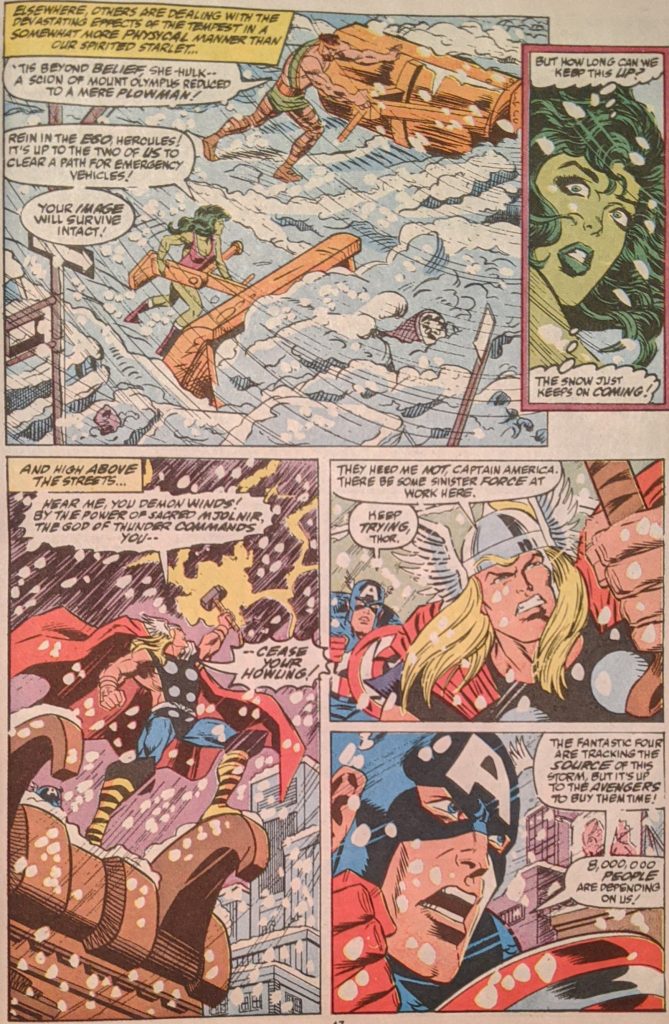 Everybody is in this story! While that's happening, Spider-Man saves the ex-wife & son of Eric Masterson from a submerged car. We saw Eric's introduction in Thor 391 as Thor's coworker in his secret identity as Sigurd Jarlson, but now Eric himself is Thor, doing the whole Don Blake thing. As soon as Spidey gets Thor's family to safety, his Spider Sense goes off.
Spidey pretty handily defeats Spark, while realizing he seemed to imply he knows what's going on. As Spark shrinks to normal size, Spidey demands answers, but all he gets is more fancy pants talk, and then Bora whisks him into the air and pins him to a wall with her… I dunno, heer wind powers or whatever she does, I'm not really sure.
Spidey webs her in the face, causing her to drop the wind and send both of them falling, but when he tries to save her, she knees him in the crotch, and he falls to the ground. He's really having a day. Spark is waiting for him, and gets to beating on him, and the Bora pins him to the snow with her wind power.
Well, there you go. They did it. I'm not sure this is as amazing as they think it is. Next time, our hero and maybe all the other heroes will have to figure out how to thaw out New York.