It's been awhile since a supervillain menaced MJ. I may be forgetting, but this might be only the 2nd time since they got married. This month, the script over Conway's plot is provided by David Michelinie and Terry Kavanagh. Kavanagh is just about to take over Web, so it's the writers of the other 2 titles keeping this one afloat together. Also, Joe Rosas colors this one. JJJ is dedicating the new Daily Bugle building as this one gets started.
I wondered who the guy taking photos at the Christmas party last issue was, and it's the guy next to MJ there. I guess that must be Lance Bannon. Very different hair. And Kate Cushing is suddenly a redhead. Anyway, Spider-Man swings off to see what's with that van, and when he gets close enough to land on the roof, gunfire rips through it. He hears a scream and an argument inside, and as it rattles to a halt, he rips the back doors off.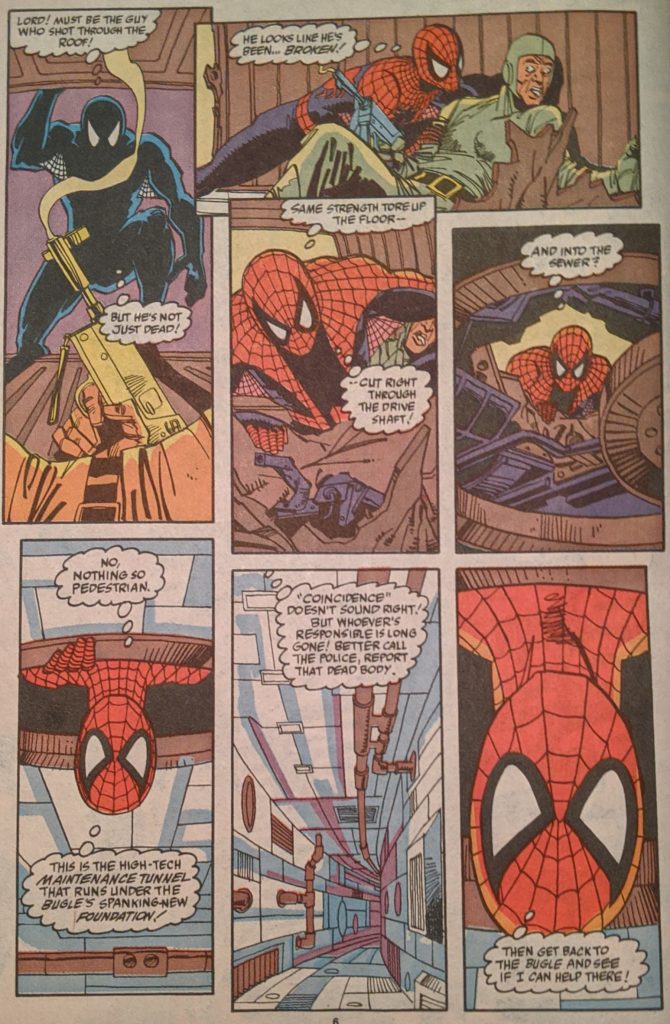 That tunnel seems a little TOO high tech. Back at the dedication, Joy Mercado has brown hair for the 2nd issue in a row, JJJ is still talking, and Nick Katzenberg is sleazing around MJ when Peter arrives and runs him off. Everyone notes Kate is uncomfortable, since she stayed with The Bugle under Fireheart, and Katzenberg slinks off thinking the photo he took at the end of last issue will make him rich, and then Jonah unveils the big statue he's been building to, which he calls The Spirit of New York.
JJJ's statue crumbles to its base, and Peter is off, back down into the "high tech maintenance tunnels" that look like spaceship corridors. And once he gets deep enough into said corridors, he's jumped by, you guessed it…
Ock pulls some wires out of the wall, electrocuting Spidey (But somehow not himself? With his shiny metal arms?). On the defensive, our guy runs for it, and soon dives down a vertical tunnel. But Ock grabs his foot on the way down and beats him against the walls of the tunnel for a page before dropping him.
This is Doc Ock as he should be. Unstoppable. A real threat. Satisfied that he's just killed his old enemy, Ock is off to wreak some kind of havoc in the new Bugle building. Inside said building, JJJ has ushered everyone into a party, trying to play off what happened with the statue. But MJ is concerned that her husband isn't back yet.
Uh-oh.
No idea. JJJ is in his office, his day ruined by one of Fireheart's pro-Spidey billboards outside, when Ock walks in, MJ in tow. To his credit, JJJ's immediate reaction is demanding he release Mary Jane. Ock says instead, JJJ is going to give him $20 million, or he'll collapse the whole building with everyone inside.
Things are looking grim for almost everybody in Spider-World! We'll see how this all comes together next post.