Time for another Spidey short from MCP. Ghost Rider just appeared in Spider-Man, with Wolverine coming the following issue. Both of them were in FF. Here's Wolverine and Ghost Rider teaming up in MCP with a Spidey backing story. These characters really were everywhere in the 90s. This issue also includes the end of an 8-parter about Poison, who we've seen a few times on the blog and part 4 of a 5-part FF story. The Spider-Man story is written by Len Wein, I believe his first time writing the character in almost 12 years, drawn by Dean Ormstrom, inked by Mike Gustovich & colored by Paty Cockrum. They printed her whole name this time!
The firefighter flashes back to the blaze, which he & his fellows thought seemed to flare back up every time they had it under control. His unease prompted him to go back inside, but once there, a ceiling collapsed on him.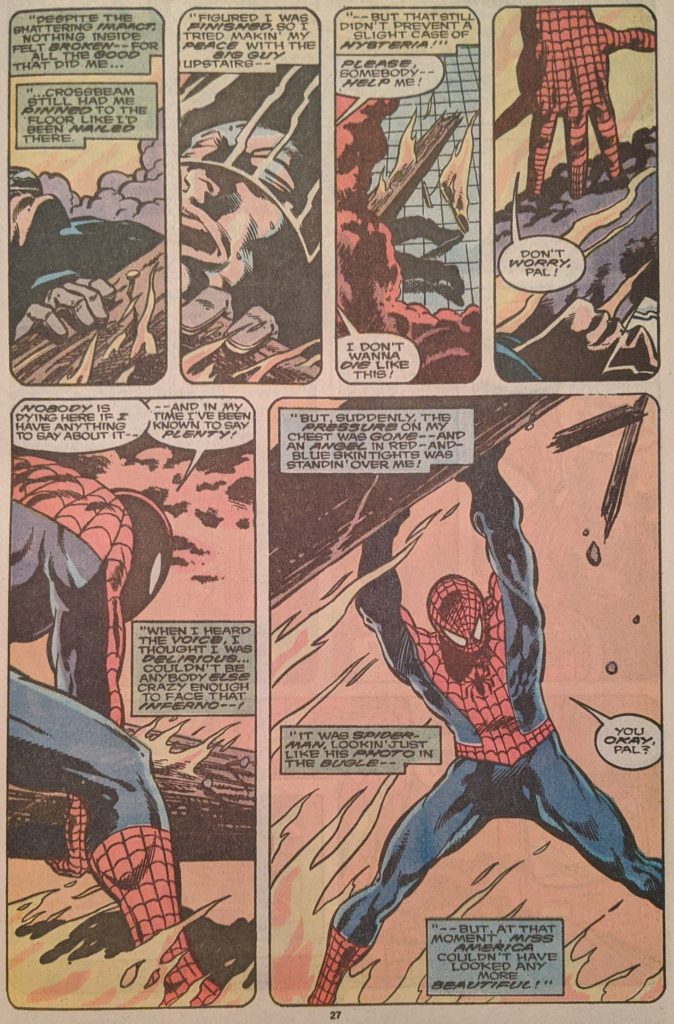 Spidey & the firefighter compare notes, and Spider-Man says he saw someone moving on the 6th floor, so they head up there, the blaze getting worse all around them. Spider-Man kicks in a door, led by his Spider Sense…
Guy kinda looks like a GI Joe.
The firefighter saved Spidey, who takes the chance to say firefighters are the real heroes (It's true!), and then they find Blowtorch doing his thing. This time, Spidey webs up his gun so he can't torch them.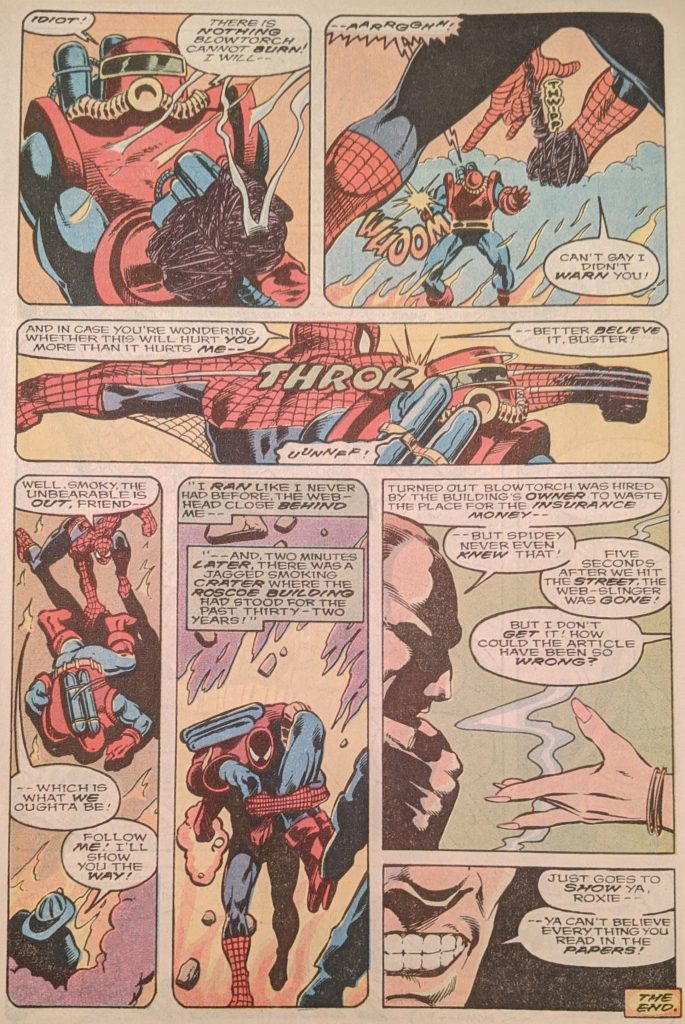 This art was weird and loose, but the storytelling was good. And Wein didn't make Spider-Man seem like a jerk for a change, which is nice. Especially after that Hobgoblin nonsense, I'll take it. And that's that. Anthology titles like MCP don't sell anymore. I really like them in principle, but I guess most people don't want to buy a comic that might be 3 stories they're not interested in and 1 they are. To me, the variety and surprise seem fun. Even when it dropped me into, like, part 3 of a story, I always thought it was interesting just to see what was happening in an issue of MCP. But the world has moved on.