Let's get this over with. "If you like ghosts and goblins… getting caught in the rain…"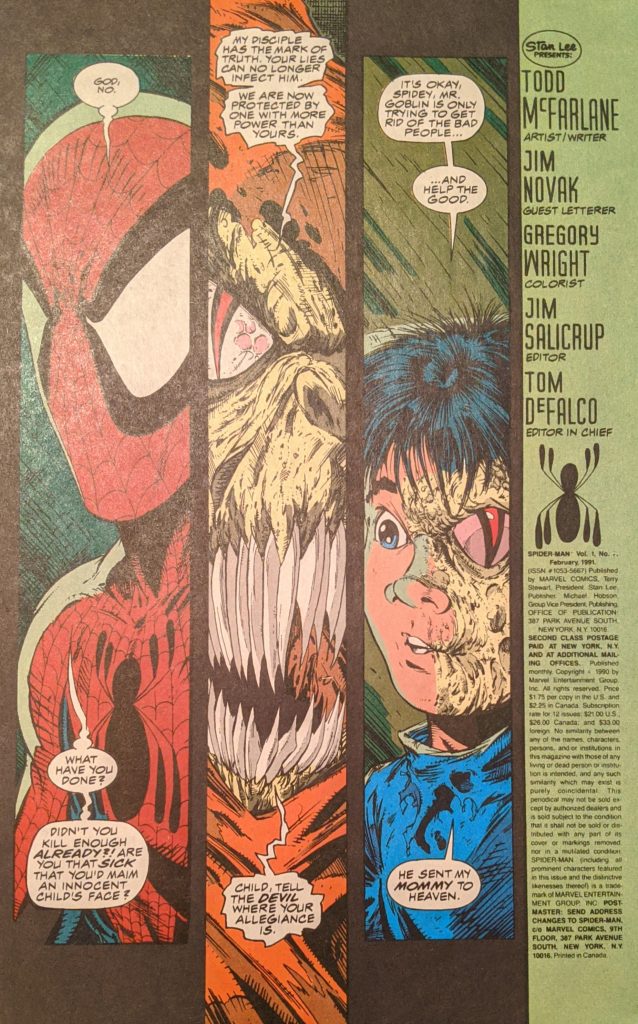 Oh, right, this is no place for jokes, everything's gotta be super-ultra-sad. So, Ghost Rider comes smashing through the wall, and as usual in a Todd McFarlane story, Spider-Man starts acting like he's never been in a comic book before. "Whaaaa? What's happening?" Get it together, man. Hobby, of course, thinks this is The Devil.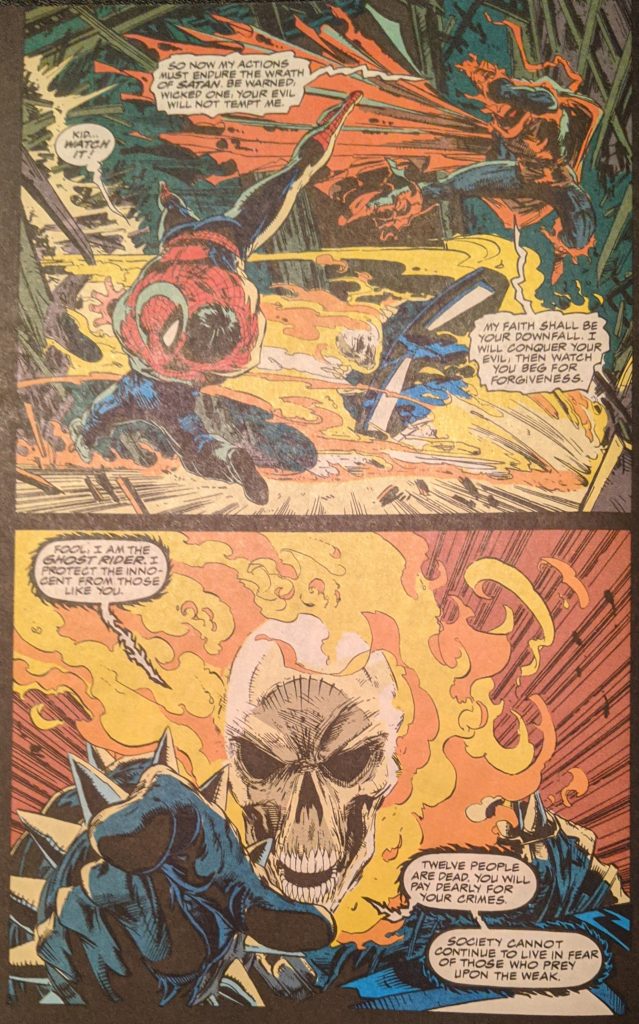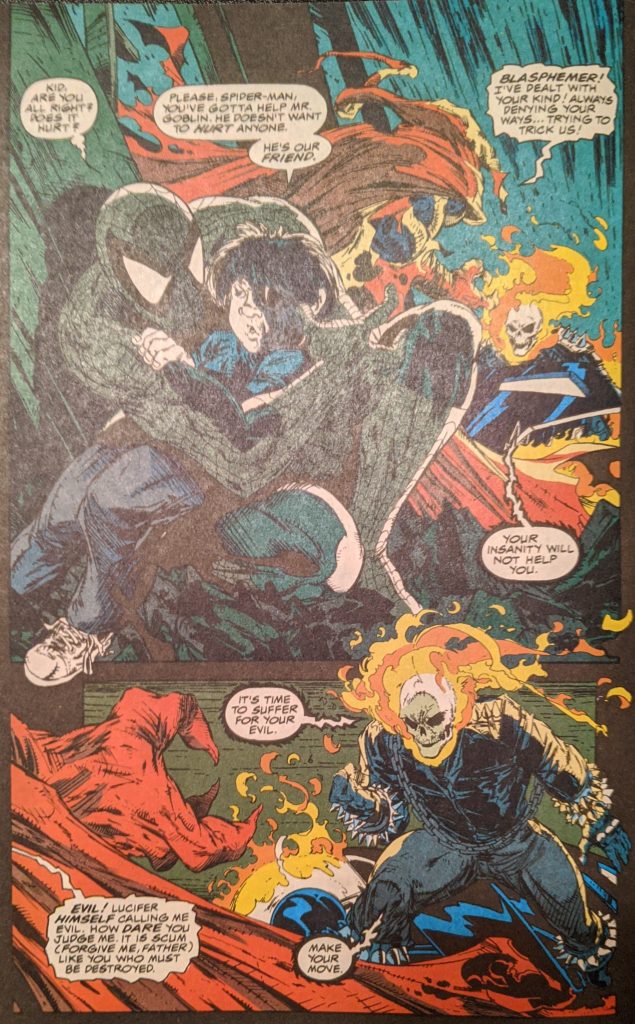 The lengths Todd goes to to hide GR's motorcycle so he doesn't have to draw it are so funny to me. So, GR & Hobby start fighting while Spider-Man sits around talking about how crazy everything is. I don't know why McFarlane thinks Spider-Man should be a bystander in his own stories, but it won't stop here. GR smashes Hobby's glider, so he magicks up a demon version to ride on as Spider-Man finally decides to do something after just watching half this issue play out.
Spidey and GR start arguing over who gets to fight Hobgoblin, when the villain notices he doesn't know where the kid is and attacks again. He grabs Ghost Rider and flies him up in the air to drop him. GR tells Hobby not to "try to scare him." The dialogue in this is so bad.
Spider-Man's catchphrase under McFarlane is basically "Whaaaaaa?" He tells the kid to stay put because it's "time that I got involved." What, again? Weren't you about to leave? Hobby lets off a big burst of power while saying he and his kid are going to leave now. GR runs for his bike. Hobby finally gets around to asking the kid what his name is. You won't believe it.
GR hits them, the kid goes flying, Spider-Man grabs him out of the air. Ghost Rider continues beating up Hobgoblin.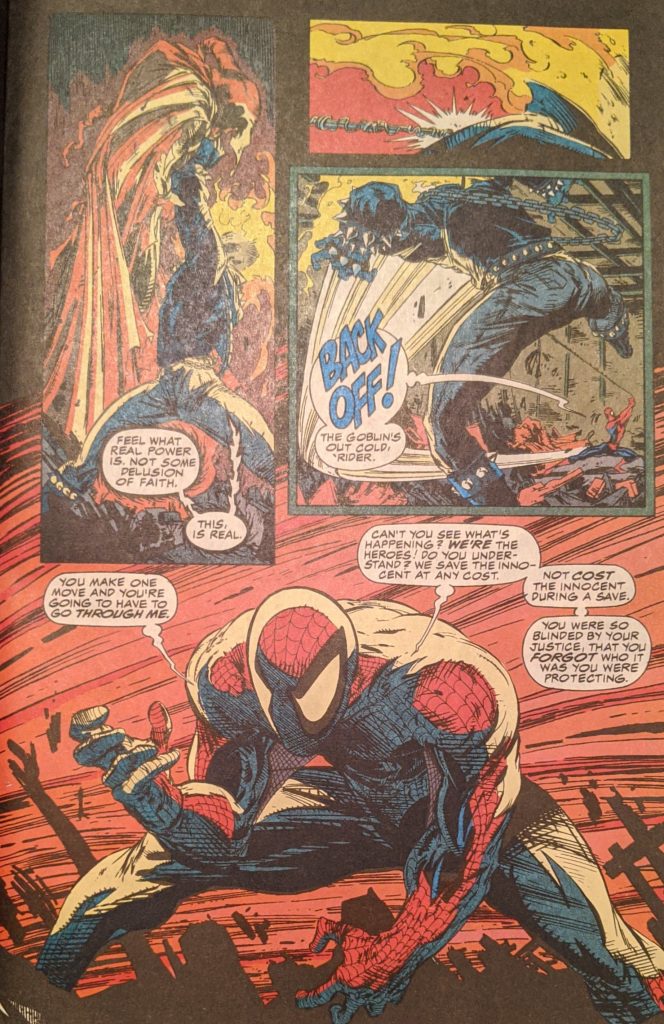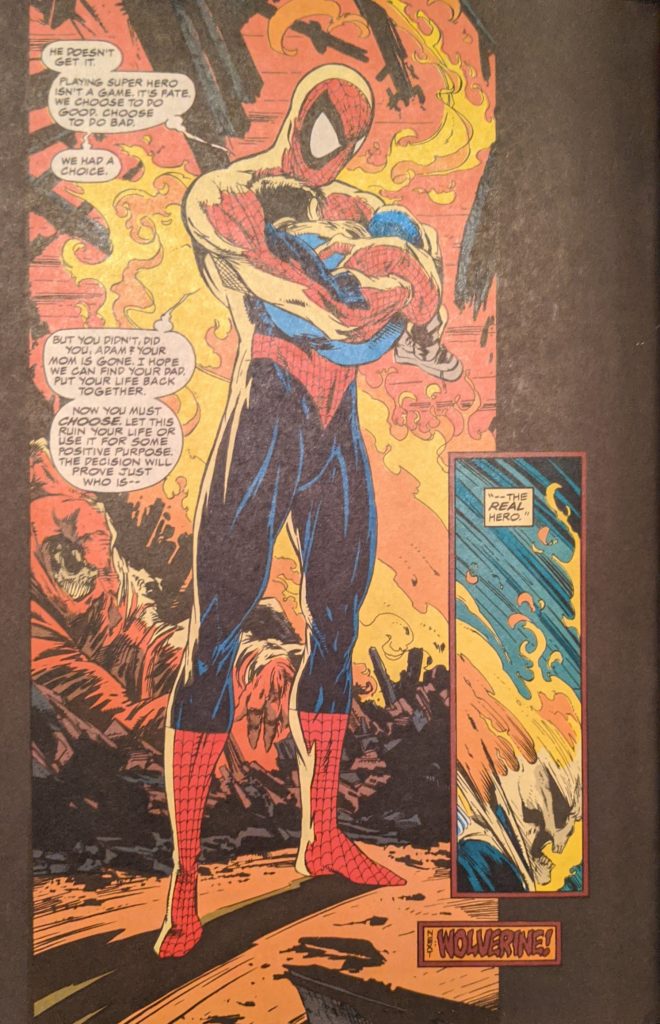 The thing is, he does get it, in his own comic book. McFarlane has just bent Hobgoblin and Ghost Rider into weird new shapes so he can tell his little morality play or whatever. Why even use these characters if you're gonna make them act totally different? And we're now 7 issues into this series with no Peter Parker plot. All Spider-Man everything. Because Todd just wants to draw superpeople posing, he's not very interested in writing, in spite of, like, wanting to be a writer. This seems a bit telling…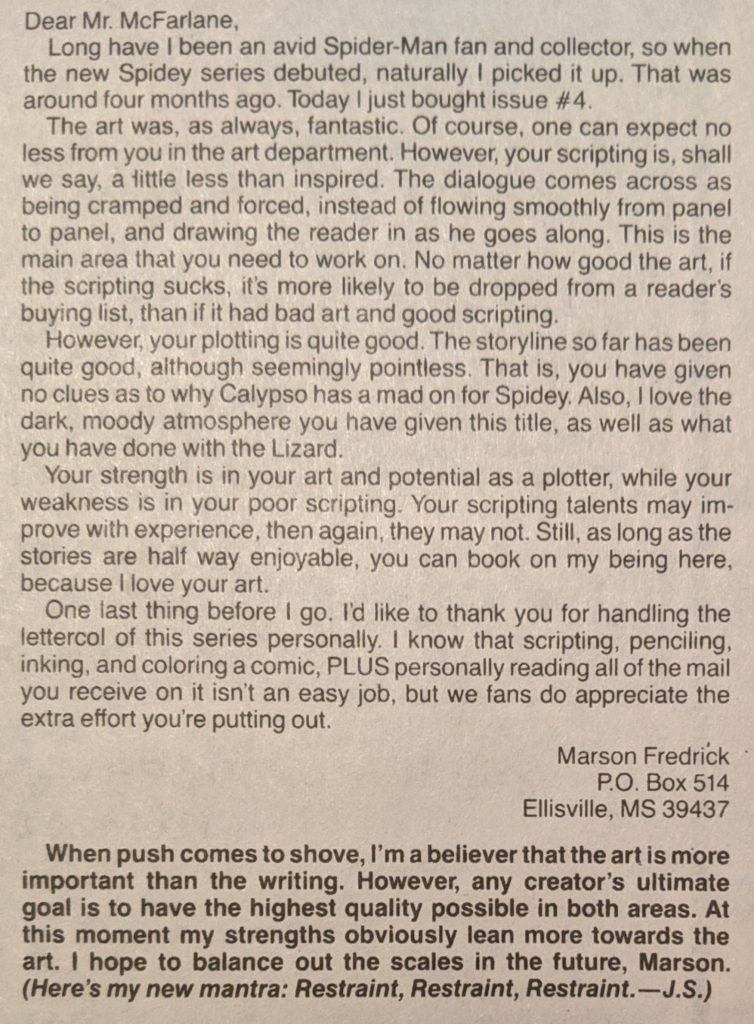 "This storyline has been quite good, although seemingly pointless." "I'm a believer that the art is more important than the writing." Case closed, really. I will say, as someone who has made some comics, the art is so much more work than the writing. I think most comic book writers know this, and some of them seem uncomfortable with that, and try to make it seem like they have to work really hard, too. And they do, in their way, but the difference between writing a page and drawing a page… no contest. Now that The Age of the Artist that McFarlane & Co. ushered in has petered out, comics have swung too far in the other direction. No one even cares about the art anymore. The drawing & coloring is 90% of the effort, and no one cares. It seems like most fans glance at the panel long enough to make sure the red blob speaking is Spider-Man and keep going, reading just the words. Comic artists are woefully underappreciated now. BUT! A comic book is a story, not a series of posters, and therefore without good writing, it has failed. It's a marriage of the two disciplines, and if either the writing or the visual isn't holding up its part of the bargain, the finished product sucks. Neither is "more important," in my mind. And that's why these comics suck, because Todd ultimately thinks as long as his pages look cool, it's fine. It's not fine. Almost nothing actually happens in his comics, and Spider-Man is rarely a driving force in his own stories. And Todd's next story is even worse. But thankfully for me, it's not in this block. I need a break.