The Marvel Holiday Special! A fun tradition on and off over the years, this one features 80 pages of material by a variety of talent using a variety of characters, starting with the GOAT, Art Adams on the wraparound cover. Here's the back:
Inside, there's no less than 8 short stories and several pinups. All the stories pair creators from all over Marvel history with characters they're associated with. Contemporary X-Men writer Scott Lobdell and classic X-Men artist Dave Cockrum serve up a flashback Christmas story, contemporary FF writer/artist and GOAT Walt Simonson teams with Art Adams for a (gorgeous) FF X-Mas, things like that. Punisher, Thor, Captain America, Ghost Rider, and joke character Captain Ultra star in stories by top notch talent. The book includes work from blog mainstays Tom DeFalco, Sal Buscema & Howard Mackie, but, of course, we wouldn't be here if there wasn't a Spider-Man story. It's the last one in the book, courtesy of Danny Fingroth, Ron Garney (Marking the earliest work I've ever seen from him), Mike Decarlo & Steve Bucellato. First, a pin-up by Rurik Tyler:
Then on to the story, which finds our hero swinging above Manhattan gridlock on December 23rd, seeing an ambulance trapped in traffic.
Garney's art is pretty unrecognizable this early in his career. I wonder when he got started. Spidey hitched a ride to the hospital with the ambulance to join J. Jonah Jameson at a photo op with some kids. JJJ is bellowing that the clown he hired to entertain the kids never showed, then he presents the hospital with a big check from The Bugle for 1 million dollars. Peter takes a single photo of JJJ handing off the big check, then runs off. You can imagine where this is going.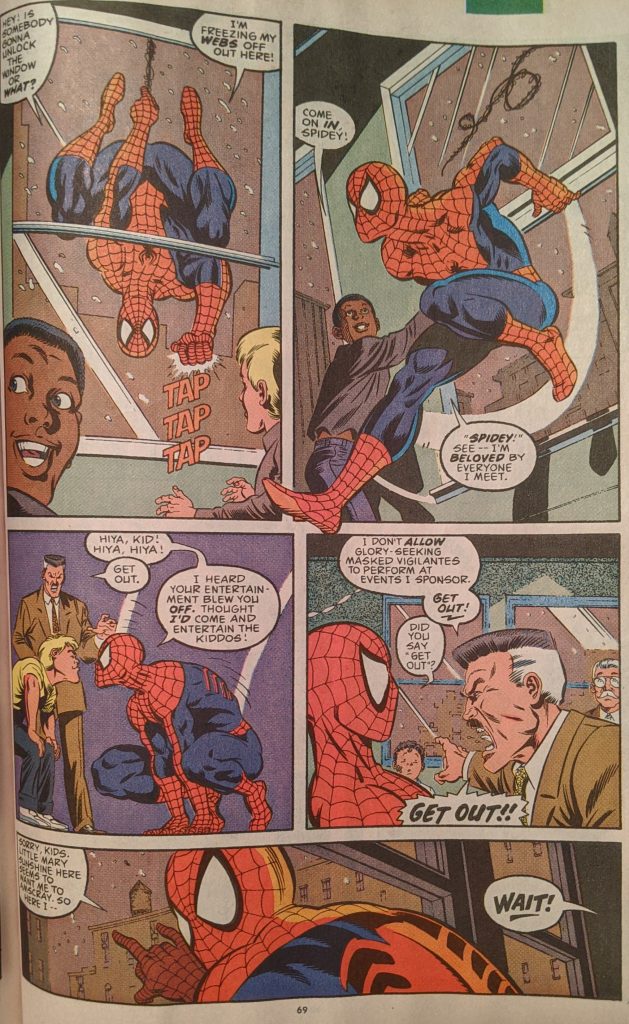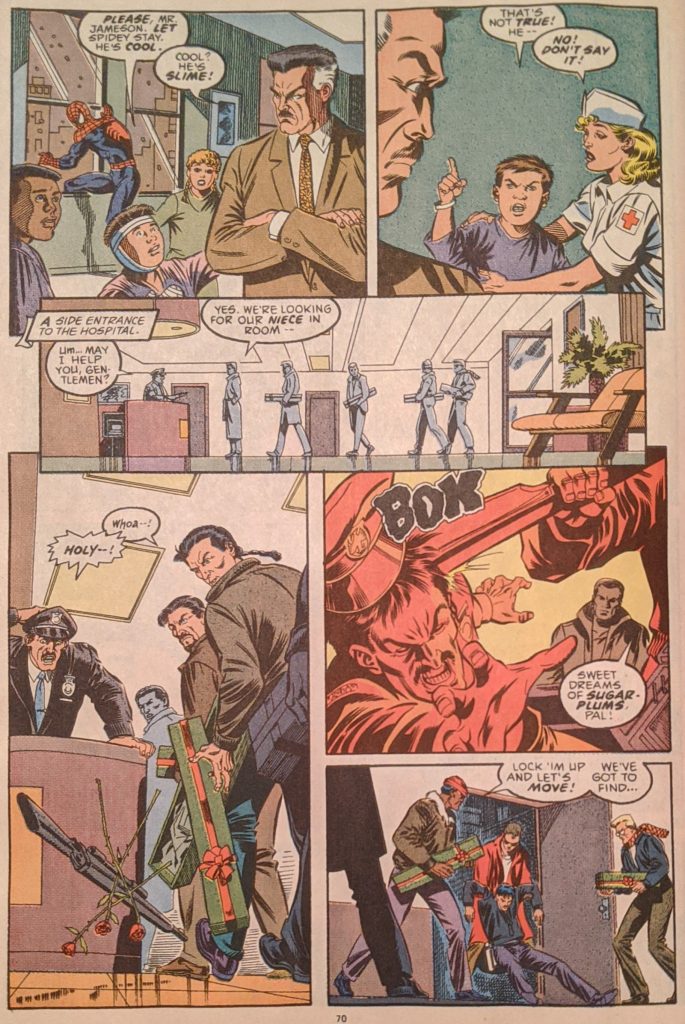 Uh-oh. The little boy just had his tonsils out, and the nurse doesn't want him to speak, but he reveals he was rescued by Spider-Man during a fight way back in ASM 63 (I don't even want to think about the timeline if this little boy was not only alive, but old enough to remember that almost 30 years ago). He says Spider-Man is a hero. JJJ of course says he's not, and won't budge.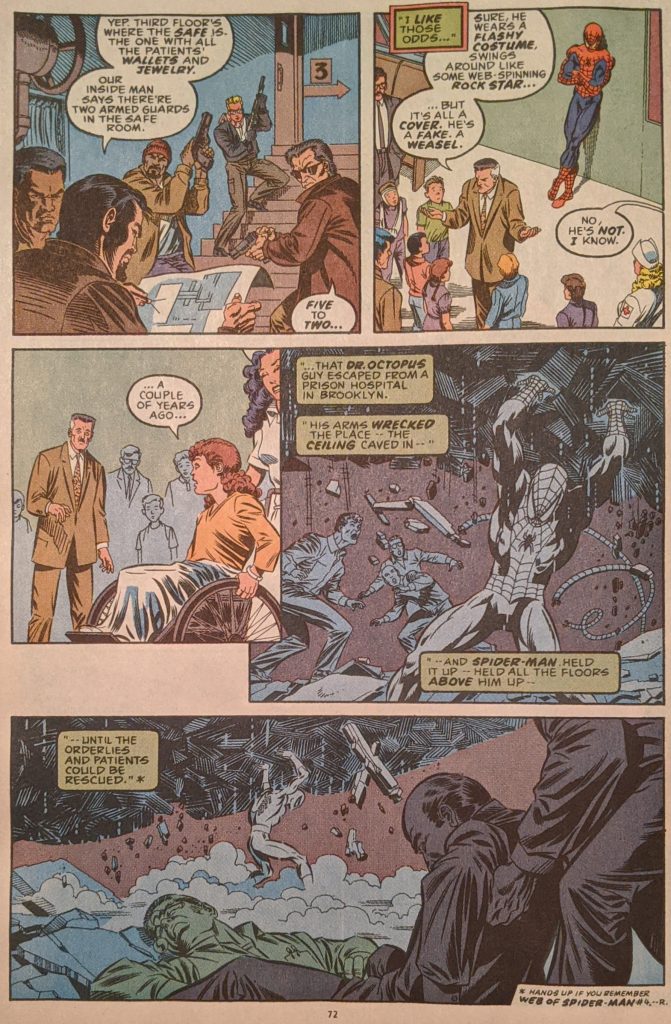 The little girls says one of the guys Spidey saved back in Web #4 was her dad. JJJ is up against the wall, and Spidey offers to show the kids how funny he'd be webbed to the ceiling, as those goons kick in the door on a hospital room, only to find it empty. They tie up a nurse who discovers them and get her to tell them where the safe has been moved to before running off. Back in the children's ward, a boy tells the story of his brother meeting Spider-Man, which I don't want to spoil as it's part of a famous Spide story, and the one of the kids brings up how Spidey saved John Jameson's life in ASM #1 and saved JJJ's wedding in ASM Annual 18. Kid's done his research. JJJ is broken down, defeated by all these tales of Spider-Man's heroism, and says Spidey can put on his show, but…
Very nice. I really looked forward to these for a few years. But, inevitably, the quality dropped off and they got less interesting, and I think they stopped happening. They come back from time to time, but these old ones were the best. It really pained me not to show the FF pages by Art Adams in his absolute prime, but the remedy for that pain begins in our very next post.