Back again with more powerless Peter, the exciting new series. This one starts with Pete & MJ arriving home after a movie. On the way, they saw a mugging, and Peter wanted to run in, but they had guns, and MJ told him he'd be killed. I mean, that is totally logical, but on the other hand, he dove into a room full of dudes with uzis and an assassin with a foot fetish last issue and didn't even really get hurt. This was just a couple dudes with handguns. At any rate, this gives MJ a chance to recap how & why he gave up his powers, and then we're off to see the guy who did it.
Kinda funny that Scorpy's latest upgrade is just getting the last one back. He runs off, thinking he can maybe kill 2 birds with one stone (GEE, WHAT COULD THAT MEAN) as "Dr. Turner" tells his ladies they have to abandon their spot in case Scorpion rats them out. Back at Peter & Mary Jane's, Peter has gone up on the roof to brood, where he is in the unusual position of having someone sneak up on him.
Aw, MJ. Bad timing. Oh, hey, I forgot the next page was something in this issue…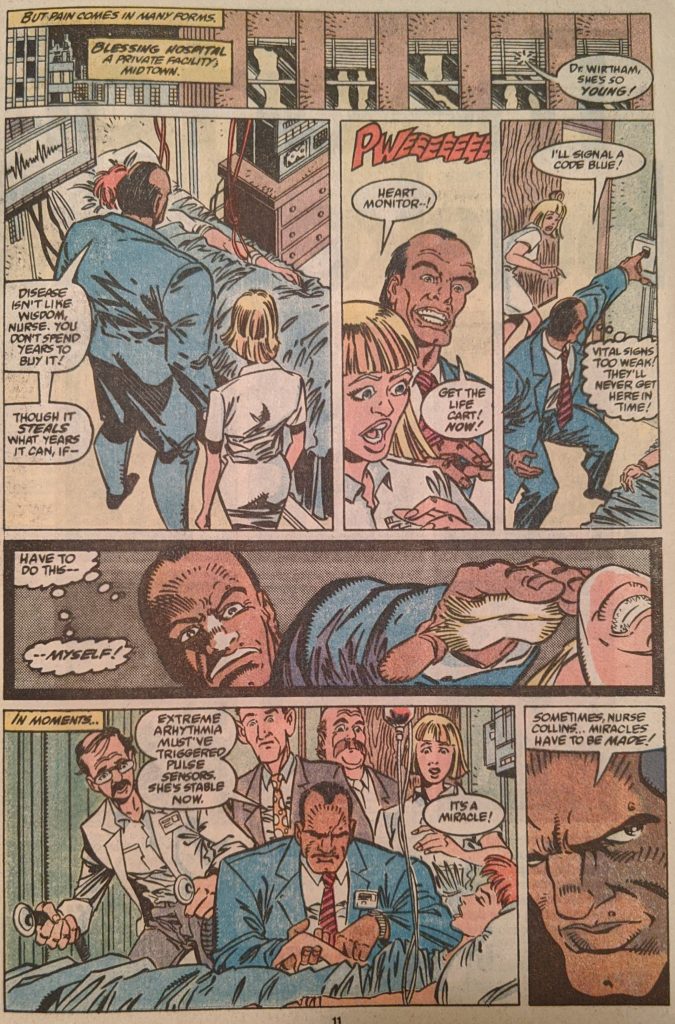 Who could that be? Someone who's been on the blog a few times already, but in a mask. We'll see. The next day, Peter is at ESU, modifying his old spider tracer receiver technology with the intent to patent it (Duh!), when he realizes he's late to meet Aunt May. May has called him to lunch to tell him about her interest in Willie Lumpkin. He's asked her to a concert, and she feels guilty about going so soon after Nathan died.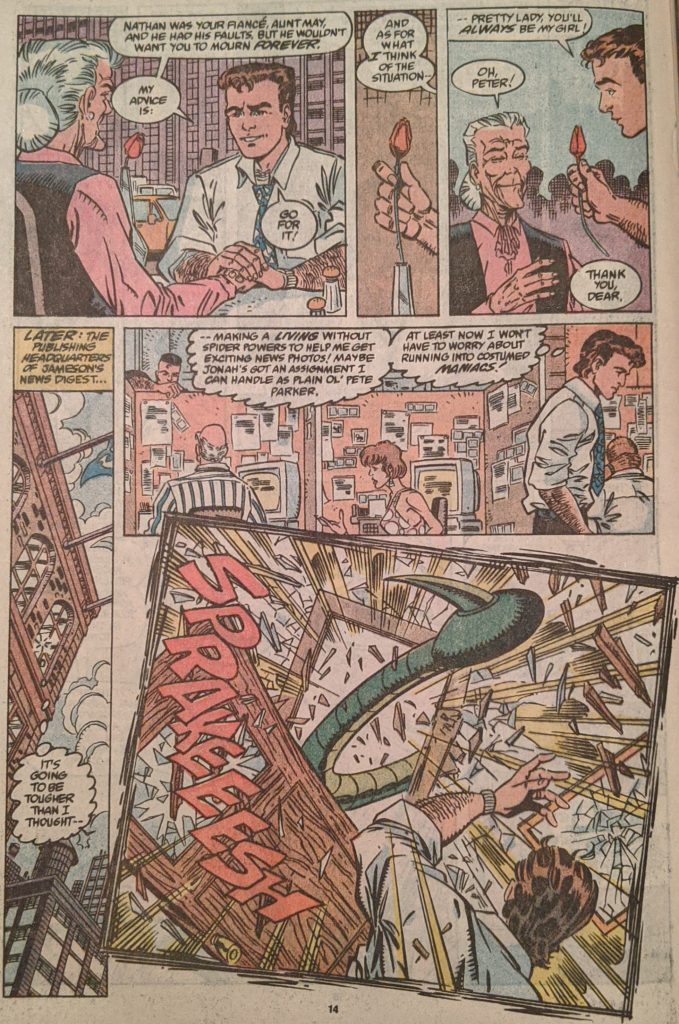 Sigh. Scorpion comes out with JJJ wrapped up in his tail, loudly saying he might be willing to trade him for Spider-Man. Peter does the smart thing and tries to call in someone else, but The Avengers and the FF are both out of town. Why not try Matt Murdock? Anyway, running out of options, he calls Flash, and asks if he can speak to Felicia.
So, just as Scorpion decides to kill JJJ anyway, Spider-Man & Black Cat appear on the roof. They never fought Scorpion together, and he says Turner never said anything about a woman, which lets Spidey knows he's been had. But right now, he's got more pressing concerns. Felicia dives in, slashing at Scorpion's face, which makes him drop JJJ. Spidey catches him, but is knocked down in the process since he's not super anymore. He tells JJJ to flee…
Scorpion then zaps the corner of the building, sheering a lot of it off, while trying to shoot Felicia. Spidey runs back up the stairs and get back to the roof, and covers Scorpion in one of Larsen's trademark Giant Web Balls, but he blasts right out of it. Felicia jumps our hero out of the way, and the fight moves to a nearby rooftop where some women have picked a bad day for sunbathing. Spidey instinctively grabs Scorpion's tail, and gets thrown into a brick wall.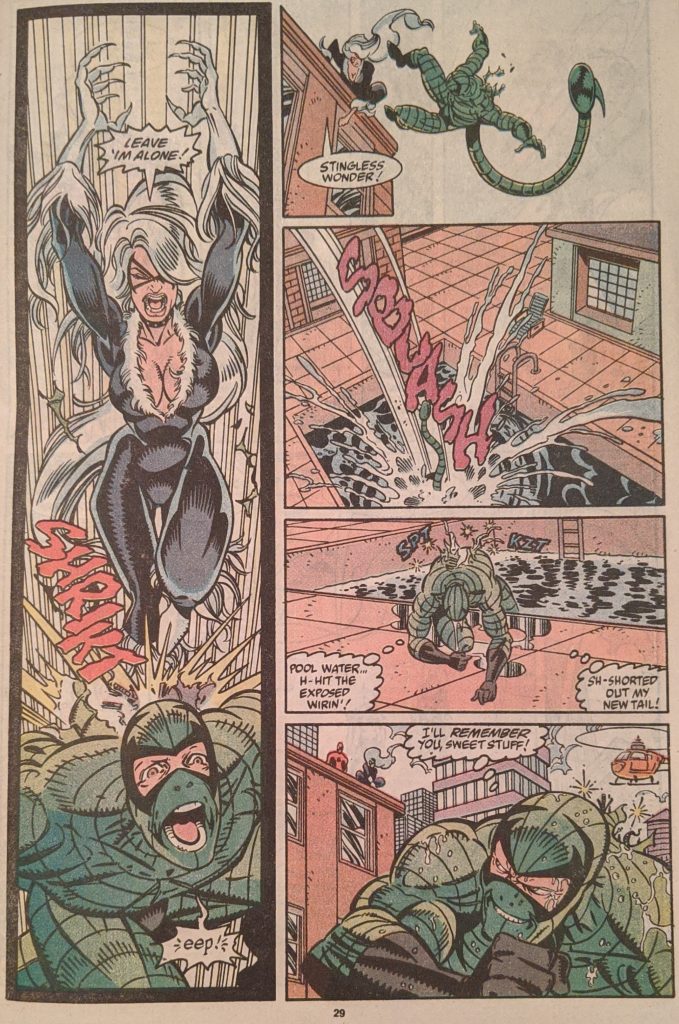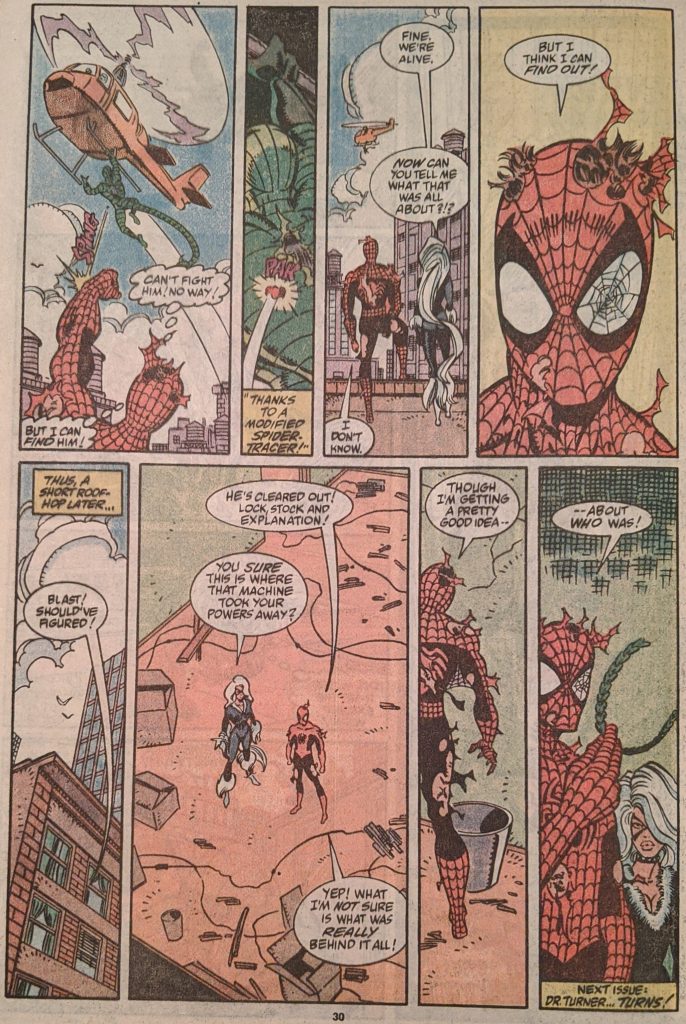 Scorpion, man. Even more one-note than Venom. Once again, in spite of the fact that he should be dead several times over, our hero somehow survives. Sure is handy he was working on his spider tracer tracer earlier. This unusual tale is headed for a finale next month.