11 posts into this block before an issue of ASM. A new record? Maybe. $3! Why did I have to pay $3 for this? Clearly didn't get it off the rack. And look, it's those ladies from MCP 48-50, now dubbed The Femme Fatales. Ms. 90s Personified! Robot Version of Big Barda! Sabretooth Lady! Aaaaand Brain Woman! Or, you know, whatever their names are, I don't remember. ASM's team is still David Michelinie, Erik Larsen, Randy Emberlin and Mike Machlan tagging in and out on inks, & Bob Sharen, but this issue has additional colors by Nel Yomtov. Spider-Man is racing through a K-Mart?
Could NYC K-Marts really be 2 stories? I guess that would make sense, it's just hard to picture. Spidey is still red & black in this book. I guess that'd be Larsen's idea? A lot of people believe Steve Ditko originally intended Spider-Man to be red & black. I'm not really sure, but if he did, I would submit that whoever decided on blue did so between Amazing Fantasy 15 and ASM 1, so if you've latched onto that, you're kind of being ridiculous. Speaking of ridiculous, what is with Erik Larsen and these mammoth, Kingpin-sized dudes being all over New York? At any rate, our guy catches the rest of the goons, but not before one of them sets off a can of tear gas, which he gets a face full of. When he gets home, he sees his eyes are all puffy and weird looking in the bathroom mirror before MJ lets him know Aunt May is there, covering for him by asking if he's finished his shower.
Doc Bromwell! I know he hasn't been Peter's doctor for 30 years in continuity, but it still seems crazy that Peter has the same doctor he did under Lee & Romita. Peter & MJ go to the opera, but as they leave, he's still worried about that gas. Worried all the gas he's inhaled lately (Last block he breathed in some crazy stuff during The Revenge of the Sinister Six, you may recall) might mess with his spider powered system in a way it wouldn't effect regular people. MJ says he should go look into it at ESU so it'll stop bugging him, but he says biology isn't his specialty. The next day, he goes to JJJ's new magazine, News Digest, to peddle his wares…
Well that sure is convenient!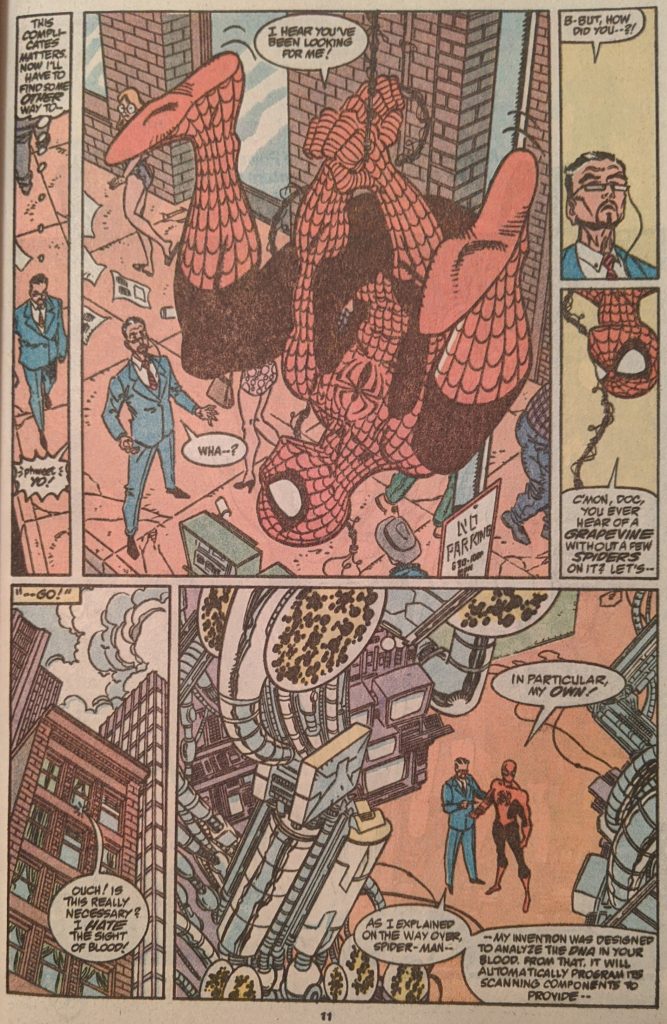 Oh ho. That doctor seems particularly untrustworthy. Spidey's powers come back, but he's kinda freaked out and leaves. I remember a bit now. I missed this issue, but after I got 341, I went back for it. The next day, an ambassador from an unnamed Baltic country is arriving in NYC, and he's requested to meet Spider-Man, so he's there with the mayor. That feels weird, but ok. But some kinda rays grab his parked plane and threaten to crush everyone nearby with it, so Spidey swings into action, webbing the wheels so it can't move and swinging away the ambassador.
Nice of them to introduce themselves. Their real names aren't much better than mine! I guess the Iron Man villain Whiplash must've been off the table around now. "Bloodlust" starts tearing into cops, and instead of webbing her, Spidey tries to put her in some kind of hold, I guess just so she can slash his leg with her foot claws for plot reasons. Then Whiplash almost gets him before Knockout tries to drop some huge piece of equipment on him, which he barely avoids. He wonders why he's doing so poorly. I think we know.
Mindblast was lifting the plane again, but instead grabs Spidey in her mental tractor beam type thing.
Not so sure about that explanation, buddy. Look at all that genuine Kirby Krackle. Larsen has a real knack for it in a way most people who aren't Jack Kirby do not. More cops show up and The Femme Fatales decide to leave. Spidey can't help thinking they seemed more interested in him than the ambassador. Back home, he says MJ knews what she was getting into when they got married, but it's not fair to Aunt May to keep putting his life in danger when she doesn't even know about it. He says he has a decision to make.
That is some flowery prose up there. Can it be? Is Peter really getting out of the Spidey game? We'll find out next issue.