Not even She-Hulk can withstand the power of a Buscema punch! Why is our man fighting The Avengers? No idea, never read this one, let's find out. We are back in the hands of seasoned vets. Story by Gerry Conway, lines by Sal Buscema, colors by Bob Sharen & Renee Witterstaetter. As this one gets underway, Spidey's swinging around when She-Hulk flags him down from a rooftop, holding a TV antenna, while some kinda robot or computer identifies him as the "primary local participant." Unlike recent posts, I'm sure this initially confusing narration will make sense shortly.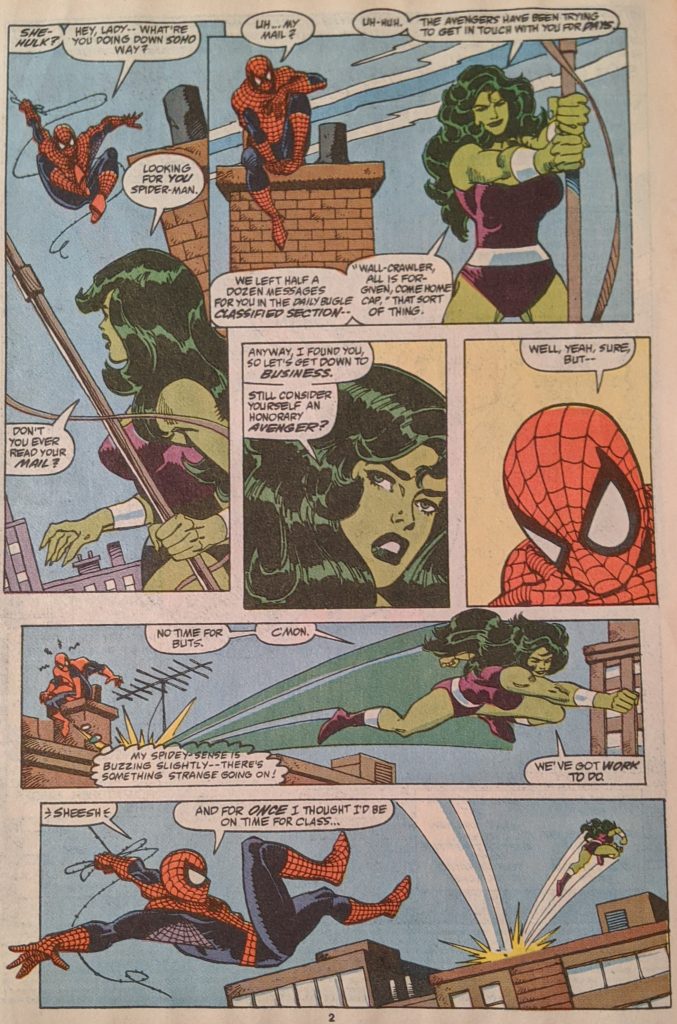 The majority of artists just make She-Hulk a taller version of the same woman they always draw, but Sal at least makes her somewhat stout. She take our hero to a condemned building recently purchased by one Wilson Fisk. As they break into it, she says The Avengers' files indicate there's something in the basement, sealed away, that someone like The Kingpin should never have access to. She says it's from before her time with the team, and reading a plaque, Spider-Man says it's from 1890. This all seems fishy.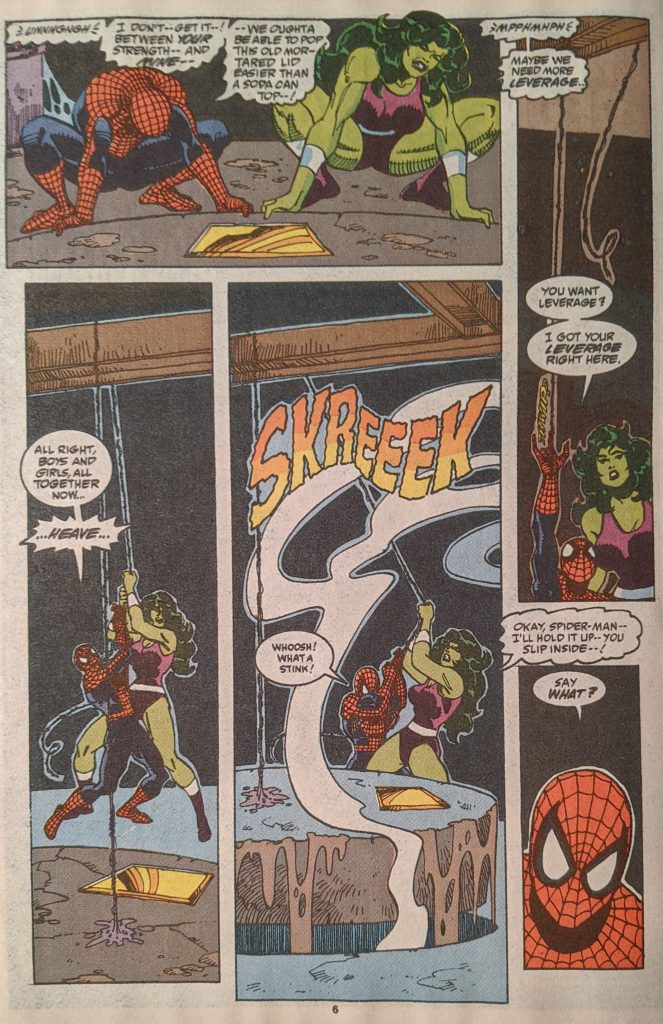 As the weird black goop flies out of the hole, She-Hulk drops the lid on Spidey, saying he's done his part. The lid shatters as it hits, the debris knocking him out and burying him alive. Uh-oh. Meanwhile, Mary Jane is at The Daily Bugle, which is being rebuilt after the events of Acts of Vengeance. She's here to meet… Joy Mercado? For lunch? Have they ever spoken to each other? Joy is surprised, too, saying they've known each other for year,s but have never been friends. MJ says she needs a friend right now. Oh, right. We're still dealing with that stupid subplot of her having feelings for some shmoe. I had happily forgotten about that. Cut to Puma explaining his deal and preparing to go out of town when what everyone keeps describing as a black cloud but sure looks like Venom-style goop zooms past his window, overwhelming his super senses with its evil. Seems bad!
Ugh. Back at the abandoned building, it's time for Spider-Man Must Life A Heavy Thing. And it's a very classicist version, wherein he can't possibly lift it, but then thinks of his aunt and his wife, so…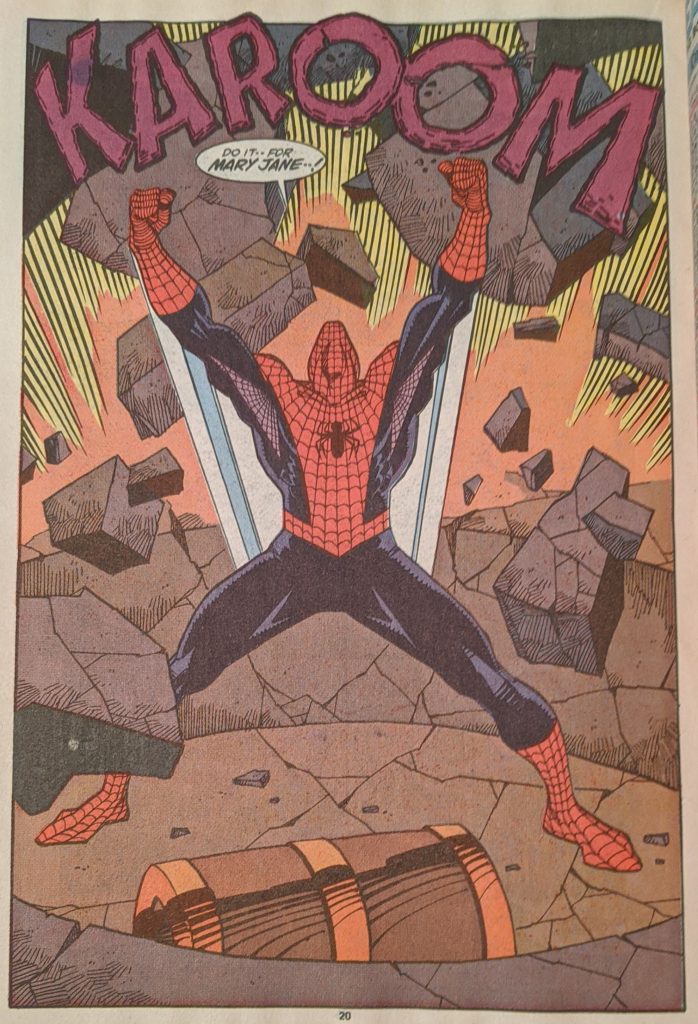 Mm hm. One day, when I've run out of comics to read, I'll be able to total up all the times Spider-Man has had to do this. That'll be funny. Our guy climbs up out of the hole, and soon, the intruder alert is going off at Avengers Mansion. They find Spider-Man and relax, but when he sees She-Hulk, he punches her across the room, like on the cover, only he does it while hanging upside down from the ceiling, as he is wont to do, which looks more impressive, really. She-Hulk immediately counterattacks, saying being attacked by a friend puts her in a bad mood. I mean, you know where this is going. Thor & Quasar break it up, and then Sersi uses her power to calm Spider-Man down. Captain America demands an explanation.
I wonder why Spidey's webs are yellow in the back half of this issue. I guess that's Renee Witterstaetter, but why? Spider-Man swings off, saying he'll just have to figure this out alone, as The Avengers wonder what could be going on. Then his Spider Sense is set off by a passing pigeon, leading him to think getting knocked out must have messed with it. After all, he says out loud, unless you're under him, what's so dangerous about a pigeon?
The Space Phantom! A weird ol' shape-shifting alien Avengers villain. Seems like it's probably his first appearance on this blog. He's actually A space phantom, one of a race of them. Hang on, there's another page.
UUuuugggggghhhh. This issue features a letter from one Mark Pennington commenting on how that Knight & Fogg story in his native Liverpool really misrepresented his city. I assumed this must be the same Mark Pennington who will, few years hence, be the regular inker of X-Men, but the internet tells me that guy is American, already working in comics at this time. Can there really have been 2 Mark Penningtons into comics in this era? I guess it's not impossible. Weird.