After careful consideration of his situation and options, Hulk has decided smashing is in order. Having 1 guy write 2 out of 3 Spider-Man titles always seemed like a weird choice. Inevitably, he began to treat his two books like one book, which isn't necessarily nice to readers who can't afford a lot of comics (Like, say, a very young me), which makes ASM feel like the weird book that's disconnected from Spider-Man continuity in spite of being THE Spider-Man book. But I think it's even stranger than that now that he's made the 2 books unconnected, and running multi-part stories in both of them at the same time. But, anyway, now there's 4 books, and Conway's 2nd run in the Spider-Office is drawing to a close, and he continues his "Remember Acts of Vengeance?" series with this Hulk rematch. Web is still Conway, Alex Saviuk, Keith Williams & Bob Sharen. To start, JJJ has the staff of his new Jameson Publications, which is essentially the entire classic Daily Bugle staff, at this point, watching a news report of sightings of some kind of wild animal in Connecticut.
Our previous late 90s block seemed to indicate Betty had just become a reporter. Here we are 6 years prior and Betty has just become a reporter. And I swear she was a reporter already about 30 issues ago, but I'm beginning to doubt myself. So, I've never read this issue, but I have read the next one. The obvious villain guy down there turns out to be an extremely ill-advised sequel to one of the most beloved Fantastic Four comics of all time, FF #51, "This Man… This Monster!" (In spite of a caption referencing #53 on the next page). It's a story about a guy who builds a thingie and steals The Thing's powers, but ends up using those powers to save Reed Richards from certain death, sacrificing himself in the process. He began as a villain, but died a hero. It's rightly considered one of Kirby & Lee's finest issues. And this guy… is that guy's brother. And he's built a similar thingie. And he thinks the FF killed his brother. And he's out for revenge. He sure waited awhile. After years of perfecting the thingie, he's going to field test it, and if that works, he's gonna go kill the FF. Ok! Meanwhile, Robbie is FINALLY going to stop being mean to Peter!
Buddies again. Couldn't have happened fast enough. That's The Hulk smashing through Connecticut down there, of course, and he's got a passenger: Bruce Banner's one true love, Betty Ross.
He is green and dumb again instead of gray and a mobster now. Soon he will be green and smart. Modern coloring techniques have allowed Hulk's transformation and things like it to seem more fluid, but something about how his skin ad to change in patches because that's the best they could do in older comics always seemed vaguely creepy to me. I dunno, I still kind of prefer this effect to the slicker stuff they can do now. Anyway, meanwhile, Mary Jane's cousin Kristy is being released from the hospital into her care. Kristy seems to be a changed girl, and Mj is very happy for her.
Ugh, that subplot. I hate it so much. But, there you have it. How could MJ be Kristy's guardian if her husband is Spider-Man? Answer: Kristy moves in with some random friends of theirs. Weird! But hey, why not? But meanwhile Meanwhile, Betty is driving Peter to Connecticut, giving the speech about how she's spent her whole life letting other people tell her what to do and now she's her own person, which I swear she gives every 5 years or less since poor Ned got got. But then they hit a road block, and Peter sees a Jeep peel off into the woods. He just hops out of the car, saying he's gonna go get pictures of whatever's going on, and runs into the woods before Betty can stop him, switching to Spider-Man. But about that Jeep…
This guys is really dumb. He proves how dumb he is by creeping inside, finding the sleeping Bruce & Betty, and just zapping Bruce withhis whatzit, turning him into a really angry Hulk, who bats the guy across the room for hurting him. I mean… what was supposed to happen?
I don't happen to know why everyone thinks Hulk is dead. Happens to every superhero eventually. Hulk rampages up through the floor, causing the entire 2nd story of the building to collapse. Betty comes crashing down on top of the dude, who she thinks has died in the fall. Man, what a genius he turned out to be. Hulk has decided the dude was Banner's friend, and asks Spider-Man if he is, too.
So now they've both been zapped by the thingie. Hulk punches the now disoriented Spidey through the wall and out into a nearby lake, where Hulk proceeds to try to drown him. They both go under the water…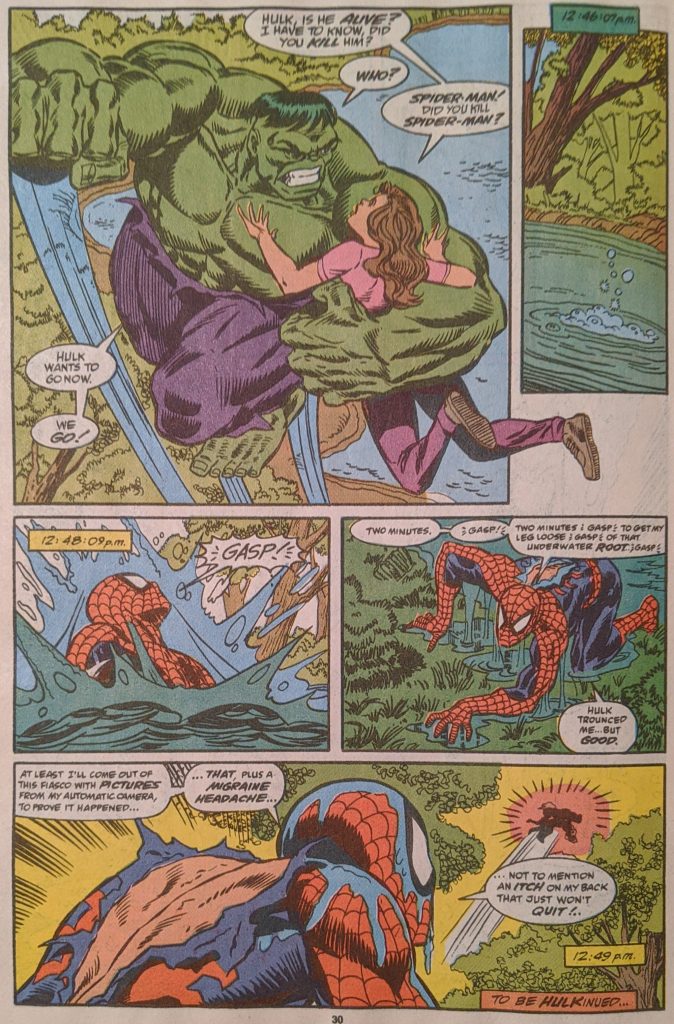 Spidey's not done with Hulk yet, and things are going to get very weird next issue.