The gang's all here as we finish up in The Savage Land. A splash and a 2nd 2-page spread show us our gang surrounded by dinosaurs (Making Weirgino do two 2-pages spreads of essentially the same scene in consecutive issues was mean!).
It's everybody vs. everybody for a few pages with a recap over it until Spider-Man quite rightly says this is stupid.
So Spidey goes to do that, and as Ka-Zar tries to reason with Roxxon goons, Spidey tries to reason with The Dinosaur Man, forcing him to see Ka-Zar is fighting the same bad guys. In a rare moment of reason, Stegron sees the heroes are on his side and agrees to help them try to stop the impending doom. And then… finally…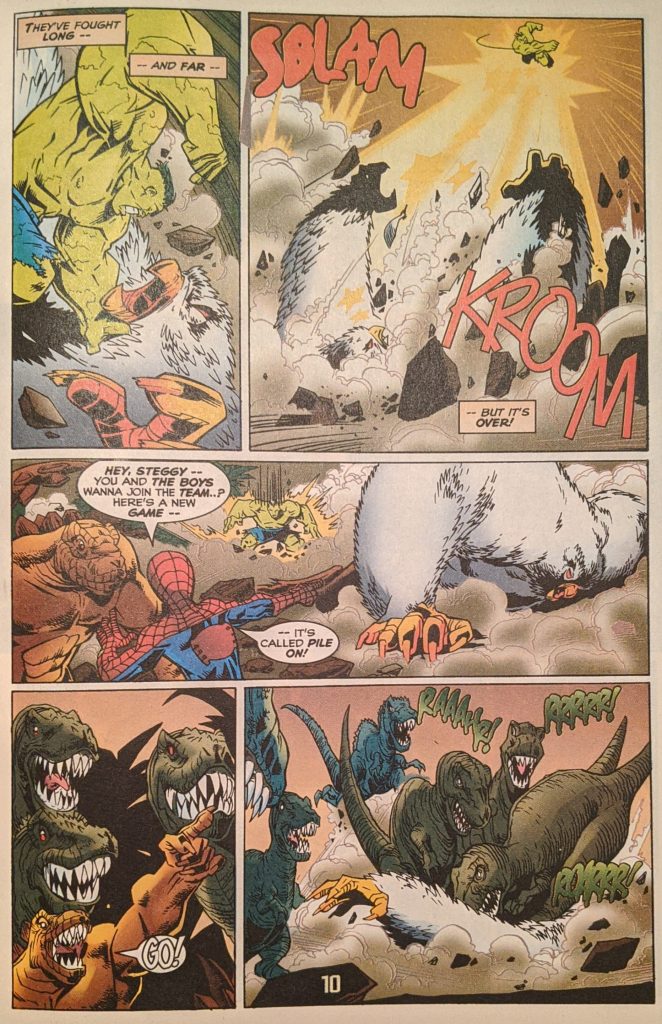 Um… why tho? How does fighting the chicken save The Savage Land? Does Spidey just assume Hulk is in the right? Does he not remember last issue's prophecy or whatever? At any rate, the big fracas creates a giant crater, and Spider-Man has an idea. Soon, Ka-Zar & Co. are storming the Roxxon facility.
Ka-Zar doesn't kill the guy, and to their meager credit, the SHIELD guys immediately take the Roxxon guys into custody and ask if they can help. Outside, the combined forces of Stegron, Hulk & Spider-Man are tearing down all of Roxxon's equipment. While they do, the Roth guy in charge contacts his bosses, who inform him he's their scapegoat, OBviously, so he decides to try to blow everything up and take Ka-Zar with him. Roth sets off a bunch of explosions and the water starts rushing.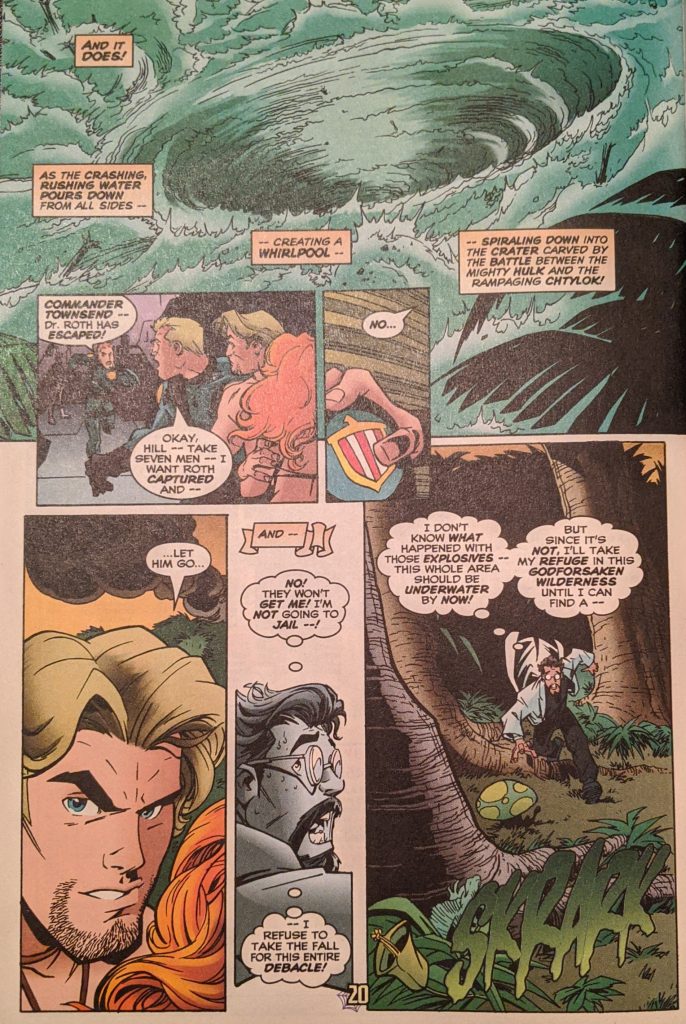 This really wasn't much of a Spider-Man story. They had him have the brilliant idea of putting all the water in the giant hole everyone else also saw. Otherwise, he just kinda wandered in and wandered out. And Hulk's involvement never went far, either. He had like 2 lines in this issue. Super weird. Ringo was clearly having a blast with all the dinosaur action, but not much to recommend, storywise.