Where did this issue come from? Its lack of backing board or tape suggests I bought it in the old days, but I'm pretty sure I didn't. And how's The Hulk gonna get involved?
Oh, ok, that's how. Asked & answered. Hulk's deal right now is weird. So weird I don't know it too well. Bruce Banner had successfully merged all his split personalities into one, becoming a Hulk with the intelligence of Banner. Then things got awkward when the Heroes Reborn people wanted Hulk, and Marvel apparently didn't want to take him away from Peter David, who'd been writing him for so many years, so Banner somehow went to the pocket Heroes Reborn universe while Hulk stayed. I didn't read Hulk at the time. I thought he was dumb again, but he seems pretty smart. He goes to Monster Island looking for its proprietor, The Mole Man, but just finds a bunch of carnage, and eventually…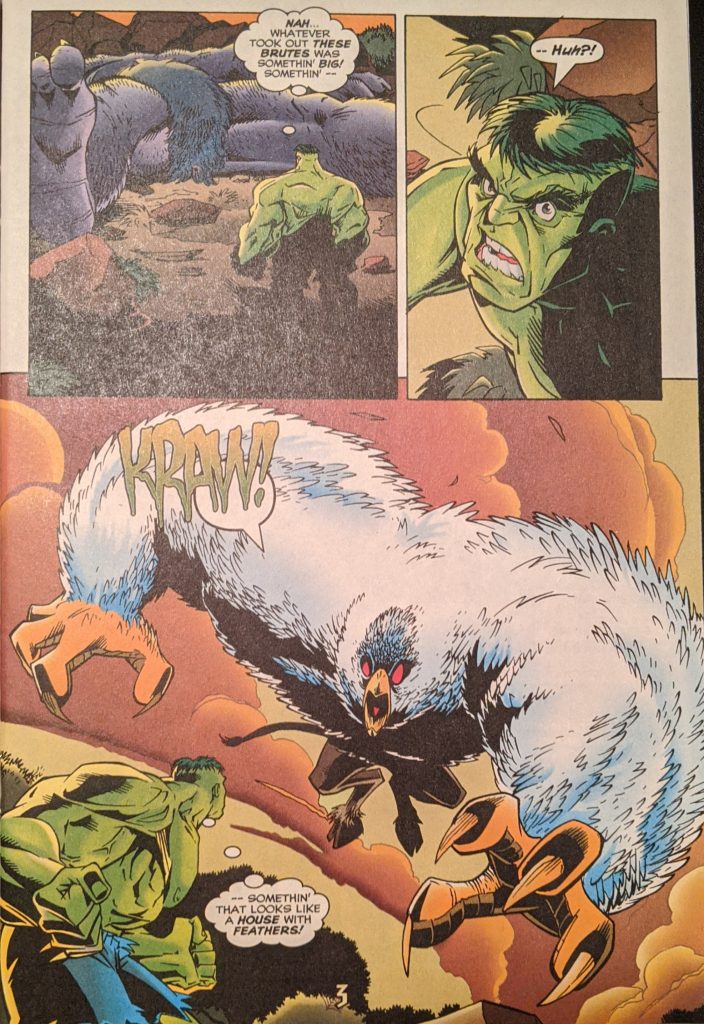 Do not understand why there is a chicken monster. Meanwhile, back at the plot, Spider-Man, Ka-Zar & Shanna are checking in on the recently displaced Fall People and recapping last issue as the waters continue to rise. Then one of the elders wants to talk to Ka-Zar.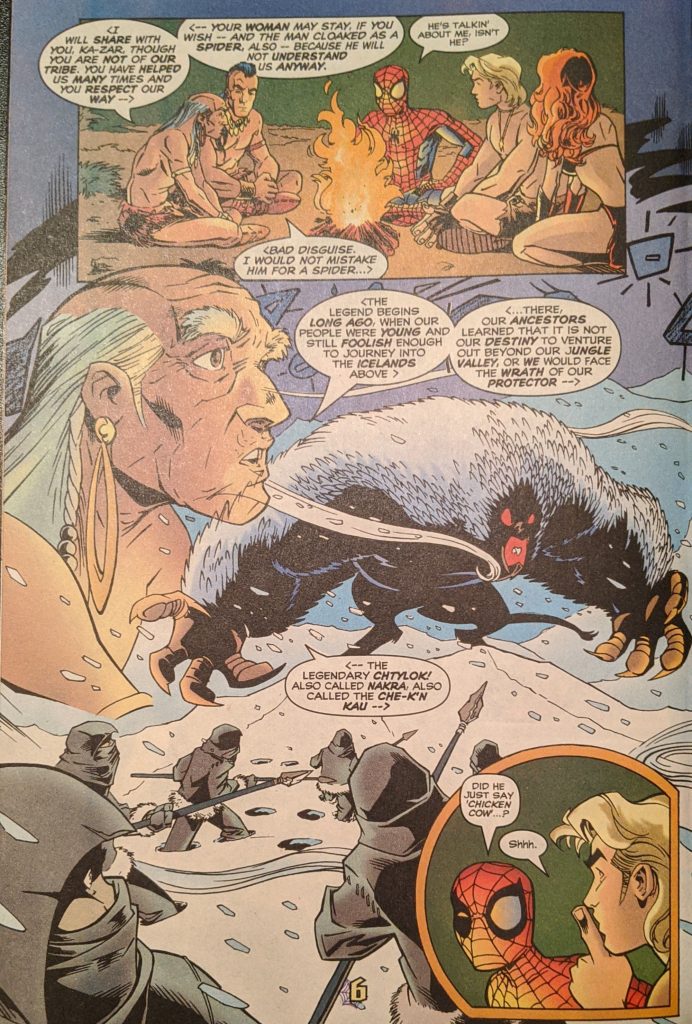 Oooooohkaaaaaay. Then someone runs up and tells Ka-Zar that a local hermit is refusing to leave her home as the water rushes toward it, so he & Spidey run down to get her and her animals out. But she's still upset.
What a completely insane beat. What a completely insane beat! "In the middle of a flash flood in a dinosaur land caused by an evil oil company, Spider-Man is sadly reminded his wife miscarried." Bananas. Elsewhere, Hulk is still fighting the chicken god for a couple pages. Back a the plot, Ka-Zar leads Spidey and Shanna to a Roxxon relay station, where they all accidentally learn Roxxon is the bad guys, as always. I'm not sure why they came here originally. They just did. 
Obviously, no one is cool with that. Meanwhile, Stegron has finished thawing out and is also ready to fight the humans he sees wrecking his home. Lots of trouble brewing for Roxxon. Roxxon guys inform the boss that a strike team has been sent to get rid of Ka-Zar, we see 2 more pages of pointless Hulk/chicken fighting, then the goon squad makes it to our heroes.
Stegron has rallied a dinosaur army in a big 2-page spread, and he's here to get all the humans, any humans, for what's going on, with our heroes stuck in the middle. Eh. Whatever. I sure hope Hulk and the chicken manage to have any impact on the plot next issue. The letter page is just 2 long letters. The first letter is a very emphatic mom from Canada whose son asked for and then discarded a Spider-Man comic, so she read it, and became hooked on the clone saga. Never having read a comic, she says she scoured stores for back issues and started a pull list, even reading the old 70s clone material. She praised them for their "freshness" and going out on a limb. But then she says she read TAC 240 while writing the letter (!) and realized they were killing Ben, and she's furious. She says change is a constant in life and old fans should deal with it. She says she read an issue of Wizard making fun of the clone saga and got mad (She really bought into this comics thing). She's heated. And then the other letter is a guy who says he's been reading since the 70s, and that the books got terrible until recently, and he's glad Peter is being restored as the real thing, but doesn't want them to kill Ben, because he likes their brother relationship. This is exactly what I was talking about. First they betrayed the old fans by even creating Ben, and then they betrayed Ben's fans by getting rid of him. This mess couldn't have gone worse. A truly historic mistake. A completely unforced error. Man.