Oooo, the secret of Gaunt! I wonder how long before this they figured out who he was, since it was decreed he could not be a reanimated Harry Osborn as originally planned. The Clone Saga was gonna be one last crazy scheme from beyond the grave for the 2nd Green Goblin, but that fell away well before this issue. Anyway, it's Todd DeAzgo, Mike Weiringo, Richard Case & Gregory Wright at the helm this time, as MJ finishes up the phone call from the end of last issue from a pay phone in front of a construction site, with a big sign saying "UNDER REPAIR." Another not-so-subtle commentary. She and Anna head out for more shopping as the book makes sure we know she's nine months pregnant. So we're meant to believe the 20 years between ASM 149-390 were only 5, but the less than 2 years between ASM 397-417 was 9 whole months. GOT IT! Great stuff! Never put a number on the sliding time scale. Meanwhile, the mystery man basically reiterates everything he said at the end of last issue, but he names Gaunt, so…
Mendel. Who's that? Saying anymore might spoil the game, so we'll see. But suffice it to say, it's a deep pull, and readers who recognize that name should've really been on the case now. For my part, I had no clue at the time. Cut to The Daily Bugle, where JJJ & Robbie have been summoned to an emergency board meeting at 11:30 tonight, and if JJJ wasn't mad enough about that, he finds the elevators aren't working. Those guys from last issue are here to fix them. Meanwhile, Peter and Ben are getting ready to go out, but Peter couldn't find his beeper.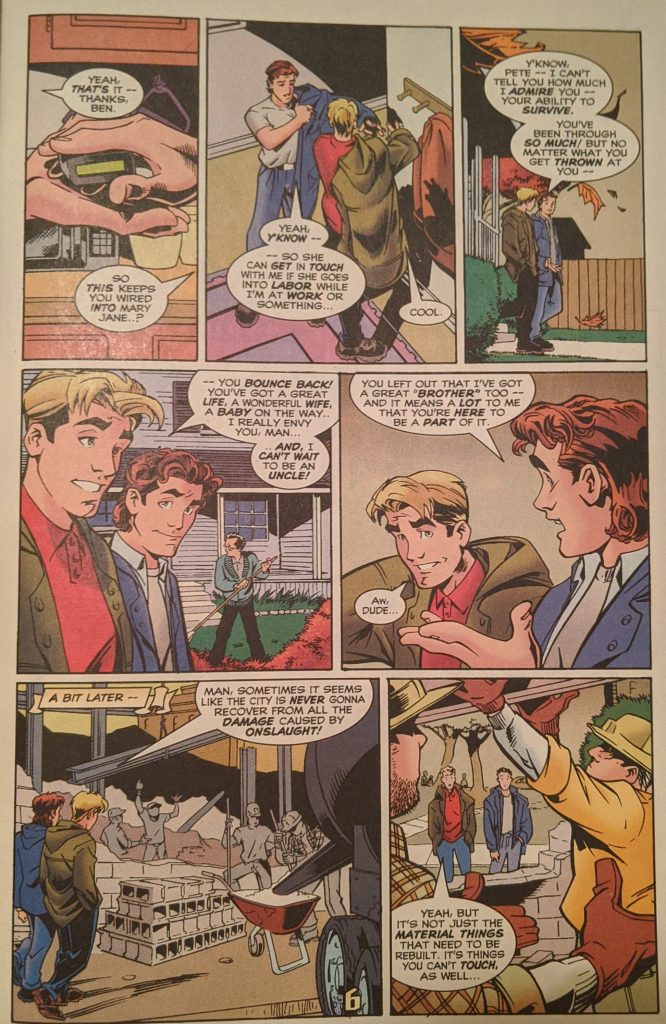 They talk about how, with The Avengers & The FF gone due to Onslaught, the city needs heroes more than ever. Peter suggests it needs 2 Spider-Men, but Ben chastises him, saying he's got too much at stake and his powers still don't work reliably. To which Peter decides he has to prove he's fine.
Ok, I guess. But hang on, there's more intrigue afoot.
Yeah, some 30 years after his last appearance, Arthur Stacy is suddenly in town. From Europe! Could he be…? Meanwhile, Flash Thompson & Betty Brant get letters luring them to The Bugle tonight, Flash for a Halloween party and Betty for a source on a story. Hers is signed "O." So it's Oprah behind all this! Ben is being worn down by Peter's arguments as they walk when they hear a loud noise that turns out to be kids playing superheroes in an abandoned building. Peter tells them they shouldn't be here because it's dangerous, but he doesn't know how right he is.
As Spider-Man leads Gaunt in the other direction. Peter hides with the kids, thinking his powers just went out right when he needs them the most, like Ben said they would. Whoops! But that's not the serious issue here.
It's that lady from last issue. Nefarious! Back at the fight, Ben has no idea this is Gaunt until his foe tells him, and it makes him wonder if Seward was forced to betray him. Too bad he (And we) will never know. The battle causes some structural damage where Peter & the kids are hiding, forcing Peter to hope his powers are back and not care about his identity as he lifts some big debris out of their way. But…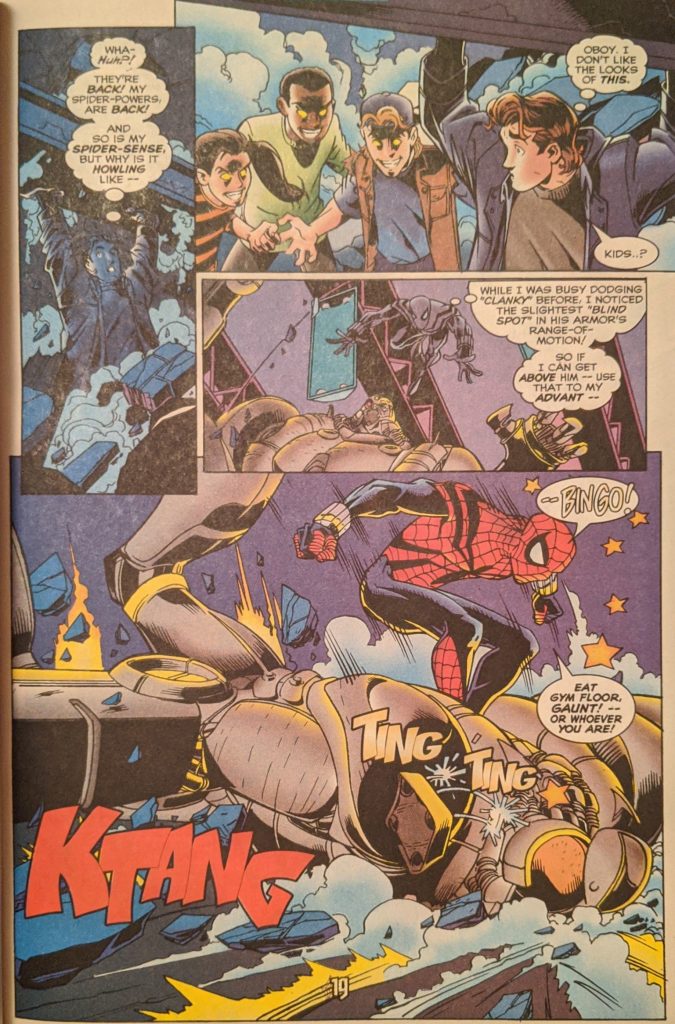 But also: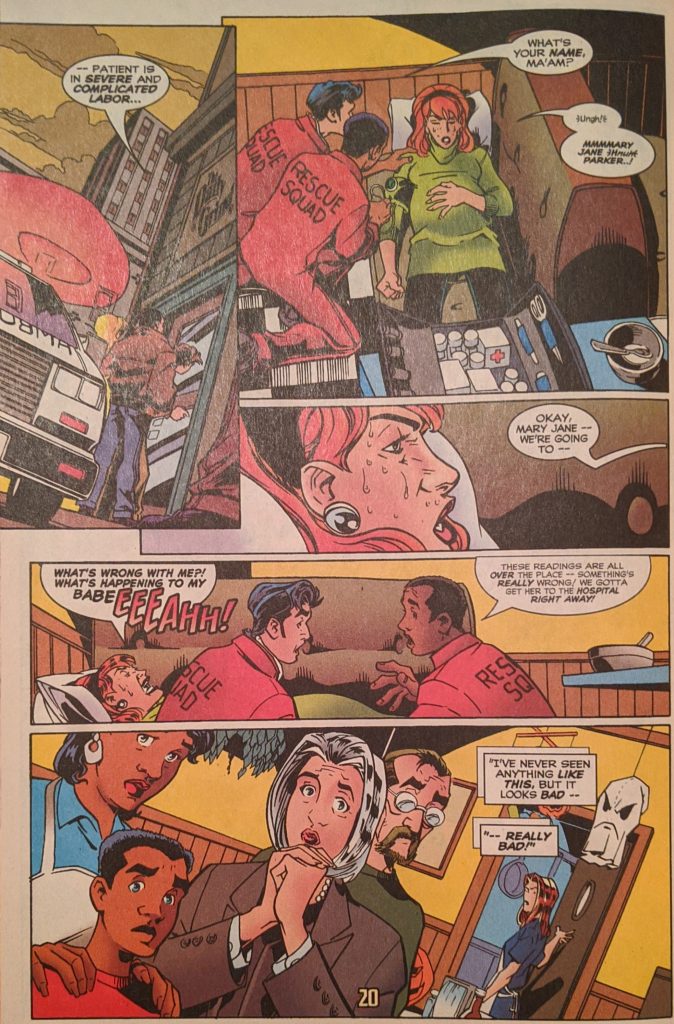 This seems bad. But also also:
Not seen or heard of since 1966 (Sort of!)! That is a llllllong time! And he's supposed to be dead, so the whole "Gaunt" thing made some kind of sense in the end, I guess. I guess. Except… for Specatular Spider-Man 68. A completely forgettable story most likely forgotten by the 1996 staff in which Bill Mantlo brought back Mendel Stromm, in a way. It was a robot with his consciousness in it, but that seems at least as valid as his shambling corpse. He was defeated and doesn't seem to have appeared since then, but the existence of a giant robotics compound in Mendel Stromm's grave making robots that was enough to get SHIELD involved seems like a snag for this revelation. Of course, this means the kids Peter was protecting are also robots, and soon he's defending himself from them. He escapes them and hops into Ben's fight with a timeless Star Wars quote, to which Ben replies with a lame Macarena joke. The 90s.
This is all going quite poorly for the good guys. The back of this issue features a nice 2-page tribute to Mark Gruenwald, with a bio and some fond remembrances by Marvel staffers. Strangely more than Marvel gave Jack Kirby, Steve Ditko or Stan Lee at the times of their deaths. But I guess Mark's death just caught them with the right editorial staff in place. As I have also been working through his mammoth 137-issue run on Captain America while doing this blog, this is of special import to me, but not really part of the service on this site, I suppose.