If the art in the last post gave lie to the claim that these books would be illustrated by "top talent," it is utterly obliterated in this one. This book looks horrendous. I'm not sure if penciler Joe St. Pierre is being destroyed by inker Greg Adams or if Adams is being as faithful as possible to St. Pierre's horrendous line work, but whatever's going on here, it sucks, flat out. Michelinie still writes, Tom Smith still colors as a guy stumbles into a science expo begging for help. A security guard who says they were warned to watch for terrorists shoots him, but then symbiote goo comes out of him and chokes the guard as the guy keeps asking for help.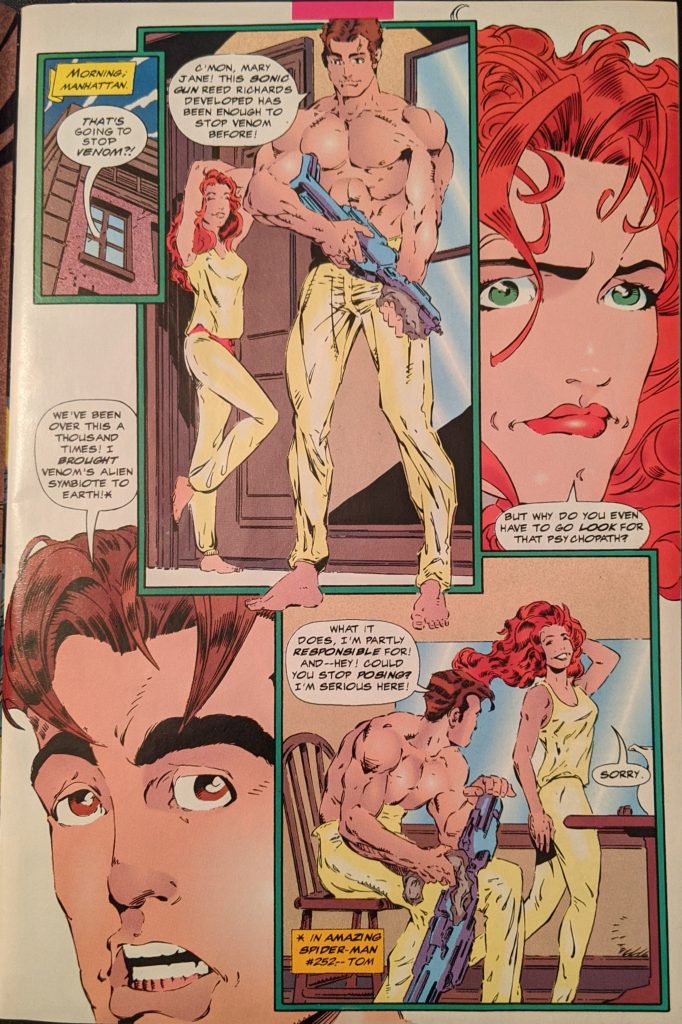 No matter who's to blame for this art, the inking is way too slight. Why don't any lines connect at all? There's no changes in line weight. This might as well have been inked with a ballpoint pen. Peter says there's been several break-ins at high tech places lately, and the evidence points at Venom. But after last issue, he thinks he actually has a shot at talking Eddie Brock into giving up the symbiote.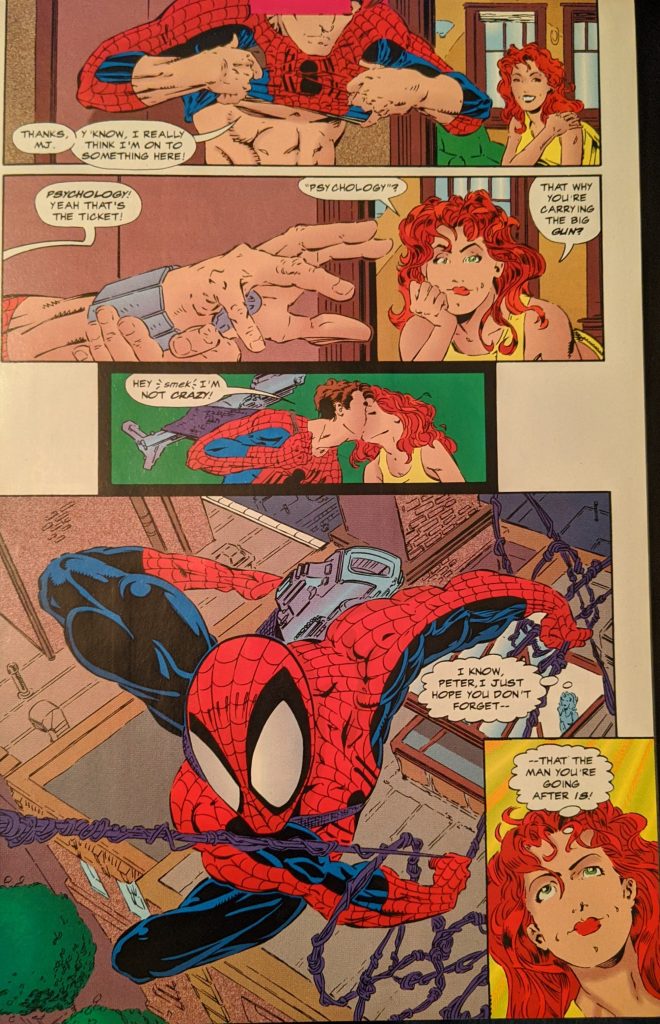 Meanwhile, at Ravencroft, Cletus Kasaday has a doctor spooked, because he keeps moving when no one else is around. No one believes him, but he knows Carnage is gonna wake up soon. I mean, probably so. Elsewhere, Spider-Man is looking into the scene of the crime on the opening pages of this issue when Scarlet Spider just shows up. He says he thought he'd look into this crime. They just both happen to be on this case. Awesome. Then, Eddie Brock also breaks in. He says after he sent the symbiote away last issue, he's worried it's bonded with someone else. Also, last issue, he had the most insane, long, flowing mullet I've ever seen, and now he does not.
Good grief, Michelinie seems to have checked out on this one, too. Maybe the art made him give up. I was 16 when this came out, and this is only slightly better than what I was doing at the time. And I sure don't mean I was ready for my Marvel contract when I say that…
The symbiote makes chumps of both Spider-Men until Eddie hits it with the McGuffin gun. Then it panics and tears down the roof to escape. It gets the modulator, too, of course. Ben has another "hunch" about where it's going, and Spidey begins to suspect he's developing psychic powers. Really. Meanwhile, Mary Jane tries on maternity dresses. The store clerk says she & her man don't want to have kids 'cuz he's a cop and it wouldn't be fair to the kid to have to worry about him coming home safe every night. Ouch!
The symbiotes who materialized on Earth last issue have hooked the thingy to a much larger thingy to use as a power source. But then our heroes are attacked by many more symbiotes. There is much fighting and yelling and very little of interest going on and it all looks awful, and then…
Well, that explains some of it, I guess. My goodness, I hope there's better art coming. Look at this "special bonus pin-up:"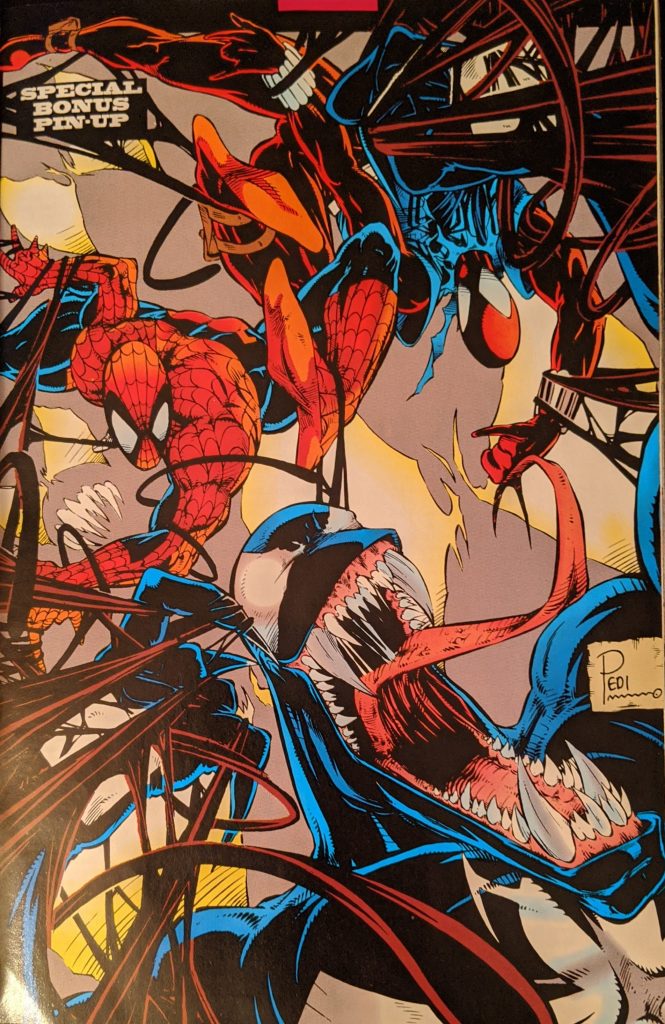 Like most of these McFarlane wannabes, "Pedi" here has figure out how to ape McFarlane's texturing style pretty well, but has pretty terrible fundamentals. And all the stuff prior to this in this issue was even worse. YEEESH. The next story is written & drawn by Darick Robertson, inked by Jimmy Palmiotti & colored by Joe Andreani. It's so exciting to see professional art, at this point. A young couple is having an argument with the guy says he wants a divorce. But then they're jumped by goons, and in spite of the girl displaying some fighting skills, it goes badly. The guy is at knife point and the girl is about to be, and then Spider-Man shows up. He dispatches most of them before noticing the guy at knifepoint, and then talks his captor out of killing him.
A few years from this, Darick Robertson will embark on the 65-issue opus Transmetropolitan with Warren Ellis before co-creating The Boys, like that Amazon show. He's still getting his feet under him here (And in future work we'll see on this blog), but compared to the clownshoes main feature, he's Jack Kirby. What about our flipbook feature?
Terry Kavanagh still writes, Tod Smith does breakdowns and ever-reliable Sal Buscema provides finishes, with colors by Chia Chi Wang. This is really weird, because while there's no mistaking the hand of Sal here, with someone else doing breakdowns, it's Sal without any of his stock poses and trademark storytelling moves. Very unusual. "Something" that is obviously the Lizard is barrelling toward NY because of whatever the doctor from last issue is doing to save that guard, Armstrong. Also those 2 muscle head guys are gloating about having killed Scarlet Spider. They are soon disappointed.
It's so Sal, and so not. While SS deals with that guy, his brother makes off with Broga and escapes. And if that's not enough, a nurse tells him there's a hostage situation in one of the operating theaters, as one of the generic goons, Clash, forces doctors to save her teammate and romantic partner Cordite. Great names. Thing is, they're not even surgeons, she just got the first doctors she saw. As her teammates watch and Scarlet Spider sneaks in through the air vents, they aren't saving ol' dude, and Clash is about to shoot one of them.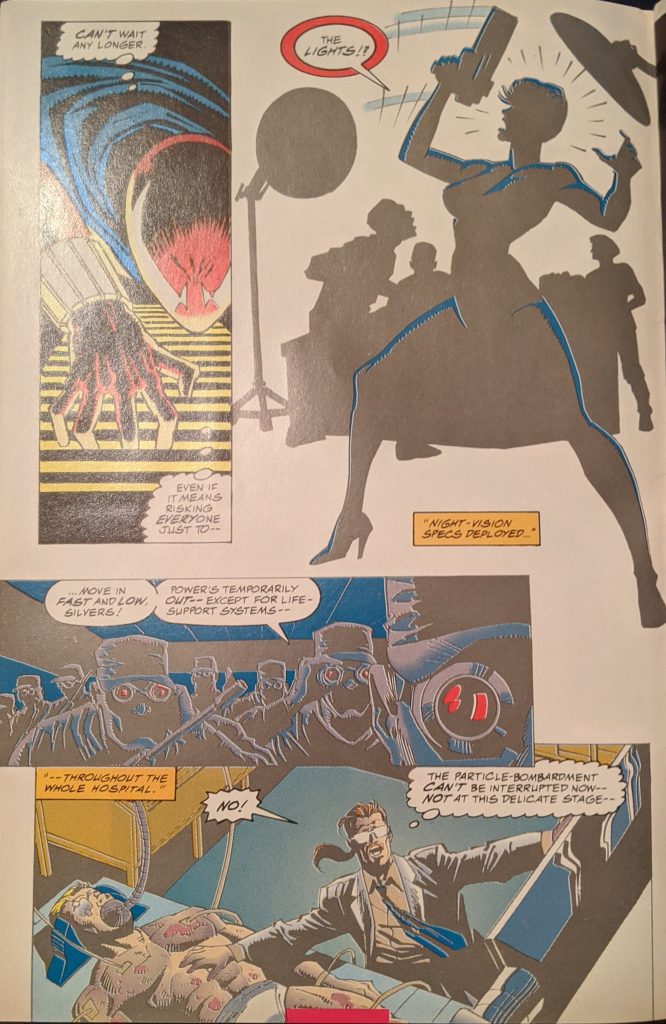 Well, that's baffling. It looks like a coloring mistake, but how's that first panel ok if the rest aren't? Ben saves the doctors as the other doctor fails to save Armstrong. As our guy fights the rest of the lames, the other doctor refuses to give up, trying CPR on his patient. Ben takes out most of the lames, but then Cordite wakes up and hold a gun to Broga's head? Man, whatever.
This is like The Arachnis Project all over again. Just wall-to-wall generic paramilitary 90s cliches we don't care about and will never see again. The distraction lets Ben get Broga and a doctor to safety, and soon the bad guys have lost, so they produce "mini-bombs" powerful enough to destroy half the hospital.
He's fine. Assembled press ask his name, and he says Armstrong, and they mishear and call him Strongarm. Good grief. Meanwhile, somewhere in Delaware…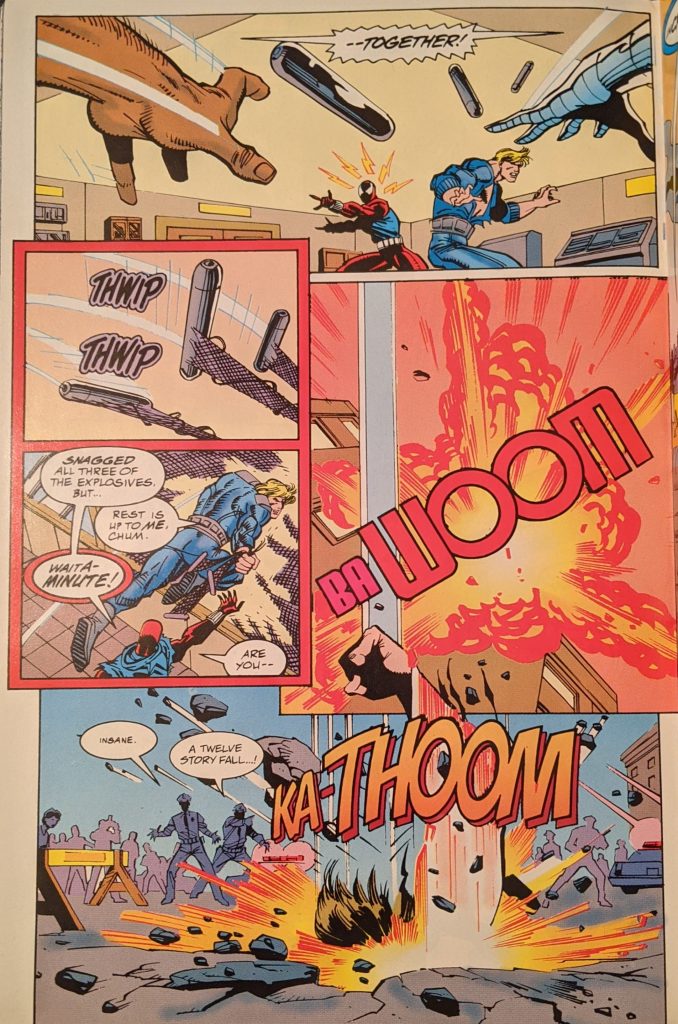 This is the first appearance of that bizarre new version of The Lizard that we already saw retconned away. They said this change to The Lizard was forced by editorial and no one wanted to do it. Can't imagine why! More of this crap next post…