This is the kind of empty cash grab even I wouldn't have touched back in 1995, but for 90 cents, I figured I'd look at it. Here we have a very common bit of fluff for the period. A sort of sourcebook where they can get various artists to draw pin-ups of characters and explain who they are. Ostensibly for newcomers to catch up, although between this godawful cover and the impenetrable nonsense in the actual titles at this time, good luck with that. This sort of product was produced pretty regularly for various properties. They got Todd DeZago to write the copy and the framing story (such as it is), and it's narrated by The Jackal, so you know it's gonna be painful. I didn't really recall how utterly insipid The Jackal was when I bought this. The whole book is colored by Greg Wright, and the framing sequence is drawn by Roger Robinson and inked by Jim Amash. It explains the pinups by saying The Jackal is uploading memories into the 3rd Peter. So you get this profile of Ben Reilly drawn by Mark Buckingham…
Or this solid gold Spider-Man by George Perez…
…all with The Jackal's perspective on who they are. It's all downhill from George Perez in most situations, but especially this one. Most of this book is illustrated by people I've never heard of and Joe St. Pierre, who did the cover and is not great. He gets 7 of these,such as Gwen…
Up and coming New Warriors artist Patrick Zircher gets 3 of them, including this one…
Michael Bair ties him with 3, including Silver Sable…
Not exactly a player at this point, but you gotta fill those pages, I guess. Dan Lawless gets 2, including The Jackal's, which is rendered unreadable by font choice & background texture…
Very 90s problems. Then there's 1 each by Guy Dorian…
Jordan Raskin, whose page contains a spoiler I don't want to show, framing artist Roger Robinson…
Contemporary Hulk artist Liam Sharp, clearly a cut above most of these guys (Who would go on to an excellent Wonder Woman run in the 2010s)…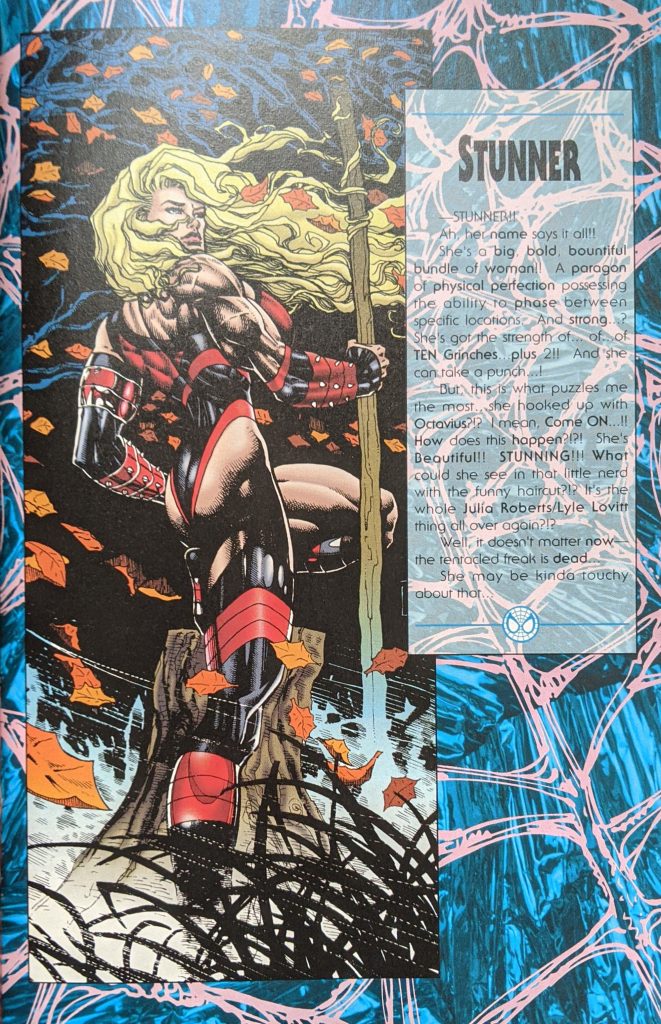 …and Pat Oliffe, just weeks away from embarking on his own, very unusual Spider-Man title.
It's a shame the text on Peter #3's page is also illegible, because it explains he's been given the power to control his body on a molecular level, and ludicrously claims he is what evolution would do with Spider-Man in 1000 years, because no one making these comics knows anything about science.
Spidercide. Apparently Tom DeFalco was dead set on this character's actual, "appears on the action figure package" name being "Freakface." He was overruled. But is this really any better? You know, being honest, yes, it is. If I had to choose between "Freakface" and literally anything, I would pick option 2. The remainder of the book is 4 pages of Eliot R. Brown's famous schematics. He's the go-to guy for cutaway views explaining inexplicable comic book technology. I think he overdoes it some here. For example…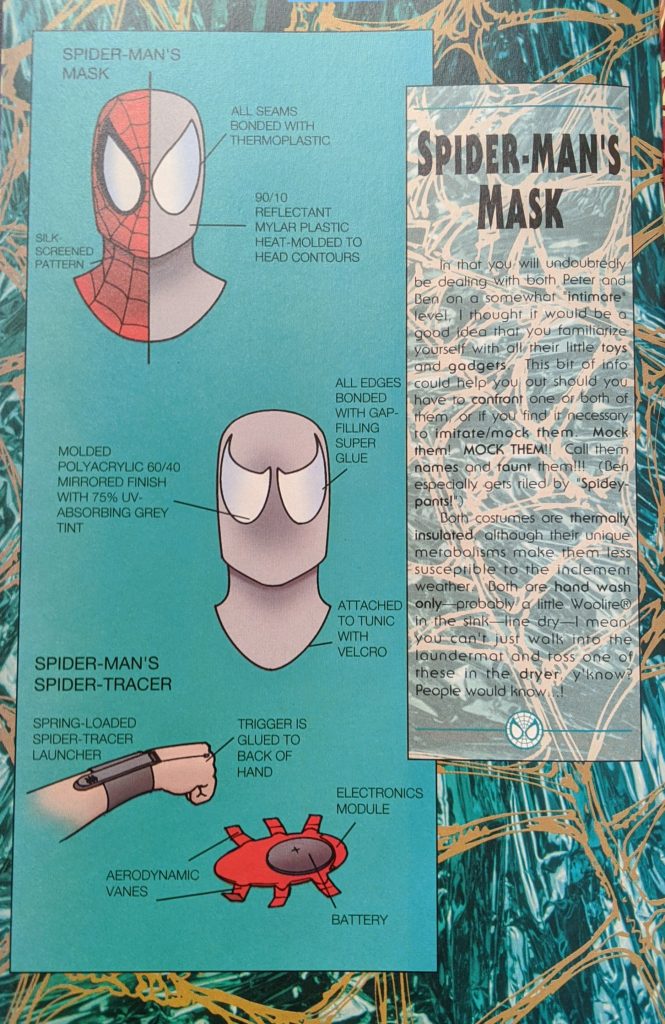 There is no way on Earth Spider-Man's mask is "reflectant mylar plastic heat-molded to head contours." It's cloth. It's a mask a teenager with no money could make, or more recently, a mask Mary Jane could make, with regular sewing materials. He explains the webshooters, all Ben's new gear, and Spider-Man's belt & camera (Remember when Peter took pictures? He hasn't even pretended to have a job for over a year at this point, even before going to jail). Well, that's that. Not worth 90 cents. Now it's time to reach as low as this clone crap can get.