While it's true they've been sewing doubts and trying to get you to wonder about this for months, using this cover copy at all kind of tips their hand, in my opinion. This is it. I mentioned it last time, but brace yourself for the absolute worst page in the history of Spider-Man. It does not, cannot get worse than this. Having confessed to the murders to stop Peter from ruining his life last issue, Kaine is following through on his threat to kill Ben-as-Peter, which would also ruin Peter's life. Great plan!
The courthouse is so much gritter and more claustrophobic with Sinekienwcz in the house. A mob of cops piles onto Kaine, but he throws them all off. But of course…
He's no match for a Buscema punch.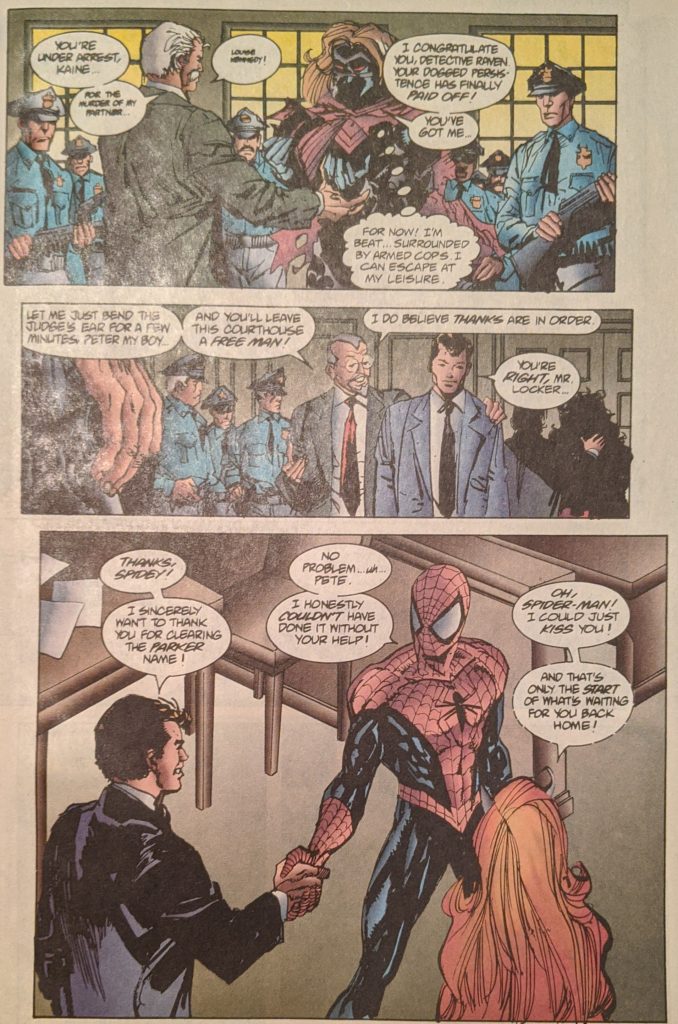 Raven's so happy he grew a mustache on the spot! Why did his words get smaller and smaller? At The Daily Bugle, Ken Ellis calls in that Peter has been cleared, and everyone celebrates. JJJ acts tough as usual, but once safely alone in his office, lets out a celebratory "hoo-hah!" Sometimes you gotta. So far so good, right? Nothing that could be the worst page in Spider-Man history yet. In The Jackal's lair, the other Peter Parker (who is obviously "Freakface") demands to be allowed to kill Peter & Ben, but The Jackal tells him to wait.
That no one has bothered to take Kaine's mask off and recognize Peter Parker under it is so, so stupid. Quick cut to Seward Trainer shocked by something, and then we catch up to Ben & MJ arriving home dodged by reporters the whole way. Ben tells MJ he envies Peter, who arrives in his own fashion.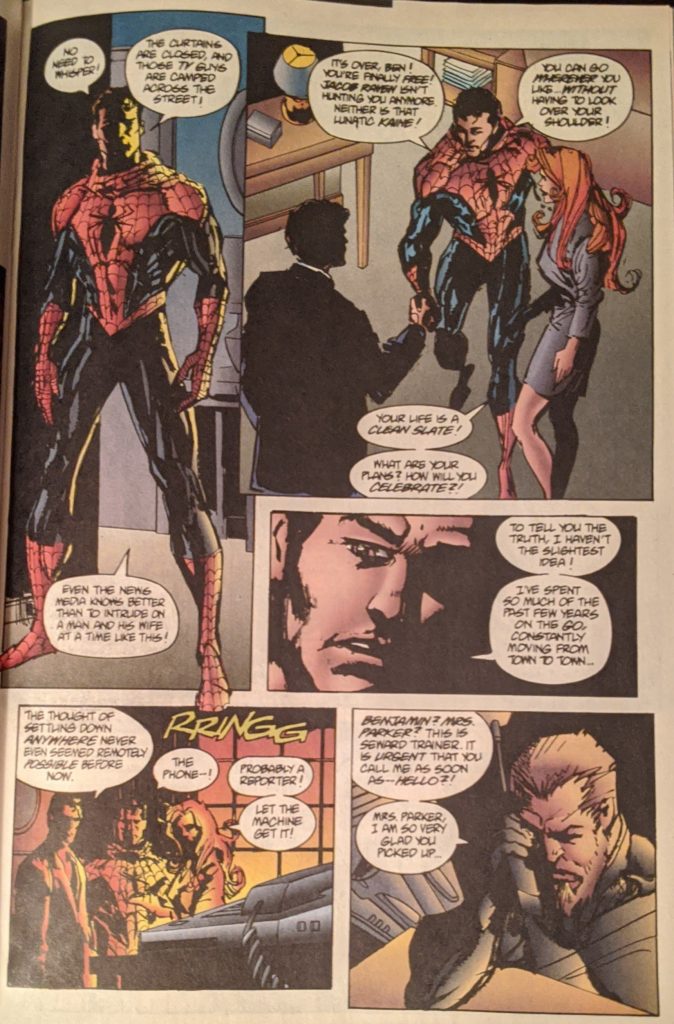 Cut to Kaine being lead to a van to be transferred to a more secure facility, still not unmasked, when he has another vision of MJ dying, and now he can almost see the killer. Then we see Pete, MJ & Ben arriving at Trainer's. He tells them MJ's baby will be fine, but Ben says he knows Trainer well enough to know he wouldn't have called them all here unless something was wrong.
So the two Peters conduct their pseudo-science research and testing. As Trainer said, there can be no room for doubt, because they work independently and then share the results. This will be particularly difficult to wash away later. But after a 2-page montage, they review each others' findings and have both arrived at the same conclusion:
The fix is in!
And just like that, we're back to enraged lunatic Peter from back in the 390s. The 2 Peters battle it out awhile, Ben slowly getting furious about the idea that he's the real Peter and he's lost 5 years of his life, Peter screaming that Ben rigged the tests. And here we go…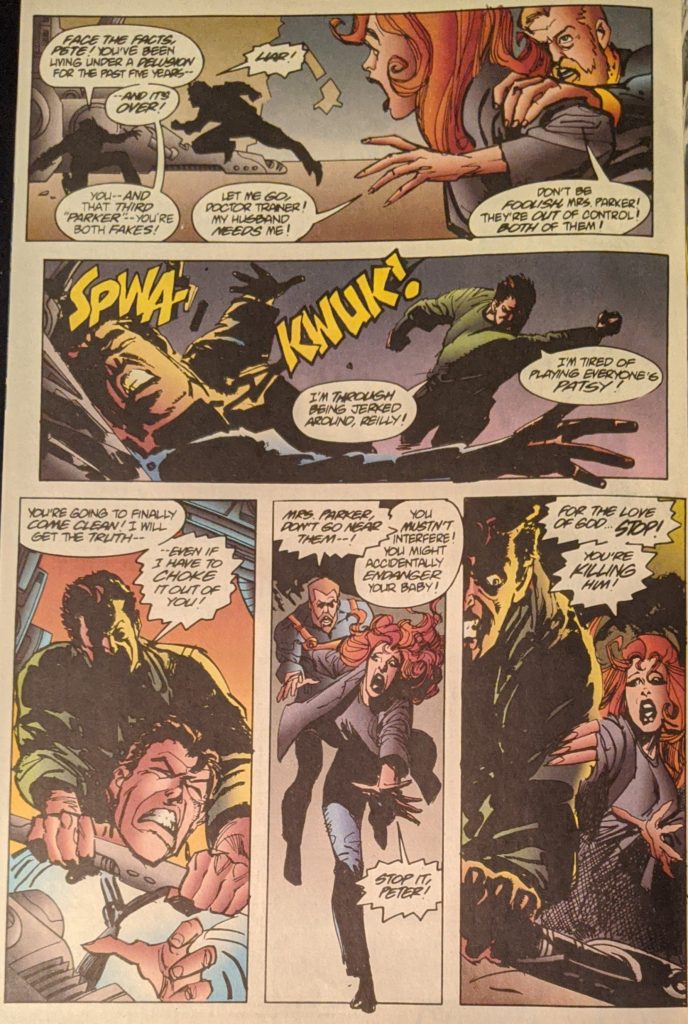 Indefensible. Unforgettable. The most awful page in Spider-Man history. Nothing and no one can justify us being forced to watch Peter belt Mary Jane across the room, and then to have her, bloody and beaten, begging him to come back. Absolutely disgusting.
It has been mentioned, as creators have been taken to task over this absolute betrayal of Peter and us readers, that it wasn't supposed to be like this. It has been implied that part of the problem was, as has been noted a few times here on the blog, Sal Buscema only draws one kind of punch, and it's a haymaker. And what was meant to be a shove or something far less damaging came out looking like it should have killed MJ. And maybe that's true. But it doesn't matter. They let this go to print. No matter what kind of impact should or should not have been drawn, they let bloody, battered, pregnant MJ out into the world, with the world's most beloved superhero responsible. Spwat. There is no defense for this. And in that Life of Reilly column I've referred to in the past, then-associate editor Glenn Greenberg had the gall to get snippy about people getting upset over it. Here's the only time I'll ever direct quote that feature (Since I don't own it and have no business doing so, but this is the big one):
"We got some heat over this, and some bad publicity. But come on, it's not like Peter Parker was suddenly being presented as a wife-beater! Consider the circumstances. Peter was in a rage, his whole world had been turned upside down, and he was in the middle of a brutal fight with the man he believed had just robbed him of his life. Mary Jane was warned by Seward Trainer not to go near them, that Peter and Ben were both out of control, but she ignored Seward and tried to get in the middle of them and stop the fight. She is clearly shown grabbing Peter's arm, and in the next panel, Peter is shown flinging that arm outward, to shove her away from him so that he can continue the fight. That's how I always interpreted the scene. Peter was so angry, so on the edge, that he wasn't fully aware of what he was doing. Had he been the slightest bit rational at that moment, he surely would have taken into account the fact that he had super-strength, and that he couldn't just shove a normal human being away like that. And I know that's how Tom DeFalco intended the scene to be interpreted. Looking at the issue now, though, I'll grant that maybe some of these subtleties did not come through in the art as clearly as they should have. And that provided enough fodder for anyone who was really looking to make a big stink about the scene."
Garbage. "Consider the circumstances!" He just let every domestic abuser in the world off the hook! What a disgusting deflection. But to put it in more comic book terms, in a 1981 issue of Avengers, Hank Pym hit Janet Van Dyne once while they were married. At the time, he was in the middle of a psychotic break, only answering to the name "Yellowjacket," he'd gone over the edge and was building a robot to kill The Avengers, he had a lot more excuses than Peter has here, and he belted her across the room in much the same fashion.
This is all Hank has ever been remembered for since. He was kicked out of the Avengers for it in-story. Many writers have gone to great lengths to redeem Hank in some way or another. Some also put him & Jan back together, as gross as that is, as a way to prove it's all good. But, it never removes that stain, and for almost 40 years, Hank Pym has been known more for beating his wife than for any superhero story. Because of that one hit. Therefore, Spider-Man should now be a pariah. The worst character in comics. He's just as bad, but a way bigger deal. But Marvel just swept all this under the rug as fast as possible. Soon it will be like this never happened. A disastrous moment. The worst page in Spider-Man history. As for young me reading this, I was utterly horrified. I couldn't believe they were doing this to my favorite character. As if replacing him with this stupid clone wasn't bad enough, now he's attacked MJ. They'd ruined it. My stupid, futile hopes that all this was going to turn around dashed. This should have been where I quit. I'm mad at young self for not quitting here. But I didn't. What an idiot I was.