Mark Bagley didn't achieve the lunatic furor from fans the Image guys had when he came on the scene around the same time, in spite of a more than passing similarity to Erik Larsen's work, but his excellent storytelling chops and crazy dedicated work ethic really gave ASM some stability in this time of upheaval. This is his 52nd issue of ASM, and he's still going all-out. As a kid, I thought of his work as a sort of middle ground between McFarlane and Larsen, with some of the fluidity of McFarlane's work and a lot of the musculature of Larsen's, but now I'd say he's a much better draftsman than either of them. Sam De La Rosa shares the inking credit with stalwart Larry Mahlstedt, and curiously, Bob Sharen is the only one credited with colors.
Today in totally goofy comics, Spider-Man is on trial in the bowels of Ravencroft. A 2-page spread reveals Judas Traveller as the judge, Carnage as the prosecutor, and Kaine as the the defense, with Ashley Kafka & John Jameson beside him, and various Ravencroft inmates as the jury. This seems… unfair.
Ugh, I hate this guy. How would this jury ever vote innocent? But, since Spider-Man can't speak…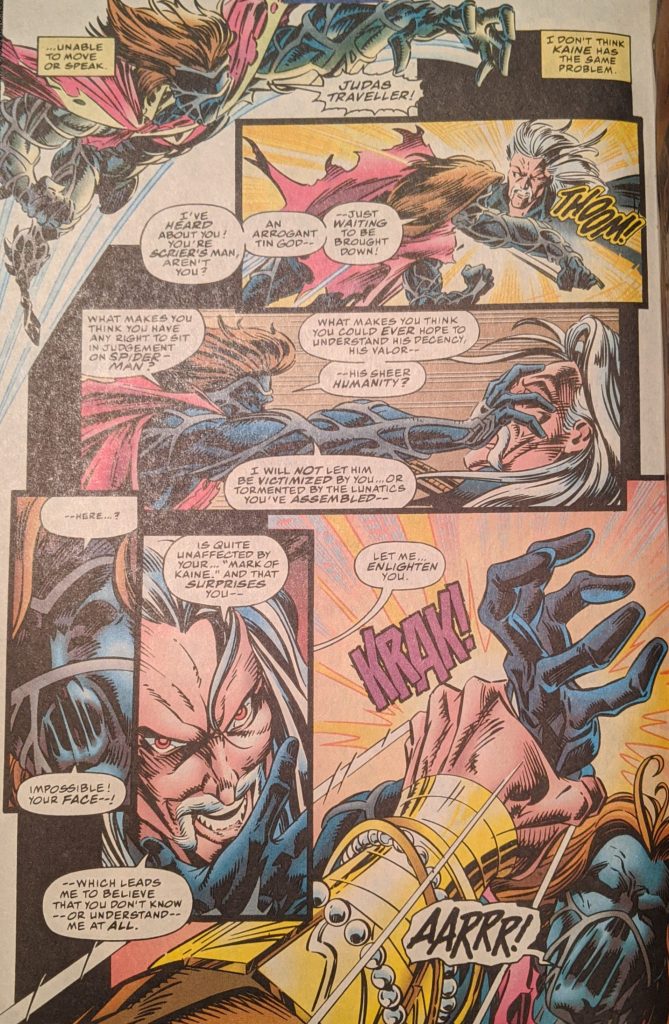 In this period, comics were filling up with mystery men, and then things would quickly get even sillier as it turned out they all knew each other. Whether it was Cable, Stryfe, Deadpool and Gambit in X-Men or these lames in Spider-Man, they were everywhere, all doing a very lazy job of implying a bunch of mysterious backstory that rarely went anywhere. Traveller grows gigantic or shrinks Kaine, who knows, while calling him "a waste of genetic material," which seems another big clue, before dropping him back into his spot. Kaine says he has to try to defend Spider-Man, even if it means his life, and our hero is totally clueless as to why. All that settled, Traveller calls the "court" to order, and Carnage calls himself as his first witness. Meanwhile, in the real court room, MJ is on the stand.
Fffffffart sound! So the murders Kaine committed JUST HAPPEN to be during one of literally only 2 times Peter was really missing for an extended period (The other being Secret Wars) EVER? WHAT A COINCIDENCE! I didn't remember that little detail. How utterly lazy. As MJ sadly leaves the stand, Kaine has one of his visions, thinking she's going to die really soon, but he's still doing his own trial. Meanwhile, Carnage is saying he is Spider-Man's fault. That if Spidey hadn't brought the symbiote to Earth, Carnage wouldn't exist.
This is all very stupid, but Carnage hopping back and forth is pretty funny. Points lost for spelling his first name wrong, tho. And, you know, he's also supposed to be kind of a redneck, but you'd never know it the way DeMatteis writes him. He and Kaine fight a bit while Spidey thinks there's "something more" to Kaine, something beneath the darkness. Good of you to finally get with the program, Pete. Traveller breaks up the fight, then Carnage calls Malcom McBride, who really, really doesn't want any part of this. Kafka & Jameson aren't happy, but they can't do anything.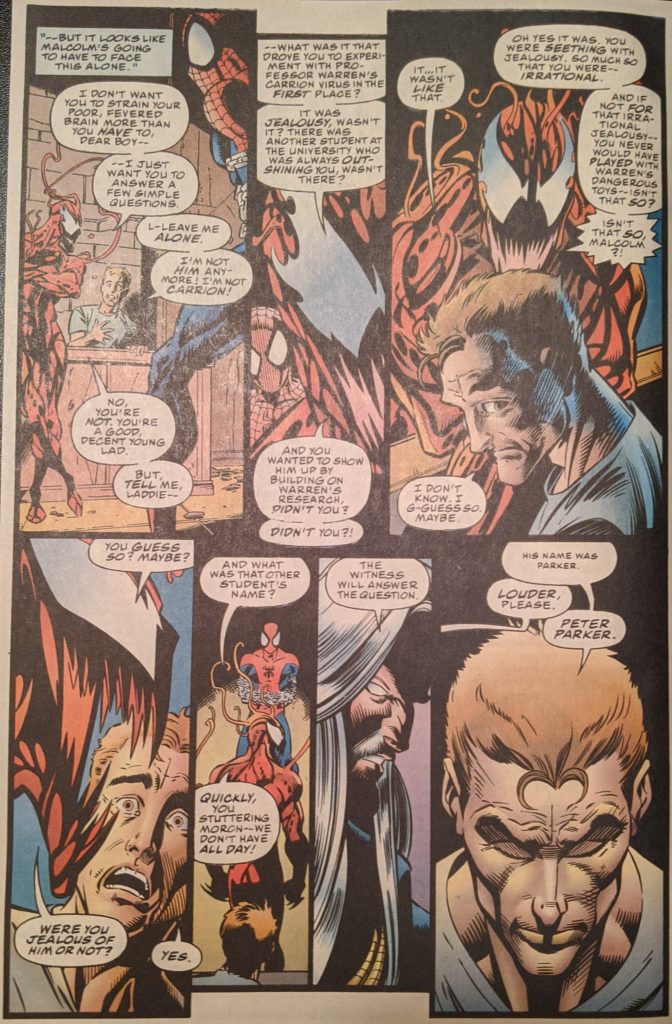 If Traveller was going to go to the trouble of basically puppeteering Carnage, why involve him at all? Clearly he's fed him all this info. So dumb. It's fun to see Bags draw Carnage, tho. Bagley co-created Carnage, and no one else (Myself included) has ever quite gotten him right since. Anyway, Travller basically just says "whatever" and asks the jury for a verdict. Everyone says guilty except Malcom and Edward Whelan, the former Vermin, and then they naturally turn into their villainous alter egos and also say guilty. What is the point of this? Elsewhere, Stunner is furious Spidey and Kaine disappeared last issue, robbing her of her vengeance.
Why does Stunner disappear? Do not remember in the slightest, but now I do remember this was a thing. All the villains prepare to shred Spider-Man to bits, but Kaine leaps in against hopeless odds to defend him, because of how good and kind and decent and whatnot he is, crucially mentioning "he's everything I could ever hope to be and so much more." Surely people have it by now. I have to be completely honest, I don't remember if I figured it out. It would be so much more fun to say whether I was a super sleuth or an idiot, but I really don't know.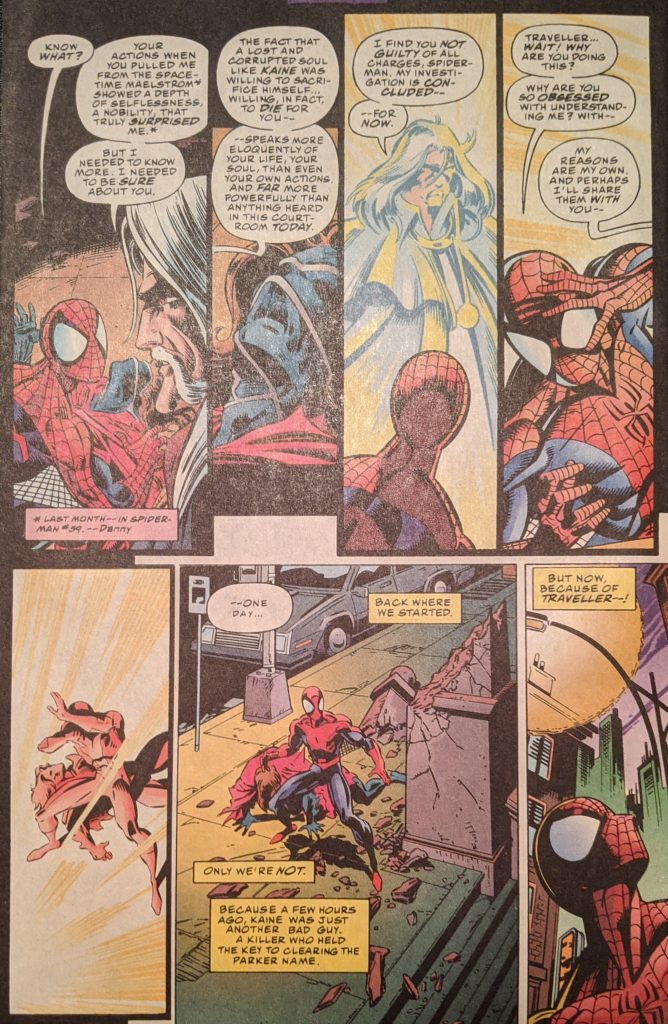 As he vanishes, Traveller can faintly be heard saying, "I'm doing this because JM DeMatteis is way more focused on fake-deep, bargain basement psychology than super hero comiiiiiiics…" Just kidding.
All toys back in the toybox. Ugh. At least we're almost done here. Next time, the cast finds out what has already been spoiled on this blog: the secret of Kaine. I wish I could avoid that kinda thing, and I can sometimes, but I can't possibly keep them all secret. I'm really trying with the Hobgoblin, tho.