Another "SUPER COOL" holodisk! DEFINITELY worth the extra $2.50. This one shows a Peter Parker that sort-of-not-really morphs into Spider-Man. Very exciting. Cover by Scott McDaniel, because this is a stealth launch for a whole series about this Green Goblin, which he would draw. Why would this guy get his own book? Let's see. We open with a mysterious figure setting a homeless man on fire, claiming to be a champion of the righteous out to destroy degenerates. Very uplifting. Then we go to…
He almost thinks he'll find an empty grave, but thankfully does not. He gets in his Scarlet Spider suit and swings away recapping recent events. Meanwhile…
Vailant, Dark Horse and Image are all upstart comics publishers who permanently shattered the industry's 2-party status quo, especially Image. Ha. Ha. All The Jackal's dopey asides are really grating, too.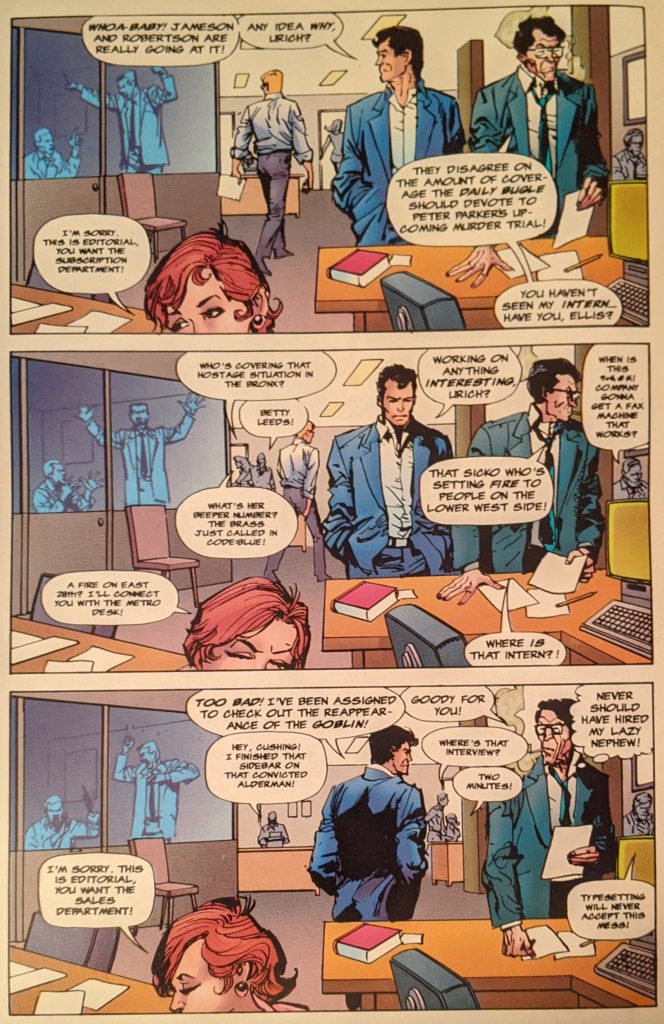 Is that lady answering phone calls in the bottom left a reference to how sales & marketing have taken over Marvel by this point? I dunno. At The Parker Residence, Peter arrives home as MJ is getting done sewing him a new Spider-Man suit, and also thinking he's out "risking his fool neck," which makes this 3 Tom DeFalco comics in a row where that phrase has appeared. Why?
Peter gets on his new Spidey suit, thankfully, and heads out, MJ internal monologuing about how alone and vulnerable he must feel, The Jackal outside watching him go. MJ wishes she had someone she could confide in when she remembers Ben exists. Ok, let's get on with this…
This version of the suit is a definite downgrade, but it's the 90s, it could have been worse. Look what happened to Hobgoblin. The Goblin finds a homeless person so you'll think maybe he's the guy who's killing them even though he obviously isn't, but Spider-Man doesn't know that, and just happens to be in the area.
2 minutes into his first superhero fight and he's already lost a glove! They chase through this restaurant, endangering everyone in it, as Spidey accuses The Goblin of being the killer and The Goblin says he's one of the good guys. Spider-Man is not convinced (I mean, why would he be?).
VERY cool to introduce this Goblin's "lunatic laugh" superpower by just telling you it exists instead of showing it. While those 2 slug it out, the actual killer, revealed to be an extremely 90s looking pyro character named Firefist, prepares to claim another victim. The Goblin manages to get Spider-Man wrapped up in his own webbing (Somehow, it's not clear) and wants to flee, but he hears the execution about to happen below, all with The Jackal watches. We don't follow that, tho, we do this: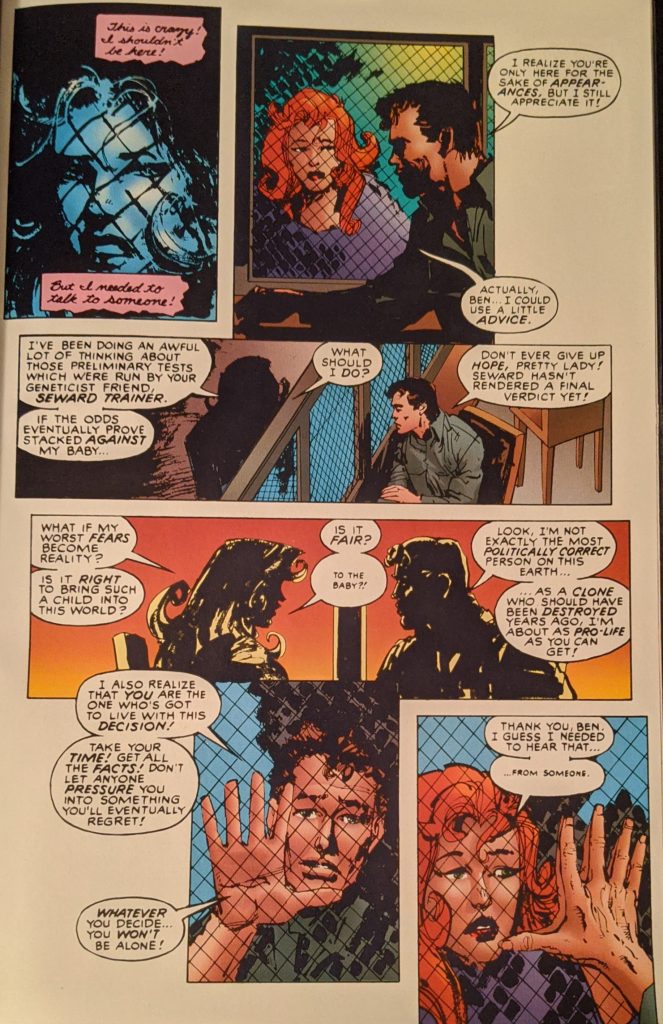 Well, there's some awkward pro-life propaganda out of nowhere. Back in the alley, Firefist says he's killing homeless people because people who don't contribute to society are ruining America, which seems… odd.. And then The Green Goblin zooms in and snatches up the intended victim while Spider-Man attacks the villain.
The politics of this comic's portrayal of homeless people are impenetrable. Also another dig at the marketing department. The Green Goblin is so hip! The "freshest" superhero in the "crib!" Spidey is buried under rubble so GG can save the day as Firefist launches into a speech about how his "brave brothers-in-arms" didn't die in wars so homeless people could exist, or whatever. His rhetoric is kinda all over the place.
At The Daily Bugle, Robbie & JJJ are still arguing about whether or not to cover Peter's trial. As they have for every issue they've been in for this whole block. Getting a bit stale, boys. Back at the fight, Spider-Man bursts out of the rubble ready for action, and wondering who this seemingly heroic new Goblin could be.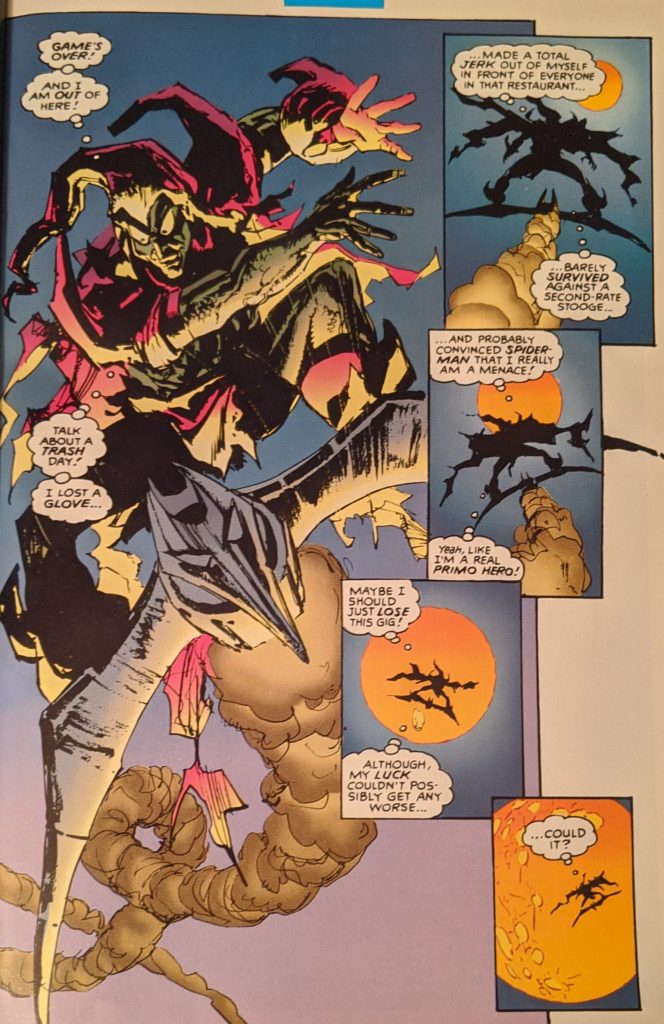 Spidey webs up the lame and swings home to finally talk out the baby situation with MJ. The Green Goblin flies off to star in his own series. He is, of course, Phil Urich, Ben's nephew, also an intern at The Daily Bugle. His comic will be cancelled after 13 issues. And The Jackal returns to his lab just in time for Peter Parker to walk in. A caption has the nerve to ask us if this is a Peter we've seen before or a new one, and we're out. Ugh. In a 2nd feature by DeFalco, Buscema, Jimmy Palmiotti & John Kalisz, Ben Urich & Angela Yin are interviewing people Peter Parker knows to get background on him, and as an excuse to revisit some classic Spider-Man moments. So, you know. This story is 2 people who see Peter every day asking other people who see him all the time if he could be the serial killer who's been operating for years 2000 miles away. It's just nonsense, I can't let go of it. They talk to Flash Thompson, one of Peter's high school teachers, Anna Watson and Betty Brant until JJJ catches them talking to Betty, and they have to admit Joe put them on this in spite of he & JJJ fighting over whether to cover the story.
Ben Urich figured out Daredevil was Matt Murdock in the 80s, but chose never to tell anyone. And there have been times over the years when it's been implied he's onto Peter, too. Obviously not here, tho. I guess it's like with Robbie knowing, it really varies by writer. Anyway, that's that for this issue.