The craziest part of this story is, as the sticker indicates, I didn't get this concluding chapter as a kid. I have, in fact, never read it. Most of the time I avoided SMU (And it's looking like that was the right choice based on reading them now), but as the end of a big storyline, you'd think I woulda gotten this one. Maybe I didn't know and didn't see it. Last issue felt like a pretty definitive ending. In that Life of Reilly series about the behind-the-scenes of this clone business I've referenced before, Glenn Greenberg said Tom Lyle was promised some writing gigs if he would draw Spider-Man, which lead to his run as writer on SMU, but that he maybe wasn't ready for prime time and certainly wasn't ready to wrap up this big weird storyline. So! Let's see what that means. Ron Lim, Ron Garney & Tod Smith pencil, no less than 8 people ink, and John Kalisz colors. Hobgoblin has called a meeting of Spider-foes because Kaine has been killing Spider-foes. Electro, Mysterio, Shocker, Beetle, Vulture, and Scorpia, the lady Scorpion, are present. That makes 7 villains despite the cover copy.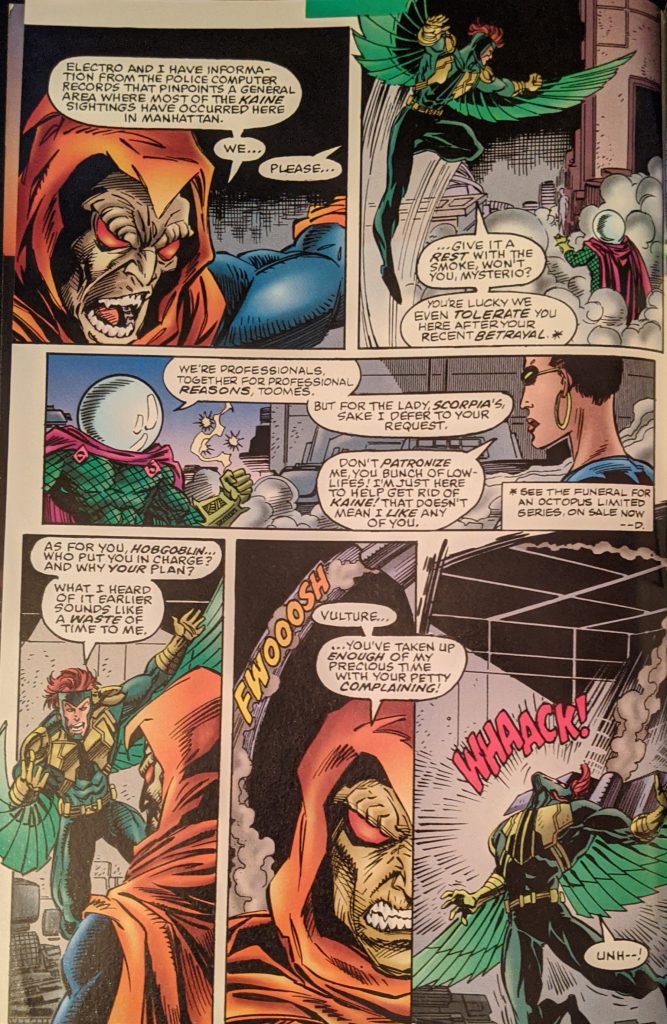 They get to fighting until Shocker breaks it up, and the gang decides to go try to kill Kaine after all. All the villains load up on generic sci fi weaponry because it's the 90s, except for Vulture & Beetle, who would easily benefit the most from doing so. Then they all embark on what Hobgoblin has hilariously dubbed "Operation Kaine Kill." Hoo hoo. Meanwhile, Peter Parker, wearing his borrowed Scarlet Spider suit, swings home to MJ.
That's actually pretty funny. Beetle is so spooked that when he sees Peter chasing him, he runs into a TV antenna and a chimney in short order. Then he flies through a building, hurting a bunch of people in the process, so he escapes while The Scarlet Peter sees to the wounded.
Huh. Seems like it would be a problem, and yet I don't recall it coming up. We cut to the villains patrolling around finding nothing for several pages, and then Peter arrives home. MJ is rightly freaked out. He announces his presence, but he's supposed to be in jail, and then when she sees him, he's in the wrong suit. She pulls her gun on him, and you can't blame her.
WOW that's a confusing page! She passes out for no reason and then instantly wakes up? Weird. We cut to Ryker's Island, where Ben Reilly is worried about MJ and decides to call her. The guards are totally cool with this, which seems odd to me. But no one answers. Pete & MJ just watch the answering machine, Peter saying they shouldn't answer it and wondering what to do about Ben. That's cold, man.
Ok, that's great. What a wacky position to put Ben in.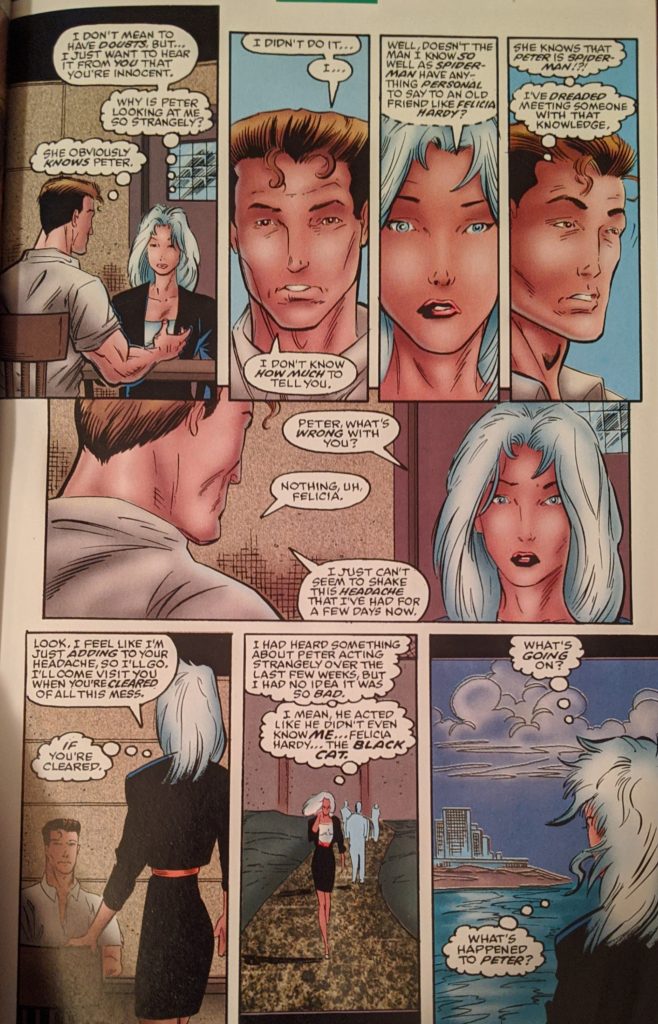 But it doesn't pay off too well, I must say. Back in Manhattan, Hobgoblin's about ready to call off the search for Kaine when he's attacked by a huge, weird Spider-Man. "Freakface" from last issue, right?
Uh… ok. The Parkers heard the gunshots, and though MJ is still truly freaked out, Peter says he has to go investigate, and does. Kaine is getting over on Hobgoblin because of course he is, when Shocker, Beetle & Mysterio show up. Also Mysterio is flying somehow. Kaine is now committed to killing all of them as he knocks a water tower over on himself & Hobgoblin.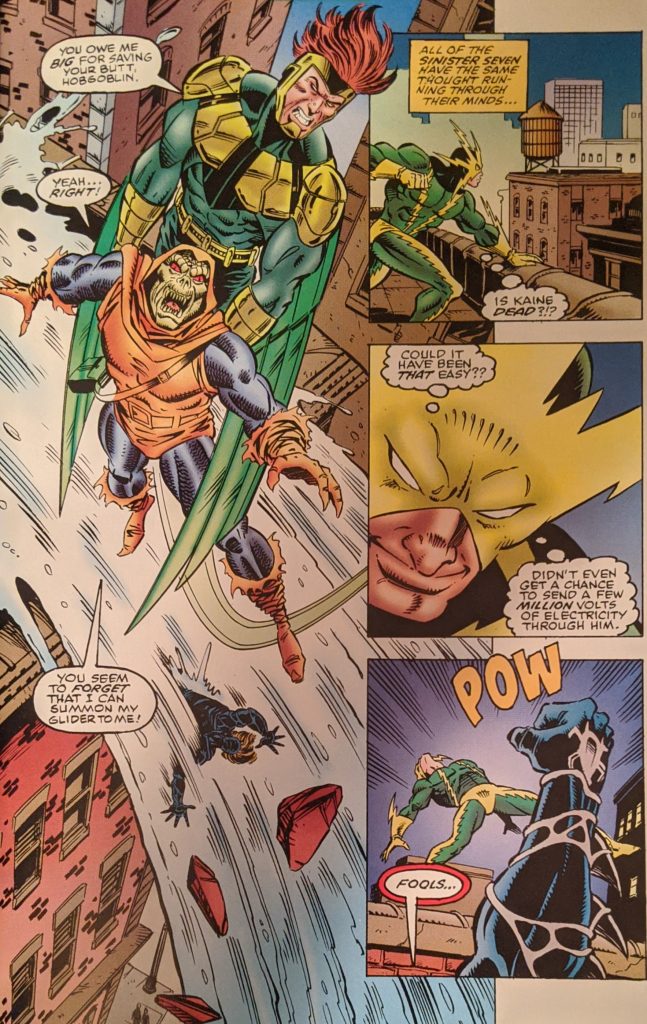 Whew, the dialogue in this. The "Sinister Seven" all attack Kaine at once, and since they all hate each other and some don't even know each other, they make a mess of it and Kaine escapes. Meanwhile…
Papa Granite!! Peter finds the fight in time to save Kaine, thinking that as much as he hates that guy, he'll need some help taking out the other villains. Nearby, MJ is now in her underwear for no reason as Seward Trainer calls, asking her to come to his lab to discuss her test results, assuring her nothing is wrong. That only makes her more nervous, but she gets dressed and goes. Back at the fight, Beetle is very confused that The Scarlet Spider seems to know him so well as Kaine prepares to execute Hobgoblin.
So I guess Kaine would also assume that's Ben. This is a weird story. The villains get the upper hand and Peter pushes Kaine off the roof just before bombs from Vulture & Hobby blow it to bits. A quick and seemingly pointless cut to The Daily Bugle so we can see Cole Cooper get sent to cover some story with Ken Ellis. I assume it's this fight, but how do they know about it? They never say what the story is. We are now into Tod Smith drawing, and the art quality takes a nosedive.
Woof. Peter tries out Ben's new weapons, thinking about how great they are. Then we join MJ at Seward's, and it feels like we missed a page.
Aaaaalright. As te fight continues to take out villains, we're told Kaine knows it's Peter in Ben's suit because he saw them switch last issue, but I'm prrrretty sure he didn't.
Peter takes out Scorpia, and then Kaine sees Hobgoblin has killed Peter, shocked he didn't see it coming. But he's seeing things. It's presented in a very confusing way, but it's obviously just Mysterio being Mysterio. Now Peter has to fight Kaine, who believe him to be The Hobgoblin, ubt he eventually kicks Kaine off a roof and that's that, fight over. Seems kinda sudden. Peter suspects something, tho…
Nnnnnnnnever, you say? Hmmmmm. Also, Peter wasn't hallucinating at all?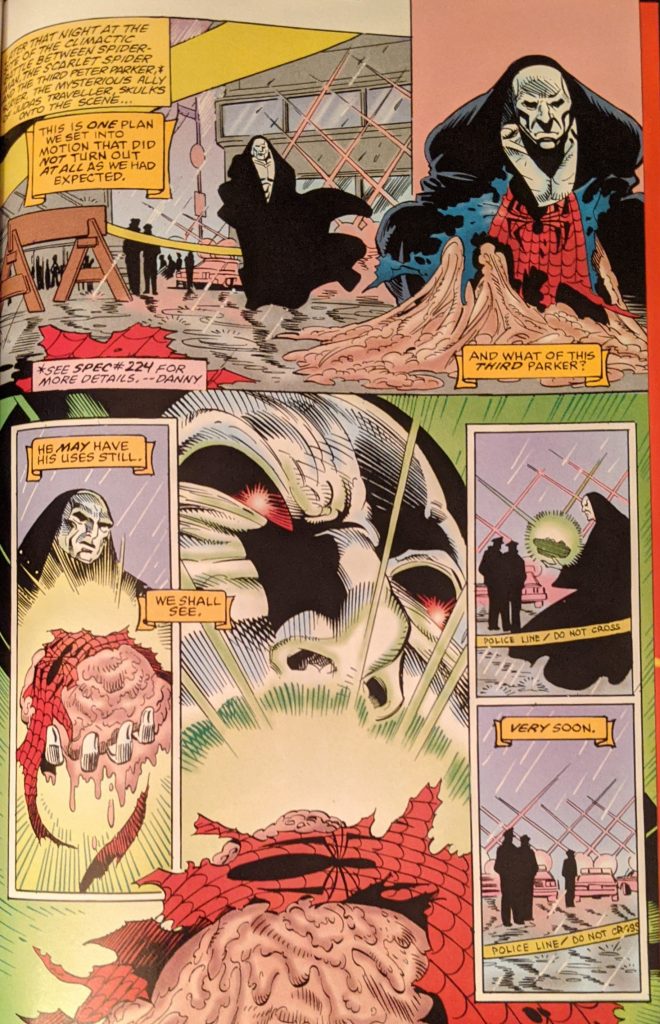 Scrier taking credit for this 3rd Peter thing is strange. But wait, one more page…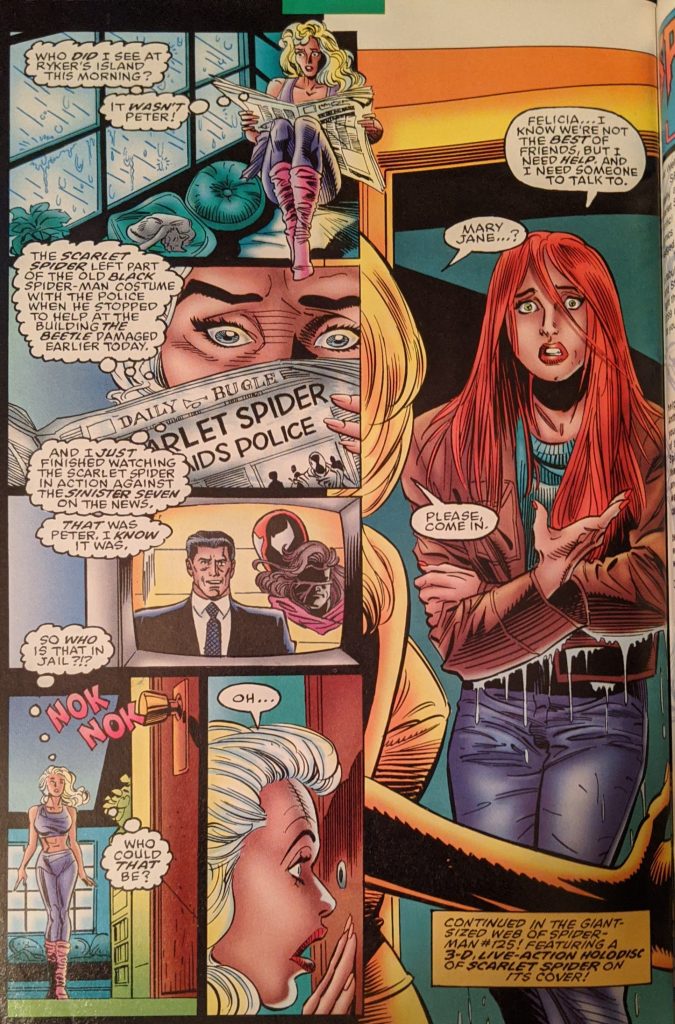 Well. Not hard to see why I didn't notice I missed the end of this storyline. Nothing of value happened at all. Sheesh. That last page seems like it's a big deal, but we'll see, it's not really…