Seems like a bad career choice. In this issue: problems.
It's JM DeMatteis, Mark Bagley, Larry Mahlstedt with normal credits, and then the weird growing pains of the 90s seep in, as Bob Sharen is credited as "Colorist," but also something called Wolf Pack featuring Salvador Mancha is credited with "Interior Color." Wut? What does that mean? In this era, colorists were still doing their thing, coloring photocopies and making 4-color guides, but the guys with computers were creeping up behind them. They were usually credited with "color separations," something that still doesn't make sense to me even now, and they would apply gradients and do the things modern colorists do. So who's really the colorist? And are they implying Bob only colored the cover while giving him a full colorist credit? Very weird. But, hey, the comic. 
What they're putting MJ through in this arc is bananas. Peter, of course, is also having a bad time, but he's Spider-Man. He does weird stuff. Mary Jane is basically a normal person. She does not deserve to meet 2 clones of her husband in 48 hours while he's in prison for a murder he didn't commit right after her mother-in-law (Essentially) died. That she doesn't just go completely insane is a testament to her fortitude and/or how poorly thought out this storyline is.
In spite of that big first hit, Kaine demolishes Peter #3 and smashes his face into a brick wall. This distraction gave MJ time to escape, but Kaine follows. Peter #3 curses the 5 years he spent in that pod slowing his reflexes (Yeah, ok), then leaps off into the night to save "his" wife. Meanwhile, the real Peter is sitting in his cell contemplating all he's been through recently, and unusually for a JM DeMatteis comic, feelings resolved to triumph over these circumstances instead of wallowing in his own self-pity. Then Chakra from Judas Traveller's funk band shows up.
I'm amused Peter's cellmate has never been introduced, but don't worry, he's there. MJ hung up because she's tired of letting other people fight for her, and thinks this is where she makes her stand. I mean, you just watched Kaine smush a Peter Parker's face into a wall like he was nothing, but I at least like the attitude. Back at the prison, Peter spends 4 pages sneaking through and out of the facility, unwilling to risk MJ's life even if it's all just a game Traveller is playing. When he gets outside, Traveller appears behind him.
Legitimately one of the worst ideas for a Spider-Man villain ever. A nigh-omnipotent, centuries-old steampunk cosplayer has no business in this book. We move to Mary Jane at home, producing a pistol she bought at some point in the past and never told Peter about. Maybe it was after the events of ASM 335. Then Spider-Man walks in saying he's here to protect her. She demands he take his mask off.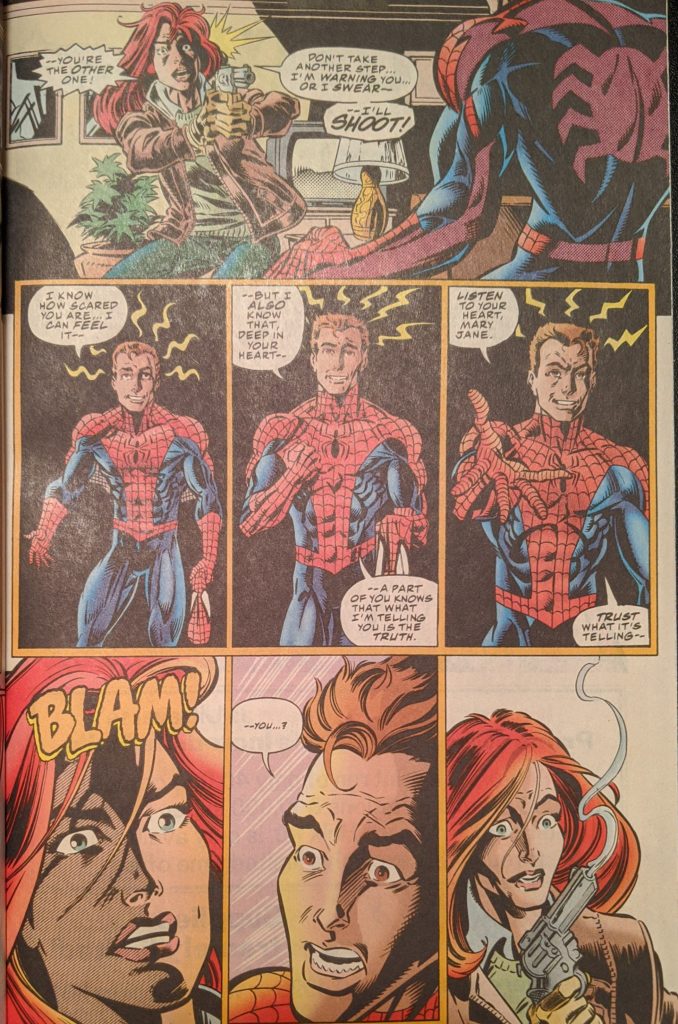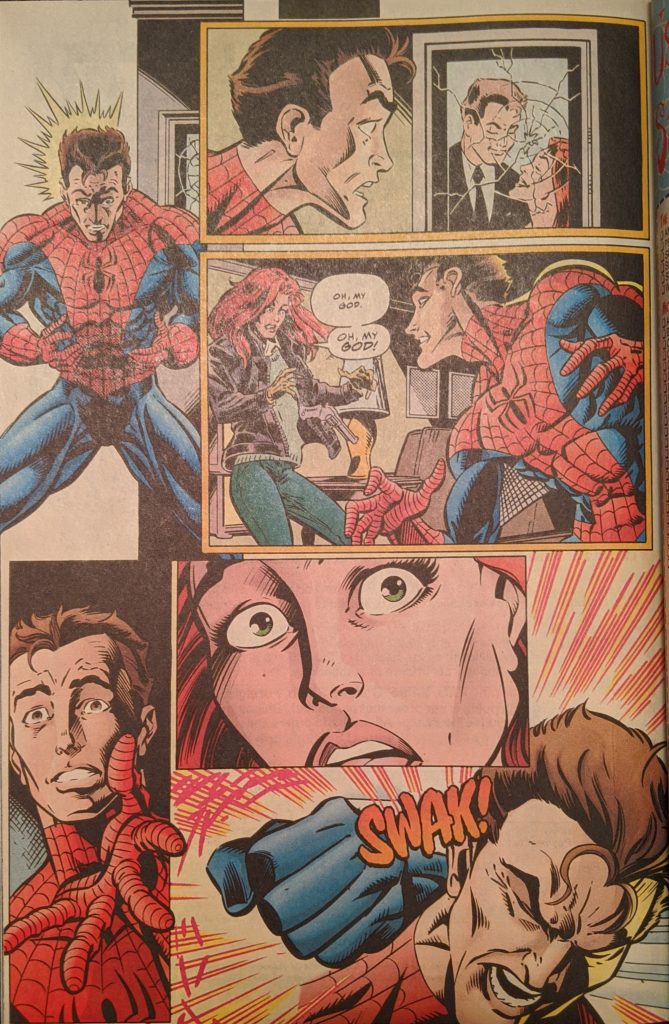 Kaine is here. He says there is danger anywhere MJ turns, and she has to come with him. When she says no and goes for her gun, he just knocks her out and takes her. Kaine wants to "mark of Kaine" the Peter on the floor, but he hears someone come in the skylight and decides to just bail with MJ.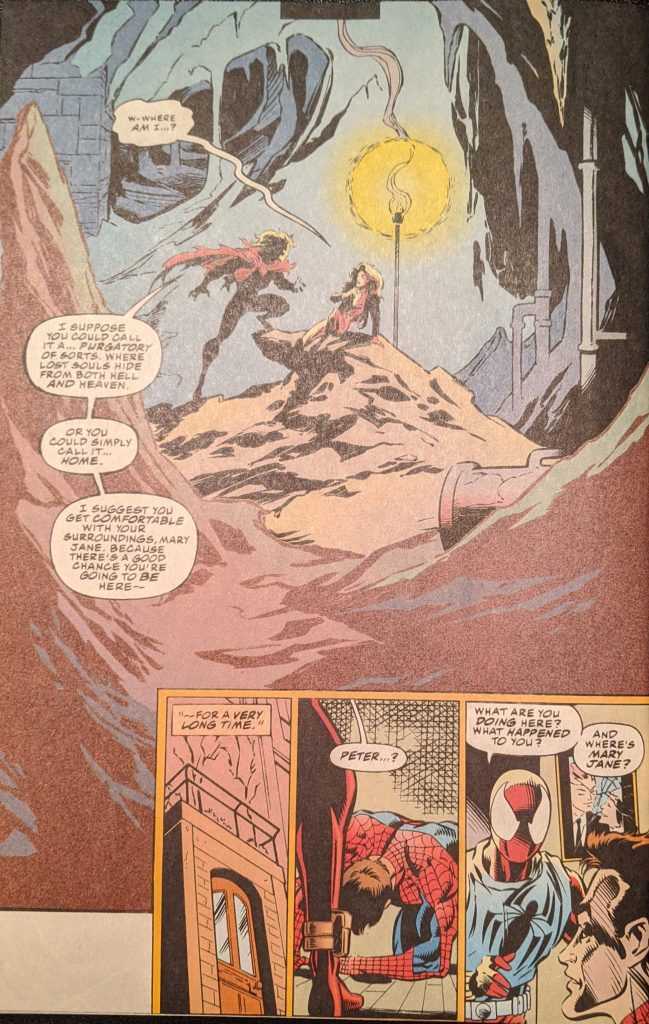 Ugh, that Kaine dialogue.
This is so ridiculous. I can still faintly recall the weird kind of negative excitement I felt as this was all happening. On the one hand, it was bonkers, and every issue seemed to ratchet up the insanity. Hard not to get swept up in it. On the other hand, I hated everything about this story. The rapidly multiplying clones, the murder rap, the death of Aunt May, the dopey new incarnation of The Jackal, I wasn't on board for any of it. But I had to know what came next. And it was never good. And I just kept buying the books! Like an idiot. The folly of youth. So many old comics folks will tell you the 90s made them quit reading, and either they came back when they heard comics were cool again in the 2000s, or never at all (And most people I know who came back in the 2000s have once again abandoned ship due to another downturn in recent years). I was not that smart. I'm still, not, I guess, though my own pull list seems to get smaller and smaller.