The logo is no match for Kaine! Steven Butler & Tom Lyle appear to be the only ones maintaining McFarlane's crazy perm for MJ. Everyone else has pretty much given her her straight hair back with more volume. It's Terry Kavanaugh, Butler, Randy Emberlin & Kevin Tinsley at the helm as we begin the next big crazy crossover. These periods during the clone mess where all the books are telling the same story make my wrap up drawings a lot easier. We open on Peter Parker being lead into a press conference in shackles.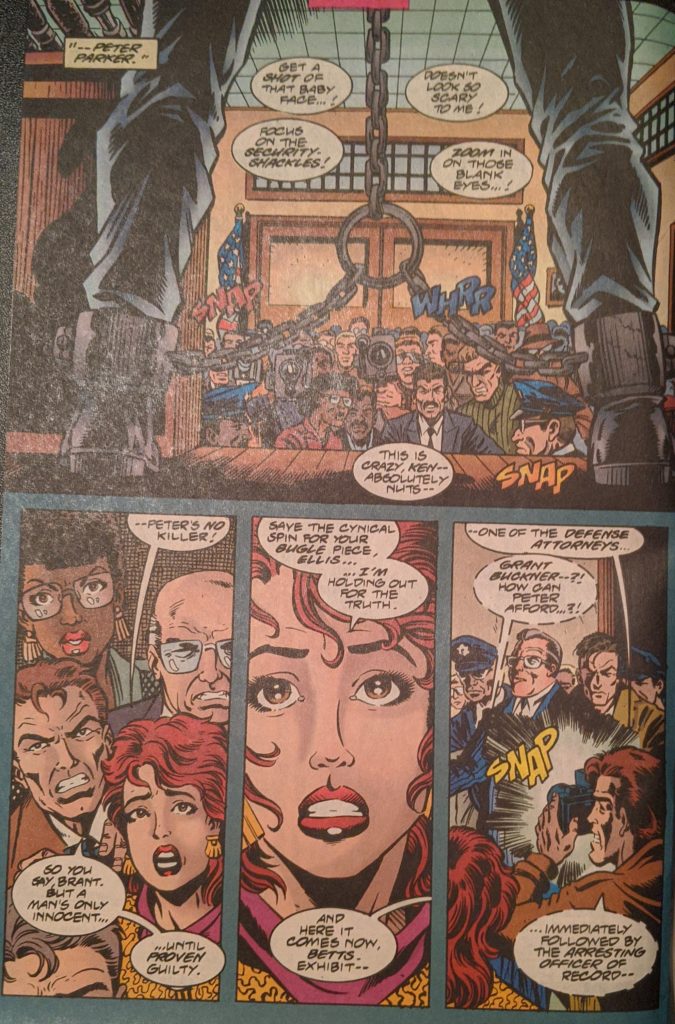 Let's unpack this for a second. Peter Parker, who has had photos of local NYC events in a famous newspaper pretty much every single day for the last 10 years, who has a wife, friends & coworkers who can verify that he has not been, you know, in Utah murdering people, is somehow still the prime suspect for this. If it was one murder, ok, he coulda taken a weekend murder trip, but we're talking about a string of serial killings over a long span, over 2000 miles from the place multiple people can testify to having seen Peter almost every day during that time. I know DNA is strong evidence, but come on. When the defense calls the guy from the bodega he buys groceries at, that should be a wrap. Ah well. While that's going on, MJ & Ben are with Seward Trainer.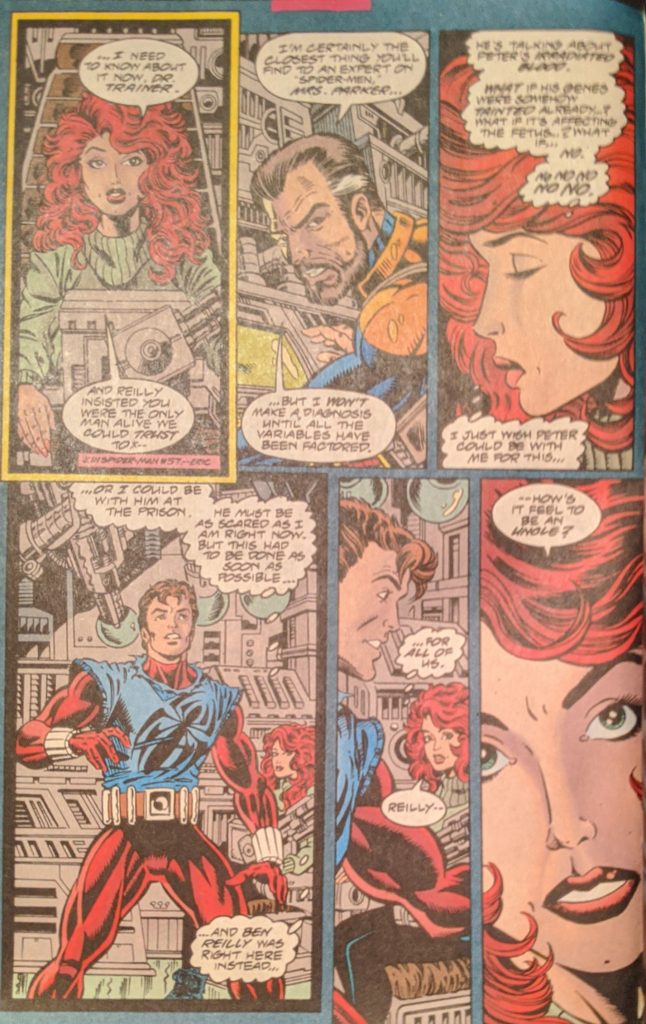 Why is Trainer dressed like a SHIELD agent? My theory is because it's the 90s and they weren't hiring people who could draw regular people. Mary Jane is slowly coming around to Ben. Kaine is there, of course, watching and brooding, as he always does. His visions of the future indicate MJ will die pregnant, so he's pretty convinced it'll happen soon. Meanwhile, the 3rd Peter Parker is in Aunt May's house, getting very angry that his life was stolen from him, the real Peter Parker, and smashing a dresser in his frustration. Back at the lab, Trainer says he'll finish his tests, and Ben says he'll call MJ when they're done. At The Bugle, Robbie still wants to challenge the accusations against Peter, and JJJ still says no.
I guess Jonah is trying to help Peter by refusing to cover the case. For his part, Peter's in his prison cell, still grieving Aunt May. Pretty messed up to do this to him right after she died. Then a fire breaks out in the next cell because an inmate was smoking. Peter breaks out of his cell, breaks into the other cell, puts out the fire and even gives the guy CPR.
Out in the world, Kaine yoinks MJ into the sewer on her walk home, and on the same page, Stunner yoinks Jacob Raven off the street.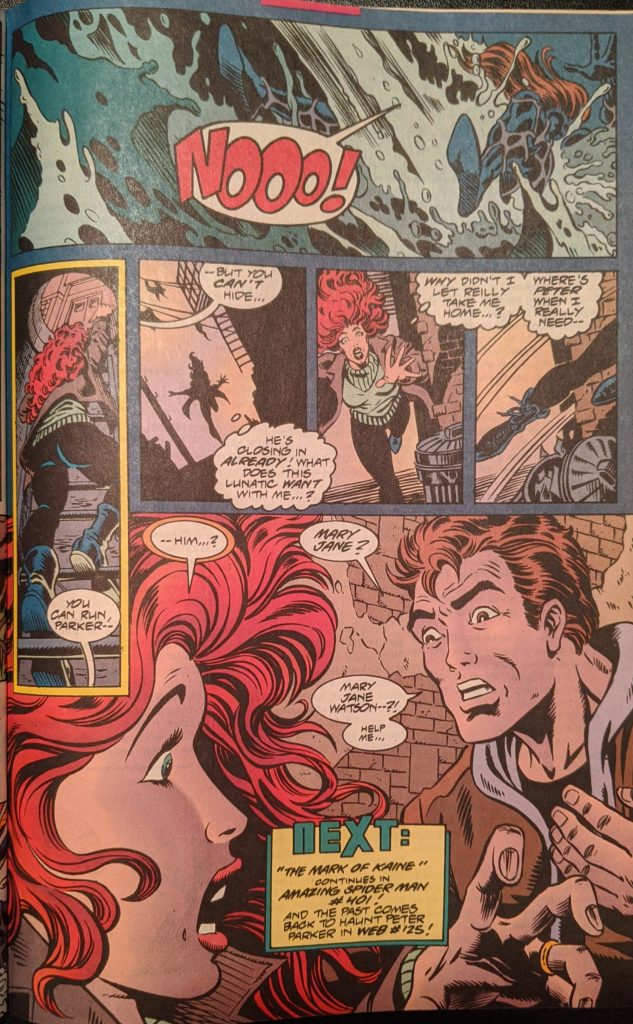 Kaine's approach literally could not be worse. What a dumby. And now MJ's gotta deal with this putz. More on all these many plot threads next time.