Terry Austin drops by to ink this one, The new member of the Sinister Six is revealed on page 1 if you didn't catch him on the cover, as Doc Ock finds his way into Hobgoblin's hideout. Hobby is pretty mad about this, and has also decided not to partner with anyone else after the Carrion business in recent Spectaculars, so he attacks Ock. But Michelinie & Larsen are giving us Ock at his best, so he effortlessly deflects all Hobby's attacks and grabs him up in his tentacles. Which Hobgoblin begins sending Hellfire down the length of.
Meanwhile, a camouflage-covered spy is getting photos of an experimental rocket launch for Stane Industries when he's interrupted by our hero entering the book.
He heads on home, and as he arrives, a police detective is there to tell MJ the accident at the studio last issue was no accident. After the cop leaves, Pete calls Aunt May and asks after Nathan.
Aw, Nathan. (Another page where ink from the facing ad transferred to this one. So annoying.)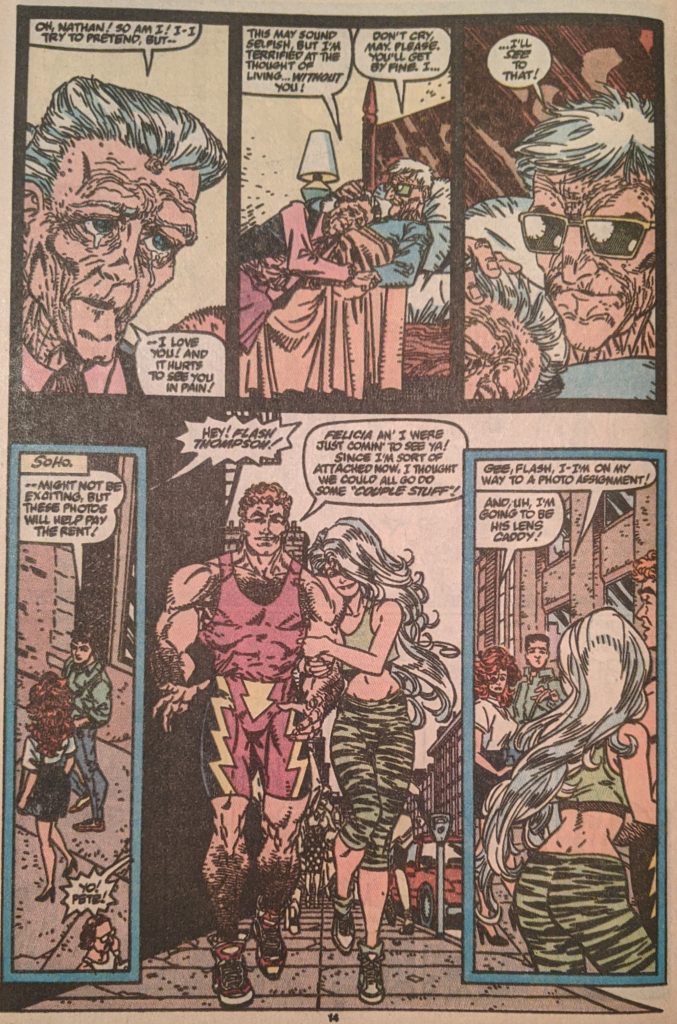 Wwwwwwwwwwwhat are Flash and Felicia wearing??? He says he can get them all Mets tickets for next week and Peter says that's great as they part, Felicia making a big show of hanging all over Flash. Peter recaps that deal, and MJ suggests he might be a little upset because his ex- is after his best friend, and he can't totally deny it.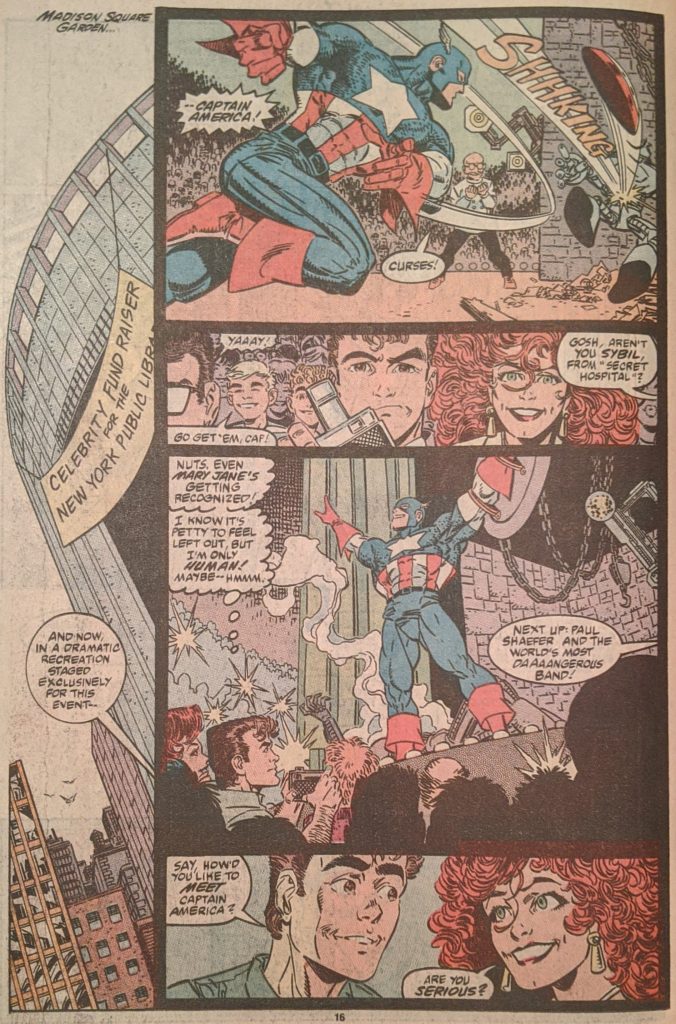 In spite of only being a few years away from becoming a huge Letterman fan, this was the first time I heard of "Paul Shaefer and the World's Most Dangerous Band," and I had no idea what that meant. Peter tries to use his press pass to get MJ in to see Cap, but he's already gone (They'll have plenty of time to get to know each other about 20 years from this). Then there's an explosion outside, and it's Spidey time.
Spidey's opening bit there sort of prefigures the Spider-Man/Shocker relationship in Ultimate Spider-Man 15 years from this. Trying to rob a place Captain America was scheduled to appear is preemo dumb supervillainy. The action moves to the stage, chasing Paul & the band off (Paul thinks "Talk about stupid human tricks"! Again, totally over my head at the time). The crowd is loving the fight, and MJ is not loving them treating her husband in battle like a wrestling match. Shocker pulls the ol' "endanger bystanders to escape" routine, but it barely slows Spidey down. He catches up to Shocker near a concession stand, and shatters a big container of popcorn butter on the wall behind him, tricking him into firing his shock gauntlets while standing on a very slick surface and smashing himself into a wall.
Ock, of course, who has easily tracked Mysterio down by following the exotic equipment he stole for this job, and who also secretly tipped off the cops about it. With them on the way, Mysterio is easy to talk into rejoining The Sinister Six.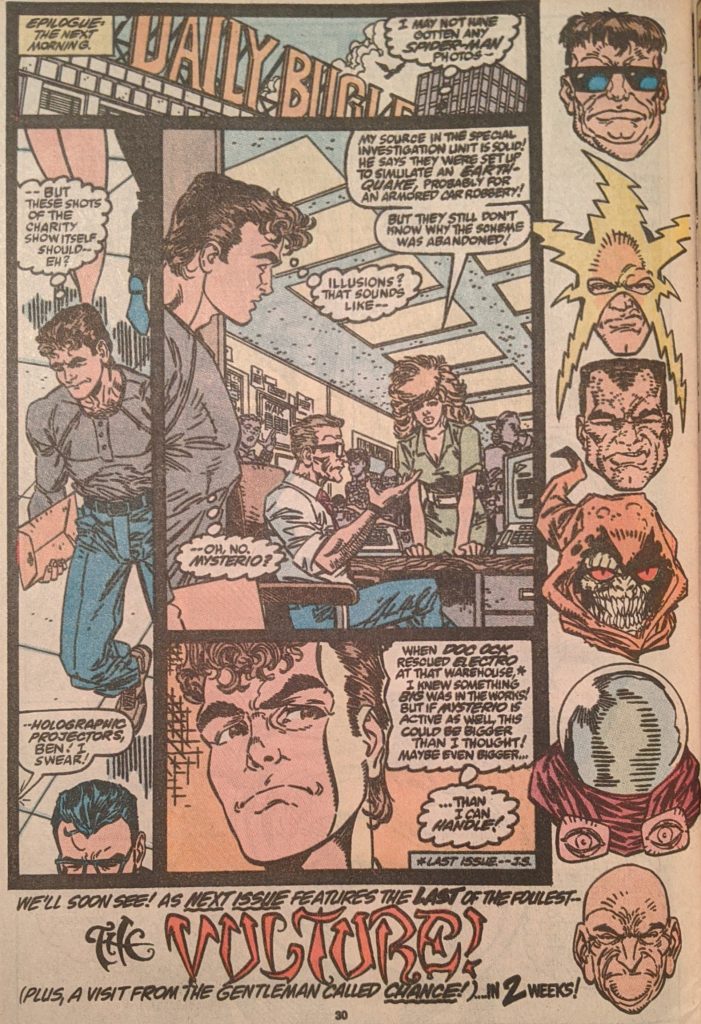 I guess that's Joy Mercado? Huge hair. The late 80s are crazy. One wonders how The Bugle is back on its feet so quickly. Well, now The Sinister Six is almost complete and we're not even halfway through this story. Spidey hasn't fought them as a unit since way back in Amazing Annual #1, and now they've replaced their crappiest member with the demonic Hobgoblin. Does our hero stand a chance?