While 66 & 67 were new to me, this one I have inexplicably had since I was a kid. Why? Why did I get part 3 of a 3-part story? I don't remember. Conway is back to scripting here, as Spider-Man meets Joe Robertson in Battery Park. The same guy who tricked Joe into last issue's fight scene has contacted him saying Tombstone wants to meet, so he's had Peter Parker call Spider-Man, in spite of their whole deal of late.
They're being spied on by Nick Katzenberg, which yet again doesn't trigger our man's Spider Sense. He's had a busy night taking what he hopes are blackmail photos of Robbie talking to his fellow ex-con and now Spider-Man. Spidey gets a tracer on Joe's shoe as he leaves, and then Nick follows Joe to the meeting with Tombstone, noting he passes a pay phone but doesn't call the cops. Then Nick, of all people, recaps Joe & Tombstone's history for us across two and a half pages! Two and a half pages of backstory on Joe by a guy who hates him reads super weird. Joe and Nick arrive at Hammerhead's mansion, and independently find it ransacked in spite of Spidey saying last issue was "a couple days ago."
Tombstone shows up, repeating his now rote speech about how no one kills his pal Robbie but him (Page 13 and still recapping).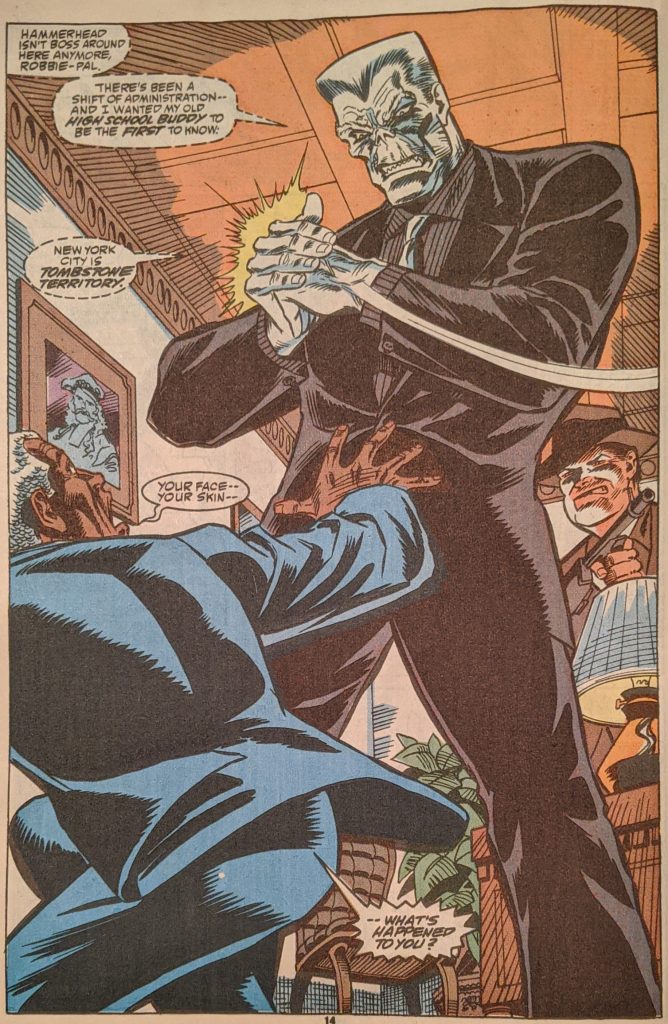 Um… nothing? Tombstone doesn't even look as different as he did at the end of last issue. And last issue he seemed able to speak about his trademark whisper, but now he's back to normal on that front, too. I guess maybe he's taller? Robbie says if he's gonna kill him, just get on with it, he won't beg, as Spider-Man sneaks up on the watching Nick and tells him to stay quiet.
I like Tombstone being like "You shot me, sure, but it really helped me out, so we're all good." It somehow makes sense in his weird relationship with Robbie. Spidey dispatches all the goons while Nick gets all the photos of the action until the new much faster Tombstone punches Spider-Man out the window and right into Nick. Then Hammerhead charges, having freed himself, but Tombstone just backhands him away, too.
Was… he supposed to be human before? A super tall, super strong guy with bone-white skin and pointy shark teeth? I assumed he was a mutant or something. I mean…
That is not "a white man's skin," sir, that is a ghost's skin. I wonder if Tombstone would've looked like an actual albino person instead of a literal white man if coloring techniques had been more sophisticated back then. My instinct is, he would not have. At any rate, Spidey tries blanketing him with webbing, but he begins to tear through it. Then Hammerhead pops back up and opens fire on Tombstone with a machine gun, but that doesn't bother him, either… until Hammerhead's shots go through the open door into what just happens to be his arsenal.
Tombstone is dead forever, obviously. Killed in an impossible-to-survive explosion similar to the one Conway used to kill Doc Ock forever back in the 70s. Mm hm. Back in the letter page, I'm not the only one getting irritated with Peter's Spider Sense constantly not working in these pages…
Good on ya, Robert. John, you're kind of nuts. Next post: The Return of the Sinister Six.