Still "The Non-Mutant Superhero." I wonder if the editors of, like, almost all Marvel comics took issue with this. I mean, at this time, you had X-Men, New Mutants, Excalibur, X-Factor and Wolverine, and then pretty much every other Marvel title featured a non-mutant superhero. Still feels like a weird sleight. "There's the X-Books, there's Spider-Man, and then there's the titles no one cares about." You may be wondering about what I assume is Joy Mercado's hair on the cover here. Me, too. This one starts with The Beetle, not long out of jail, admitting to himself that every time he goes out to do Beetle stuff, he feels like someone's watching him.
That uniquely shaped tower can only be The Kingpin's house, where Beetle goes to see The Arranger. Ol' Arrangy wants to hire him to kill Spider-Man. When Beetle balks, saying he only does "straight crime" now (Wut?), Arranger gives him the details of an armored car to rob. And as soon as he leaves, Arranger calls The Daily Bugle and asks for Peter Parker…
These 2 oughta know better.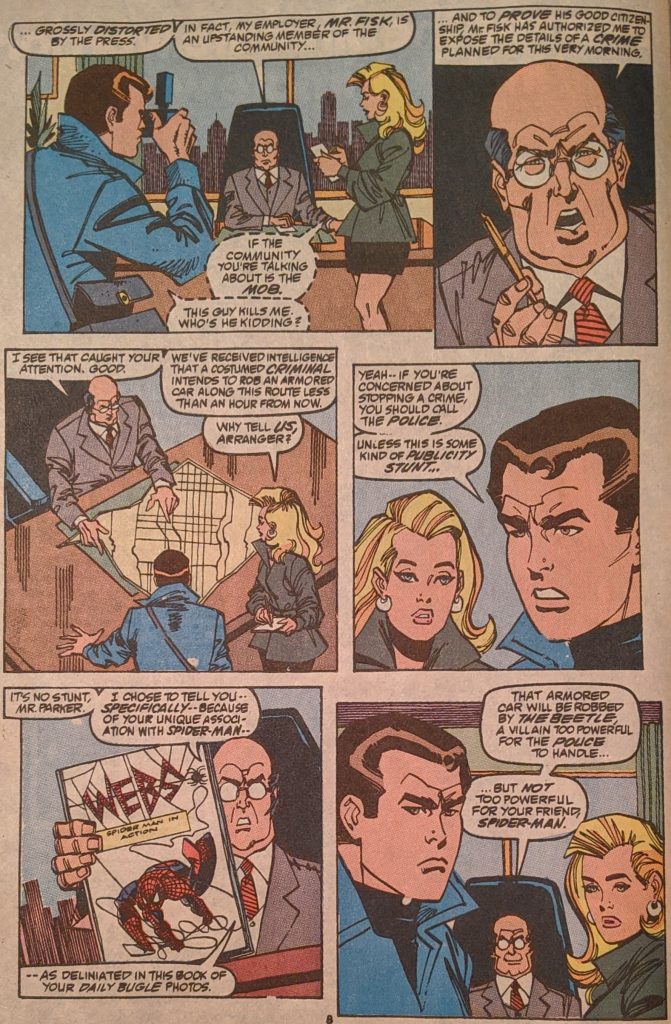 LOVE that they just whisper to each other about The Arranger while he's talking to them. That's so rude. And I know this is all just a roundabout way to get Spider-Man to get Beetle, but why would Kingpin know about a crime in advance if he's a legitimate business man? This was poorly conceived, Arrangy. He suggests Peter call Spider-Man right now, from his phone, but Peter says he's not sure he can get ahold of Spider-Man and departs. Joy and her inexplicable hair do not, tho, as she says she wants to "stick around and see how this plays out." That makes no sense to me. So, you know, later, Beetle suits up, hits the car, everything's going good, and naturally…
As the two get into it, Beetle slowly realizes The Arranger set him up, and gets really mad. But he's probably even more mad when his wings suddenly stop working and he falls into the whatever it is, the big smokestack on a cruise ship, seemingly to his death. Spider-Man thinks between his photos and Joy's story, Kate's gonna get quite a scoop. But what will Joy write? How does this make any sense?
Arranger seems to be going off script again. This doesn't seem like something Kingpin would sanction. Arranger is looking quite nervous, and that proves correct, as Beetle comes smashing up through the floor. The 16th floor, his narration tells us. He smashed up through all 16 floors. That's insane. Then he tells Arranger he just pretended his wings stopped working to escape Spider-Man, even tho it sure didn't look like it. This is a weird comic.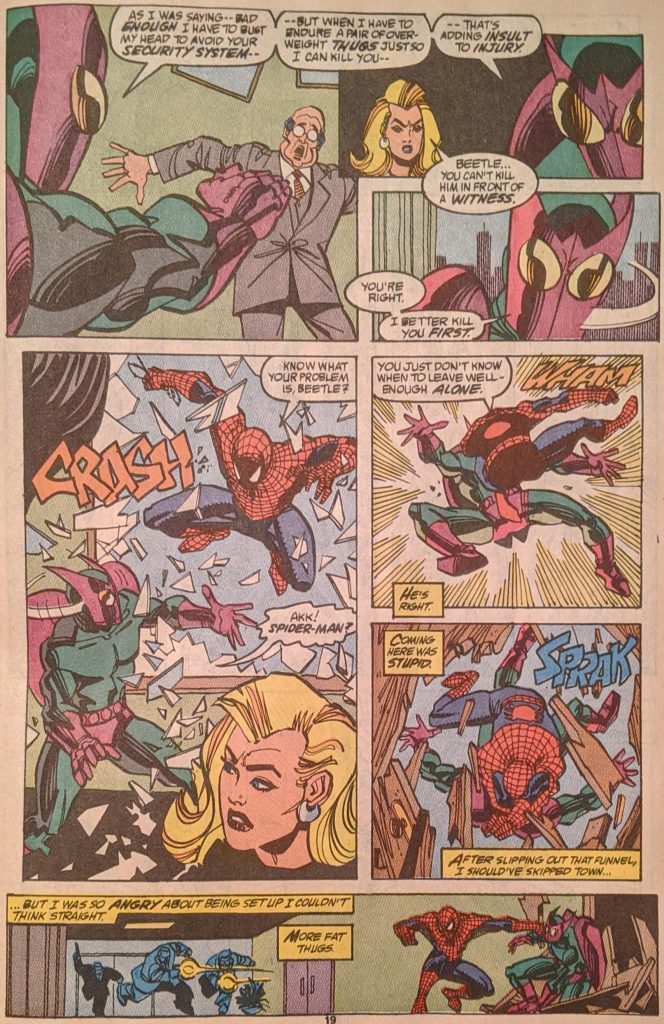 Beetle is very rude about those goons.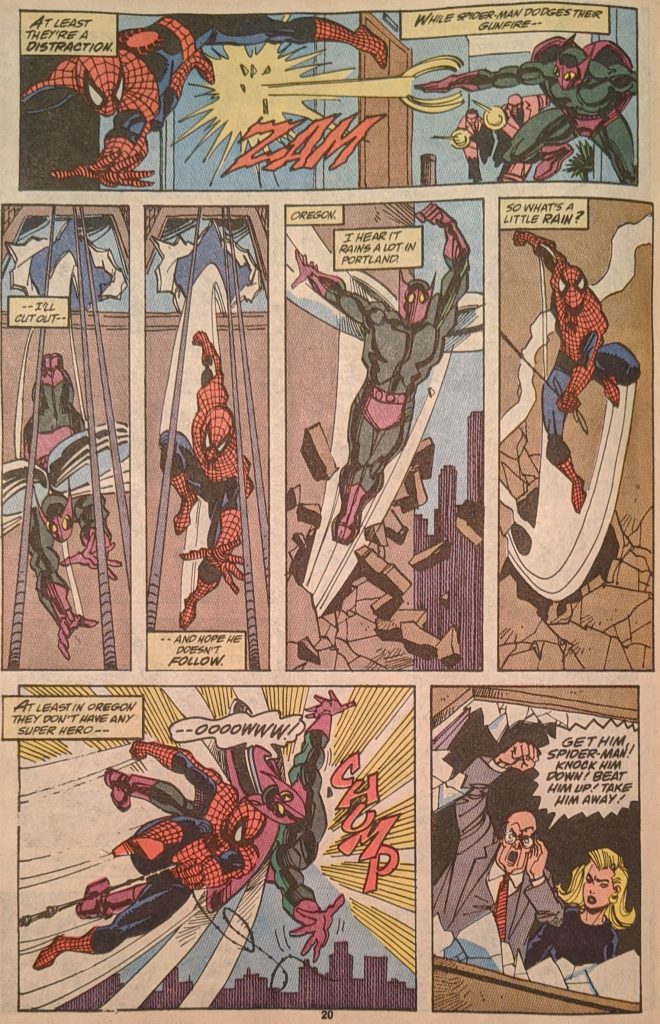 I wanted a picture of this page largely because that very strange shoulder charge down there is a Sal Buscema staple, in spite of how odd it is. Beetle flies down a smokestack at a factory, trying to escape Spider-Man the same way twice in 20 minutes, but Spidey goes inside, opens the smokestack and hauls him out. Then he proceeds to beat him up and destroy all his equipment on a single page, prompting Beetle to give up. Seems like the right choice.
Conway keeps bringing back all these subplots that just kinda vanished for like 10 or 12 issues, and it's awkward every time. He's picking up the Harry-as-Green Goblin thing something like 15 issues later, even. Anyway, Arrangy is called into a very upset Kingpin's office to explain the disturbance, and we leave him to cower there.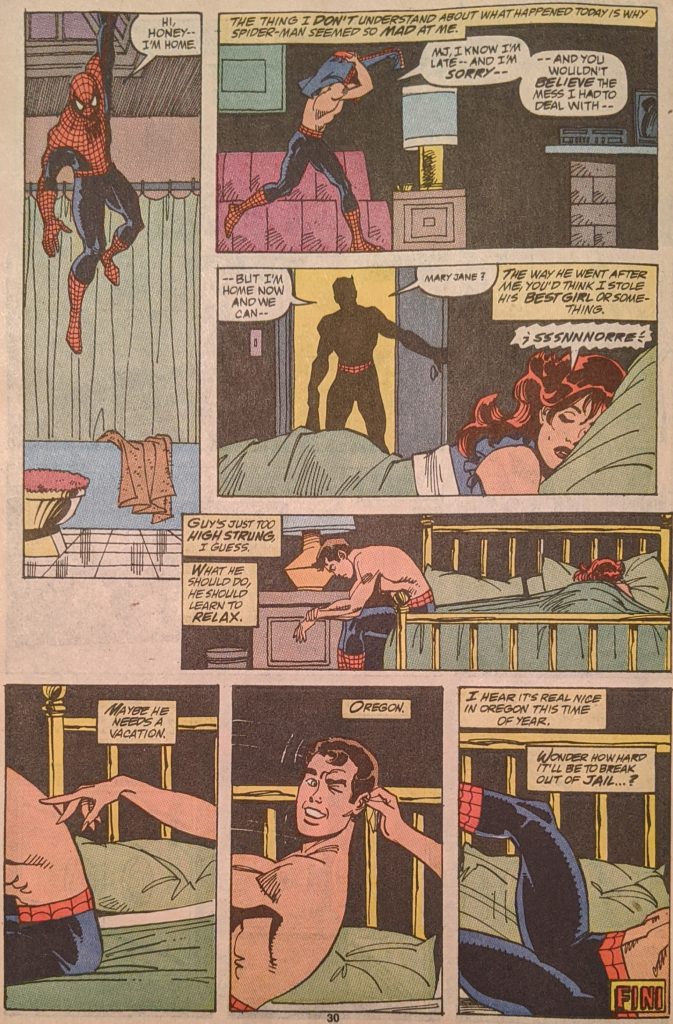 All's well-ish that ends well-ish, I suppose.