I believe this issue marks the beginning of one of the great comics mysteries of its time: Why does Erik Larsen draw little triangles on The Punisher's lips? If there's an answer, I don't know it. Yes, the same month their team-up in Punisher War Journal concluded, they begin another in ASM. Strange timing. Mike Machlan swaps in on inks. Punisher gets us started by blowing up an ambulance. Don't worry, tho…
Erik Larsen is the bloodiest artist ever on Spider-Man by a wide margin, at this point. ASM 324 was surprisingly gory, and now this. Blood was pretty taboo in comics right up until now. Also, those 2 dudes wee in the ambulance when he shot it. They're doing pretty good when he finds them, all things considered. The other guy survived being shot (AND blown up!) to silence that guy before being silenced himself by The Punisher. He was hoping to get some leads on drug trafficking, but he's just had to settle for blowing up a bunch of cocaine. Meanwhile, in Manhattan, some costumed goons are attacking one of Kingpin's drug dealers in his fancy penthouse as Spider-Man comes on the scene.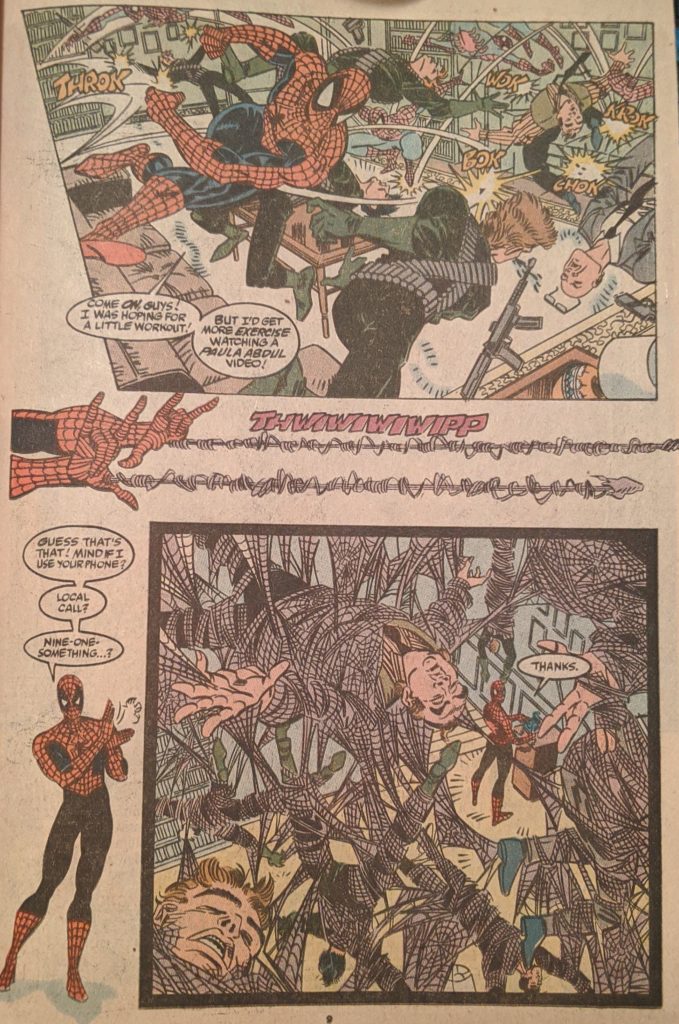 Like McFarlane before him, Larsen is using a lot of photo backgrounds. They look cool, but they also put Spider-Man so high up in the sky it doesn't seem like he could actually be swinging from anything. Spidey arrives home, having forgotten MJ is out on a night shoot for the soap opera. He thinks to himself that they've both been so busy no one even cleared the table from the other night when Flash & Felicia dropped by. Then he flashes back to that for us, as Peter leapt up and demanded to know why Felicia was there, and Flash was obviously alarmed.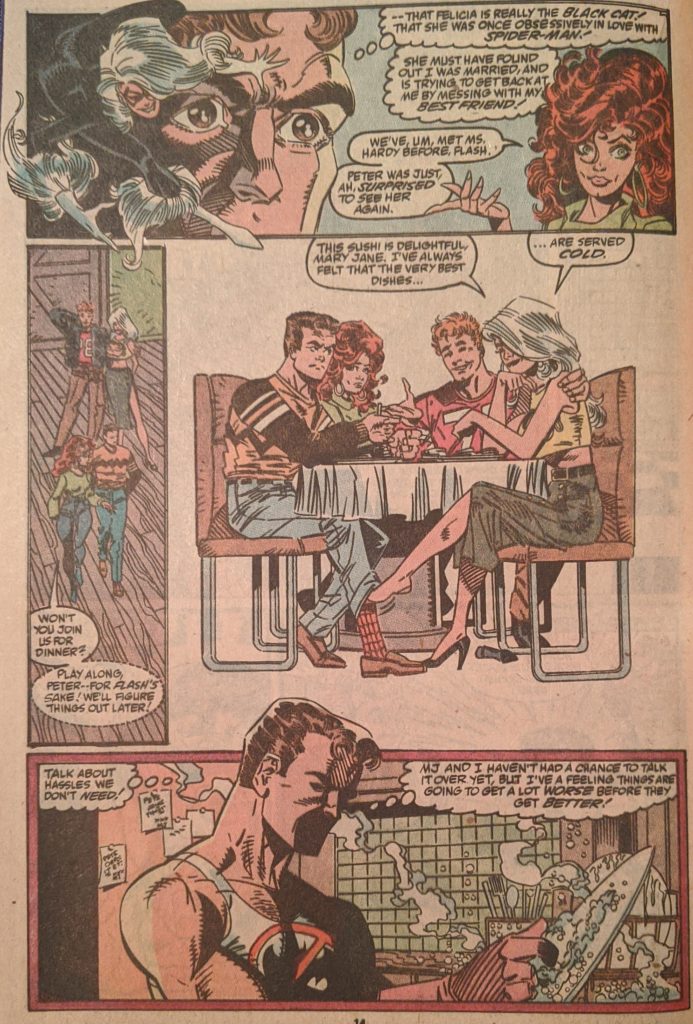 Peter's description of their relationship up there is, uh, flawed. They may have had one of the all-time worst romances in comics, but it was certainly very much a mutual dysfunction. But at this time, it was all I knew, this was me meeting Felicia for the first time. So "spurned lover out for revenge" was her whole character to me. Peter's anti-Batman shirt is funny. The next day, at The Vault, Eddie Brock has committed suicide! Hung himself with his clothes! What a grim end for such a popular new villain. We cut away to Microchip telling Punisher about the same drug shipment that's on Spider-Man's radar from earlier, and then…
I had no idea Nathan's character was being so assassinated in these stories as a kid. I was meeting him for the first time, too. Having seen his earlier appearances, it makes me sad. That night, Spider-Man gets ready to intercept the drug shipment, but ya know…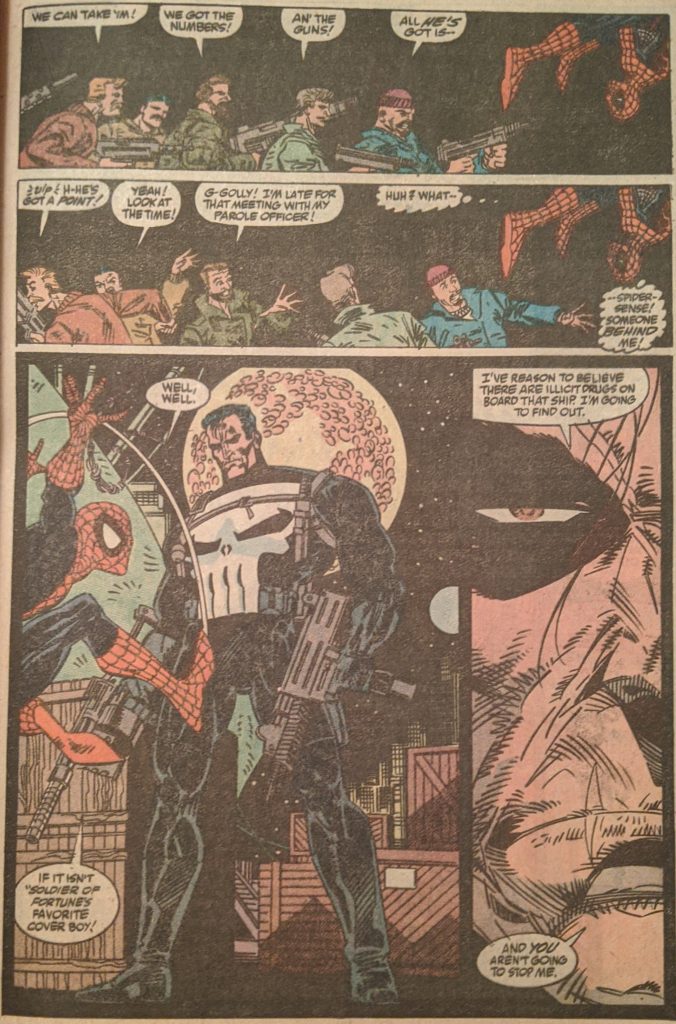 Best look yet at the lip triangles. Why? What does it all mean? It would be nice if they referenced their other adventure at all, but they do not as they charge onto the ship. It's full to bursting with goons, and Spider-Man is suddenly pretty blase about Punisher's methods. They decide they need to get down to the hold as soon as possible, leading to an extremely Erik Larsen panel:
That "dropping down into action" pose is very much something he uses a lot. And why not, it's pretty cool. The fellas split up to fight their way through the mob, Spidey again just sort of looking the other way, until there's only one goon left conscious or alive.
Why is the US government running drugs in the 80s? Oh, you poor, naive superheroes. More on that next time.