We are back with more Punisher War Journal. Another rare Jim Lee Spider-Man. Same creators inside, as the cultists kill The Daily Bugle's security guards and use their access to get up to the newsroom.
History will show that, whatever faults JJJ has, he really, really hates bigots. But, as you may recall, Spider-Man is not running to the rescue, because he & Punisher are trapped by other Nazis. In spite of the delay endangering his wife and coworkers, Spider-Man won't let Punisher just kill them all. Instead, Frank turns on some kind of sonic weapon that pushes them back, giving our man space to do his thing.
Back at The Bugle, in spite of a literal gun to is head, JJJ still refuses to print the Nazis' manifesto… Until they threaten to kill Betty Brant, and he relents. As the guy in the wheelchair and the guy with the crossbow execute another guard, Hartmann uses JJJ's computer to type up his own story for the paper. He starts with ihs backstory. One of the 3 children from the WWII flashback at the top of last issue, of course. As an adult, he came to America, where an angel appeared to him and told him to begin his mission of hate. While he's typing all this, a police helicopter approaches the roof.
The Nazis throw an unnamed Bugle staffer out a window to further try to scare off the cops, which makes JJJ lunge for their leader and try to fight him.
By 1989, Punisher was one of Marvel's very most popular heroes, already starring in 2 books a month and a couple years away from a 3rd. As comics took a turn for the dark and violent, who else would rise to the top, after all? Little or no comment was usually made on his own obvious madness. Seeing him and his mission kind of compared to a Nazi in his own book, especially in 1989, is a big surprise, is all I'm saying. Spidey spots MJ, but realizes it's going to be tough to get in there and stop this before Punisher shows up guns blazing. Frank, for his part, starts at the bottom and starts killing his way up to the newsroom. Some goons confirm they've sent out delivery trucks to distribute a Daily Bugle with Hartmann's screed in it, so he decides the workers on the print level can all be killed. The chaos Frank's creating gets most of the goons sent down after him instead, giving Spidey an opening. While Frank does his usual shooting stabbing and exploding and whatnot, of course. 
As a creator, if I can even call myself such a thing, I really struggle with, like, dramatic tension versus annoying coincidence. Does this guy just happening to pick Spider-Man's wife as his hostage up the ante? Sure. Is it a predictable and tired coincidence? Also yes.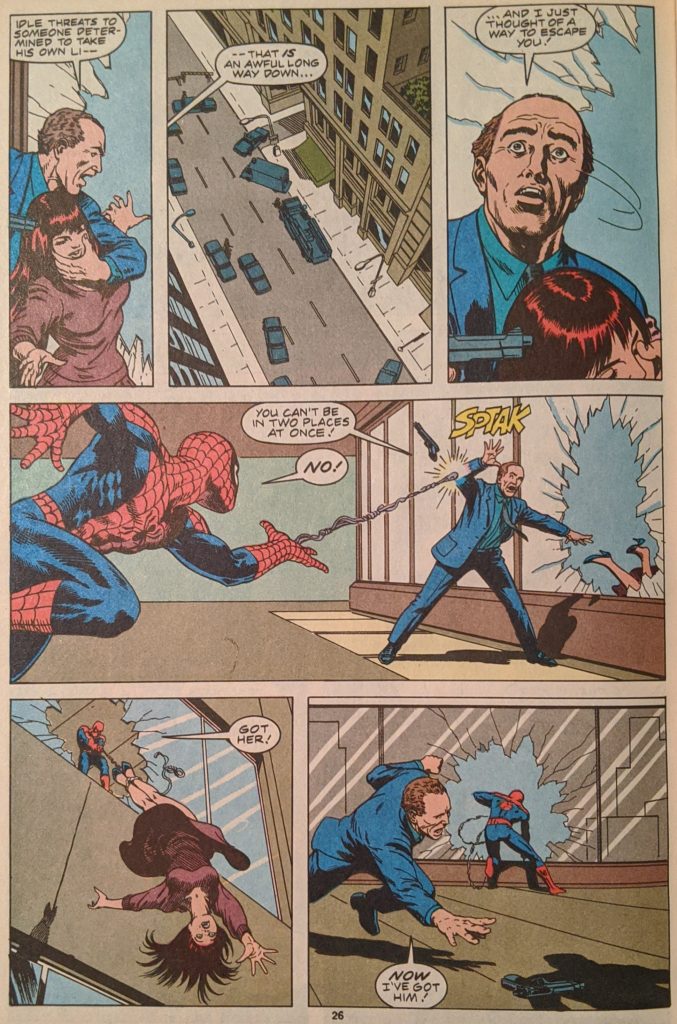 JJJ saves the day! Back in '89, the ever changing Marvel timeline hadn't yet forced a situation where JJJ couldn't have been alive during WWII anymore, so seeing a guy who witnessed the Nazi terror firsthand tackle this wannabe is a nice moment. Downstairs, Punisher sees wheelchair guy and young guy come out of the elevator, and only now do I notice young guy is blind. That's why it takes 2 of them to use the crossbow. I guess I'm slow on the uptake. They try to pass themselves off as hostages, but Frank sees the arrows in young guy's back pocket.
That's our show. Contrasting Spider-Man with an obvious loved one vs. Frank walking home through the sewers is a nice touch. A lot of Punisher in this time was wildly over the top, like the creators knew this was all kind of silly, but this was pretty straight. Really lovely art throughout. Ross & Heath made an excellent team. I still can't believe Russ Heath was doing Punisher comics!