Answer: Just… some robot? I have no idea who that is. Was this Acts of Vengeance thing working? Like I said previously, I only really ever read the Spider-Man, Daredevil and Captain America tie-ins to this event, give or take a random issue. The idea was for the villains to switch heroes so they'd win, but did any hero even lose? Spider-Man got chumped by Graviton, but he didn't die or anything, and every other attempt on Spidey has ended in embarrassment. Captain America fought Namor, which sort of doesn't even count, and then easily trounced The Controller. The Daredevil ones were deep into the Ann Nocenti/John Romita, Jr. run, so as you'd expect, they were super weird (Doom sent his own rebuilt Ultron after DD, and it did not behave as he expected, to say the least). The internet tells me more than 20 heroes or teams of heroes were involved in this (Even Power Pack! Who put a hit on 4 children???). Did any of them actually get beat? Was any hero unpopular or unimportant enough to get killed in this event? If all the villains accomplished was getting beat up by new and interesting people (Except for Red Skull, buried alive by Magneto for crimes against humanity, the best part of this event), why didn't they just, like, give up? I have so many questions. I assume none of them will be answered here. Sal is back to inking his own pencils this month. Deep in the ocean, a team of divers hired by Doom has found the robot on the cover.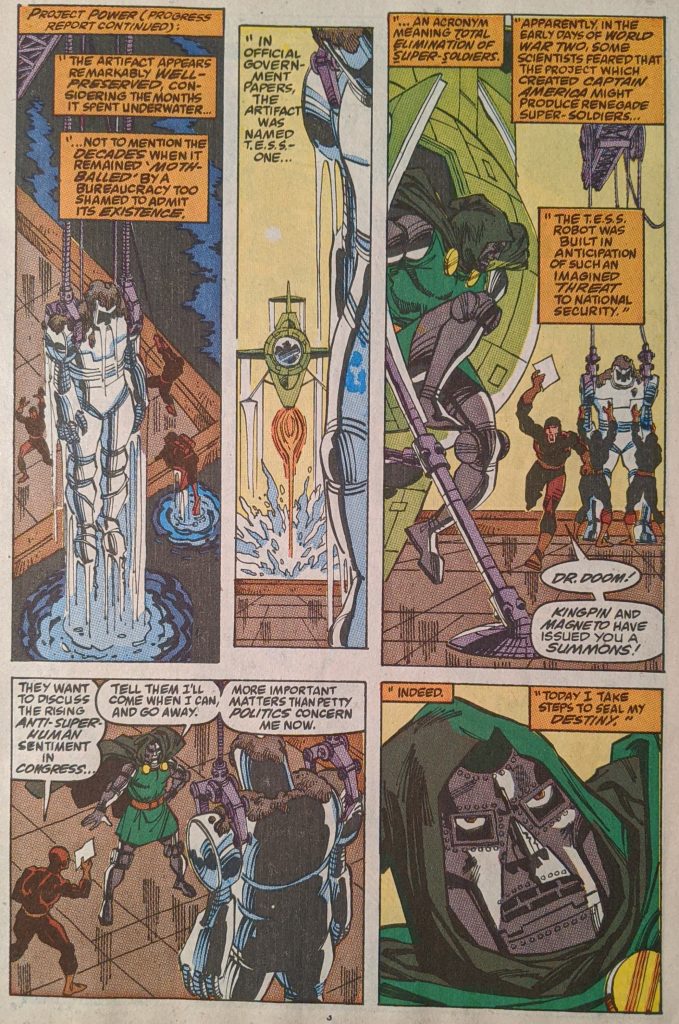 "TESS-One" is a pull from a Captain America Annual I haven't read 4 years prior to this. Ok. While Doom's readying his destiny, Spider-Man is fighting all 3 of his villains on the cover at once.
There's that mysterious outline again. The crowd is furious with Spider-Man, and all heroes, I guess. One guy says "you super-creeps, worse than muties!" which really lampshades the biggest problem with Marvel's "people are afraid of mutants" thing: How do they know Spider-Man isn't a mutant? What's the different between a naturally powered person and an accidentally powered person? Who really cares how they have powers, you're either for powers or against. Anyway, he takes off, and Nick Katzenberg is super pleased to get photos of his poor treatment. We move over to the apartment of JJJ & Marla, where Jonah is bemoaning the world turning on superheroes at a time when he doesn't have a newspaper. Joe Robertson's lawyer is there to say The President is still considering his pardon, and then Nick shows up.
The drama! Not far away, Doom is finishing fixing up TESS-One as Kingpin and the mystery man who organized Acts of Vengeance and is obviously Loki show up to confront him about his obsession with Spider-Man's powers. He (sort of) allays their fears by having it identify a screen with Spider-Man on it as a super soldier and then smash it. Not much of a test. But Kingpin and Loki are still not ready to trust him. And they shouldn't be! Meanwhile, at the Parker residence, Spider-Man arrives home as MJ is hanging pictures. He talks about how the mob turned on him earlier, and she says his powers do seem scary from a distance.
That's when the robot finds him. They begin to mix it up, and as Spidey uses his weird powers, that ghost image keeps appearing around him.
I mean, if you know who that guy is, there's certainly no question what's going on anymore. The robot attacks again, and a frustrated Spider-Man takes out his aggression by literally punching it across town. He finds it on a bridge, absorbing pieces of it to repair itself. We cut to Doom, thinking the robot has been programmed to absorb "any materials or energies required to fulfill its mission." Sooner or later, he's betting it will begin absorbing Spider-Man's new energy source, and then he'll have it. But as the people Spider-Manis saving on the bridge react to him with derision or horror, he hits a breaking point, saying if they want a menace, they'll get one, and zaps the robot into pieces.
Doom's masterplan is working, and in spite of them really, really giving the game away in a couple issues, we're 2 more away from the end of the mystery of Spidey's new powers. I feel like my read through for this blog has revealed every giant revelation I knew of as a kid being given away early in books I didn't read. It's pretty weird.