Now it's getting out of hand! Another bought by my uncle, maybe? Not sure. I'd have told you I bought it off the rack if not for the sticker. Hulk having a green tongue always struck me as an odd choice. It really draws attention. David Michelinie, Todd McFarlane, Bob Sharen on deck as The Hulk takes a seat in the desert. The Hulk is still Joe Fixit like his last chronological appearance in WEB 44, still grey, still Bruce Banner's "adolescent" persona to green Hulk's child, only now they've reverted to the Hulk's original deal from his earliest appearances, where Banner is normal during the day and becomes Hulk at night. Thanks to The Grey Gargoyle failing to beat him in his own book (Who thought that would work???), the villains know where Hulk is, and Sebastian Shaw has come to visit. Introduced in X-Men as The Black King of The Hellfire Club, Shaw lost that title to Magneto several years prior to this, and carries a grudge. He believes Mags had the gang send him to fight Spider-Man hoping he'd die, but he has other plans.
…New York, where we wind back the clock a few hours to see Spider-Man scoping out some terrorists planning to blow up The Statue of Liberty. He thinks about how cliche that is, and then laments that something so crazy could ever become cliche. He thinks about how the storm that kept police helicopters away did nothing to stop him now that he can fly, and worries about his powers a little more before starting to take the villains apart using his new Can Do Anything Webbing.
Tim Burton's Batman was still a raging cultural phenomenon when this issue was produced, ya see. Our guy flies back to the city, happy no one was seriously hurt, and switches to Peter Parker so he & Mary Jane can join Flash Thompson and another doomed-to-fail romance for dinner. This one is rude and horrible at dinner, terrorizing wait staff and wanting to smoke. Lucky for Pete & MJ, she has 5am shoot for her show, and Peter's decided to tag along, so they can't spend the rest of the evening with Flash and his unfortunate date.
Ya think McFarlane intended that hand gesture to be like "gasp!" but that's silly so Michelinie covered for it? Kinda looks like it. Hulk lands on the street, thinking he's got nothing against Spidey but the money is too good as he picks up an ambulance and throws it. Shaw assured him the other heroes would be busy, so this would get Spider-Man's attention. And it does, as his new Can Do Anything Webbing snares the truck and lowers it so safety.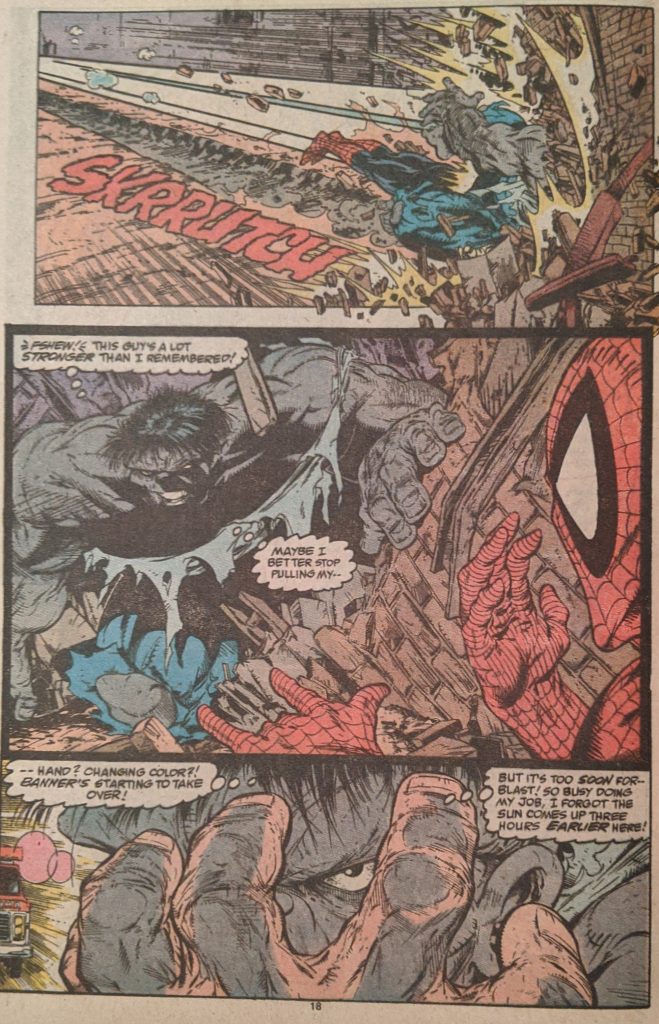 Again, what do we think Spidey's (very tiny) hand gesture is supposed to mean? "Bring it on?" Another yawn? Why didn't he get a line? Hulk tells Spider-Man to meet him at the ruins on Roosevelt Island tomorrow night as he flees the scene, smashing the ambulance as he goes. Spider-Man has to deliver its stabbing victim to the hospital, so he can't follow. Soon, Bruce Banner finds himself in an alley with no shirt, shoes or money, cursing The Hulk. He and Peter Parker make their way through the day as best they can, Banner trying to avoid trouble, Peter unable to concentrate on school. Sebastian Shaw reads a newspaper that tells him Hulk failed, but thinks he'll give him one more chance. The paper has smaller headlines such as "LIEFELD ON MUTANT BOOK," "COCKY MCFARLANE TRIES TO WRITE?!" and "WHO'S ALAN MOORE?" Bit of a hint at the artist's future.
You sure aren't gonna see any kids smoking in a modern superhero book, I'll tell you that. Hulk and Spider-Man mix it up, Spidey using his new eye beams to blind his foe, and that's when those kids run out, one of them brandishing a bat and threatening The Hulk, the other trying to stop him.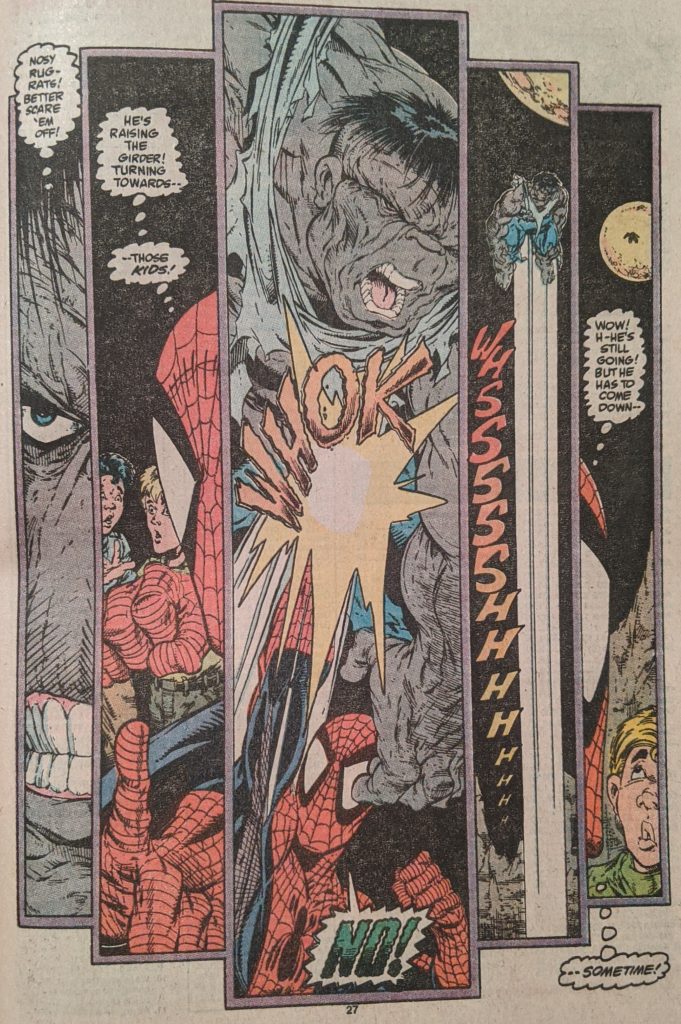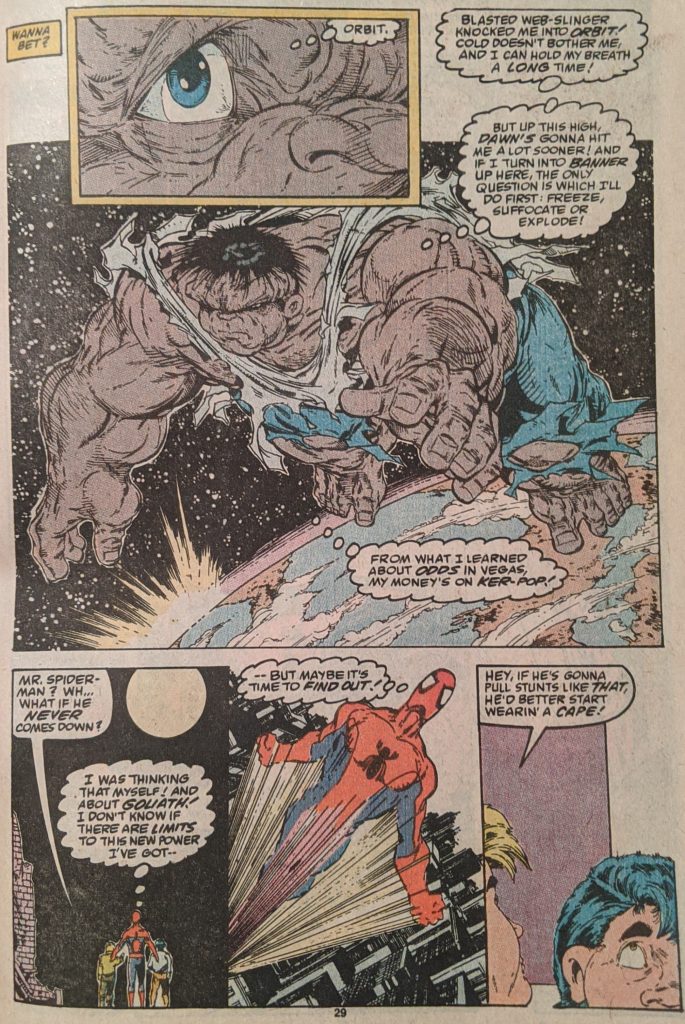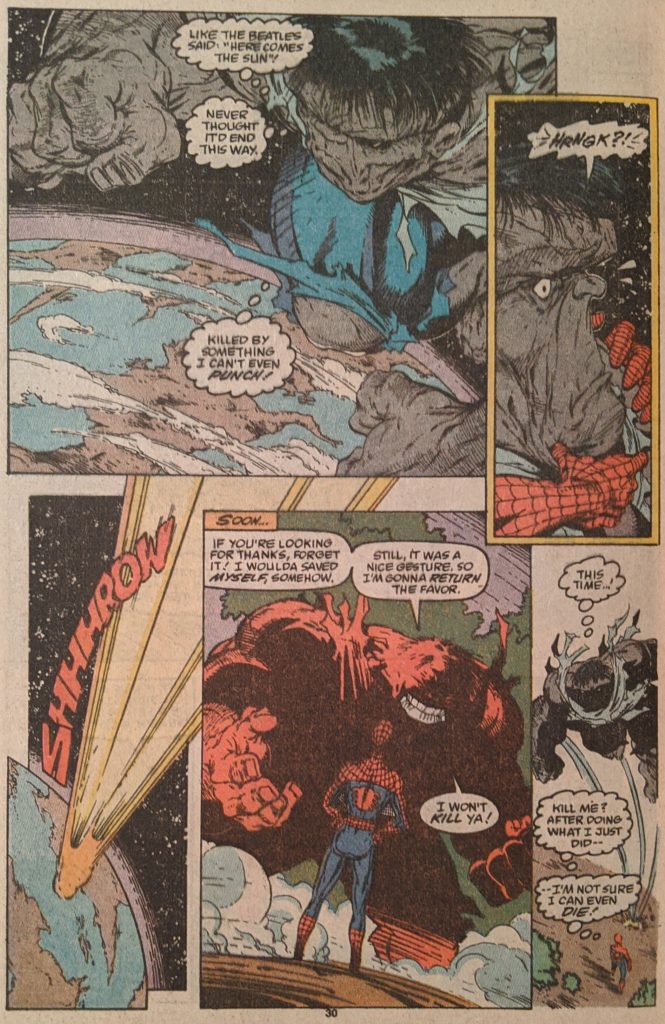 To da moon, Alice! That red Hulk presages things to come. It's also a good example of the kind of feel/emotion-based coloring you don't get in modern comics. Is Hulk red? No. Does making him red give that panel a definite vibe? Absolutely. Back home, Peter worries some more about his crazy powers, telling MJ he hates them. And as he watches his goons load Banner on a plane back to Nevada the next day, Sebastian Shaw thinks Spider-Man can't stay this powerful, and wonders if there's a way he can make these new powers go away. Can he? Will he? We'll just have to see.
Todd McFarlane really began to build his rep on Hulk. he'd done a bunch of other stuff at both Marvel and DC, but his Hulk run led to Spider-Man, and Spider-Man ensured he'd become one of the richest comic creators in history. Fitting that his last issue of ASM would also have Hulk in it. But this isn't McFarlane's last Spider-Man comic. More on that in Block 28. For now, next time we'll get more of the saga of Spider-Man's powers in another Spectacular that's all-new to me.